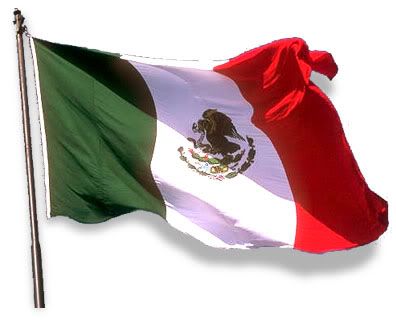 It's January of 2009 and I'm in Mexico City, watching the Titans and Ravens in the divisional round of the NFL Playoffs.
There's no scrambling to find a signal, no congregating at a fringe bar with other football fans like those Coke commercials wherein a Notre Dame backer wakes up in the middle of the night to seek out a Japanese transmission, meets a man in USC's rival regalia at a foreign bar and they bond over circumstance. Ravens at Titans is broadcast on standard national channel, TV Azteca. After all, it's 2009 and the NFL is hugely popular.
Has been for a while. My cousins raised in the '70s pull for the Steelers, my cousins raised in the '80s support the 49ers, my '90s cousins love the Cowboys, the millennial babies are with Peyton Manning. I have an uncle who played semi-pro pigskin in Mexico and cousins who played high school and club football in the homeland. I have a cousin who used vacation time last month to fly to Miami just to see her Steelers in an ultimately meaningless game.
Go to any weekly, community market or terrifying bootlegger haven in the city, you'll find the finest fake jerseys this side of China, old school fake Starter jackets, offbrand NFL team logos painted on everything from kitchen tiles to soccer balls.
Alright so back to the action. If I recall correctly, the homefield, top-seeded Titans had every opportunity to put away an upstart Ravens team with a rookie quarterback but a run-first, manage-the-game offense failed to capitalize on turnovers and produce points. Titans go down in a low-scoring, tense affair. Point is, we have a nail-biter at halftime. Mexico's network coverage recaps the first half for about three minutes, spends the next ten weighing the pros and cons of potential cities for incoming rookie quarterback, Mark Sanchez. It's the playoffs, the draft isn't until April, it doesn't matter: they're talking Sanchez.
The Bears have quarterback needs and Chicago has a huge Mexican population. What's the impact of Sanchez in Chicago? What about San Francisco? Sanchez is a Calfornia kid, after all.
Within the year, Sanchez would be drafted by a team in the country's largest, most critical media market, be named the starter by opening day, struggle to find his footing in the league, rally late in December to lead his Jets (alright, to not screw up things while the Jets defense shuts down the AFC's biggest arms) all the way to Sunday's conference championship.
The task is basically impossible; most of us projected lumps for the kid.
Mark Sanchez
courtesy of NFL
The task is twice as impressive when considering the extra burden Sanchez volunteered to take on: not hiding from his last name. No other athlete with foreign roots playing an American game since Yao Ming has been in such a magnified position. National hero abroad, baffling local affiliates with the random outbursts of nationalism and foreign flag waving of aligned onlookers that begets auxiliary pressure at every corner, hateful resentment in the worst manifestations.
Yet Yao is an athletic transplant while Sanchez's family spent most of the 20th Century in the States. Sanchez doesn't even pretend to speak fluent Spanish. In a position to opt out of this cultural pressure-cooker like J.P. Losman (isn't he Jewish?) and Tony Romo (dude's Italian, right?), he chose to sport Mexico's national colors publicly on his mouthguard in umistakable fashion.
Dude quarterbacked the fictional-sounding, Mission Viejo Diablos in high school. In college he did ESPN spreads with tacos and his big, beautiful, stereotypical family. Nerdy New Yorkers are chanting "Viva Sanchez!" and wearing borderline offensive, wholly celebratory and thus acceptable and in fact kinda awesome sombreros and mustaches. Mark Sanchez is such a Mexican.
And yeah, the puff pieces were inspiring. Sanchez became a willing, if hesitant, advocate for an entire culture, and boy did they love him back. The issue is we're only at the beginning and the ethnic hero leading by example angle is fading, ceding to trivial tidbits like the fact Sanchez's father is a fireman and New York City firefighters enjoy watching the Jets.
We're only at the beginning and the time to do Gillette commercials or live a bland centrist existence has come and gone. Sanchez means too much. He's conquered the West Coast and sits in a position to work the two biggest hubs of American humanity, leave dents for the better. Sanchez needs to take stands on meaningful, tangible problems that go beyond the NFL's partnership with the United Way; remember sports needs more Jim Browns, less Michael Jordans. You may have read the whimsical feature I hyperlinked above, go back and check the comments:
"Mark is an American. His ancestry is Mexican. I am so tired of hyphenating Americans, no wonder we are so divided as a people."
"My only problem with most Mexicans (as I haven't seen this from other Latino countries) is that they put their flag freakin' everywhere. I don't get it."
"AH HOW DUM WHO THE HELL CARES I CAN'T WAITE TO SEE THIS MEICAN #### FALL ON HIM DUMASS FACE AGINST MY OHIO STATE BUCKEYES! GO BUCK'S! BABY AND #### USC!"
As if the sociology 101 contrarian arguments need thawing and reheating: by embracing your corresponding, marginalized and embattled race during tough times, one's success begets confidence and hope. To proudly tune in. To play quarterback. Picked up my mother from the airport over the weekend from her annual holidays with the family in Mexico. She proudly relayed a country's national hopes of a Jets-Cowboys Super Bowl, a duel of Hispanic quarterbacks.
Romo's Cowboys promptly fell to Minnesota and realistically, Sanchez's Jets should get properly crushed this weekend. As a football fan, I'm actually hoping for a swift exit for these party-crashing Jets so everyone is assured a pedigree-laden, all-star finale between the Indianapolis Colts and either the Vikings or Saints.
Still, the streets would have erupted with glee over the occasion. Negro Modelo would have poured from every dive bar in every North American barrio. The food on Super Sunday would have been extra spicy.
Maybe next year.