Some moves are obvious to insulting extremes. Some trains of thought are so linear and clear it's miraculous others haven't ridden them before.
Take Mi Casa Cantina on Sixth Street: Texas has lots of Mexican-Americans; its capital city even more Mexican-Americans who enjoy congregating downtown for an occasional cocktail, in addition to a dense population of 18 to 24 year olds who likewise enjoy congregating downtown. Stumbling, fumbling patrons in the early morning love to eat food; the police-barricaded, nightly Sixth Street party district offers expensive restaurants and greasy street vendors and limited mid-level, accessible alternatives beyond the Wendy's east of I-35 and assorted, seedy burger joints.
Last July, Cantina founder Joseph Keresztury took ripe preconditions, his family's established business model, and planted his flag downtown.
"The only food items on our menu are tamales," Keresztury wrote via email. "Mi Casa has the goal of continuing to bring something different to Austin's historic Sixth Street and fill the niche that has been missing of Latin, Hispanic, salsa, Tejano or any other type of music missing from the world's live music capital."
Indeed the dive has live ambitions. But first and foremost, tamales.
During the '90s, Keresztury's mother opened a daycare center under the moniker "Mi Casa" in their hometown of San Antonio. When your traditional holiday fundraisers rolled around, they made and sold homemade tamales. The people wanted more, and the sustainable notion of living and dying by the tamale became family practice.
"It didn't take long to turn Mi Casa Tamales into a full restaurant and shortly later she added a full bar and outdoor patio which continues to feature live music every weekend to this day with some of the bigger shows bringing in over 2,000 people," Keresztury said.
On the strength of homemade, signature tamales, a burgeoning live music flagship was forged and in 2008 Keresztury opened up a small, satellite retail store outside San Antonio. Again, a big hit.
"That is when I decided to open a bigger business and move it to Austin, which would be based on what my mother had already begun to build in San Antonio with her cantina and music scene," he said.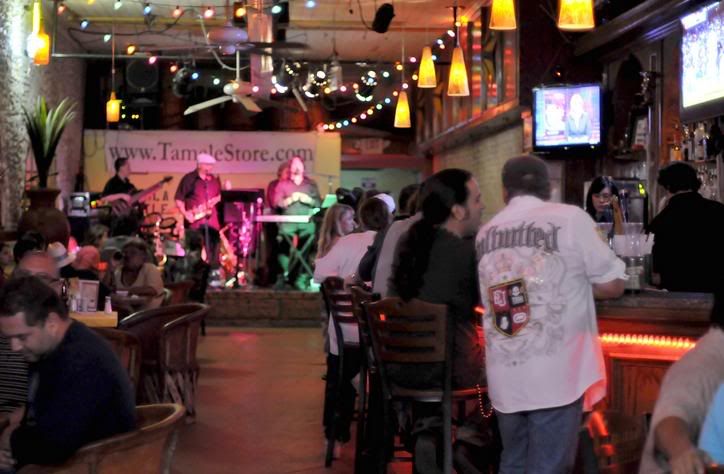 Hot Mexican specialty items from a trusted brand are no-brainers, but carving out a live music niche on Sixth Street is historically a recipe for full collapse. Even the most successful venues in town want nothing to do with the rowdy area. Just ask Hard Rock Cafe.
Sixth is for turning 21, freak-dancing to Lil Jon standards over loud woofers, and carb-loading after last call. There's a laundry list of defunct venues that either relocated, reformatted and resurfaced with a traditional pub crawl model—or simply folded. Live music floods to West Sixth or the gentrified hipster stretches of East 35 or Red River; Sixth wants drink specials and cheap thrills. Think to last decade's quick rises and falls: The Vibe? Bourbon Rocks? Mercury Lounge? Bueller?
"I am well aware of the difficulties of owners past and the many failed businesses who attempted to build something beyond the traditional bar scene," wrote Keresztury. "We are feeling the pressures on a daily basis. The only chance Mi Casa Cantina has to survive is to get the support and following of those who are fans and followers of Latin music and the live music scene all together.
"Without these people coming out to our venue, Mi Casa will be sure to be another failed venture or venture that eventually reverted back to the traditional bar scene."
To their credit, Sixth lacks a distinguished harbor for Latin music and its umbrella subgenres. As a corollary, Keresztury's active and calculated approach to booking shows is gaining traction: By turning to social media and, more importantly, local promoters with connections (Bemba Entertainment, Dart Music International), the goal of building an involved, passionate base of is being handled with meticulous attention to detail.
In the spirit of full disclosure, Austin Vida is likewise lending its name to future events and parties, including a Nacional Records listening party on Feb. 2.
The ducks are in a row and the cantina's relaxed, homey vibes and spot-on product (the pork tamales win on, well, being stuffed with delicious pork) may be the gamechangers.
Photos provided by Mi Casa Cantina. Mi Casa is located at 503 E. Sixth Street. Check out their website: tamalestore.com

Upcoming shows at Mi Casa Cantina
| Date / Cover | Artists / Time |
| --- | --- |
| Thurs, Jan 28 (free) | Kiko Villamizar & Huerta Culture (10p) |
| Fri, Jan 29 (free) | Boca Abajo (10p) |
| Sat, Jan 30 (free) | Bubba Hernandez (10p) |
| Tues, Feb 2 (free) | Nacional Records listening party (8p) |