Applause and ooohhs and ahhhs will erupt this Friday as fierce fashion and rock 'n' roll collide on the Fashion Freakout runway at the Mohawk.
In its third year, this celebration of vintage style comes equipped with rock-n-roll DJ sets by Ben Blackout and Angel the Ripper, drink specials and a photobooth by Alison Narro. That's in addition to the models strutting their stuff on the runway.
The event was imagined, produced and brought to life by a seemingly unstoppable duo: the glamorous and business-savvy Audrie San Miguel and the creative and musically inclined Jason McNeely.
Audrie San Miguel at Fashion Freakout 2009
You might recognize San Miguel as a co-owner of Prototype Vintage Design and Prototype Vintage Home, both on South Congress. As she puts it, "Part of the fun of Fashion Freakout is taking the Mohawk and giving it the Prototype treatment and making it feel like a rock-n-roll ballroom so every little detail is, 'What would Solid Gold do or Soul Train do in this area?'"
Steely-eyed models garbed by participating retailers Prototype Vintage Design, New Bohemia and Buffalo Exchange will conquer the stage.
Married to Transmission Entertainment colossus Graham Williams (the man who gave us Fun Fun Fun Fest), it seems inevitable that San Miguel would co-create such a hip event as Fashion Freakout. McNeely, who San Miguel described as a "genius," is a concert promoter, DJ and member of Windsor for the Derby.
San Miguel  met with me at Thunderbird Cafe on Koenig Lane on a cool and peaceful night to chat. A Cure record played in the background as we discussed her passion for thrifting, all things Austin and her keen desire to capture the rebellious spirit of rock 'n' roll with Fashion Freakout.
Shimmy on, baby!
So what can we expect from this year's Fashion Freakout?
San Miguel: This year, we made a crazy-cool backdrop with a light installation inside of it. The runway is going to be longer than it's ever been before and, as usual, the instruments of the band that is going to play during intermission are also part of the set. They stay on stage and they go along with the rock-n-roll theme. It's inspired by the '50s, '60s, '70s and even the '80s.
Did the previous two Fashion Freakout events have a theme? This year's theme is a little more rock 'n' roll.
San Miguel: Each year, it is slightly different but for the most part it is all about capturing the rebellious spirit of rock 'n' roll and however each store interprets that. The music that the models walk to and the clothes that we put on them are styles that we hope people in Austin would wear themselves. Austin is a very creative city with musicians, artists, students and small business owners. We think that tends to be a very fashionable crowd. Each show has been slightly different than the last, but this year there is definitely a focus on heavier metal. [laughs]
Music is an important aspect. What can we expect to hear out of the speakers as the models trounce down the runway?
San Miguel: Well, you will have to come and find out! There are definitely going to be some surprise moments. There is just so much good music that came out of the '70s and '80s, and we have been trying to find the best selections that fit each store well, since each store has their own approach to vintage. We want everyone to have their own work and feel. I can definitely tell you that you will be hearing some Ozzy, some Loverboy and Joan Jett.
Runway models strut at Fashion Freakout '09
Photos by Mari Hernandez
Let's talk about you: Where are you from, originally? I know I have seen you around Austin for a bit.
San Miguel: I was born and raised in Corpus Christi, and I moved to Austin when I was 17, after I graduated from high school. I've been here for 17 years now. It's weird that my time in Austin is now exceeding the time I spent growing up in my hometown so I definitely now consider Austin my hometown. I feel a sense of obligation to the town because I have found so much personal happiness here. I feel good about where I come from and where I have chosen to live. I cannot imagine living anywhere else in the world.
What is it about Austin that drew you here?
San Miguel: Definitely the music scene and UT. It seemed like the best place to be out of all my school options and I was accepted to UT, and it was as if the path was laid out for me. Things just fell into place. I really loved the underground music scene and the DIY spirit of the town. Austin is a town that is conducive to small businesses. Here, I know so many people with their own businesses. I do not know any other towns like that where you can accomplish your goals and dreams on a local level with a supportive environment. I feel like Austin shoppers are not mall shoppers or corporate shoppers; they tend to gravitate towards small businesses. There is more of a faction of people who choose to shop local and it's something that I have never seen anywhere else.
How has it been since you opened your store, Prototype? Lots of happiness? Tears?
San Miguel: It's been a really hard but rewarding path, for sure. It's definitely a labor of love and there is a sense of accomplishment that I get from work that I don't think I would get doing anything else. And, for me, it is fun most of the time. Overall, I am so happy that I decided to make that leap and take that chance because ultimately, what owning my own small business has taught me is that anything is possible and you can accomplish anything you want to accomplish. It's just very important that you are willing to sacrifice to make it there.
Was Prototype Vintage Design your brainchild? Or did you collaborate? Your website says you co-own it with two lovely ladies. Please explain.
San Miguel: Emily Larson and I have been best friends for years and years, and we used to fantasize about owning our own store and how it would be styled and merchandised. I was already a dealer at Room Service, so I had experience and colleagues and wholesalers that would sell to me. So, I had the sources to get the stuff and just couldn't do it on my own. Emily and I talked about having a vintage store that was more like a department store from the 1960s in London or some other great locale. It would be a place where every item you picked up was a highlight item. Our slogan is "all killer, no filler" because when we are out and about, deciding what pieces to put in our store, that is the motto we keep in our heads so we stay focused on trying to bring the best of the best in vintage to our store. My brother and his girlfriend Sarah owned La Luz, a mid-century awesome store on South 1st Street. After we all had experience running our own stores and knowing how hard it was, we decided to merge and make it more of a family business. We moved everything into my store and now it's me, Emily and Sarah operating two locations and our services division of event styling, set styling, production and wardrobe for various productions.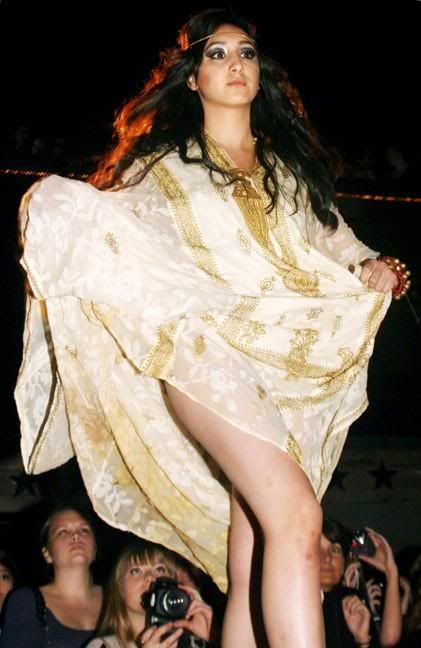 Buffalo Exchange model at FF '09
Photo by Mari Hernandez
Tell me about the event styling aspects and how you have incorporated that into Fashion Freakout.
San Miguel: Just like everything else in our business, everything just started coming together. We were having more and more photographers that needed background for photoshoots and television shows that were filming locally like Friday Night Lights that needed set styling. We started out by renting furniture to those productions. We always had a passion for throwing parties, and Emily was known for the parties she threw with crazy/cool decorations. An invitation to her party was really rad because she would go all out and totally transform the space. It naturally became a service we offer. All the business books and advice I had looked up suggested that small businesses have another service to offer when retail is low because one helps the other. And then, when service is slow you have the other and so on. It also is a way to network and spread the word about your business. Just by working with all these different productions, the more people were learning about our store and becoming regular shoppers. It was another way to market ourselves to a different realm and make money doing it. Right now, we have several major clients we are working with just for SXSW. Most of our work is music or film-related, for instance special event tents that need cool lounge elements. To go along with the Austin DIY spirit, a lot of the parties and lounges are just created from tents placed in parking lots. We get hired to trick them out and make them look cooler than they really are with vintage furniture, or sometimes not vintage furniture it just depends on the look people are going for.
So was your focus always on vintage?
San Miguel: It started off that our focus was vintage but now we just do any sort of set styling and it has grown really quickly. As far as Fashion Freakout goes, all the experience we have been getting building backdrops and sets we wanted to create a crazy-cool runway show that had some background element to it that was inspired by '70s rock shows and variety shows and Soul Train and Solid Gold. The Independent Film Channel and other sponsors picked us to make backdrops for them, and with FF we thought we wanted to focus not just on fashion, but on the backdrop and making the whole experience unlike anything else you would go to for fun.
For advance tickets, please visit mohawkaustin.com. Be sure to check out the Fashion Freakout event page on Facebook.