An avid boxing fan, lover of Latino culture and of the word "pinche," Edwin San Juan is as cool as he is funny.
While the Los Angeles-based comedian is of Filipino descent, he is well-received by multicultural audiences of all ages and especially within Latino circles.
His TV appearances include Comedy Central's Live at Gotham, BET's Comic View, Galavision's Loco Comedy Jam and SiTV's Latino Laugh Festival. He reigned as the grand champion of UPN's Talent Agency with nine consecutive victories.
The rising comedic star will soon be seen in his first movie, I'm Not Like That No More, co-starring comedians Paul Rodriguez and Felipe Esparza. He is also the creator and producer SlantED Comedy, which focuses on up-and-coming Asian comics.
Since San Juan will be headlining four straight nights in Austin at Cap City Comedy Club (June 9-12), we thought we'd help you get a better insight into Edwin San Juan, the person. We chatted about his first encounter with the iconic Paul Rodriguez, his boy Manny Pacqiuao and his early days in "thug rooms."
What are you most looking forward to about coming to Austin?
Edwin: I'm looking forward to the 100-degree weather. I know it's going to be hot out there. I'm looking forward to performing at a new club. I've heard a lot of great things about Cap City Comedy Club. I'm looking forward to meeting people from Austin. I've heard a lot of good things. I'm a fat guy too and I like food, so I'm looking forward to trying out different places to eat. People have asked me when I was coming to Texas, so here I come.
How did you earn your "Brown Card" in the Latino comedy circles? We can be picky about outsiders hanging with us. Were you jumped in or hazed?
Edwin: I don't know if I'd say Brown Card, but I guess more like respect. The way I earned my respect in Latino comedy was by performing in these rooms we called "thug rooms." They were really hard rooms with a bunch of drunks, Latino drunks, gang members, cholos, biker gangs, and making those guys laugh. Being in a feared environment and making those people laugh got me strong and got me respect. I wasn't jumped in because I had enough guts to perform where other people wouldn't.
Even though being Filipino is all over your bios, videos, etc., how often do you still get called "Mexican" or "Latino"? How do you react to that at this point in your career?
Edwin: I think I react the same way even at this point in my career. It doesn't offend me. If people think that I'm Latino, I'm kind of proud of it. I just think that's cool, but I'm Filipino. It doesn't happen that often. It happens more often that people trip out when I tell them that I'm Asian or Filipino. In fact, it gives me an opportunity to explain what I am and who Filipinos are. A lot of people still don't know. They're like, "They got Chinese Mexicans?" Yeah that's us, Filipinos.
So what's your favorite aspect about having so many Latino friends.
Edwin: There's so many. There's everything from the food, which is amazing. I love the Latino spirit. There are so many similarities with the Filipino culture because a lot of Filipinos are Catholic also. What is kind of neat about having a lot of Latino friends is that our family dynamics are the same. You guys drink tequila, we drink gin.
When did you first find out what the expression "pinche Chino" meant? How did you react?
Edwin: I would say I first heard that back in junior high school, like in P.E. class. I remember playing soccer in P.E. and making good plays. My friends would be like "pinche Chino." At first I thought it was all cool until I found out that what it really meant. It ended up becoming my favorite word and now I use "pinche" in everything. "Let's get some pinche tacos" or "Look at those pinche girls over there." "Pinche" sound so cute, but it's a bad word.
When did you first realize you were actually funny?
Edwin: I think I first realized I was funny watching movies. I have an uncle who is a priest who would take me to the movies every Tuesday. When we would watch the movies I would always make comments during certain parts of the movies and people around me would laugh. I think that is when I first realized I was funny.
What joke or funny story did you tell at that moment in time?
Edwin: I don't if it was a joke or funny story, but I always liked to play with words. Like the word "pull" for example. You know how Filipinos say a "P" like an "F." It would say "pull" on the door and and I'd say "You can't go in there because it's 'full.'" It was corny jokes like that.
Who is your favorite Latin musician, rapper, singer, etc?
Edwin: My favorite Latin musician is Carlos Santana and Ozomatli. Rappers, I would definitely say I like Cypress Hill. I loved when Mellow Man Ace came out with "Mentirosa." He never came out with anything after that. He was like the Latino rapper one-hit wonder. As far as Latino singers, I don't know if I really have a favorite. J-Lo is the only one I know.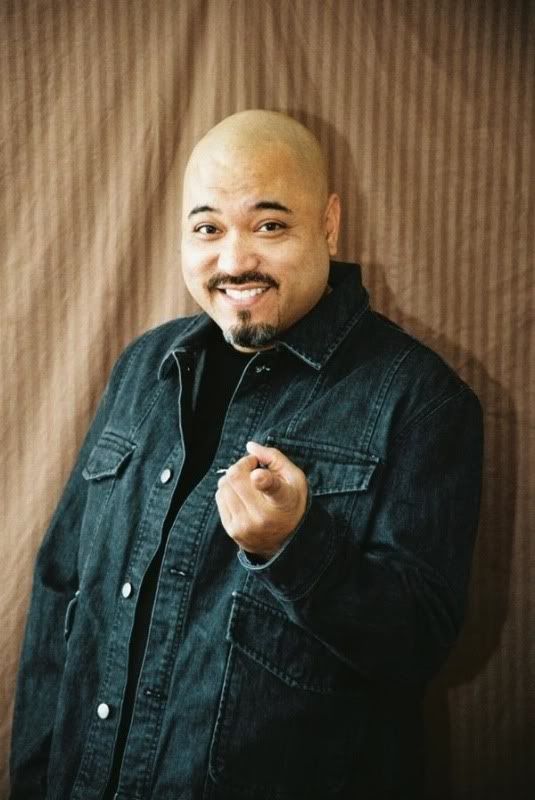 After watching you on TV and YouTube, I know you are a big boxing and Manny Pacquiao fan. What's up with your boy not taking a pee-pee test to fight Floyd Mayweather? Are you aware that's a bitch move?
Edwin: Oh, such strong words. Okay first of all he didn't refuse to take a pee-pee test. He said he would do it immediately right after the fight. Mayweather wants Manny to do the pee-pee test before the fight, but Manny feels that kind of weakens him because he did that before and he lost the fight. I don't know if Filipinos are superstitious by nature, but I think the focus shouldn't be on Manny; it should be on Mayweather.
Are you aware that's a bitch move?
Edwin: Mayweather's the one who is trying to pull a "bitch move." In actuality it's not, though. I'd say it's more a "rich move" because it is great marketing and promoting. It creates interest in that fight because people want to see it even more. "Bitch move," naw, "rich move" yeah. On who's part? Manny or Mayweather, I don't know. I think Mayweather is trying to stall for time because he's scared. Psychologically he is trying to get an advantage over him. In the meantime, he has taken on a couple of other fights to get tuned up. Remember, he came out of retirement. You can't come out of two years retirement and expect to fight Manny Pacquiao. That guy's vicious. I'm babbling on because I'll talk about boxing forever. I'm a true fan of boxing since Rocky Balboa.
Tell me about your role in I'm Not Like That Anymore. How did you getting the role come about?
Edwin: My role in I'm Not Like That No More is a fun role because I play the sidekick of the main character, played by Felipe Esparza. I play his friend Edwin, so you know it was a stretch. As far as how I got the part, I came out of my bathroom and Felipe was on the phone with a producer and asked me if I wanted to be in his movie. I said "hell yeah."
Tell me also how you first met and came across Paul Rodriguez.
Edwin: The first time I met Paul was at the Hollywood Laugh Factory on Latino night and I had to go up after him. He killed it up there and I went after him and smashed it too. He liked me and said he wanted to help me out because when he first started, some Filipino dude in Hawaii helped him out. He wanted to return the favor and help me out. After that, I never heard from him. It's crazy because now I'm in a movie with him. It's funny how that works out. He was like, "See, I told you I'd help you."
I know you have your own thing now with SlantEd Comedy for Asian comedians, but are you still going to get down with Latino comedy showcases and specials after your projects take off?
Edwin: Yes. I will always be down with Latino comedy and the Latino comedy circuit. Latino comedy has always been there for me since the very beginning. They were the first crowd and audiences I ever performed in front of, before even Asian crowds. It was Latino rooms, black rooms, white rooms and ultimately Asian. I have nothing but love for Latino comedy because they have love for me.
Catch Edwin San Juan at Cap City Comedy Club, June 9-12. Click here to purchase tickets.