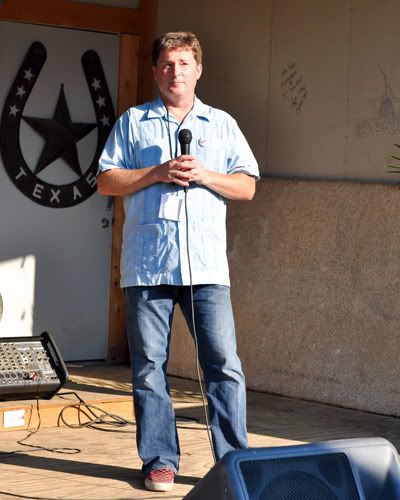 To be clear, Dart Music International is none of the following things: a production company, a promotion company, a booking company or a band services company.
"We're really a strange animal, in that we do a lot of band services but we're not a band services company, and that really confuses a lot of people," says Dave Dart, founder and executive director of Dart Music International. "I had someone from France send me an email earlier and ask if I could rent backline equipment to them. People don't really get what we are because nobody else does this."
So, how does Dart describe his species of music animal?
"I generally tell people that we are a community-based nonprofit that works with young people throughout our region to expose them to other people and cultures throughout the world. And we use music—especially indie, pop, rock music—as a means to do that."
Since 2007, Dart's been working full-time as a benevolent musical embassador, if you will, helping bands from around the world navigate the details of their trips. Dart and his team work on the logistics and negotiate the best rates for bands when it comes to air fares, immigration, equipment rental, hotels and everything in between.
The biggest cost-saver is just planning ahead of time. For a month long tour, early planning and any negotiations can mean cutting expenses half. A previous estimate had Dart bringing in a five-piece band form the UK for $13,000 as opposed to the $26,000 it would cost the band not using his organization's services.
"A lot of it is just that we're here and we know good people who are going to help make things easier for these people," Dart says. "So that's part of why we're doing it, we know the lay of the land."
A Dart International band will a get a chance to play a festival like South by Southwest or even do regional tours around the country.
For this year's SXSW, Dart pretty much has something going on every night, and a few of the bands playing during the festival will go on to do regional tours.
Dart's calling Mi Casa Cantina on Sixth Street the "Dart International Music House" as it's an official venue during SXSW. He's got bands from Chile, China, Mexico, the UK, New Zealand, Australia, Spain, France and Argentina coming to perform during the festival.
For every band that Dart Music International supports, there are two bands that don't make the cut.
"It's almost always because the band really is just not ready," Dart says. "They're just sort of getting started and they're very enthusiastic, and that's always tough. Because someone who's really enthusiastic and believes in what they do, you want to get behind them. I think a lot of the best advice we give them is, 'Yes, keep at it, but you're just not ready to come right now. But when you're ready, talk to us again and we'll be here.' I think for me that's one of the hardest things is to tell a band no."
Sometimes, Dart is also doling out reality checks.
"If you are a band that's coming here and no one's ever heard of you and your expectation is you're going to show up and play Madison Square Garden, you need somebody like us to tell you that's not it. So we try to set realistic expectations."
Besides, it's the community and cultural enrichment that really gets Dart excited.
"We started looking around and saw that there were just terrific youth groups that were oriented toward music. It just made sense. It really was something that we got really excited about, and we're really trying to grow that even more beyond Austin and beyond our region to really work with those kinds of things because that's such a payoff and it makes such an impact on people."
One thing Dart has planned is a special private songwriter session during SXSW. He's bringing local youth organizations Grounded In Music and Latinitas to Mi Casa for a special Q&A with UK singer songwriter Polly Mackey.
Mackey is a teen herself and her band The Pleasure Principle was part of Dart's lineup last year. This year, her band is featured at the official South By Southwest welcome dinner.
"We're going to be able to have Polly talking with a bunch of young people here in Austin who want to find ways to have music as a part of their lives," Dart says. "So what a great connection, to have someone who is literally in your peer group and who has been extremely successful.
"And if you're trying to get from one side of the tracks to the other with music, it's pretty inspiring to see someone who's been able to get from one side of the ocean to the other with music."
In the long run, Dart plans to make what he does come full circle by opening Dart offices in cities around the world.
"The future that I foresee is that someone can be a Dart Music International band and do a worldwide tour with our organization helping wth everything—no matter where they are going—with all their immigration and discounted housing and discounted fares and all the localization and all those kinds of services that we're offering to bands coming here to the states."
In fact, by the end of the year, he plans to have offices opening in Sydney, Australia, Santiago, Chile and the UK.
"That's one of biggest questions we are asked: 'Are you are helping Austin bands go to other countries?' And to this point, we haven't been able to help in that way because we're not in the other countries. We don't know the venues, and the booking and all the immigration processes that you have to do to get everywhere but we are now bringing in people who are from other countries and who also want to be a part of what we're doing and bring that expertise."
For the casual music lover, Dart says what he does will change a person's world view.
"For me, what drives me, is when people make that personal connection. Especially when it's younger people. You see people get that idea that there's a lot more to life than just put people in these little boxes. I think just as human beings, we're really good at sorting things and seeing patterns. And when we can't figure something out, we assign it sort of a stereotype a kind put it in a box. What I love is when we actually get to introduce somebody from whatever other country and they get past that and they say, 'Oh, whatever idea I had about that whole country and culture and people is ridiculous.'"