Almost every Sunday in 1995, I spent my day at the capital learning how to debate and develop leadership skills. Little did I know at that time that I was building friendships that would last a lifetime. Later in life it became a valuable business network. You see, my friends that I spent my Sundays with at 15 are many of the same friends I have today. We are all what I consider to be the next wave of Hispanic leadership not only in Austin but in the country. Some of us are educators, lobbyists, prominent businessman, social workers, entrepreneurs and anything in between. I never would have met those people or made those great friends had it not been for The National Hispanic Institute (NHI).
As a high school freshman, I was part of the NHI's Young Leadership Conference (YLC) training. YLC's objective is to develop leadership skills in students through debate training, with events that include mock trial, extemporaneous speaking, oratory and cross examination. All the fore mentioned events are what students compete in at a summer debate tournament known as The Great Debate. Here is a video clip here to give you an idea of the student experience and a visual of how big the tournament actually is:
After 1995, I went on to do the other NHI programs like the
Lorenzo DeZavala Youth Legistlative Program
and
The College World Series
.  Also after my freshman year of high school, I helped train the new incoming class of YLCers for their Great Debate. I did this until my senior year of high school. Although it was a great experience being a participant, it was more rewarding as a trainer or junior counselor (as they are referred to) for the Champion Austin YLC Team in 1996. It was at that moment in my life when I really understood what it was to give back to not only the program that did so much for me, but also to the Hispanic Community as a whole.
Back then the Austin NHI program was so strong and large in number. The program was comprised of  students from every school in AISD, Pflugerville, Buda, and Round Rock. Today the team is comprised primarily of Bowie students. They have been making inroads into Crocket and other schools, but still need more contacts and help from the schools. The current and newly formed Austin NHI alumni is now working together to help fund raise and help in any other way they can.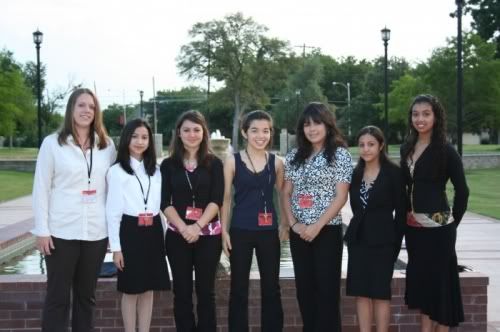 Current Austin NHI Students
Right now the Austin NHI  is asking all you readers out there to help them identify talented high school freshman who would be ideal candidates for the YLC program. They also are looking to connect with  teachers in the different area school districts and potential sponsors to assist students with the YLC tuition. In the meantime, I will be spending my Sundays with the current team of high school student coaches and alumni volunteers.
For a quick introduction to The National Hispanic Institute, check the video below:
For more information on the Austin YLC program visit the following website:
Or Email the Austin NHI YLC Program at: