I was on the cusp of typing this out in Spanglish, as a nod to the hilarious, sharp, quick-paced run of Petra's Pecado enjoying another warm reception at the Salvage Vanguard Theater. Besides a series of egregious grammatical errors, employing the work's bilingual back-and-forth backbone would ultimately diminish its core principal of inclusion through common emotive tones.
Before the tangent spirals out of control, let me backtrack.
Petra's Pecado, a dark comedy about the Virgin Mary angelically, physically guiding a South Texas community through tough times, is in its fifth Teatro Vivo run through December 20. Vivo co-founder Rupert Reyes scribed the work in 1994 and it's enjoyed praise everywhere it surfaces, ranking hardware and readings in enlightened cities like San Francisco.
"We've had tourists bus into town across the state to see [Petra's Pecado]," Reyes said. "We're committed to being inventive, inclusive; it's important that bilingual audiences relate and applaud enthusiastically, that they have insight during the experience."
Back to the goal of unity: Despite a near 50/50 split of regional English and Spanish as its dialogue, and despite Teatro Vivo's outright dedication and proven record programming "quality bilingual theater," funny is funny.
"Oddly enough our biggest supporters are non-Latino," Reyes said. "The audience reaction is universal."
Themes that run deep at the heart of production.
It's a cold, rainy Sunday night and finding the ensemble's church rehearsal space is just not happening. I call Reyes for further details, he halts mid-scene to diagram the exit. No luck. After 30 minutes of circling the correct right turn, I arrive with two fatherly and concerned voicemails waiting, greeted like an old friend on Posada night.
With food drive donations lining church walls, it's cramped as the talented young actors involved run polished scenes. Opening night looms. Petra Dominguez, the protagonist of Reyes' trilogy (Petra's Pecado, Petra's Cuento, and Petra's Sueño), is a wife and mother who runs a tortilla factory. Pecado follows a cluster of senior citizens in Las Flores, Texas (still not entirely sure if this place exists) seemingly impervious to being directed… asked to put on a play. Each has sordid demons. Each honestly, painfully confronted.
There's also music.
Brandon Polanco, the show's 22 year-old choreographer, adds an adventurous element to this run. He has the pedigree—European studies, artistic directing Beauty and the Beast at Zach Scott—and whipped up musical segues this fall. The South Texas, tortilla-hawking heroine (no, really) now sings Beatles standards.
"We're using a lot of first time actors," Polanco said. "It's allowed us to have a very organic flow. I've asked them to bring their unique style and take us on a journey."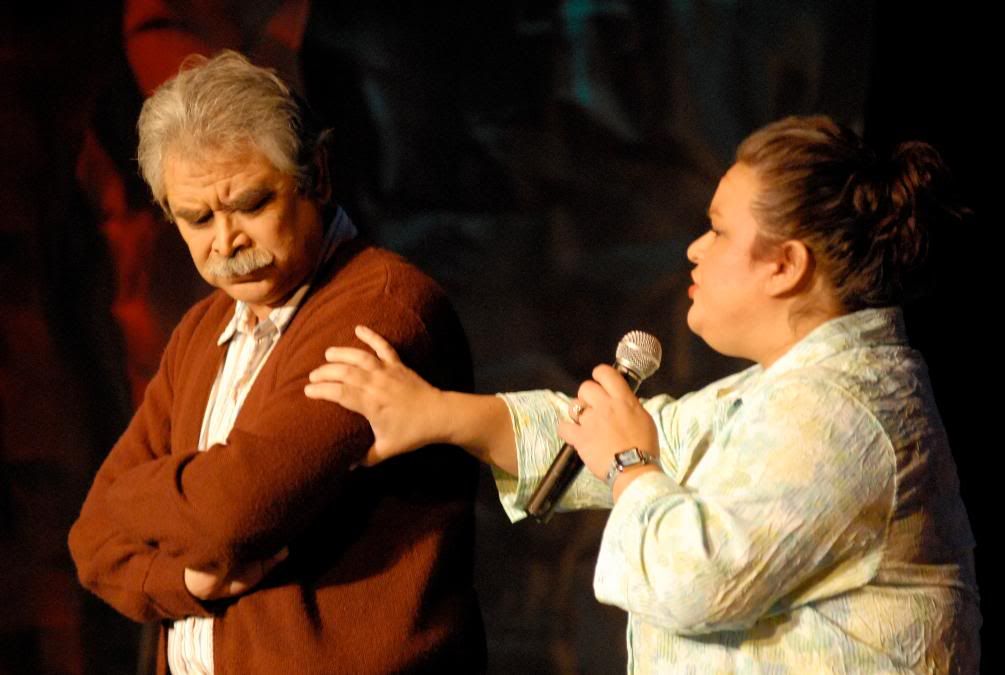 Polanco speaks in whimsical buzz words ("episodic," "translations of movement," "dual images") but is dead serious and passionate enough to merit admiration. I roll my eyes at the brief use of a suddenly ubiquitous Arcade Fire song, am stopped in tracks after an uncomfortable, delicate moment wherein a battered woman sings in Spanish like it's for keeps.
The creative community affair matters and wins on its musical gamble.
Reyes, himself a tall, grey-haired man, plays husband Raphael ("He's the trusting, loving husband who'd follow his wife into a burning building"), a stabilizing force that carries through his directing duties. He's eager to spread praise but his work stands alone as vital, tested (hey, another Iraq war for timeliness), intricate.
"It's about old people gaining their self-esteem," Reyes said. "There's abuse; a character lost his son in Iraq; there's alcoholism. But, you know, it's a comedy."
Photos provided by Reyes. Petra's Pecado is now running at Salvage Vanguard Theater until December 20.