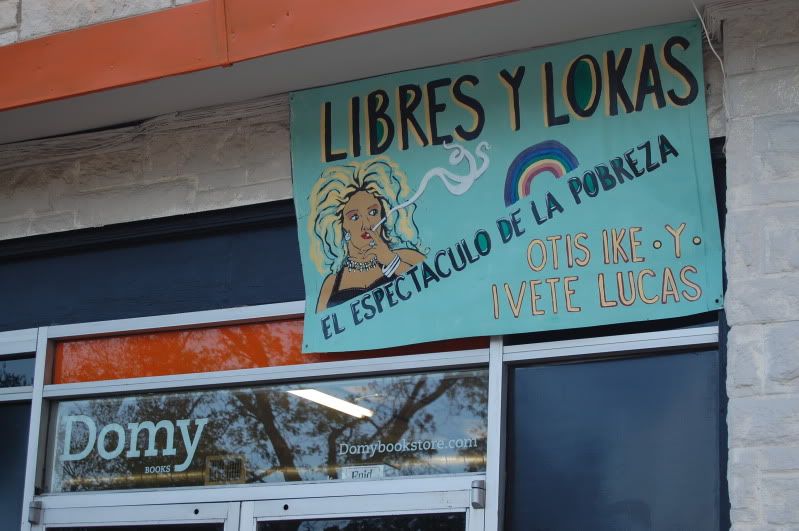 Blood dripping down a guy's face. Half-naked women and men putting on corsets and applying make up. These are some of the sights you'll see at artists Otis Ike and Ivete Lucas' new installation, Libres y Lokas, featuring the underground world of luche libre wrestling and transgendered queen culture in Monterrey, Mexico.
Ike and Lucas only had two weeks to prepare and set up for the opening night on Aug. 1. Even though they weren't set up until five minutes after the opening officially started, patrons piled in the small Domy Bookstore in East Austin and enjoyed the variety of colorful photos of these two parallel lifestyles. There is also a small house built inside the bookstore where a dual-screen documentary of the entertainers can be viewed. The 18-minute film shows these captured photographs in action, giving observers a sense of what it was like to witness these events. Later on that night, local transgendered queens Jame Perry, Kelley Kline and Christeene performed to Mexican music to bring the Monterrey culture to Austin.
The two artists invited me over for dinner and talked to me about what made them want to share these two subcultures with the East Austin community.
How did the opening go for you?
Otis: Ivete and I wanted the opening to feel like a punk-rock show. So we had some drag queen performers signed up to do Latin American songs because all the songs that we were seeing in Monterrey were Spanish language songs. So if you saw our show, we wanted you to feel what it was like to be in a Latin drag show. So what happened is a lot of queens that we had booked would disappear for a week or they would say "you gotta come pick me up in Round Rock" and we're like building this show. We finished (setting up the show) five minutes late. Christeene performed two songs with her back up dancers. They basically were in g-strings and crawling all over each other. It was complete chaos. The only reason I'm saying that is because it was like a chaotic GG Allin drag punk show at the opening. It was our dream come true.
Was it like what you experienced when you took the photos and videos in Monterrey?
Ivete: It was different. Christeene is from here. She's not hispanic. Then the Mexican drag queens performances are different from the drag queens from Austin, even the hispanic drag queens. In Mexico, they're more emotional. It's a different scene. That's why it's called "El Espetaculo de la Pobreza" which means the "Spectacle of the Poor." It's more about performers and poverty. Most of these neighborhoods we were going to were really poor neighborhoods. I guess what we have to understand is that it is very different in Monterrey, Mexico and in Austin. In Austin, we have this big middle class and everybody interacts with each other at some point. In Monterrey, it's very steeply divided with the high class and the low income class. They both live in different bubbles and they interact very little. There's a different type of expression in these poor parts. It's difficult to describe.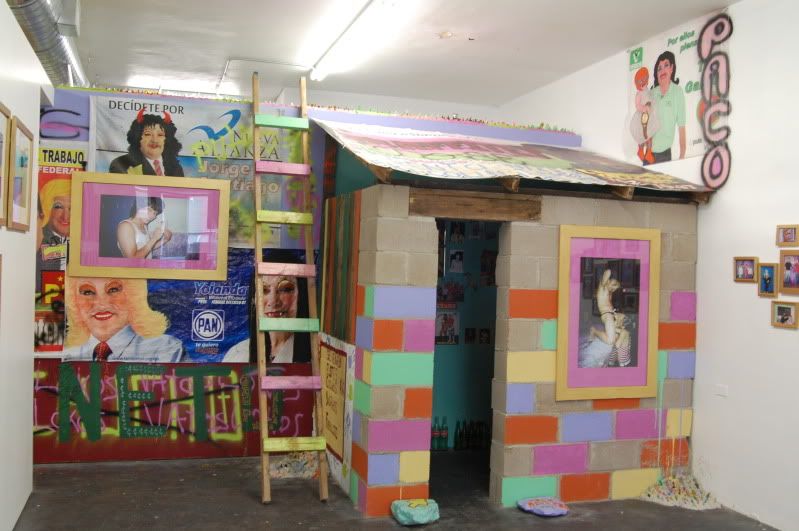 Otis: Basically in Austin, it's a very liberal community, very open, very accepting and loving. I think most people in Austin, when they see a drag queen, they're excited. Maybe they want to get their picture taken with the queen. In Mexico, it's very dangerous to be a drag queen or to be gay. So in Austin, you can show up to an event as a drag queen. In Mexico, you show up to the event as an overweight bald guy who works a construction job and lives with his parents. You go back stage and you come out this elegant beautiful goddess. That's the big difference. There's a real transformation in Mexico that takes place backstage and that's why a lot of our pictures and videos are backstage. There's a transformation. At our opening, the performers showed up in their character because there's so much freedom here. That's what was really strikingly different about our opening performances and what we saw in Monterrey. It's not accepted to be gay and to be out down there.
Is that because it's mostly a Catholic upbringing out there?
Ivete: Yeah, it's very conservative. If they walk around from a bar to another bar and they're dressed in drag, they get abused from the police and all kinds of stuff. So it is dangerous in Mexico to do that. Maybe the two most important factors are Catholicism and then the division between the rich and poor. I think the other thing that happens is that these drag queens have relationships with men that aren't really comfortable with their own sexuality. They're not completely out. So they have a lot of relationship problems and they translate it into their performance in the music they choose to perform. Well I see like here (Austin), they like drag queens perform like happy music.
It's entertainment.
Ivete: Uh huh and it's like a party. Watch me dance. That kind of stuff while there it's like broken-hearted, tormentous relationships and they cry on stage. It's raw, but here it was a party and it was raw.
Otis: Yeah, Christeene was raw. You'll see in the pictures. We're very grateful to Christeene. If you get a chance to watch her videos, she performs an impoverished singing tranny prostitute basically. I maybe getting that wrong but it was really raw in the same way that a lot of the performances were raw down there and that they were like really trying to emote. Christeene emoted at our opening. These performances we saw down there were just incredible. They didn't start until one in the morning and we were at these clubs until five a.m. We were fixated on these performances because there was so much struggle, strife and beauty in what they were doing. Like we talked about in the Chronicle, it's like there was something in that that we were really missing in when we went to see music or punk rock music. There was something in these performances down there that really got us hooked to sit there until five a.m. It was insanity.
What inspired you go to Monterrey to film these queens and wrestlers?
Ivete: I was raised in Monterrey. My dad is from Monterrey. My mom is from Brazil. I was born in Brazil. We moved to Monterrey so I grew up there. I already had interest in these subcultures.
So you already knew about the subcultures?
Ivete: Yeah, a little bit. I was tapping into them with my own stuff. Then when I met Patrick down in Monterrey, he told me that he'd been photographing wrestling matches all around the U.S. for years. So I said "well, I'll take you to a Mexican one," which is really different. So we went. When we were there, we saw this tranny clown in the wrestling audience. That was really interesting. We started going to these places and we saw that there was a lot in common in both worlds. So I don't know. Maybe Patrick can give you an American perspective.
Otis: Well, Ivete and I had been dating long distance for a long time because she lived in Mexico and I lived here in Austin. So I was going down there and I loved photography. Like she said, we met this clown at a wrestling match who was a tranny and we happened to be driving around after going to a wrestling match. We saw this kind of odd tranny bar and we went in and we took pictures. We had a great time. When we were looking at our photographs, they were next to each other, the wrestlers and the trannies and there was this glitter. There were these masks like men changed into woman and the wrestlers were hiding their identities so there was this sense of we can't show our real identity. We're glittered. We're performing. We're emoting.
Ivete: We're putting on these intense shows.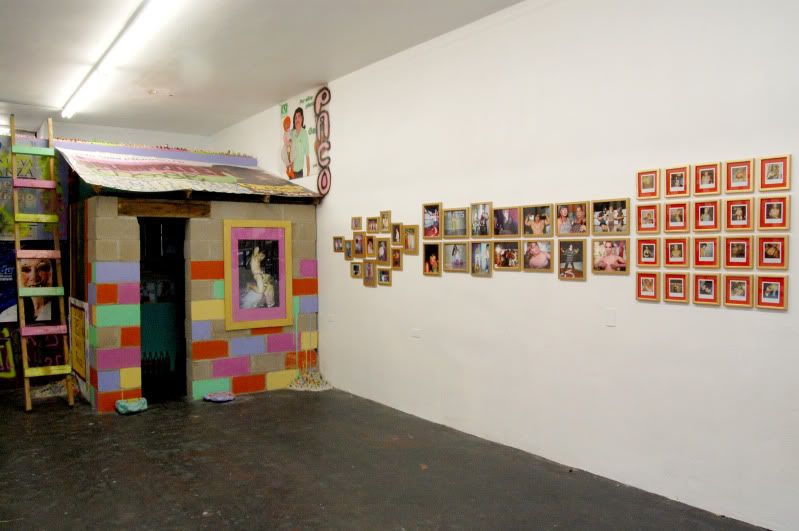 Otis: Yeah and they seemed so similar. Then at one of the tranny bars, our waiter was a wrestler. We were at this tranny bar on an off night watching the performances practice. At the tranny bars, they only make money on Friday and Saturday. So Monday, Tuesday, Wednesday, Thursday is all practice. The queens go in and they practice songs. We go in while they're practicing, hang out, get to know the bar owner, make sure it was OK that we could take pictures and promise we'll give them some of our pictures. So this one fellow who's gay, he turned out to be a wrestler. He took us from the tranny bar world into the underground wrestling world and started pointing out wrestlers and going "Oh he's gay, he's gay, he's gay and he's gay." We said "Well wow, that's shocking I didn't know there was such a crossover between the Monterrey gay scene and the wrestling scene." He said "Oh yeah. Well a lot of the promoters of wrestling are gay and they go to strip clubs. I was a stripper before I was a bartender here. I got recruited out of being a stripper into being a wrestler." So all the sudden these two worlds that were just two photographs to us became intertwined through this guy. That's where we went from there. Poncho took us into the underground wrestling community in San Nicholas.
Ivete: San Bernabe. It's close. It's next to San Nicholas.
Otis: Ok, in San Bernabe is where these underground wrestling matches take place for very little money. People cut each other but the matches start out with little kid wrestlers. There'll be two ten year olds that wrestle. Then there will be this big match with six little girls.
Ivete: 14-year-old girls.
Otis: 14-year-old girls that wrestle. Then it would build up to older people. The last match is a complete bloodbath. What they do is that the wrestlers have a little piece of glass on them and they'll carve into the forehead of each other. You can see that in the photographs. When they get the cut, they'll pound on the head.
Ivete: They'll hold the other guy's breath so that the blood will comes out faster.
Otis: It turns into this spectacle where in the audience, there's little kids sleeping in the corner. There's old ladies. There's trannies. there's like drunk guys and it's a neighborhood where all the taxi drivers live so it's like the kids of taxi drivers.
Ivete: Some people come from the other side of Monterrey. They go in public transportation, which in Mexico, public transportation kind of sucks. It takes them like three hours to get there but they do it because it's so amazing, especially in that neighborhood. I think both of these worlds also have that it's an emotional catharsis where you get to rip everything, all those emotions off of your body. In this underground wrestling it's this aggression, the anger. So you see those little kids saying the craziest stuff, like the craziest curse words to the wrestlers and it's OK. Their parents are saying it too and their grandmothers are saying the same thing. Then the wrestler is saying the meanest, the most demeaning stuff back to the grandmother in the audience and even goes and pushes her. It 's like really a blood bath party where everybody gets to like take the anger out on people.
This is all in fun.
Ivete: Yeah. It's allowed. It's allowed for you to say that.
Otis: What's great about these matches is that when I went to shows as a kid, when I was 16, I went to punk shows and the bands sucked, I heckled them to death. I let them know they sucked. I let them know they were ripping somebody off. I let them know that they looked like a bunch of Pearl Jam wannabes. We've lost that in music. When I saw these wrestling matches, it was like a grandmother yelling at the wrestler, "You fat stupid piece of shit" and then the wrestler yelling back at the grandmother "I'm gonna rape you" seriously.
Ivete: Things like that seriously.
Otis: Yeah and that's horrible at this table here but at a wrestling match, it's just ridiculous and outrageous.
Ivete: For them, it's hilarious as well. They enjoy it.
Otis: They're having fun. That was the whole thing about going to punk shows is that it was fun. Yelling at them. Yelling stupid stuff after a song. They can go and they can get out that frustration. They can see something ridiculous. These wrestlers got their frustrations in it and everyone leaves happy.
Ivete: Same way in the tranny shows. They're all frustrated with these bad relationships. The other thing is this repression for being gay. I'm just so amazed at being in Austin, the U.S., it's just too amazing to me how the gay community and the queer community are such a different world than the people in Mexico. My friends literally had to move away from Monterrey so they could be gay and they're educated people. these people, can kind of be gay in the poor communities but still they can't fully be out of the closet because of the machismo. So Adriana was one of the people that we photographed a lot. Her boyfriend of four years got married to a woman. She's like "you know, if you're going to be married to a woman, I'm not going to be dating you still" The woman doesn't know that he's gay. All that kind of stuff, that's really a lot of tension to them. So they go to this bar and they perform these songs that are all about these torn, tortured relationships. They get to cry together. They perform all these women mariachi songs. They are also very strong women and it's all about relationships. They get to take those frustrations out too. So they also leave happy and drink a lot of alcohol. It is in that sense to us that it brought us that feeling that we had when we went to shows when we were younger. It brought that back because it's real. It's not just a bunch of people, trying to be rock stars, it's what being a rock star is versus the core of what the movement is and where it emerges. It has a reason to emerge and these people are very close to their core.
Have the people you photographed seen the art show or the photos?
Otis: No, what's amazing is that we would take pictures of people and we said "Could we have your email address so that we can send you a copy?" and they didn't have email addresses. Only a few people had email addresses.
Ivete: We gave them some CDs with some photos so they could have it.
Otis: Yeah, we gave them CDs with the pictures. They've seen a lot of the pictures, but they haven't seen the art show. Ivete got into a film festival, the Monterrey Film Festival. She's going down there and she'll bring them some of the pictures and show them on her laptop.
Ivete: The other thing is we wanted to bring some of them to perform in the show but they don't have visas and it's hard to get a visa being a performer. They don't have these steady jobs that, I mean, most of the wrestlers have a day job but the trannies don't. Like they just…
That's what they do.
Ivete: Yeah, they live for that and that's it. So and they don't have, when you get a visa, when you're a mexican person or a person from another country, and you get a visa, you have to like show your bank statements and show your income and all that stuff and they don't have that. So we really wanted to bring them.
Otis: I think something really important about this show is that Domy is on Cesar Chavez St., just barely in East Austin. We have been to shows at Domy and Art Palace that did not engage the community at all in East Austin. We go to openings and it was just hipsters smoking cigarettes and drinking beer. We have a lot of other projects that we could of done there. We made this project the month before the opening because we wanted to engage the people in the neighborhood.
Ivete: We wanted to bring a little piece of Monterrey for them to have close by their house.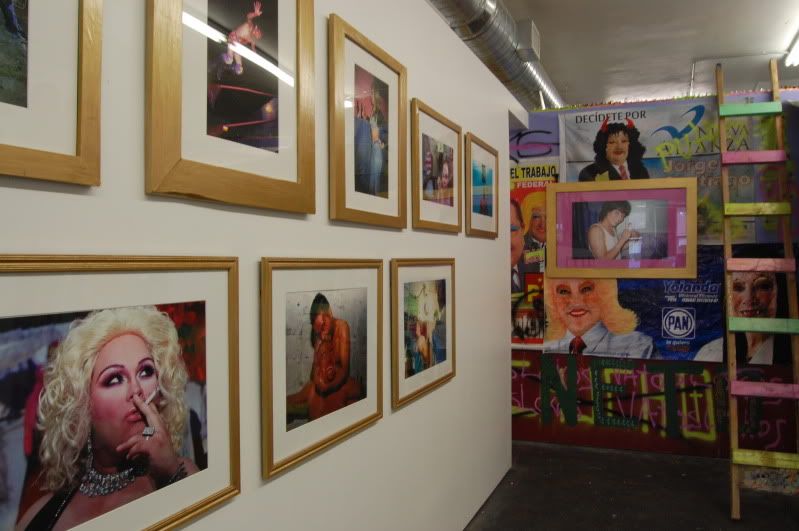 Otis: We wanted to make an art show for people from Mexico who live in America illegally or legally. We wanted to bring an art show of images and a flavor of Mexico to someone who may not be able to get down there all the time so that you can connect and get a feeling for the rawness and the excitement and things that are going on in Mexico. That's why we have all the signage. Mexico is all about hand painted signs. We wanted hand painted signs all over the outside of the building. Another thing, there was a governor race and all of Monterrey while we were shooting this show was political advertisements. It's disgusting. We really wanted to take a piss on the politicians in Mexico because they are such awful people. They just flood these neighborhoods with their face. They give away makeup. They give away anything so that they can to get into office. We wanted to take down their signs. We wanted to turn them into trannies. So we thought that people who lived in Austin and who were from Mexico would appreciate that. That was one of the big goals of this show. To give people in East Austin art from Mexico and kind of take a shit on the politicians for them.
Ivete: I think two things that I thought of and are important while Patrick was talking. One of them is people from Monterrey are not so concerned with making art about Monterrey. They're very concerned with traveling and trying to make international art. Some people kind of emulate movements that originate outside of Monterrey and nobody's looking inward. They're looking outside the whole time. So for me, it was very important being from Monterrey to concentrate in the real deal that's going on in my hometown and the real artists that are in this impoverished communities. They're doing everything they can to express themselves so I thought that was very important. When we brought it here, there was a lot of people at the opening and we were able to share that with people and there were people from Monterrey. There were people from Mexico. Everybody was so amazed at what they saw. It felt really nice to show the world what's going on in Monterrey. The other thing I think is really important about us is that we actually made friends with our subjects or the people we photograph. We made relationships with them. We don't just go and take photos and leave. That is important to us because we want to do justice to them as human beings. I think that's part of also bringing that to people here. It's like a human connection between the Mexican culture here in the U.S. where it's a different Mexican culture but still Mexican and the Mexican culture over there. It's all made of people and people's expression. Other people that are not Mexican can also be drawn to it and understand it and all that, but it's great to make those human connections.
Otis: We did risk our lives to make this show.
Ivete: We did.
Otis: If we went to Charlies or Bout Time here in Austin, which are two tranny show places, we wouldn't have been taking any risks. We would just go and take pictures.
Show up and snap away.
Ivete: Yeah, people are nice.
Otis: When we were taking pictures, there was prostitution, drugs, people having sex in bathrooms. It was very uncomfortable at times. It was very dangerous.
Ivete: Everybody would tell us not to go to those places. At least it was like "don't go, don't go" or "At least, don't take pictures." because if they see you, they might get angry because they're in the closet. Basically if there's a problem, they'll just make a mob and attack you. All those things that people told us that could happen, but we didn't listen.
You've answered all I wanted to ask. Anything else you wanted to add to that?
Otis: Yeah. We really want Mexican people to enjoy the art show because what we saw in the poor communities in Mexico was that people were very tolerant of the trannies. We go to these wrestling matches and they would be openly gay couples in the audience. There was complete acceptance of these people. So we really want people from East Austin to feel that they can see artwork and they can see the show and there's no pressure to buy stuff. There's a lot of artists in the Mexican community. People hand-make signs. They make pinatas. They do mariachi costumes. There's a lot of very artistic people in the Mexican community. We want them to engage the art so that's our goal.
Ivete: As for me, I think the show is something that is from our hearts. All cultural people and people who have a college education, basically, they're just walking around with their nose up in the air and being malinchistas that they call. A malinchista person is somebody that likes things from outside of Mexico much better than the things that are going on in Mexico. They put down what's going on in their own city. I grew up there and I would see all these things happening. I'll be so amazed and I would see the expression. The houses there are aqua colored houses, all these bright colored houses, all these things that these high class people are saying that are ugly and I thought it was amazing so to me. To us it's very, very important to do this and to bring that piece of Mexico to Austin.
You still have time to see the exhibit at Domy Books. But get there soon, it will only be up until September 3rd.