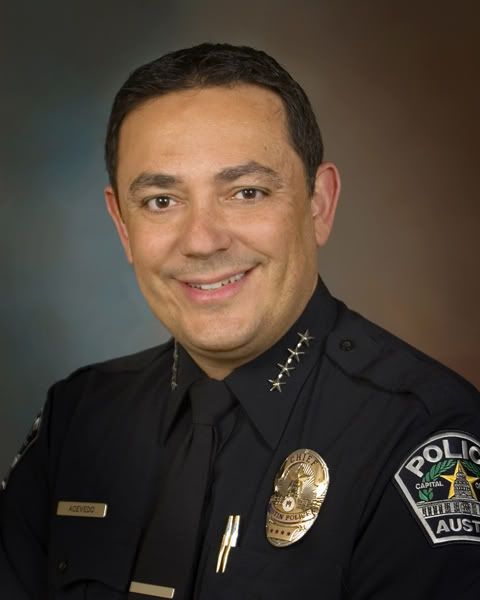 "I know."
The exhausted stamp of acceptance from anyone that's had to miss the big game. There are comparable occurrences applicable to every pastime; life standing in the way of otherwise unwinding days off. Out of town uncles to tend to. Requisite shopping. Working late.
Austin Police Chief Art Acevedo is at the office late again, briefly bummed he won't be in front of a flatscreen, consuming Florida and Alabama and a Conference championship. Number one against number two for keeps.
"It's gonna be a good one."
Rather, Acevedo will spend Saturday wearing a dress at the Long Center performing sans rehearsal. He's Mother Ginger in the state's longest-running production of The Nutcracker. Tchaikovsky over Tebow.
"It's spontaneous," Acevedo said, "They take me backstage, put me in costume and I'll ham it up."
In other words, the boss is plating zingers for alpha colleagues at the station. "Yeah, it'll be a dress but I think the guys are seeing that we got a crazy chief willing to do anything."
Since becoming Austin's first Hispanic police chief, the Californian cop has been there for his adopted town. In-depth engagements with cable access libertarians? Sure. Cross-referenced databases that may or may not be used to predict criminal activity "Minority Report" style? I'll hash it out with the ACLU. Dance competitions for charity? I'll do it in uniform for pizazz.
"I don't say no to the community," Acevedo said. "Not to anything advancing the fabric of trust. It has to start with the APD chief. We did 'Dancing with the Austin Stars' and we raised over $600,000 for the child protection center and now there's videos online of me doing the cha cha."
Thus, transparency for an entity that could be more, um, "effective." His recognition.
"The number one thing a police department can do to strengthen a relationship is transparency. Just look at media accessibility; we've moved from an eclipse to a full moon. We're breeding trust… And there's no sense in being transparent if people are just seeing poor performance. The community has to hold us accountable, it's building a department all of us can be proud of."
Fundamental but lofty strides for an executive likewise realizing the opportunities and obligations inherent in the post. Marginalized members in authority offices carry the additional responsibility of leading and advancing, giving back and honoring origins.
"My first responsibility is making sure the second [Hispanic police chief] doesn't take 84 years," Acevedo said, "it's incumbent to insure you're outstanding and the door doesn't close. I take this very seriously."
For the community staple that now prints programs in Spanish during its annual December run. "I love 'The Nutcracker' but we could never afford to see these things growing up."
Which is why he'll be wearing a dress Saturday.
Nutcracker Austin link: www.balletaustin.org/atb/nutcracker.php