La Peña presents Lula Marcondes and New Tales of a Storytelling Artist from Brazil from October 6th – 27th. This exhibit features the return of Brazilian artist Lula Marcondes' artwork to La Peña's gallery space along with a series of free public events including a musical performance, film screening, and capoeira demonstration.
Lula Marcondes is a painter, musician and architect who taps into the visual and performance traditions of Northeastern Brazil to fuel his creative process. While it is the poorest region of the country, it is rich in culture due to the mix Portuguese, Indian, and Afrian people. This diversity adds a strong mix of colors and rhythms in people's day to day lives. Olinda, where Lula was born and raised, is one of the oldest cities in Brazil and a colorful city where many of these cultural expressions meet. Living in Olinda led him to be interested in Brazilian culture, arts, and architecture.
Lula absorbed the artistic vernacular from under served communities whose creativity is a response to their daily hardships. His experiences led him towards an artistic path where the essence of things is less is more. His message is simple, direct, without pretensions, and tells stories about ordinary events. These stories come to life through Lula's colorful graphic style, puns on words, and collages made of inexpensive and commonly used fabrics in addition to found materials.
Schedule of Events:
Friday, October 9, 6-8 pm
Opening reception featuring music by Seu Jacinto Band
Saturday, October 17, 7-9 pm
Screening "O Povo Brasileiro" About Darcy Ribeiro's Homonymous Book (Chapters 1 – 3)
Saturday, October 24, 6-8 pm
Capoeira Angola Roda with Capoeira Angola in Austin Group,Free Angola Capoeira Society & Angoleiros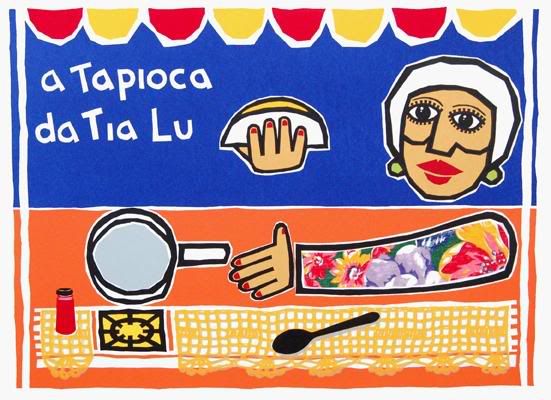 "A Tapioca Da Tia Lau"
by
Lula Marcondes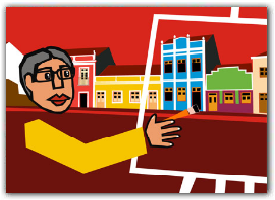 For more on Lula marcondes, visit this official website at www.lulamarcondes.com
More info about the Lula Marcondes exhibit at La Pena, visit La Pena online at www.lapena-austin.org