February 6, 2009
Fashion Freakout is Austin's new annual rock 'n' roll fashion show produced by Audrie San Miguel, owner of Prototype Vintage on South Congress, and Jason McNeely. Audrie's passion for vintage fashion, her city and live music all came through that night at The Mohawk perfectly. It was the perfect marriage of vintage fashion and rock and roll. In only its second year of existence, Fashion Freakouk did not disappoint. Everything about Fashion Freakout was absolutely perfect and absolutely Austin.
Hosted by Austin's own Riverboat Gambler's front man, Mike Weibe, Fashion Freakout featured two sets from the classic rock soundings of Hacienda. Having been declared by Rollingstone Magazine as "the Mexican Beatles", Hacienda was the perfect fit for Fashion Freakout. On the turntables that night were DJ Tweedy, McNeely and Big Face.
Prototype Vintage Models (photo by Mari Hernandez)
Early on in the show San Miguel's Prototype Vintage featured a diverse array of models that were almost as fun and colorful as the clothes they were wearing. Many of those clothes looked straight out of a Nick At Night rerun we used to watch as kids. As the Prototype Vintage models strutted down the runway, crowds cheered and eyes lit up.
For Prototype's second round on the runway, they brought out their models in a more formal but edgy, black and white clothing line. One female model wore a tuxedo style bow tie while one male model paraded the runway in a black top hat in true gentlemanly style. Despite the "formal" look of the attire, the models for Prototype were smiling and carrying on with the swagger of young rock stars. That night in February, they were.
New Bohemia models (photo by Mari Hernandez)
Another South Congress Fashion Freakout participant, New Bohemia, turned heads and entertained the scenester crowd…then there were the clothes. With flashy and eccentric models, New Bohemia not only displayed their clothing line but also the New Bohemia attitude. That attitude is young, care free and fun. With clothes one could wear in an everyday setting and formal lines to offer, New Bohemia held its own and won over the Fashion Freakout attendees. The male model in the blue vintage dress was a crowd favorite.
Laced With Romance models (photo by Mari Hernandez)
Laced With Romance is an online, Ebay boutique that sells vintage clothing. The edgiest and most out of the box line of the Fashion Freakout participants, Laced With Romance's models were as confident and brooding as the people who would actually wear the line. Not for the everyday or casual shopper, Laced with Romance's line includes dark, tie dyed inspired prints on leggings, on their womens tops and on their women's one piece jump suits. For the men, Laced With Romance's collection offered a very dark bohemian chic look sure to appeal to the out of the box nonconformist.
Buffalo Exchange models (photo by Mari Hernandez)
The fourth and final representative for Fashion Freakout was none other than the popular Guadalupe Street hot spot and Fashion Freakout attendee favorite, Buffalo Exchange. Their models included some familiar faces to many as they featured their own employees on the runway. With a good mix of vintage chic and an everyday bohemian hipster, Buffalo Exchange did not disappoint.
The female models wore vintage dresses that would have donned the pages of fashion magazines before most of us were born. Their eclectic offering of female accessories, ranging from belts to boas, enhanced the look of their most simple tops and dresses modeled. As for the guys, one model came straight out of the pages of a renaissance fairy tale while another wore vintage brown leather pants with an open jacket. Both drew cheers and screams from female attendees.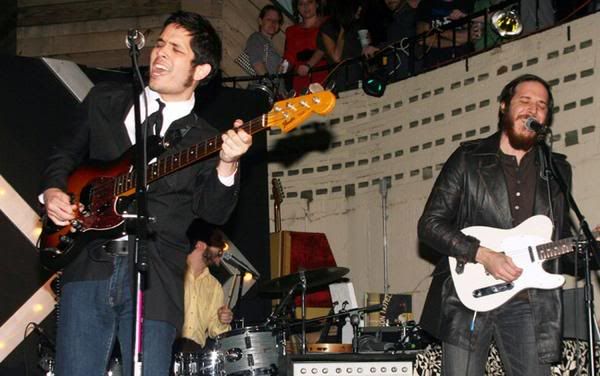 Hacienda performed at Fashion Freakout 2 (photo by Mari Hernandez)
Fashion Freakout concluded with the second set from Boerne, Texas's own Hacienda. Fashion Freakout was their final Austin gig before going on tour with The Black Keys front man, Dan Auerbach. Sporting their own black and white vintage Beatles look, the guys from Hacienda were as chic as the models that took the stage before them. Lead singer, Rene Villanueva, is quite the rock and roll crooner in his own right. Several comments about Villanueva could be heard from the female attendees in the front row. For anyone who has seen Hacienda live before, vintage style is their style of clothes as well as their style of music. They were the last piece to what was Austin's best fashion event of the year, and quite possibly Austin's best ever.