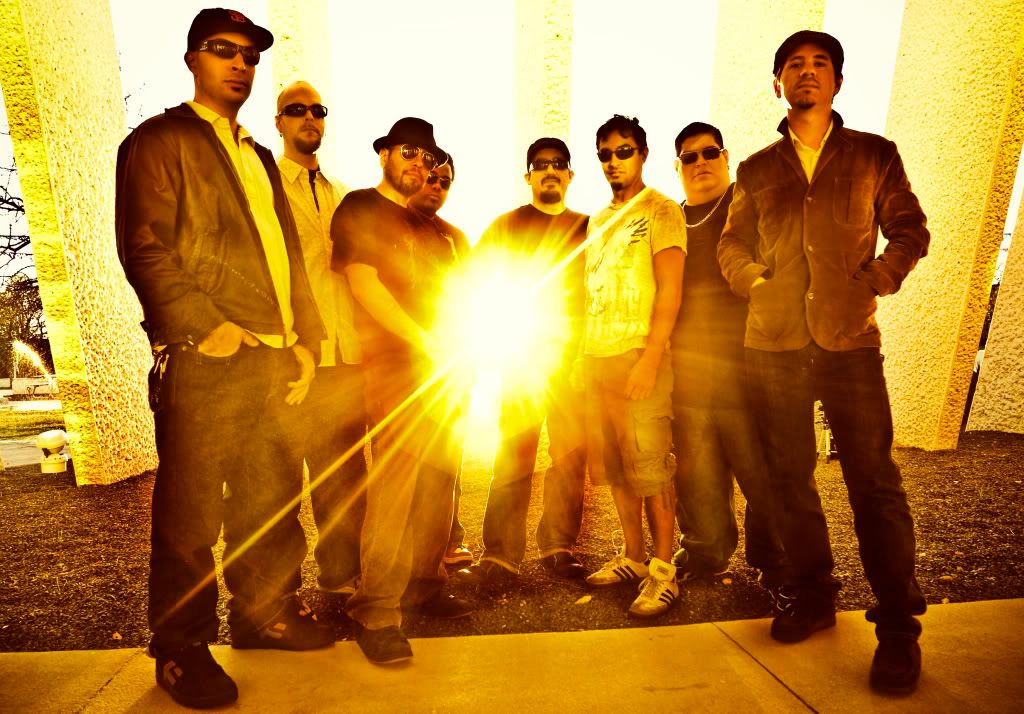 Austin-based Latin-funk band Brownout. Guitarist Adrian Quesada, far right.
Adrian Quesada is a busy man. When he's not performing psychedelic salsa jams with Grammy-nominated Austin outfit Grupo Fantasma or playing backing-guitar for Prince (yes, the artist once again known as Prince), he and his fellow Fantasma-mates are bringing the Latin-funk with critically-acclaimed Brownout and the more laidback but no-less-funky Ocote Soul Sounds. Quesada, a Laredo-born Austin transplant, recently sat down with Austin Vida before a Brownout gig at Scholz Garten to sip Tecate and reminisce about his musical past while touching upon his musical present. You can catch Grupo Fantasma playing a two-night stand at Antone's this weekend; Brownout and Ocote Soul Sounds play Pachanga Fest at Fiesta Gardens on May 30.
Whenever I talk with musicians I always like to talk about the journey. How did you first get started playing music?
Adrian: To go really far back, the turning point for me was when I was really, really little. I remember the day MTV launched. Watching MTV, that was a really big deal for me. I was an only-child; I was home a lot by myself, and I remember just being obsessed with watching music videos. It was better music than was being played on the radio in my hometown, Laredo. I started playing an instrument when I was 13 years old; I started playing guitar. And when I was a senior in high school I decided to move to Austin, to come here for music.
I grew up in California, but my family moved to Laredo when I was in high school. I graduated from high school in Laredo.
Adrian: Cool. What high school did you go to?
United High.
Adrian: A bunch of these guys went to United. Three of these guys. [points to his Brownout bandmates in the distance]
Wow. Where did you go?
Adrian: I went to St. Augustine.
Saint Aug!
Adrian: Saint Aug. Yeah [laughs]. Moved to Austin after I graduated high school.
So at 13, you picked up a guitar. What kind of stuff were you playing?
Adrian: Originally, when I first started playing, I was playing classical and flamenco. That was the first style of music that I actually studied, for a couple years, and then when I was 15 or 16 I pretty much gave that up and started playing in garage bands – rock and psychedelic stuff. I was always into hip-hop, so when I was a junior or senior in high school, I started getting into funk music, through hip-hop – through trying to find out what the music was that they sampled. Then when I was 17 or 18, I started getting back into cumbias and old stuff that I grew up on, and really appreciating that a lot more.
I noticed that's a somewhat circular path that a lot of musicians take: When you're younger you want to rebel against what you were raised on, but when you get older you come back to it.
Adrian: Exactly, man. That's what it was. When you're a teenager, Latin music seemed like my parents' music. Even though they didn't really listen to that much stuff, it just seemed like the music of my parents or grandparents. It wasn't until I got older that I started appreciating that kind of stuff.

What kind of rock bands were you playing in as a teen?
Adrian: My first band, in high school, was just a lot of bad rock covers, just really lame stuff. [laughs]
What year was this, more or less?
Adrian: This was probably '92.
So right around grunge?
Adrian: Right around there. We were playing a lot of those covers. I got really into Soundgarden and Nirvana and stuff like that. We were pretty bad. We never played anywhere, luckily. Just at my friend's house. Then when I was a junior in high school, started playing with a couple of guys in a garage. We only played one gig, I think. But we recorded a bunch of stuff. And we would write these originals, and it was actually pretty cool. I'm still kind of proud that I have that stuff on tape. That was just kind of weird instrumental, kind of tripped-out, rocked-out stuff. We still had that high school grunge influence, but it was a lot more out there, and it was all instrumental. We only played one gig; we played a party.
So when you moved to Austin, did you move by yourself or with a band?
Adrian: I moved by myself, and these guys moved a year later. They were in a band in Laredo in high school, and I knew who they were but I wasn't actually friends with them. We didn't actually hook up until they got here. These guys used to be in a funk band in Laredo called The Blimp. That's what the nucleus was of Brownout and Grupo Fantasma. When I moved here, I moved out by myself. I went to art school at UT, and just decided to try to play music. My first band here was '96 or '97.
So when you came to Austin, were you trying to do the Latin-funk thing?
Adrian: No, not really. It all kind of was a natural progression. When we moved out here, the first band I started was kind of this punk-rock jazz group. Aggressive, noisy, rocked-out jazz stuff. Three of those guys joined forces with the guys from The Blimp, who were playing funk in high school, and we became Grupo Fantasma. That was how it all started, and Brownout kind of branched out from there. When Grupo Fantasma started playing a little bit over ten years ago, the idea was funk and cumbia. We would just play these parties and jam out. At the time, we didn't really know the word "Latin-funk"; we were playing funk with congas and Latin percussion.
So was Latin-funk an actual genre at the time?
Adrian: It actually originally was a genre in the '70s, but we didn't know at the time it would make a resurgence. When we played funk music, we just happened to have congas. That stuff was naturally in the music. It wasn't until just a few years ago that I think there's been a resurgence in so-called "Latin-funk" as a genre. We just played funk like that, with a Latin influence.
What kind of response were you guys getting in Austin early on?
Adrian: When we first started doing all this, we were just playing parties – like our friends' parties. So it was all our friends, and they were as drunk as we were. So they were into it. It didn't really seem like anything revolutionary or anything that was changing the musical landscape. It wasn't until people started to pay attention. We were lucky enough early on that Austin is a pretty open-minded place where Grupo Fantasma was able to go play all kinds of venues to all kinds of crowds. We play Emo's one night and then we'll go play Threadgill's and Antone's or, earlier on, shows for families. Austin is open-minded enough to where people never really ask questions; if they're into the music, they're into it.
You talked a little about a resurgence of '70s stuff. Who are some of your influences – like Fania and stuff like that?
Adrian: Fania is probably our biggest influence, for sure. Most of the stuff Fania did during that era – late '60s and early '70s – was huge on us. For Brownout, a big influence is Mandrill, which was one of the first bands in the early '70s to be doing funk music with Latin percussion. That was a big influence on us.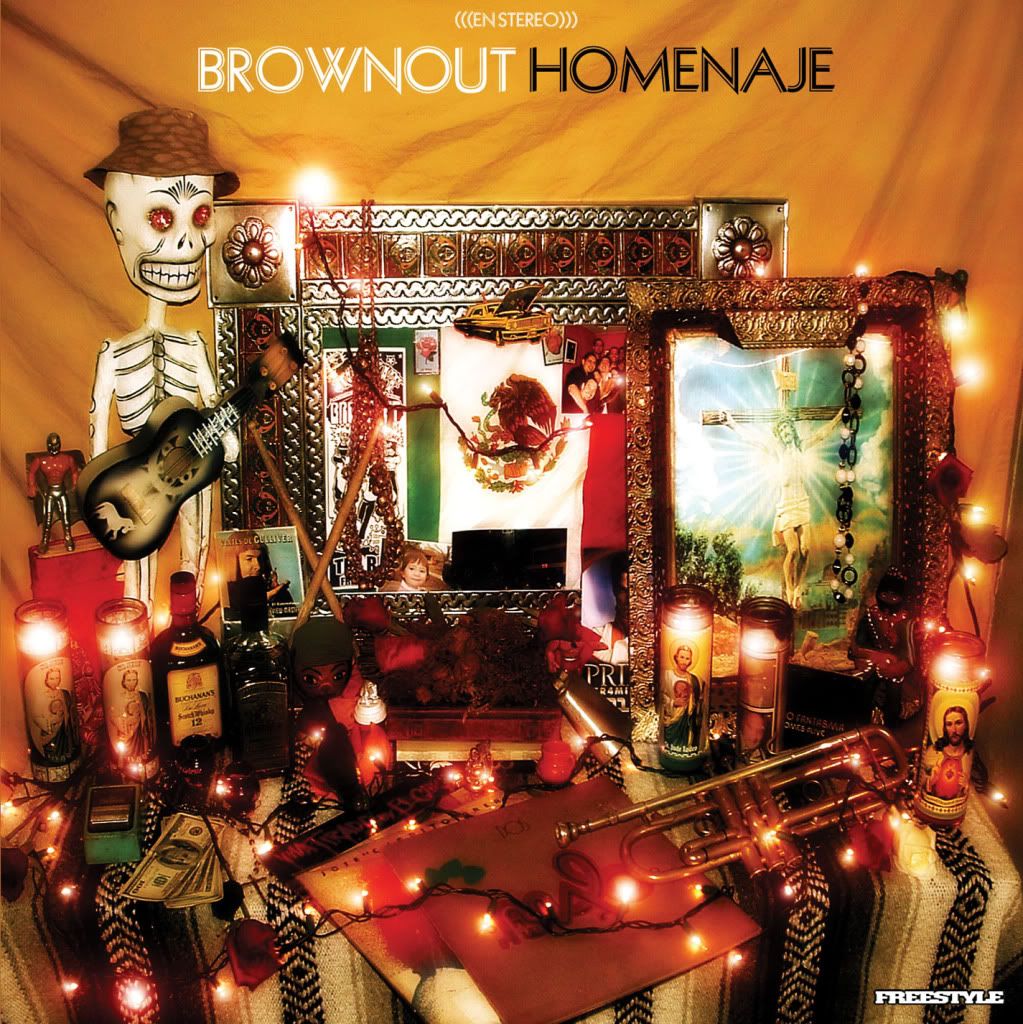 How did you guys go from being Grupo Fantasma to starting Brownout?
Adrian: Well, originally what happened was, Grupo Fantasma used to sound more like Brownout. For a year or two before we played our first gig called Grupo Fantasma, we were already playing parties. We would play at this place called the Manor Road Coffeehouse, which I think is now called El Chile, on Manor Road. We basically would play to a hundred of our friends whenever we could, and that actually sounded like what Brownout sounds like, with a few cumbias thrown in there. But then one day we decided to make that a real band and we called it Grupo Fantasma, and the idea was to focus more on cumbias. So the funk stuff got pushed to the side and we started incorporating more salsa and more Afro-Cuban rhythms. And then a couple of years into Grupo Fantasma, we got kind of burned out on that and decided the best thing for us to do to not get burned out, and not burn out the name Grupo Fantasma, was to put the band back together and to play more of what we used to play. We did Brownout the first year or two for fun. If we had an open night on our calendar, we'd book a gig. We learned a few of our favorite songs: some Mandrill stuff, some James Brown stuff. We'd just play for the hell of it; we only had like eight songs. Then one day we started writing originals. When we first started taking Brownout seriously was in 2004. We went into the studio and recorded five songs and sent it out to some labels – you know, labels that put out this kind of stuff. A label in the UK called Freestyle Records was really into it, and that's when we first kind of realized, "Man, if these people in London are feeling what we're doing, maybe we're onto something. Maybe people actually do like this." That's when we decided to focus on Brownout and start recording the album. And then when we put out the album was when we realized that people like this shit. [laughs] We never actually knew people liked what we were doing. We just thought our friends liked it.

There is kind of a throwback sound to it, but it still sounds modern. Most of all, it just sounds authentic. There's a lot of resurgent stuff in Austin, other genres that are being revived, but a lot of it just doesn't sound good or authentic.
Adrian: Well, a lot of that resurgent kind of stuff is like, people will pick an exact sound or an exact style that spanned a couple years and pretty much copy it, but do it really well. For us, we never really said, "Man, we gotta sound like 1971 to 1973. Only this stuff, and only on this label." As a matter of fact, we never cross-referenced anything. We never recorded our stuff and then played, like I said, a Mandrill song next to it and been like, "Okay, do we need to sound more like that?" To be honest, we play so much already and we work so hard between bands that we don't have time to try to make our stuff sound like someone else. I think a lot of the throwback stuff nowadays, a lot of the bands are amazing, but it's almost easier for them because they reference exactly a four-year period of music and you can almost pick out the records that they're trying to sound like. And they do it really well, but that was never one of our things. If it doesn't sound like something out of 1973, that's fine. It's not really a big deal. We're not totally clinging to that.
How did you come up with the name Brownout?
Adrian: Originally, we were called Overgold, but then we looked it up and there was already a band called Overgold. [laughs]
Wow, what are the odds of that?
Adrian: Yeah, no shit. Then we changed the name to Brownout. Obviously, we couldn't be Blackout and we couldn't be Whiteout. There was more brown than there was anything else in the band. That was Beto Martinez, our other guitarist. He's named both bands, Grupo Fantasma and Brownout. So we usually just leave it up to him, and whatever he comes up with is cool.

He comes up with the gold, no pun intended. So the name, it's obviously cultural, but is there a political tone to it?
Adrian: Not particularly, no. It's just a name. We don't really spend a lot of time thinking about that stuff. It doesn't have any overt political meaning.
This is just a selfish question for me, since I lived in Laredo, but what is the song title "Laredo '77" in reference to?
Adrian: That's the year I was born in Laredo. [laughs] It's funny naming instrumental tunes. Sometimes it's like, "Man, what exactly is this about?" Because there's no words. I don't know what it was at the time, but it just came to my head. That's when I was born.

I do listen to a lot of instrumental stuff, and I always wonder how do you come up with a name for something that's a beat, a bassline, and a melody, you know. But y'all do have some pretty good song titles – "The Sexican."
Adrian: [laughs] That's a classic, yeah. Again, Beto Martinez. He named our new album too.
Yeah, the new album, by the way….
Adrian: It's pretty much done; we're just trying to figure out label stuff, and how we're gonna put it out. It'll probably be out in early fall, September. We were hoping to get it out in June, but at this point it's gonna be after the summer. It's called Aguilas & Cobras.
Oh, shit. [laughs]
Adrian: Beto, again, named that album.
See, a title like that just brings up images of lots of aggressive horns and…
Adrian: Yeah, well, the idea of this one actually was a little bit – to us it sounded aggressive. Again, it's just another one of these inside jokes that will make sense to nobody. But one time he said something about, like, "Man, that sounds like aguilas and cobras and shit." And we were like, "Aguilas and cobras; that's it! There it is."
It's gonna be like an Aztec warrior with an eagle on the cover.
Adrian: [laughs] We're actually working on the cover art right now. It should be out in hopefully September.
How many songs?
Adrian: At this point, it's twelve songs and two little interludes. It's a lot more consistent than our first record. Our first record was recorded over a period of two-and-a-half years. It was just whenever we had time. We did five songs in one day, then we waited a full year and recorded two songs, and then one song. It was great and I love it, but it wasn't as consistent and representative of the sound as this one is. This one is a lot more focused. The only reason we haven't wrapped it up is because we still don't know how we're putting it out. We might put it out ourselves, or a label might put it out.
Well, with Grupo you had a lot of success being independent and putting stuff out yourselves.
Adrian: But Grupo also tours a lot and goes out there and spreads the name, whereas Brownout, we don't tour all that much. So if we can get a label behind it, that's even better for us.
Brownout is the home-base band.
Adrian: Well, we're gonna try to tour a little bit just to push the album.

Just lastly, I played Sonidos Gold for my mom and she really liked it, which is weird because she rarely likes any of the music I'm into. I've noticed Grupo Fantasma is something I can really dig, but so can my parents. Do you ever get any comments like that?
Adrian: You know, it's funny actually, between the two bands, Grupo Fantasma is the more family-friendly of the two. For some reason it's the band our parents like, and Brownout tends to be the band that everyone else likes. It was kind of a goal of ours that our parents could like it, our grandparents could like it, and someone at Emo's could like it. With Sonidos Gold, it was real important to make something that was classic. I tried to make it kind of psychedelic, but at the same time something that wouldn't turn off my parents or my grandparents. They can appreciate music just like everybody else and it shouldn't be something that turns them off.
What are the immediate plans? What's your focus right now?
Adrian: Right now it's the Brownout record, and then I have another album with another project of mine, called Ocote Soul Sounds, which comes out in June. And then Fantasma, we'll start recording our new album later this fall for next year.
______
Check out our exclusive footage of Brownout performing live at Scholz Garten: