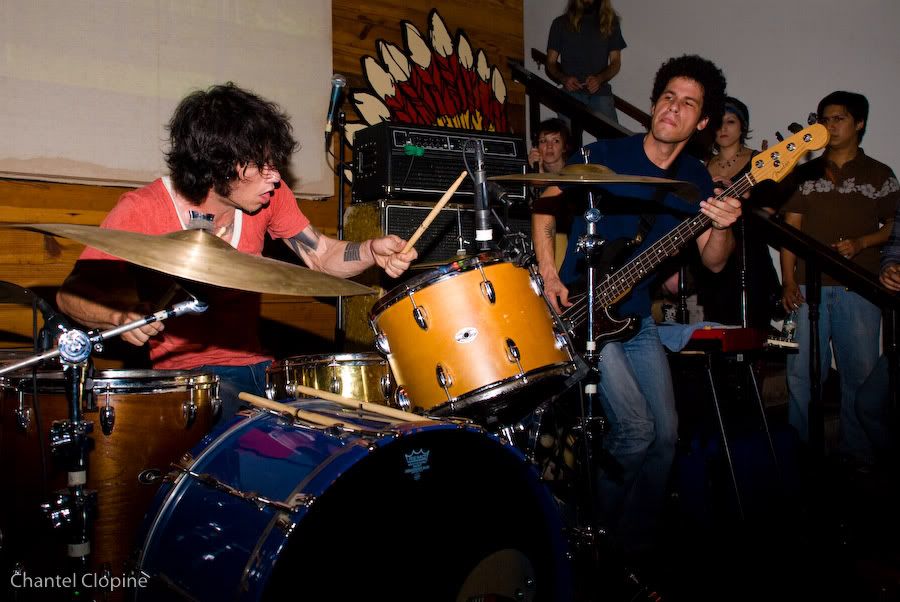 I gotta be completely honest: Zechs Marquise is a band I discovered in between Mars Volta albums a few years ago when I was a TMV fanatic and needed a prog/punk/experimental fix in between Volta albums (a downtime that averaged 15 months maybe, but still…).
The best-known of the Rodriguez-Lopez brothers from El Paso is Omar, the mastermind behind the Volta, but his musically inclined siblings Marfred and Marcel are no slouches. They formed the improvisation-driven instrumental rock band Zechs Marquise with childhood friends Matthew Wilkson and Marcos Smith in 2003.
Despite the connection to a bigger band, Zechs Marquise (named after an anime cartoon character) doesn't have to worry about living under anyone's shadow. This band rocks. Plain and simple. Being that the brothers grew up together listening to lots of the same music (Led Zeppelin, King Crimson), Zechs' sound is reminscent of the Volta, but a simpler, more hard-charging and stripped-down version. That's where the comparisons should stop. This is a unique band with a clear vision and personality. From a live EP to their debut LP, 2009's Our Delicate Stranded Nightmare, this band shows lots of promise.
I interviewed bass player and band leader Marfred after a show in Austin recently. The band is returning to Austin in March, in case you missed them. In the meantime, watch our live footage below and read the Q&A.


Zechs Marquise, live at Mohawk. Watch on YouTube here.
Tell me how you started the band.
Marfred: Basically, you know, it's just a few friends getting together and had the common interest of music. We'd just get together whenever we could. We never really used to write music; we would just play.
I get that vibe from watching you guys play live.
Marfred: For sure. It's the one thing we never got rid of, like over the years. Because before, our sets used to be almost completely improvised. But based around a few riffs. Eventually, when we solidified the core lineup, we kinda started messing more with arrangements and melodies. The presentation of the music was a very important thing to us.
Marfred Rodriguez-Lopez playing bass

I got some live footage in there. How much of what we just saw is improv versus structure.
Marfred: Tonight, I'd say tonight it was a 60-40 split, more or less. Every night is a different thing. A lot of the same stuff is there—a lot of the structure is there—but we'll add things here and there. It's kind of a spur of the moment thing.
I totally got that vibe.
Marfred: It takes a while because at first you're more concentrated on what you're doing. And then after a while you learn you gotta pay attention. You gotta look around. And now it's weird. It's become second nature. We'll just be playing and we'll happen to look up, and it's like Cool, alright, let's do it.
I read that you had a record that fell through. What happened with that?
Marfred: The engineer that we were working with on that record—he was an employee at a studio. He was actually the neighbor at our old rehearsal spot and he liked the music or whatever, so he kinda hooked us up with a deal. We went; we recorded. It was three full songs—a fourth song only had bass and drum tracks on it. And then we left on tour, and when we got back they had fired the engineer and had wiped all our material from the hard drive.
Wow, that sucks.
Marfred: And all we had was one song that they gave us right before we left, just so we could hear it as a reference. Actually, they gave us three of them, but only one was semi-mixed. But even then, it wasn't anything we wanted. So we just kinda put it out on the second release of our first EP when it went into second print. It was a bummer, but we learned from that experience and decided to take the reigns ourselves.
And you guys self-produced and self-recorded the album that became your debut, Our Delicate Stranded Nightmare.
Marfred: It works better just because of scheduling and we don't have to deal with outside stuff; we just didn't want what happened to us to happen again. You know, we paid for it and we really didn't get anything from it.
Where was it recorded?
Marfred: El Paso, in this studio over by the airport.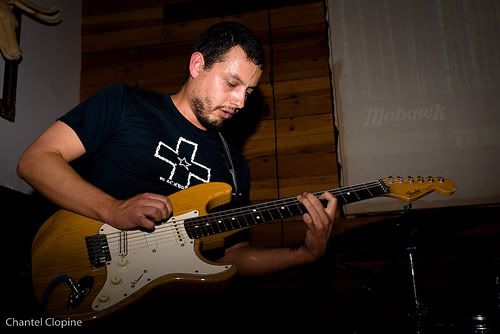 Border towns are interesting. I'm originally from California, but I graduated high school in Laredo. There's a different kind of vibe in border towns, almost polarized. People are either really ultra-stuffy and uptight or just super-out-there and creative. How does being from a border town influence the kind of stuff you're into?
Marfred: Like you said, in border towns—at least El Paso—it's very easy to settle for mediocrity. People there just settle. That's all they wanna do. And that's actually what pushes us. We don't just wanna hang out. We wanna go out there and we wanna do things. Because other than that, what would be the point? A lot of guys back home, if they do play music, they just like the idea of being in a band to be cool, or whatever. Or for girls, in some cases. But we just like to do it because we enjoy playing music and we enjoy each other's company. So it definitely pushes us to get out of there and push our limits, and keep pushing them.
You strike me as the kind of band that's constantly working on new material, just because of the improv.
Marfred: Definitely. There's never a time when we're like "Let's sit down and write an album." We're constantly, always, cranking out new things. It makes it good because we're not running out of material. And with older things, we can go back and add things. If we don't like it, we can scrap it and replace it with something else. It keeps a very interesting dynamic in the studio.
A lot of freedom in there.
Marfred: Definitely, especially since we're on our own time. We don't gotta pay anybody.
It's gotta be nice. But hard too, since you have to be a producer too, not just a songwriter or performer. Any other plans?
Marfred: We're gonna take more time to record. Like I said, it's always new things. We wanna put it out just because we already have enough material for two, possibly three records. Hopefully in the spring, we'll have a six-week tour coming up. A whole US tour.
Cool, man. You play with your brother Marcel in this band, and Omar has The Mars Volta. I don't know what was in the water in your household growing up, but you got one of the most musically talented families, dude. Were you guys playing from early childhood?
Marfred: We all picked up at seperate times. Our parents were all really supportive. The second that any of us decided to play an instrument, they were one-hundred-percent supportive and like, "Alright, we'll go rent you your first instrument."
Do your parents come from musical backgrounds?
Marfred: My mom sings, and my dad is singer/composer as well.
We have lots of Latin supergroups. We have the Fania All-Stars. What about the Rodriguez-Lopez Allstars? Are we ever gonna get a collaboration like that?
Marfred: Yeah, we'll see. We've often talked about it. I mean, there's been plenty of times when all of us are together, and we get together and plug in and play. I'm sure it'll be a salsa band.
It has to be.
Marfred: That'll probably be the way it goes.
Get the family together, for the good of the music world.
Marfred: [laughs] Yeah.
Zechs Marquise links: MySpace | Official Website | Bandcamp