The legendary Tejano group Tortilla Factory is set to perform this Saturday at the third annual Pachanga Fest. Tortilla Factory will be the festival's most interesting group, for their interesting history and recent changes. The San Angelo-based group was founded in 1973 by Tony "Ham" Guerrero, after seceding from Little Joe y La Familia.
Tortilla Factory has had a long and indelible impact on not just the Tejano music industry, but in music history. For decades, they filled clubs and Texas dance halls with fans from all backgrounds, not just Tejano fans or Mexican-Americans. Their unique Tejano-jazz-salsa-funk fusion style, co-lead by Bobby "El Charro Negro" Butler, has been praised by Dan Rather, university music professors and of course Tejano music media.
After two decades off, Tortilla Factory reformed in 2006. Their latest album, All That Jazz, was nominated for a Grammy last year. Tony's son Alfredo Guerrero and daughter Laura Guerrero are taking the reigns with a new band of musicians and are carrying on the name after the diminishing health of the senior Guerrero. While Tony Guerrero is no longer performing with the band, he can be found alongside them as their manager. But Butler will be joining the band as a special guest for their Pachanga performance.
While the original Tortilla Factory has its large and established fan base, many fans are not familiar with the new Tortilla Factory. Old fans that have heard or seen the new Tortilla Factory are often divided. Both sides have been vocal about the change on Tejano websites, blogs, online message boards and even YouTube comments. I caught up to Ham, Laura, Alfredo and bassist Memo Rincon recently to discuss this issue, Alfredo's solo projects, keeping the Tortilla Factory name and a new album, Cookin'.
Why did you decide to keep the name? I know this is a family business, but the music is so different from what most Tortilla Factory fans are familiar with.
Alfredo: The reason I decided to, with my father's suggestion, is that I started as a solo artist. It is 10 times as hard to make it if you're not known versus to try and make it with an established name. I can get exposure through the name Tortilla Factory. It's a win-win situation. I get to keep the legacy going at the same time. My sister is back in the band; she's my little sidekick. Memo, our bass player, is a very gifted musician who has been stuck in Waco, Texas. Not to say anything negative about Waco, but chances of making it in Waco aren't like the chances you have in Austin with a name like Tortilla Factory.
Memo: The original Tortilla Factory are inspirations to match what they do and continue the name. Being in this band helps me play better. When I first joined, Tony told me this band is a school for musicians to learn. I tell you what, he was right about that.
What kind of pressure does that bring? You have a lot to live up to.
Laura: It really is a lot of pressure.
Alfredo: That is why we work so hard, hours a day on my vocals and writing all my own music. It is a passion, but it is hard work. I don't know how my dad did it by himself for so many years. Keeping a band together of this size, it's tough.
Who is the primary songwriter for the material that will be on your new album, Cookin'?
Alfredo: Most of my songs, I write. My mom helps me a little bit. Our previous guitar player helps me write the music. I come up with most of the melodies and the lyrics. I then take those lyrics and take them to Miami, Puerto Rico and New York and create productions.
So then you just bring it back to the practice space here and work it out?
Alfredo: Yeah, we rehearse it. I organize most of the sessions. Most of my music is recorded in New York, L.A. and Puerto Rico. I just recorded Memo (bass) with our R&B/hip hop producer Haskell Jackson.
Is he producing anything on Cookin'?
Alfredo: Oh yeah. He and I talk on one track to kind of intro the song where we "take this one back for pops." You will hear that at the big festival in May.
About Pachanga Fest, have you guys been to any of the previous year's Pachanga Festivals? Do you have an idea of how big it is and what you're up for?
Laura: No we haven't. We're looking forward to it.
Alfredo: We hear good things though.
So are you guys based here in Austin now?
Alfredo: It's funny that you ask that. Ever since we got the Grammy nomination, Austin is trying to claim us. We're from San Angelo. We do live here now.
Tony: We are a true Austin band now. We've been here 20 years.
It is interesting to see what you guys are doing with Tortilla Factory in regards to the style of music you are playing. This isn't our dad's or our grandfather's Tejano band. It's a Latin soul-funk collective. What made you go that route musically?
Alfredo: My father is a jazz musician before anything. When I was a baby, he would put me to sleep to John Coltrane. I guess stuff like that just got in me. Not to disrespect other Tejano bands, but there isn't another Tejano band that comes close in terms of musicianship to Tortilla Factory. If you listen to their version of "La Malagena" with El Charro Negro (Butler), the classic mariachi song, they turned it into a Latin-jazz-funk fusion.
Laura: You're hearing salsa, funk and R&B from us now. We also have some new urban Tejano as well. We do want to keep that element.
Tell me what you guys mean when you say "Urban Tejano."
Alfredo: There is a new sound that my father created, along with Art Guillermo and myself called "Urban Tejano." It is produced by the baddest producer in Tejano right now, Art Guillermo out of San Antonio. He's produced for Jay Perez, Ram Herrera to name a few. My father gave him no limitations on his arranging chops. All the artists in San Antonio would limit him and it would still come out a little bit cheesey. My father gave him some direction and he came up with some hip stuff. You will hear four Urban Tejano tracks on the new album. You'll see.
Tony: Bobby Butler will do two old classics on the album. He refuses to do the new urban thing, and he's too famous. Every song he recorded was a hit. That's about 70 hits during our lifetime. People will actually get pissed if he sings something they haven't heard.
Addressing you, Alfredo and Laura. Would you agree with that?
Laura: Let me tell you something: The Tejano culture and people are very particular. They are listening to you and they are expecting a certain genre or way it is supposed to sound. They will let you know right way if it is no good. I have always had a passion for it, though. I know Alfredo is really excited about this new Urban Tejano sound.
Alfredo: For the first time in my life, I am excited to sing Tejano because it's so hip.
Tony: Tejano music is a folkloric, Mexican ranchero music. The way we do it is 10,000 miles away from outside the box.
Is there any backlash that you have experienced because of that?
Tony: There is none. We've been outside the box since 1973. We didn't think about it really because we were all crazy potheads in those days. We just recorded, played music and had great fun. Now, in some universities they have jazz theory classes study how we did it. That's the ultimate compliment. What other Tejano band can say that?
Is that part of the reason why your kids (Laura and Alfredo) keep the Tejano element?
Tony: For the integrity of who we are and what we present, I told my kids "Hey guys, hang onto the Tejano thing." When Selena died, Tejano became a passe thing. We're proud of who we are and what we've done. It has nothing to do with anything but what we're doing, so you have to keep the legacy going. We're loved by Latinos on the East Coast, from New York to Miami, they love us. Jazzers on the West Coast and in between, they love us. The internet took us everywhere because we joined CD Baby in their infancy. We were one of the first Tejano bands to sell and be distributed digitally.
Alfredo: To go off of what Dad just said about Latinos on the East Coast loving us, I'm working with Chulito Davila, Marc Anthony's piano player, is arranging some of my music. This cat is the top salsa producer in New York. Besides playing for Marc Anthony, he's done stuff for Ricky Martin and arranged the song "Juliana" by DLG even. The list goes on. Out on the West Coast, I'm working with Alberto Salas who played piano on Carlos Santana's Supernatural album. He played on "Nina Linda," a salsa track I wrote about my daughter. We're connected all over.
Do you think something is going to launch as a result of playing as Tortilla Factory for you?
Laura: We have an amazing, magical chemistry that I feel God has blessed us with. Our bass player drives 200 miles just to practice three times a week. All of our other band members or musicians are all very dedicated.
Tony: Tortilla Factory is already known to record funk, Latin jazz, Tejano and salsa. We've been outside the box forever.
So how long have you guys been performing with this current band people will see at Pachanga Fest?
Alfredo: Since October of 2009.
How did all you come together?
Alfredo: Memo came on board when we had a gig in Killeen, a Tejano gig, and something happened with our bass player at the time. He showed up because we knew his friend that recommended him to us.
What about the rest?
Laura: Okay, I'll tell you. I'm letting it out. I had this ingenious idea to put an ad out on Craig's List. Everybody laughed at me when I said it. When the first person called, we got our guitar player (Eric). Robert, our congero, came next. Ian came from that after Robert. It happened in a matter of weeks, our rhythm section.
Tell me about some of the rappers in the group you have now.
Alfredo: Solomon joined us about two months back. He's a young up-and-coming rapper. I was telling a friend of mine that I work my part-time job with one day we were looking for a rapper. So he came to one of the rehearsals. When he walked in, we were doing one of my songs and I gave him the mic. He started throwing down, doing his thing and I loved it. I liked him because he is not all about him. He's humble, a team player and most importantly, he knows this is Tortilla Factory. Solomon is on our songs "Disconnection" and "Phone On Vibrate." He'll be performing with us at Pachanga Fest as well.
Who is the other rapper? I understand you have two.
Alfredo: His name is Pedro. He raps on "Cookin'" and "Come On Baby Girl."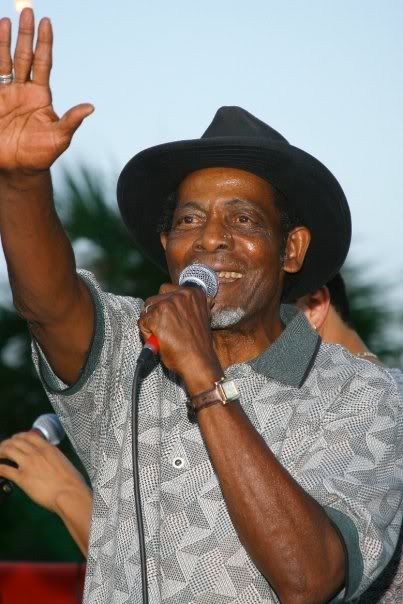 Is Bobby Butler, "El Charro Negro," (right) going to be performing with you guys at Pachanga Fest?
Laura: Oh, yeah. He is a smooth operator, that guy. He has natural presence.
Tony: Bobby and I represent the classic side of Tortilla Factory. These young people, my kids and the band, represent the new. People want both and will get both at Pachanga.
What can you tell me about Cookin'?
Alfredo: The title of the album was my mom's idea. It was such a heavy track when it came out in 1973 when it came out. We recreated it. We made it more urban. I have some of the Tower of Power cats who recorded with me on Cookin'.
So when the album Cookin' comes out, after Pachanga, what is the plan for Tortilla Factory?
Alfredo: When the album is done, we do plan on touring to promote it.
Tony: After it is out, we have a couple of invitations to do some jazz festivals. Stops would include going to California, New York and Tucson. Los Lonely Boys recommended us to SOB's in New York, so they contacted me. They asked me "So what do you guys sound like?" I laughed and said "like them but we have horns. Same old same old." All those opportunities are there. We'll take advantage of it.
Are there any discussions yet about a second album after Cookin', with this line up of Tortilla Factory?
Alfredo: Yeah, it was going in that direction until Art Guillermo's computer crashed.
This is definitely one of the most honest and open conversations I've had. First Craig's List and now this…
Tony: You'd be surprised how often something like that happens. You just don't hear about it.
Laura: We have been already discussing some ideas. I know Memo has been playing around with some songs. Our drummer, Ian, he wants to do a fusion of everything and go that route.
The reason I ask is to clarify for readers that this is not just a one-time thing, you guys coming together as Tortilla Factory. I know it is partly to help Alfredo with his solo career but also to really keep the legacy beyond this year.
Tony: Look at it this way: We've been around for 37 years.
This isn't going to be like Menudo where you kick them out when they are too old, right?
Tony: You should see my granddaughter. I'm waiting for her to grow up to take over.
Alfredo: It is serious. I even want to somehow incorporate a DJ into Tortilla Factory. I already know I want to record Solomon and Pedro with Haskell Jackson. It will be a diverse second album. My father always said to be a real singer you have to be able to grasp the concept of all genres. You can't just sing Tejano or salsa. You have to study each genre, perfect it.
Tony Ham: Laura will be more heavily involved on the next album as well: songwriting, singing, everything.
All photos provided by the band. Catch Tortilla Factory at Pachanga Fest on May 22 in East Austin.