New York-based, Austin-bred concert promoter Todd Patrick (known to the business as Todd P) has been to enough South by Southwests.
They were sorta cool at first. Then the mission lost purpose and an idealist occurrence yielded to a neon industry conference defined by traffic, followers, lazy performances, etc. Todd P hijacked momentum where possible, programming perpetual thorn-in-the-side day parties with righteous vigor. Eventually, his underground Ms. Bea's parties during SXSW drew building names (Ponytail, Titus Andronicus, Vivian Girls in '09) and became a counterculture calendar staple. But with SXSW getting uptight and becoming increasingly vigilant toward circumstantial competitors—The Austin Chronicle allegedly naming names to APD via detailed lists, for instance—Todd P set his sights south.
On Saturday, Todd P's long-in-the-works outdoor festival, MtyMx, plants its flag in one of Mexico's largest, safest and most developed cities, Monterrey. Planned with Mexican promoters Yo Garage, the fest is strategically nestled around a dead space for American music tours; the industry converges for SXSW, and in the immediate aftermath bands are stuck in Texas and surrounding states, competing for Monday night patrons in Little Rock or Lafayette. The selling point for fans is that MtyMx takes emerging American indie rock, pairs with native talent and offers an affordable, scenic, set-staggered three-day festival.
Austin Vida corresponded with Todd P via email about the festival's fruition, prejudiced Americans, Monterrey's indie rock scene and why Andrew W.K. is on the bill.
Editor's note: This interview was conducted prior to reports of increased violence along northern border between realigning Gulf-region drug cartels. Todd P remains convinced safe passage to Monterrey, through Nuevo Laredo, is a given and no plans of festival cancellation are on the table. "There's nothing new going on. It's safer there than it is in Texas. News is exaggerated," he says.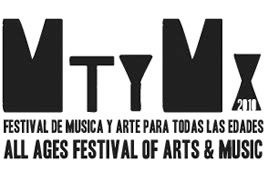 How did the collaboration with Yo Garage come to fruition?
Todd P: I met Ricardo and Leila from Yo Garage last year when I drove down to Monterrey after SXSW. We had barely met before, but they graciously put my friends and I up for several days and showed us their city. They run a great DIY indie space down there call El Garage, which served as our home base for the vacation. We started talking about collaboration almost immediately.
Tell me about the festival venue.
Todd P: Autocinema Las Torres is a drive-in movie theater on the side of a small foothill mountain at the beginning of the Sierra Madre Orientales. It looks out to new gleaming highrises one direction; in another direction you can see a shantytown climbing up another small mountain, and towering over all is La Silla, the signature mountain of Monterrey. The space is about the size of 10 football fields.
It's clear from timing and talent and shuttling fans out of Austin that there's an attempt to dig into SXSW breed of music fans that show up downtown with no credentials or motives other than to see free blog bait. What made you fall out of love with doing events during SXSW?
Todd P: I've only ever cared about involvement in SXSW to the point that it represented such an otherwise impossible gathering of bands in one place, all willing to play for basically free. It occurred to me that the gathering of bands in one place is something that's true just after that fest ends as much as it's true while it's happening. All those bands have to drive somewhere the next day, so why not gather the best of the bunch and have them drive to Monterrey for something special? It beats playing in Lubbock on a Sunday night!
My take on Monterrey is that it's Mexico's answer to Dallas: full of technocrats, lots of big tech industry, Americanized and full of places like Chili's, home to the most expensive private university in Mexico, full of wealth, a stronghold for Mexico's center-right ruling party, the PAN. What attracted you to city besides fact it's, you know, safe?
Todd P: Location, location, location… and the fact that a lot of those middle-class educated folks that Monterrey has to offer are indie rock fans. Also, Garage definitely the most forwardo-thinking club in Mexico, so we had the perfect partner on the ground.
As a follow-up, given the make up of Monterrey's 20-somethings (specifically the kind that can afford recreational music festivals), what sort of local turn out do you expect?
Todd P: We're expecting between 1,000 and 2,000 people per day, with about 80 percent of that being Mexican fans.
What's the Monterrey music scene like?
Todd P: It's diverse and booming. There are a lot of new bands and a lot of different kinds of parties happening every weekend. It's tight-knit,but there're always new generations of scenesters with every new school year at all the universities.
There's a meaty chunk of Mexican bands. Who put you onto them? Are they legitimate draws in Mexico? Who are you looking forward to seeing the most?
Todd P: Ricardo and Leila curated the Mexican and other Spanish language bands. I'm personally excited to see Los Llamarada, Ratas Del Vaticano, Los Planetas and Alexico.
Andrew W.K. sticks out on the bill. He's great, but clearly a departure from trendy names like Neon Indian and Das Racist. How did his inclusion come up? Is W.K. big south of the border?
Todd P: Andrew WK is just an all-around great guy who was kind enough to respond to our emails and trust us that travelling to Mexico to play in field on a 75-band bill was a good idea. I'm psyched he's involved; he's a perfect example of visual and performance art mixed with rock performance. His whole career is conceptual art, in my opinion. He's as much a uniquely famous personality South of the border as he is up here.
What has the public relations battle in convincing upwardly mobile white people to travel to Mexico been like?
Todd P: It's been easier than we expected, though not without detractors. We expected only a trickle of interest from the States, but it's been a steady stream. Even the predicable naysayers have been in the minority. I'm actually pleased those folks came out of the woodwork and revealed their ignorance. I think it's been a wake up call for more thoughtful, knowledgeable U.S. folks who didn't know just how pigheaded some of those ugly Americans can be, even when they come from the relatively educated, cultured class that listens to indie rock music. The idea behind this festival is to challenge conventional wisdoms about the border and about Mexico. It doesn't hurt to see those caricatures out of display, in all their ugliness. I'm just happy to see my countymen having this conversation about the border.