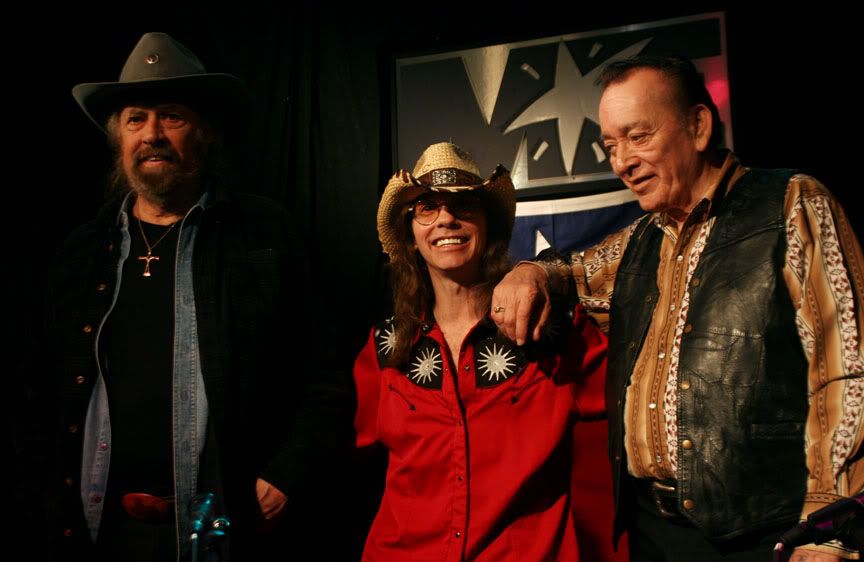 Ray Benson, of Asleep at the Wheel fame, said it best: "I think the lesson here is don't try to stop a Tornado."
And with the release of the new Texas Tornado album, Está Bueno, it seems even the deaths of Tornado members Freddy Fender and Doug Sahm couldn't stop them.
Released on Benson's label, Bismeaux Records, it's the legendary group's first studio album in a decade and features fresh tracks, including the last five songs Fender wrote before his death.
Shawn Sahm, son of Doug, headed the project as producer and legacy protector. Shawn brought together Augie Meyers and Flaco Jiménez, as well as original backing musicians Louie Ortega on second guitar, Speedy Sparks on bass and Ernie Durawa on drums.
"This record is a great example of the guys trusting me to just come in here and do it," Sahm said at a press conference hosted at ME Television studios. "This is where I feel the best, playing the style of music that I played with my dad. Obviously, with everything else, I kind of have to think about playing; this stuff is from the heart."
Since Sahm was 13, he's played with his father in the Sir Douglas Quintet. Sahm says he and his father collaborated so well, they called it 'eyeball to eyeball' and they'd call each other wherever they were to let each other know about having a musical breakthrough.
The record features a song from the senior Sahm, "Girl Going Nowhere." When Doug passed away, Shawn cataloged his father's work, hoping to find the song recorded.
"Before pop passed away, he was going through a resurgence of being very prolific, writing a lot and really working on his songwriting and paying attention to detail. It's one of those songs that I always thought was one of the last great Dad originals, and people really deserve to hear it."
Of the original members, Flaco Jiménez (pictured right; photo by Mari Hernandez) says getting in the studio again felt natural.
"Of course we don't have any problems 'cause we've played for years and years," says Jiménez. "It's very simple to put the puzzle together. We got the same vibes as when Freddy and Doug were alive. In my opinion, I feel the same vibes and groove as when the guys were around. So now we did this record, I feel like Doug is here and Freddy's here with us. We've never lost that punch or feel of the Tornados; we're still burning."
Fender was in the studio at the beginning of the project and Sahm was able to get a lot of takes that helped in the making of the album.
"Freddy was there and he was very into it; he was present and kickin' butt," Sahm says.
The track "If I Could Only" came out of those final requests from Sahm and it's a classic Freddy Fender swamp-pop ballad, though Sahm recalls how Fender would want to change it up.
"Freddy always pulled me aside and would play me these artists that were very modern and very different and I just kind of said, 'Yeah, Freddy, that's all great. Whatever you want. But in my opinion, these people are probably singing because of you, bud. I don't think you should sound like them because they influence you; let's just be the best Freddy Fender you could be.' Man, he loved that kind of stuff."
As far as live shows go, the Tornados are playing live with replacement singers. But to be clear, it's not a matter of 'replacing' Fender and Doug Sahm, says Shawn.
"Here's the cool thing," Sahm says. "We're not trying to pull the wool over anybody's eyes. Everybody knows Freddy and Dad aren't here. We're presenting the show the way we feel people want to see it, and it's a celebratory thing. We're not trying to say we're moving on without Doug and Freddy—you don't replace Doug Sahm and Freddy Fender; you celebrate them."
From childhood friends swapping baseball cards to playing in the Sir Douglas Quintet to winning a grammy for that first Texas Tornados album in 1990, Meyers was a lifelong friend of Doug Sahm.
"We still do what we do," says Meyers. "Doug's gone and I miss him everyday, but Shawn—when we're on stage and I close my eyes and Shawn's singing a song I think it's Doug and my hair on my neck rises up. Shawn's like a son to me."
As far as what Doug would think of the album, his son would know best.
"I think he would love it," says Shawn. "Straight up, no BS, I think he would love the songs—he would love the trip. And honestly, if I felt like we were doing anything he wouldn't approve of, we wouldn't be doing it. I think he'd be behind us 110 percent. It's all from the heart."
Texas Tornados performed at Waterloo Records recently. View our photos, taken by Ajay Miranda, below.
{becssg}music-1003-tornados{/becssg}
{becssg_c}0|100302-waterloo-txtorn01-500.JPG|Texas Tornados at Waterloo Records| Photo by Ajay Miranda {/becssg_c}
{becssg_c}0|100302-waterloo-txtorn02-500.JPG|Texas Tornados at Waterloo Records| Photo by Ajay Miranda {/becssg_c}
{becssg_c}0|100302-waterloo-txtorn03-500.JPG|Texas Tornados at Waterloo Records| Photo by Ajay Miranda {/becssg_c}
{becssg_c}0|100302-waterloo-txtorn04-500.JPG|Texas Tornados at Waterloo Records| Photo by Ajay Miranda {/becssg_c}
{becssg_c}0|100302-waterloo-txtorn05-500.JPG|Texas Tornados at Waterloo Records| Photo by Ajay Miranda {/becssg_c}
{becssg_c}0|100302-waterloo-txtorn06-500.JPG|Texas Tornados at Waterloo Records| Photo by Ajay Miranda {/becssg_c}
{becssg_c}0|100302-waterloo-txtorn07-500.JPG|Texas Tornados at Waterloo Records| Photo by Ajay Miranda {/becssg_c}
{becssg_c}0|100302-waterloo-txtorn08-500.JPG|Texas Tornados at Waterloo Records| Photo by Ajay Miranda {/becssg_c}