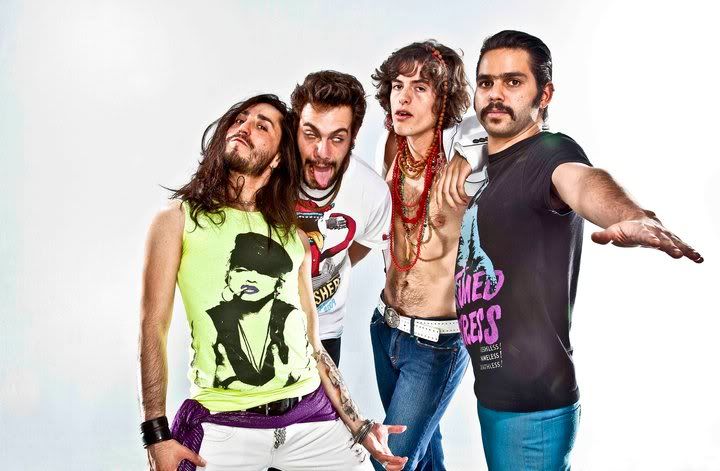 In a city as big and diverse as Mexico City you'd think there would be more bands like Sour Soul. But there aren't. Rather, the city is plagued with cheap remakes of Café Tacvba and Zoe. Sour Soul is a completely different project than anything going on in Mexico in recent years. Vocalist Marco Paul, guitarist Xavi, percussionist Miko and drummer David have crafted a sound based on '60s rock and psychedelia, but that era doesn't define them completely. The incorporation of conga percussion and piano-driven pop songs in Sour Soul's music keeps the band modern and relevant to this generation.
As Sour Soul began their career in Mexico City they faced an uphill battle. To start off they don't sound like anything else that is going on in the indie scene in Mexico, and to make matters worse they sing in English, which seems to be a no-no for anyone trying to make it in Mexico. With little press, radio airplay and no record company, Sour Soul is truly indie. Sour Soul does have a loyal fanbase in Mexico, but that being said, Sour Soul finds it hard to book gigs in their own city. So the band began touring the U.S. to garner more exposure. So far they have received a warm reception and even participated South By Southwest this year.
So now the question is where does the band go from here? Stay in their home country and continue to battle for recognition or head north where the band can seem to grow and gain more exposure? A difficult dilemma for the band. But for now, Sour Soul countines to play and record music because really that's all they do.
How do you guys go about creating a sound that pays homage to the '60s pop-rock era, yet not sound like a cheap ripoff?
Marco: I don't know, we just do it. [laugh] No, I think we play classic rock but we put a lot of different types of music on it so it sounds fresh. So we play classic stuff, Beatley stuff. Led Zeppelin stuff, but we put a lot of funk and soul into it, so that's what makes it different, that's what makes it fresh. We incoprate a lot of types of music into the classic rock, then we do a lot of different songs. We do a lot of funky songs or really almost hip-hop songs. On our new album, the one that's coming, we incorporate funk, rock and psychedelia and all the things we love into this new sound.
Marco, you're the big Beatles fan. What era of The Beatles do you familiarize yourself with?
Marco: I love Revolver and The White Album, like from Revolver on like Magical Mystery Tour on I like a little bit, but I like more the last albums.
You also play the sitar, not many people do, why did want to incoprate that into the bands sound?
Marco: Obviously, because I'm a big Beatle fan and Ravi Shankar, and like for years I really got into Hindu music, Hindu culture and I was like, "Yeah, I'm a hippie and everything" and I bought one in San Diego and I learned it by myself.
Miko: And also, it's very hypnotizing; it's like, "Man, play that shit 'cause it's gonna be awesome."
The Mexican indie/alternative scene is growing. Where does your band fit in the whole scene?
Xavi: I think we fit in the indie scene, but we don't sound like the other bands. It's hard to find bands to play with; we fit in the concept of indie and the scene but the instruments and percussions and stuff like that are unusual, so we're like the outcast.
Do you find it hard to receive backing from record companies in Mexico with the type of project you guys have?
Marco: Well, we don't have anyone. We're totally indie and we have the support of this guy, Simon Medina, that helped us get started. So I mean because of that guy we were able to record our first album.
You recorded that album (Liquid Sky Divers) in Texas, correct?
Marco: Yeah, we recorded it in the Sonic Ranch.
Now, it seems that Mexico bands are forced to sing in Spanish to get radio airplay. Tell me a about that.
Miko: I mean, in Mexico it's like that. Sing in Spanish because if not, it's hard for you to make it. It's hard because the people like it, but the media (not all but some media) don't like that. They are not gonna play your music if you don't sing in Spanish.
So in Mexico City, you're not getting a lot press; you don't get a lot of airplay. Do you guys every think, "Maybe if we move to the U.S. our band can grow more"?
Marco: I mean, that's what we're trying to do, you know. You know we love Mexico because the people have supported us a lot. I mean the media is a different story, but the people in Mexico supported us, but also the people in the U.S here really get our music. They really feel it. They identify with our music and in Mexico it's different. Nevertheless Mexican crowds are like really cool, but we're trying to do two or three tours a year in the U.S. to get more exposure. Here, you can grow more, grow faster and grow where we gonna go because it's the only thing we do is play music.
Now touring in the U.S., what was it like touring in the little cties? I heard one night you were in Wichita, Kan., and it was empty and the next night completely full.
Marco: Yeah yeah, that was so cool. Small cities are awesome because, I don't know, you get a crowd and they really appreciate and listen to your music. Big cities are cool too, but it's harder cause you got so many things going on around your show that I mean the people who listen to you like it, but you have to start getting a crowd and since we don't come that often, it's hard to build up a crowd.
In Mexico, there is obviously a lot of violence. Have you guys had any bad experiences coming from Mexico to the States?
Marco: We were scared because we had to drive from Mexico City to Texas, so first we went to Queretaro and then Leon, played an awesome show there and then we went to Saltillo and had to cross Monterrey and Nuevo Laredo, and all that crap. Fourtanely, we didn't have any trouble, I mean, the cops caught us because supposedly we were speeding. But, nah, we just gave him mordida.
Miko: Yeah, but nothing happened to us. We were scared, but we're like, "Man, we have the good vibe. Nothing is going to happen to us."
What's next in the short-term future? I know you have a new album coming up.
Marco: Well, we're recording it in two weeks and then were hopefully we will release it in November of this year.
Now where do you guys want to be in the long term?
Marco: I mean, we want to make it big. It's the only thing we do. I mean, we want to make a living out of this and just play music and record it and play to people and make people feel what were feeling. We want everyone to get a vibe, the vibe of our music, you know. Some of our music is for dancing and some is for waking up and saying, "Hey, dude this is my life" and others are for crying.