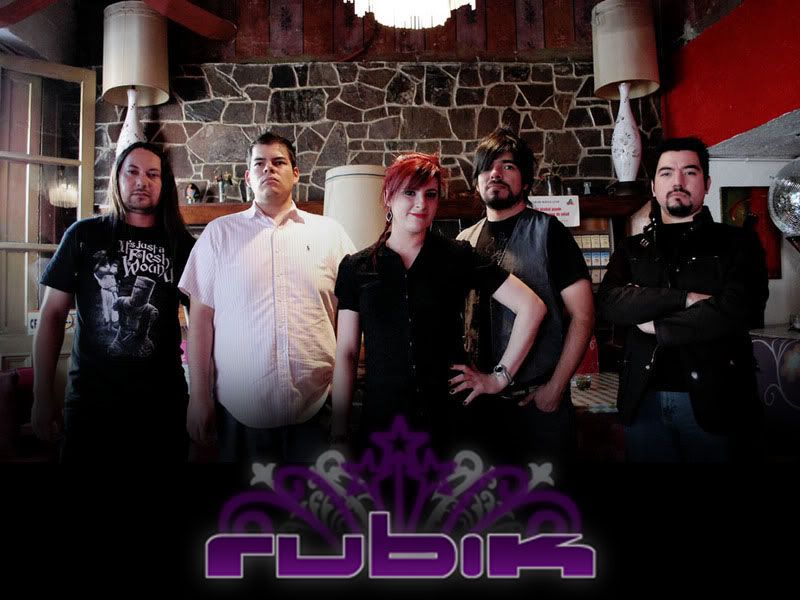 México pop-rockers Rubik got their name from the popular '80s toy cube, appropriate because each band member represents a color—a vital influence that helps their music come together. They are from my hometown of Monterrey and they've been together for seven years. Their success has been escalating in that time. After playing in Monterrey venues like La Casa Amarilla and Café Iguana, their first time in Austin was last November when they played El Sol y La Luna on Sixth Street with Austin's Kalua. They returned to play Ruta Maya last month, and they'll be back on March 31 to play with fellow regios and rising superstars Sexy Marvin. That show will be at Stubb's and is presented by Austin Vida and Go Hispano.
Rubik consists of singer/songwriter Angie Valadez, drummer Manuel Carrizales, Gera Carrizales and Tom Armendariz on guitar and Felipe Muñoz on bass. After releasing their latest EP, Abril—a collection of Spanish pop-rock fused with heartfelt lyrics—the band started working on another disc of 13 songs that will be released by the end of the year. A music video is also in the works, as well as traveling to as many places as possible. As Tom puts it: "The further we get, the better."
I sat down with the band to discuss playing in Austin, songwriting, and what they think of those who call them "just another Evanescence." Catch Rubik at Stubb's on March 31 along with Sexy Marvin and Vinyl Dharma. Tickets can be purchased at Frontgate Tickets for $8.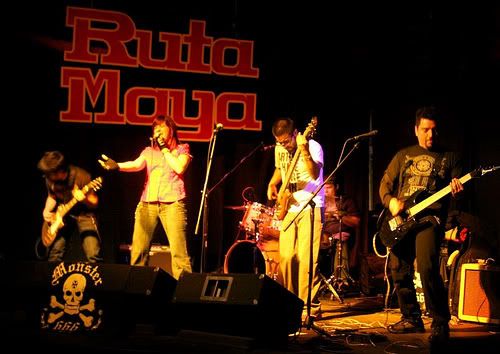 Rubik at Ruta Maya (Feb. 12). Concert photos by Isabel Salazar.
How do you see the music environment in Monterrey compared to Austin? In regards to the public's reaction? Is it similar or different?
Angie: It's a little similar, but the experience of coming here as strangers and sharing our music is a great one.
Tom: In Monterrey, the public has a sort of strange behavior. Maybe because we're foreign here there are higher expectations and people are drawn to that, so they have a more open mentality. We feel very comfortable coming here. And now, there's a little more movement and people that already know us. We really enjoy playing here, and if people like us too, that's great.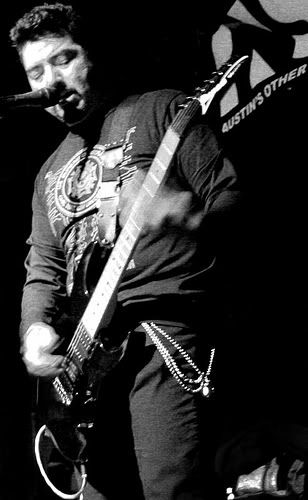 Do you think there's enough of an audience for Latin indie music in Monterrey, in comparison to Austin?
Tom: Definitely not. We started there, and there is some support and places to go, but we wanted to move to a higher level, both national and international. We've been in Houston, Dallas, maybe later this year we'll go to San Diego, Los Angeles, New York. This is what we want.
In Abril, the songs tend to be very personal. In your opinion, is a song better if you did experience it and feel it?
Angie: When you write a song or a piece of music, you always leave a part of yourself in it. Each song has its own identity and message.
There are more indie and alternative groups coming out of Monterrey. Some people in Monterrey that already know you compare you to Evanescence. What do you think?
Tom: It's all relative. If you ask different people from different places, "What do you think of them?" you'll get varied answers. We don't mind remarks like this, because we accept all kinds of comments. But it all depends on each person's taste and influences. We don't restrict ourselves when playing by thinking, "this is gonna sound too metal", "too pop". We just do it and if we like it, we go with it. And this is what makes it fun. What we do guarantee is that you won't get bored. Maybe we stay within a certain style, because it's our style, but you won't get bored of it.
What do you want to tell people about your music, outside of Monterrey and México?
Angie: We want them to come to our shows, to support local bands and outside bands. Because music is something you can understand no matter the language. The important thing is what a person wants to convey. We just want for them to be open to anything and express themselves, maybe just by listening, but that's more than enough.