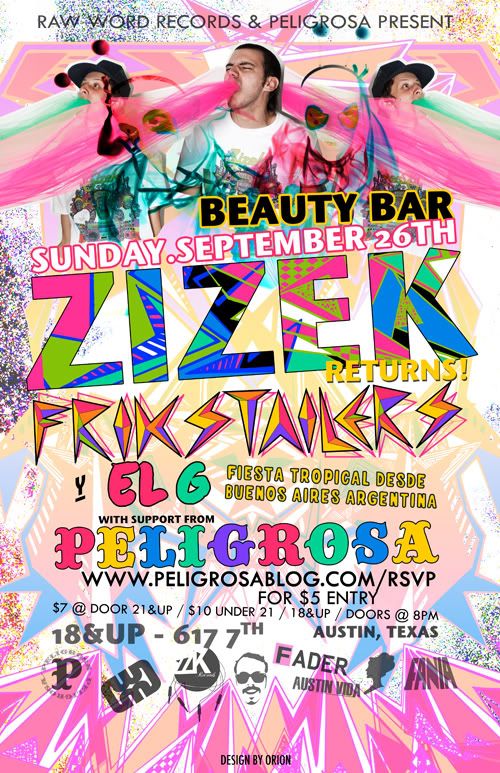 Buenos Aires' Zizek is coming back to Austin. This time debuting the talents of the Frikstailers (pronouned "Freak Stylers") on Sunday, Sept. 26 at Beauty Bar. We've seen clips of these guys online, and they look like neon muppets behind the turntables, spinning some of the best cumbia fusion we've heard. They will be joined by label co-founder and DJ, El G. This party should be nothing but pure dance energy, combining dancehall, hip-hop, baile funk, cumbia, dub, house, kuduro, electro, techno and the best sounds of futuristic South America.
Frikstailers are touring in support of their upcoming digital EP, Bicho De Luz, due out Sept. 7. As a preview for both the EP and the party happening at Beauty Bar, Frikstailers are offering their single, "Dancehallete," to our Austin Vida readers. Listen and download below.
Beauty Bar is located at 617 E. 7th St. in Austin. Doors at 8 p.m. Ages 18 and up are welcome. Cover is $7 for 21 and up, $10 for people age 18 to 20. RSVP on the Peligrosa Blog and pay only $5 for admission. RSVP here. Click here to visit the Facebook event page. Peligrosa DJs open.