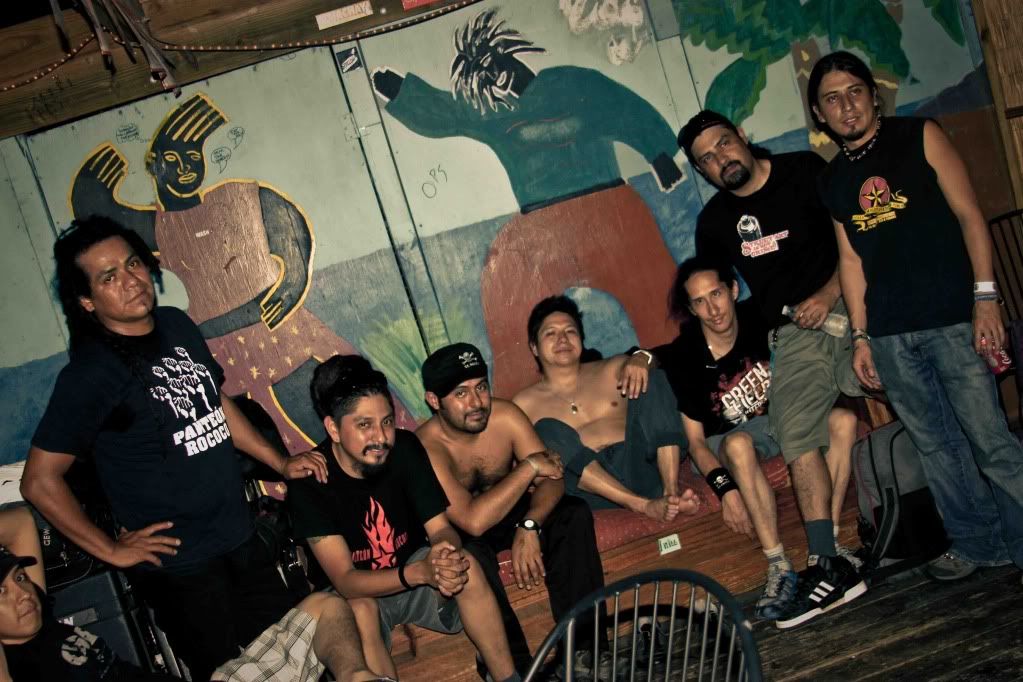 While some bands are considered the "voice of their people," many other bands prefer not to take on the daunting task of representing a culture, ideology or race. Others take on the role and never let go of it. For 15 years the iconic Mexican rock band, Panteón Rococó, has accepted and embraced being one of the voices of the Mexican people.
Starting off as a bunch of "misfits" and "radicals," Panteón Rococó has now become one of the most iconic and influential bands in Mexican rock history. In 1997, they released their first CD, an album that would mark the band's motive and style—a mesh of reggae, salsa, punk and rock. The band quickly gained attention from the more humble people in Mexico. The band's songs are filled with cries for both political manifestation and social change but love, romance, desamor and "Amor de Perro" are themes that have always remained in the Panteón Rococó  songbook.
After years of touring, recording albums, tribute albums and DVDs, Panteón Rococó was ready to make the album that would encompass 15 years of lucha and music that was truly their own. This year, Panteón Rococó released Ejercito de Paz, their most complete production to date. The band returned with new sounds that may surprise even the most die-hard fans. Despite the new sounds, the lyrics are all too familiar, speaking out on politics, social change and of course love. Panteon's new album has seems to have reinvigorated the band, motivating them to keep going stronger than ever. I caught up with Shenka from Panteón Rococó before the band hit the stage at Flamingo Cantina in Austin as part of their "15 Años de Lucha" tour to talk about the new ablum, the tour and a little bit of Panteón Rococó history.
Photo by Hanlly Sam.
The last time you were in Austin was in 2009. Tell me what's been going since.
Shenka: Well, we have released a new album, we did a tour in Europe, we finished constructing our studio and created projects to continue progress in the group. Fortunately, 2010 will be a very hardworking year for us. This album, Ejercito de Paz, has brought us the opportunity to continue doing what we love, which is making music and touring.
Tell me something about the new album. How is it different from the other albums in your catalog?
Shenka: I think is a very interesting album; it's a very mature one. The album was produced by Alvaro Viagra, someone that we would work with in earlier CDs, but in this one in particular we decided to do the production and it was interesting what sound we came up with. There are songs like "Jardin de Ampolas" that has an electronic sound that sounds more like Sidestepper or Bomba Estero. Then there are other songs like " Vete Lejos," which is more acoustic, more romantic and more intimate. I think in this album we attempted to do things we hadn't done in our previous albums, which was leave out some our sounds.
Now I know a lot of your songs are political, but I want to talk more about your more romantic songs. Who writes them and where does inspiration come from?
Shenka: Well, now it's become more of a collective job, starting from our last album. I think the whole band has matured and been able to share there musical ideas and come up with melody's or lyrics, especially with the more romantic, sweet songs. Those songs sometimes I'll write, sometimes Dario. The political songs are written even more collectively. Now the other musicians are becoming more involved in the song writing process and it not just left up to just one of us as its spread out. That helps give it diversity.
You guys have toured a lot in Europe over the years. Do you remember your initial reaction to not only performing but just being in Europe?
Shenka: Well, it was interesting and something distinct. We were facing something completely different because when a Mexican rock band expects to go on tour, they expect tour Mexico, Central America, North America and maybe South America. In our case, the first time we left Mexico was for Europe and it was a completely different exeperience. We weren't even singing in English. It was a new language, a new infrastructure, a different level of production and interesting new venues for us. Fortunately, the reception was so good. Now this year will be the 10th year touring in Europe.
Tell me how you guys came to sign with a German record label.
Shenka: It was people that found out we were playing in Europe, a completely diverse record label that dedicates itself to distributing Latin American music. We met up and did a show in Hanover. It was there in Hanover that they liked our music. After that, they helped us create our first album and now we have worked together for several years.
Now you have your own studio. Will you perhaps record other bands' material and start your own record label?
Shenka: Yeah, that is something we wanted to do. The record label is called Cocodrilo Solitario and we inaugurated it with this CD.
In 15 years, have there been any changes in the band?
Shenka: No. In 15 years, it has been the same. It's been interesting because very few bands have done that.
I agree. I ask because it is rare and even more so, since you're a big band with many members.
Shenka: I think we have learned to have good communication, which has been the most important part. Being in Panteón Rococó has taught us to work as a team. I think that's the interesting part because this project is a team effort, and people are aware that we work as one.
Tell me about your U.S. tour. Whats was the most diffcult part for you?
Shinka: Nothing really. What was interesting was the timing of our tour because of all that's going with SB 1070, an issue that interests us. That makes us feel like our concerts are kind of an excuse for people to go out to feel good, as most of our fans are Mexicans or Latinos. The goal for our shows, besides having a good time, is to unite as a culture. We come and play a sound that is not heard every day in our Latin neighborhoods. We have fans here that maybe are from different parts of Mexico, Central or South America that come to concerts and it's kind of like a uniting of cultures.
Speaking of fans, we all know you have plenty of fans but who are you guys fans of?
Shenka: Well, for me I was always a fan of the rock: Pink Floyd, Led Zeppelin, more of that type of rock. However, the variety of musical tastes within the band varies. Some of the guys are fans of the classic salsa, others are fans of heavy metal, rock stuff like that and some our members are fans of traditional Mexican music. It really does vary from member to member.
You have played a lot of music festivals throughout your career? What are some of your more favorite music festivals to play and why?
Shenka: While there have been a lot, one sticks out the most. It was in 2005, The St. Gallen Festival. It was us that ended up closing out the festival while R.E.M and Sonic Youth played ahead of us. We were sitting back stage and thinking everyone was going to be gone after Sonic Youth. I remember thier set was more of a chill set, then we went up and started playing. As soon as we did, everyone started dancing and moshing. It was quite an incredible experience, so that has to be the most memorable one.
What else is coming up for Panteón Rococó in 2010 or even in 2011? Any new recordings, videos, etc?
Shenka: In October, we will be touring all through Europe and our CD will be released in Europe.
Is there anything you would like to share with our readers before we conclude?
Shenka: To the people that support us, thank you for the 15 years of support. We thank all the people that have bought are CDs, gone to concerts and supported us in general. Like we said before, our concerts are a just an excuse to come out have a good time and unite ourselves as a community and as Latinos. It is more important than ever right now to be united.