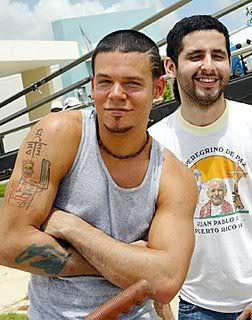 Calle 13 is scheduled to release their fourth studio album in October, but in the meantime a new track, "Calma Pueblo," off the upcoming album has leaked for the world to hear.
Calle emcee Residente comes out swinging on this righteously angry track, taking swipes at corporate branding, other rappers and even the Catholic church at one point ("The largest mafia lives in the Vatican").
Perhaps the biggest surprise is the appearance of psychedelic guitar shredder Omar Rodriguez-Lopez of The Mars Volta. His screechy, spastic guitar tones are all over this anthem, propelling Residente's rhymes along with Visitante's rocking percussion and bass.
The song premiered today on the Buenos Aires radio program ¿Cuál es?
Don't know about y'all, but we're listening to this song on repeat right now. Can't wait for October.