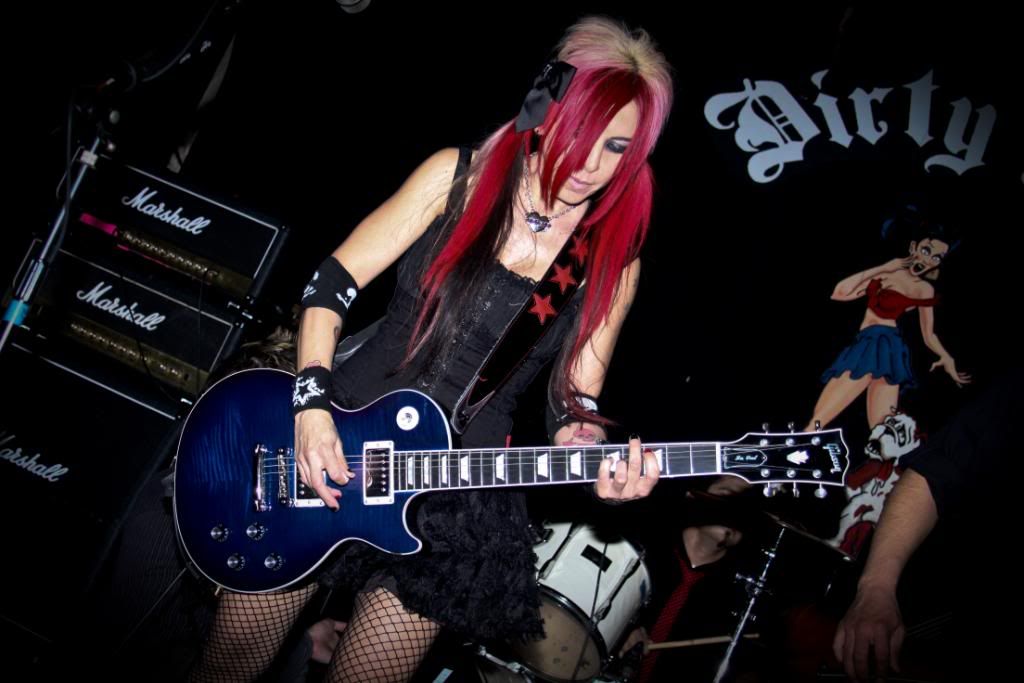 Whatever's in the water in San Antonio is causing a major musical talent outbreak for Latino musicians. Early signs of the outbreak came when Girl In A Coma signed to Joan Jett's label, Blackheart Records. Signs have also come in the form of the punk rockeros Piñata Protest and the Cursive-esque Hydra Melody. Indie rockers Hacienda, who are from Boerne (just outside of San Antonio), produce amazing '60s-style indie that fans of The Beatles or The Beach Boys would devour.
Flying under the San-Antonio-band radar is Nancy Silva Project, headed by the guitar slinging, songwriting San Antonio-bred talent Nancy Silva. Silva has a sultry, seductive and brooding appearance that is met with a surprising shyness. Her outward stage presence speaks louder than she does. The outspokenness is left to her bandmates, bassis Joel Martinez and drummer Jesse Avila. The band's latest addition, guitarist Rai de la Cruz, fills out the lineup of San Antonio natives.
Musically, Nancy Silva Project is melodic modern rock and alternative. Silva's soft vocal stylings balance out the harder look and musical composition, giving Nancy Silva Project a unqiue sound not often heard from bands in San Antonio or Austin.
The band has performed a few low-key shows in Austin over the years. You probably haven't heard of them, unless you frequent the Red Eyed Fly or were a regular at the old Room 710. You may have caught their set before at Trophy's, Dirty Dog Bar or recently at Krush in Pflugerville. But if you haven't heard of them, no worries. We caught up with Nancy Silva Project recently in the smelliest of dark alleyways and learned more to share with you. Meet Nancy Silva Project.
It seems you have been very active locally in San Antonio, with the occasional out-of-town show here and there. What's the reason for staying put?
Jesse: We have toured the West Coast. The reason for staying put is we were trying to do our record and that is what our main focus was. We wanted to stay home and direct all of our energy towards that. Now we are doing the "business" part of the music business. We're getting ready to go out on the road. We also feel we have stepped things up to a different level. We are more selective about our shows. We still love to play parties or garages, wherever. We just take more seriously the business aspect of it all.
Speaking of business, you guys were unsigned there for a little while. That's changed recently correct?
Jesse: Yeah, we are signed to BMS now with Universal.
Joel: They are going to put out the record, distribute, get us better stuff and make an attempt to get us more merchandise. Eventually you should see a NSP thong out there soon.
Now did BMS come to you or were you soliciting labels yourselves and they found you that way?
Jesse: It was a combination of both. We are always pushing ourselves to get our music out there. I think our hard work paid off. We had a really good friend of ours that had contacts with these attorneys. They had someone come out and they liked what they heard. We signed last summer. We went into the Firestation studio in San Marcos.
What reason did they give you for wanting to sign you?
Nancy: They said they believed in us and liked what they heard.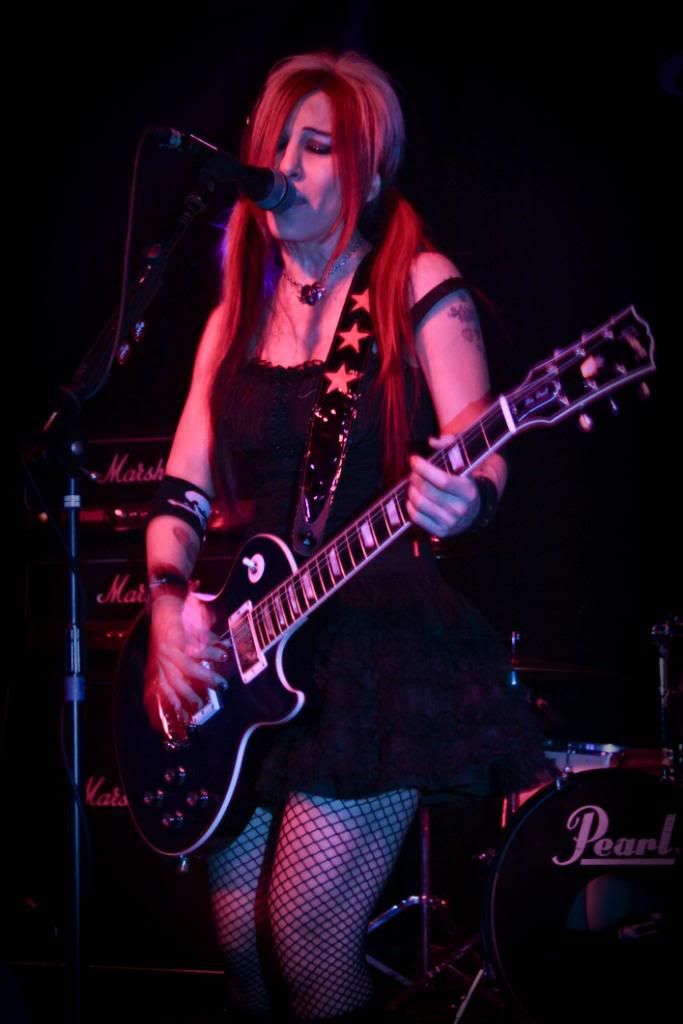 It seems like more industry people are starting to slowly pay more attention to San Antonio. Are we correct in assuming you guys are the next breakthrough San Antonio band? Are you that bold yet to say one way or another?
Nancy: It's definitely our goal.
Jesse: That's probably everyone's dream. People often tell us not to sell out, but we want our music heard and we'll work hard to make that happen.
What is currently in the works for NSP?
Jesse: We are in the process of shooting another video. We already shot the first half. We should be done with our CD soon.
What's the name of the new album going to be?
Jesse: It's going to be called Nancy Silva Project. It's going to be a full album.
Why did you choose "Letting Go" as the first single for the album and for the first video?
Jesse: We felt that that was probably the most marketable single that we had. It was a strong song to make it possible to get some radio airplay. Plus, at shows people always seemed to really respond to "Letting Go."
When I first heard that song, I immediately thought it was something softer and poppier than stuff I've heard out of San Antonio, or as we call it the "Black T-shirt Capital of Texas."
Nancy: It is just how I write. There are a couple of songs that are a little heavier than others. I do like real heavy stuff, but I write about life experiences and what you hear is how it comes out.
So what is it about Austin that keeps you coming back besides it being "The Live Music Capital." There has to be more to it for you.
Joel: I genuinely think a lot of people who live in Austin want to see us. I also think people like to hang out at good venues to catch shows. It is hit or miss with a lot of venues in San Antonio. At least in Austin, people are so dedicated to the music that it is kind of hard to get a bad gig.
Jesse: Austin is a city that is very supportive of original music.
Joel: There aren't cover bands everywhere you look here.
Jesse: Nancy is a songwriter. We all spend a lot of time honing our craft individually with our instruments and put together good songs. That's one of our strong points. Plus, there aren't a whole lot of bands out there fronted by a hot chick that actually shreds on a Les Paul. Nancy played all the guitars on the album. At the time, we didn't have Rai yet, so she recorded all the guitars.
So Nancy, how is that being the lone woman in an all-boys club?
Jesse: (laughs) She loves it!
Nancy: I'm really one of the guys. I just kind of sit back most of the time. I'm naturally quiet and down with whatever.
Not to prejudge, but from the looks of you onstage and in your promo photos, you look like you would be quite the opposite. When I first saw you before catching one of your shows, I saw a lot of screaming, jumping guitar kicks and serious head banging.
Nancy: No, I have never been like that.
Jesse: That's a mistake a lot of people make because of the image she portrays. When they she is very quiet, they mistake that for her being stuck up. That is totally not the case either.
Nancy: I'm so not. I am approachable to everyone. I talk to whomever. I do like to play my guitar loud though.
Why do you think people have heard of you now as opposed to any time before?
Nancy: We push our video real hard. Anytime we promote online, I attach the video. We were on Our Stage, this contest and then I got busy and didn't stay on it.
Jesse: I think a lot of it has to do with Nancy and how she looks. I still get a lot of dudes who come up to me and tell me about the hot chick on the flier for the show. Nancy is the band. She writes all the songs and she really plays guitar well. I think people are getting the word out about us.
Photos by Hanlly Sam.