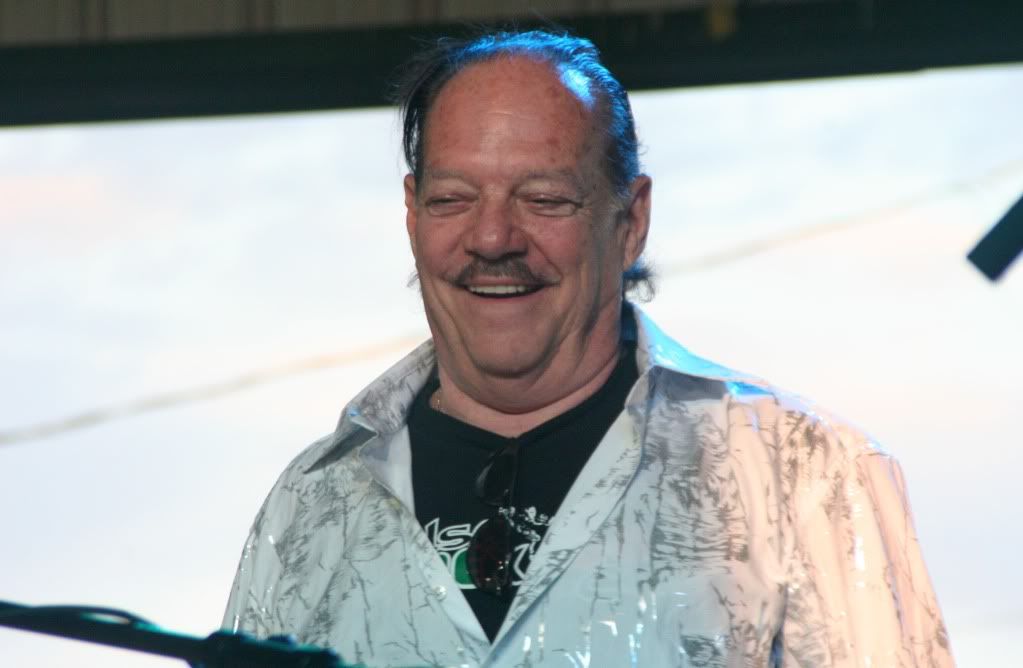 Larry Harlow is a living legend. Depending on your musical tastes, that statement is either obnoxiously obvious or total news to you. The salsa pianist known as El Judio Maravilloso ("the marvelous Jew") grew up in New York and was a pioneer of salsa music in the '70s, along with his Fania Records cohort. Harlow has recorded with, performed with and produced all of the salsa greats from Ismael Miranda to Celia Cruz.
At age 71, there isn't much Harlow hasn't accomplished musically, earning a lifetime achievement award from the Latin Grammys in 2008. Still, this nice Jewish boy from Brooklyn refuses to sit still or fade into the night. He earned himself a new (and younger) audience in 2005 when he recorded and performed live with The Mars Volta, a progressive/alternative rock band with Latin influences. Harlow recently worked with another young group you may have heard of: Austin's Grupo Fantasma. He lent his piano mastery to the track "Juan Tenorio" for Grupo's 2010 album El Existential.
We spoke with Harlow backstage at Pachanga Fest, after his set with Grupo Fantasma. We talked about working with younger bands, as well as his new projects in the works. Harlow, along with a 50-piece orchestra will perform a free concert on August 14 at Lincoln Center in New York. Get details about that at www.larryharlow.com.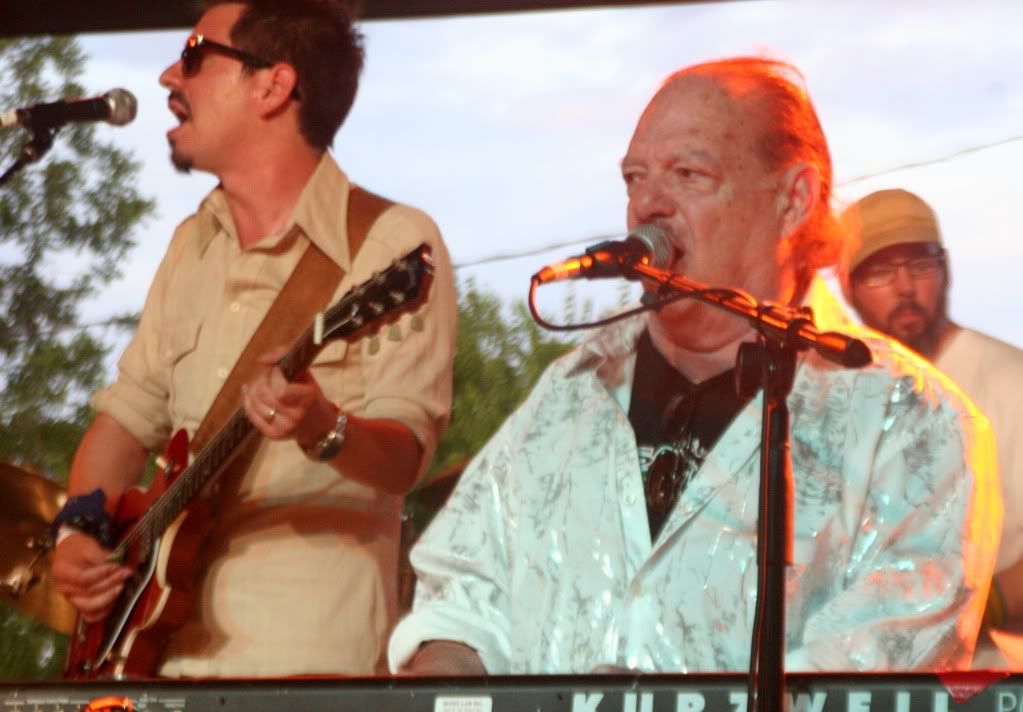 Let's talk about the here and now: You just got off the stage with Grupo Fantasma. How did it feel?
Harlow: It was a great set. They are extraordinary men, you know. This is like about my fourth time playing with them. I was here last year.
At Antone's, right?
Harlow: Yeah. I had a great time. I just love this town. Antone's was a smash. And then I played with the guys when they came to New York.
How did you meet Grupo Fantasma? Who asked who?
Harlow: David Lobel called me.
Their manager?
Harlow: Yeah, but I didn't know who Fantasma was. So of course I look 'em up on the website and I listen to the music, and I thought, "Ehh, let me straighten 'em out a little bit on a few pointers." So I brought some arrangements. They were playing my arrangements; they'd been playing them for a couple of years. But they got their own thing. They're really a good Latin rock band. They play really good, and they understand the African roots of it. They're getting better. They're starting to play with dynamics. Like I heard the band that was on two bands before them; it was so loud and they never got soft. You couldn't hear a word the singer was saying. The band from Tucson. So Fantasma finally learned how to play with a little dynamics.
Give it room to breathe.
Harlow: A little loud, a little soft. Play with a little feeling. When the singer comes in, they get lower. So they're really getting more professional as time goes on. Unfortunately, the record business is in the pits right now. They're discontinuing CDs everywhere within the next year. The economy is down the tubes, and nobody is purchasing records. The clubs. There's no way to play in New York. I mean, New York, the capital of the world? I don't play in New York, unless I do Lincoln Center, Radio City or Madison Square Garden. That's it.
How often do you play these days?
Harlow: I do maybe two or three weekends a month. Sometimes it's just a guest shot, sometimes with my own band. Sometimes with the Fania big band. Fania is going back out on tour June 30 with all the old guys. I told them, I said, "Hey, listen. Why don't we pull in on three ambulances and all get out on crutches and walkers." They didn't like that for some reason. But you know, they're all up in their 70s, those guys. I'm one of the younger ones of the bunch.
You're the spring chicken of the bunch.
Harlow: Yeah, and I'm 71. But they're 75, 76. Johnny Pacheco is not in good health. A lot of them have passed away; Celia passed away. Pete Conde. You know, you kinda miss it.
What impresses me about you is that you're at this legendary status, yet you continue to work with younger guys like Grupo Fantasma and The Mars Volta.
Harlow: Oh, you know about The Mars Volta? Mars Volta was such a hoot to play with. The vice president of Universal, a guy named Avery Lipman, went to law school with my son. When he signs a new act, he always asks them whose your idol. Thinking they're both guitar players, Omar and Cedric, he thought he'd say Jimi Hendrix, Eric Clapton or somebody like that. He said Larry Harlow. "Larry Harlow? That's my best friend's father." They said, "No way! Can you get him to play on our album?" So they called me up, and let me tell you, they paid me stupid money. I mean, they paid me so much money. So I said, "Who's The Mars Volta?" So I bought a couple of CDs, and they're a far-out band. You know, they're screeching away.
The Mars Volta is not for everybody.
Harlow: Not for everybody. And they're bilingual. I said, "What am I gonna play on this stuff?" They said, "Don't worry, don't worry." It took us a while to find a mutual studio. So they flew to Puerto Rico. I was there to do a couple of concerts. I said, "Okay, can I hear the tracks?" They said no. I said, "What do you mean no?" He said, "No, no. Wait until we get into the studio." So they put me off for like a day or two. And we're riding in the car to the studio and I'm like, "Can I hear them now?" No. I said, "Something's up here."
[laughs] Uh-oh.
Harlow: And, you know, these guys are with the big afros, tattooed up the wazoo and the horn-rim glasses with the tape on it. They're kinda nerdy looking. I get to the studio, and there's five keyboards in a circle. And he says, "When I point at you, you take a solo." I say, "Well, what key are you in?" They say, "We don't know; we don't read music." I said, "Oh, I'm in trouble." Flea was there from the Red Hot Chili Peppers, and a couple of guest artists they had. So the guitar's going [imitates guitar with high pitch screeching] yeee-yaaah-yeeeee-yaaaw. And then in the middle of thing went right into a Cuban guajira. And he goes, "Okay." And I took a 12-minute solo and my hands were bleeding. Scraped all the skin off my fingers. It turned out great. They put it out and sell 400,000 records in two months. All of a sudden, Rolling Stone is calling me and all the rock bands are calling me to record with them.
It introduced you to a younger audience.
Harlow: They're interesting guys. Very creative kids. They moved from Texas to New York. They're all in New York now, and they don't answer their phones ever. I leave messages and they don't call back. But I've been having fun. I'm more than just a salsa piano player.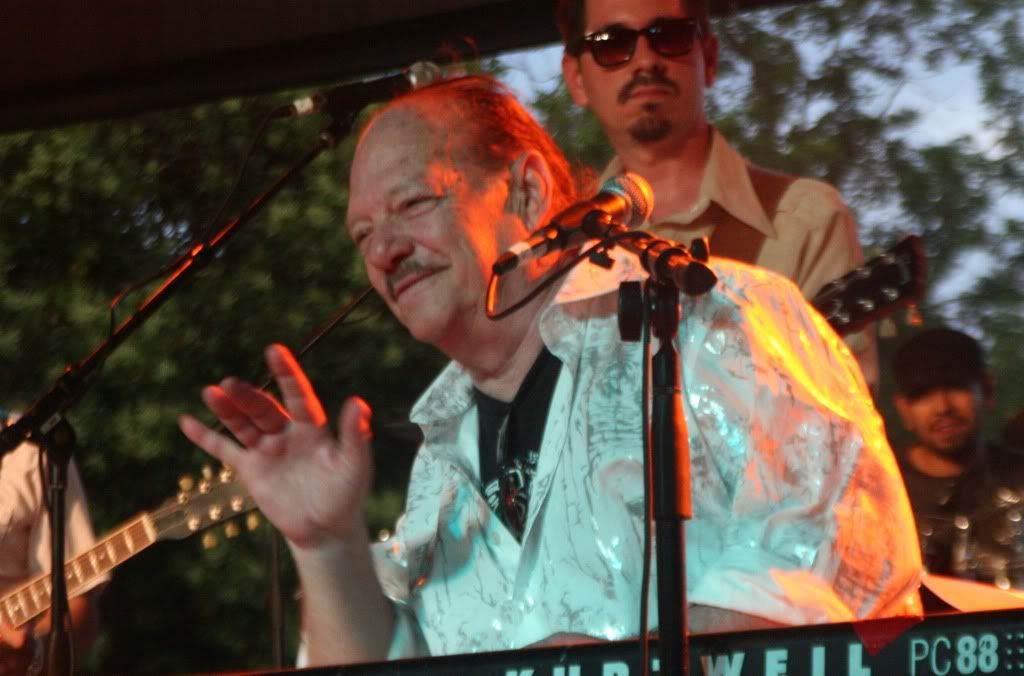 That's great. It sounds like you're still enjoying it.
Harlow: Yeah, yeah. There's nowhere to play in New York, so I'm always on the road. I play in Europe, South America. So I'm gonna be in Tucson. I don't know whether to cancel. Maybe they'll ask my guys for papers, deport 'em to Mexico. No, but I'm gonna do it for the Tucson Jazz Society. It should be fun.
Have you been here at Pachanga all day?
Harlow: Yeah, I came early. Wanted to hear all the different bands.
Honestly, have their been any bands that really got your attention?
Harlow: The female mariachi band, Mariachi Las Alteñas, was great. And it's funny, because Roberto Pulido, I produced some stuff with Pulido back in the '70s. I used to do all the Miller Beer commercials. You know: Lite de Miller, la cerveza que no llena. And one of them was Pulido when he was just starting out, you know. If I see him over there, I'll say, "Do you remember me from 1977?"
That's funny.
Harlow: We made a lot of money with Miller. Most musicians don't know, when you do these kind of recordings and jingles and Broadway shows, they contribute to a welfare and pension fund. I didn't even know. And then 30 years pass, all of a sudden I hit 60, and I start to get $1,000 a month in the mail for the rest of my life. It's from the jingles I did in the '70s. Because it all went through the unions. I was the only artist with Fania that ever put recordings through the union, so I paid got union scale. And all my musicians got compensated for that, so that was good.
So what's next for you?
Harlow: The big news. In 1977, I wrote a suite—a thing called the Salsa Suite, La Raza Latina. It's about an hour long with a 50-piece orchestra with strings and everything, and Ruben Blades sang lead on it when he was young. So Lincoln Center approached me to do a project. So I said, "I'd like to do La Raza Latina." So I dug up all the music and rearranged it. I said, "Let me get Ruben." Ruben just came off a 30-city tour where he made a fortune because he was the promoter. Matter of fact, he even cut the band in on the profits. So I wrote him an email. "Ruben, would you like to do this. There may be some money involved." He says, "I'm interested."
[laughs] The magic word.
Harlow: He finishes the tour, comes in. I ask, "How much money do you want?" He says, "Pay me whatever you want." I say, "Whatever I want? You know, it's not a lot of money. It's a free concert, free for the public." We'll probably end up with $3,000 or $4,000 a piece, me and him. But I got a 50-piece orchestra I'm going to conduct in Lincoln Center, outdoors, on August 14 of this year. It's a huge project, a good three or four months of preparation. Rehearsals start in July.
So it's just a one-off concert?
Harlow: I said, "You wanna take this on the road with me?" He said, "Nope, I'll only do one for you." So I call Louie Enrique and say, "Louie, you wanna do it?" He's like, "Yeaaah! I'm in!" He's a very good singer also.
So August 14 at Lincoln Center, then?
Harlow: Yes. I suggest you come early. We're gonna shoot in HD, four-camera shoot; we're not gonna put it out commercially, but at least we'll have it for posterity.
It's good to see you're still so active at 71.
Harlow: Well, I've been married several times, but I married a wonderful woman about 11 years ago who supports all the things I do and pushes me to do things like this. When you give back, you know, it makes you really feel good. When someone writes in, "Thank you for all the great music," that's better than a million dollars for me. As long as my health holds up, I'll be around.
So, what's your outlook for these Grupo Fantasma kids?
Harlow: They're great; they just should've been born 20 years earlier, you know. It's a tough business right now. You look at Crosby, Stills & Nash and they can't draw a crowd by themselves. So they have to go together with somebody; they put four or five acts together and they do a concert. Look it, Santa Rosa was in New York at the Nokia Theater. $150 tickets! Give me a break. I don't care how good he sings, I'm not paying $150 to see Gilberto Santa Rosa. $45 maybe. And, you know, the city cuts back. All the free concerts are less and less, and the clubs don't exist anymore. The rents are so high they went out of business. The city said to the Copa Cobana, which was a great 3,000-person venue, "Listen, we need this building for a subway stop. Get out." They own the property. So that's the end of the Copa Cabana. So now the only places you have to play in New York are these little restaurants. You know, they're restaurants during the day and then at 9 o'clock they take out the tables and chairs and higher a quintet or sextet. And I can't even fit my band on the stage, better yet them pay me. And Europe's getting bad now, too. Hopefully, the economy will turn around.
A lot of this stuff was happening before the economy crashed.
Harlow: Yeah. But tropical music will never die. South America is just booming. You go to Venezuela, Colombia, Peru. They have 200 radio stations playing salsa music. You go to New York, there's one radio station playing salsa music. And if anything is in a foreign language, the American stations won't play it. So it's difficult. But I have a lot of fun. I'm still here.
Still here, still kicking ass. The set was amazing.
Harlow: It was a great set. I enjoyed myself a lot. And the people were very responsive, which was wonderful. Thank you.
All photos by Mari Hernandez for Austin Vida.