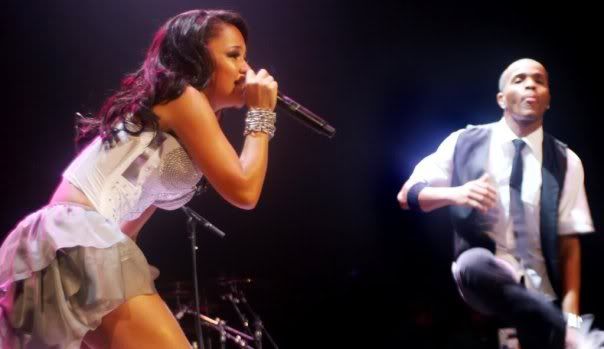 International Latina superstar and Latin Billboard award-winner Kat DeLuna dazzled Austinites last fall with rapper Pitbull at the Austin Music Hall. Her electrifying performance gave fans first listen of new songs not on her debut. She left many fans wanting more and wondering about when they can expect her new album. Well, fans can rest easy as her sophomore LP, Inside Out, is on the way this coming spring. Inside Out is currently set for an April release and will be put out by Universal Motown.
Austin Vida sat down with Kat DeLuna shortly after the Pitbull concert to talk about Inside Out and a few other interesting things that her fans may or may not know about. As you will find out from the interview below, DeLuna is a big Selena fan, toured the gay clubs circuit and off stage is just "Kathleen".

Talk to me a little bit about your upcoming album, Inside Out.
Kat: Inside Out is my upcoming sophomore album. It's amazing. I just literally wrapped it up. I had been working on it ever since the end of 2008, little by little. I want this album to be very special and signify who Kat DeLuna is right now. The first album is always like "Hey I'm here" and the second album is when you are really telling the world you're serious about what you do. Let's go get 'em.
What would you say is different about Inside Out in comparison to the last album?
Kat: It's very edgy, more than the last album. It's more experimental, but not unrelatable. In fact I think it is more worldly, and even more people can relate to it.
Tell me then about the title. Is that something you came up with? What meaning does it have for you?
Kat: Definitely. When you see me on stage I'm very "Kat DeLuna". When I'm off stage I'm very "Kathleen". There are always two sides to a person. I feel like this time I wanted to show everyone the two sides of me. I'm American, but also a Latina. The other part of that is I am a singer and at the same time a performer.
Do you feel more pressure with this album than you did with your first?
Kat: I would definitely say yes. It's not bad pressure. Good pressure. I'll say this time is when I am really coming in through the doors. I feel this time this is where I am really making my first impression. It is always like that for your sophomore album.
So after Inside Out is released, do you think you will be able to do a headlining tour and have people open up for you?
Kat: Oh, wow. I think up to now, I have done a very good job with everything I've done. I have been very lucky to get into the situations I have been in, especially opening for Pitbull here. Also overseas, I've been doing a couple of tours by myself. It just depends where your album is more successful. With this album I have made sure to make everything more relatable now. It's different now. Now I have a fan base and more people supporting me.
Let's talk about something fan-related for a second. I've read online about you doing some touring in the gay club circuit last year. How did that come about? Tell me a little bit about that.
Kat: It was actually a gay tour for my divas. I do have a big gay fan base . It was a big tour leading up to the Gay Pride (parade). The Gay Tour Federation just hit me up and I was all about doing it. I always try to be a part of everything and show my support back to them the same way they do for me.
Plus you are known as a great performer and I can see you being a fun character to "play" so to speak.
Kat: I guess it is because I have a really over the top personality and they love that. [laughs] I'm very draggy too.
Did you ever receive any backlash of any kind for doing that gay tour? Some of the cities I read about where you performed were in the Midwest or just states not known for being so gay friendly.
Kat: I don't remember about any kind of backlash. I will say I do look up to them because they stand up for what they believe in and do it well as a group. They don't let anything break them down.
That's very untypically Latino still in a lot of places. I don't have to tell you that we are a part of a very macho culture. I'm sure that is one step in the right direction to change all that.
Kat: It is very macho. I think little by little it is changing. I see it in other countries. When I go to the Dominican Republic, there is a whole new visible gay community. When I go to Mexico, I see it there too. I do think it is a little bit harder to be openly gay in those countries than here.
How often do you tour or perform in Latin America these days? I mean with the success and exposure in Spanish language media, you should be big there, I would think.
Kat: I haven't re
ally gotten a real chance to really go everywhere I want to go yet in Latin America, especially in South America. I've been to Puerto Rico and the Dominican Republic. It feels that I have always been in Europe and in Africa. With this album coming up, I'm definitely doing it. I definitely want to do an EP in Spanish soon; straight up.
I imagine that would go over well given that you have already collaborated with some popular reggaeton artists like Don Omar. Do you get to choose who you collaborate with or tell your management "Get me so and so"?
Kat: I do have a say. I did a song with Busta Rhymes that I was excited about. I actually didn't pick Elephant Man.
Well that worked out well for you…
Kat: It was the best thing ever. A lot of things just seem to happen because they are meant to happen.
A lot of people don't see or understand how all that happens behind the scene.
Kat: Oh my God, this whole thing is like that. My fans are diverse and really appreciate my music, but don't understand why things go a certain way because it is a business. You grind hard and it takes a lot of work.
Tell me about your grind in the upcoming year. I bet there are a lot of people who don't understand how hard you have to work even today after a few hits.
Kat: I feel like the underdog. I always feel like I have to prove myself. I will say I'm very grateful. If you want to keep it really real, I've only had two songs most people know of. I know this. It is just that I am always touring in Europe. In Europe my album had three consecutive number one hits. I had success in other countries like Russia and Lebanon. This year I am going to work harder at targeting my Latinos. I will work hard at that because I am a girl who proudly stands up for what it means to be a Latina in this country. We speak Spanish at home, English in school with our friends. I want to be an example of what an American Latina is for people. I feel there is need for me to be that.
So you do consider yourself a role model?
Kat: I do. I do what I do not just for fame but for people to do the right thing. If you listen to the lyrics of my music, some songs might be fun and sexy. The others are about doing what you want, being unstoppable and running the show for yourself. Wait until Inside Out comes out.
I feel we should have had this conversation about being an underdog two years ago when you were just coming up. What else is it going to take for you to be the underdog anymore?
Kat: I'm the type of girl while everyone is sleeping, I'm up. I'm always writing or thinking of the next move. One day I'll be doing shows in Africa and then small countries in Europe a week later. It's always promotion, and that is what it is going to take for me. Grinding and promotion. I'd do a show 10 times if I had to in order to get the reaction I wanted.
Would you give me that same answer if you were at the next level already?
Kat: Definitely. It has to do with where I come from. It's first nature. It's how I live. I know that hard work pays off eventually. Everyone has their time. I think mine coming with Inside Out. My fans will go crazy. I've listened and read comments on YouTube and Twitter. I listen to my fans and know what they want, so I am going to give it them.
So you personally ready what people are saying about you online? Not some label interns or assistants of some sort?
Kat: Yes. I'm the one that "tweets". I am the one that "MySpaces". I know my fans appreciate it and think it's cool. I only get help if I don't know how to do some technological stuff. I don't believe in all that bigger than the world mentality. This is my business, my music, what I do. I'm regular just like everyone else.
Prove it. Tell me something "regular" about yourself that may surprise people.
Kat: I still make my own breakfast, clean my own house and do my own laundry. I do my own makeup a lot of times. That's humble right? I do a lot of things. I do stay up late watching History Channel and cooking shows.
What about what music you listen to that might surprise people? I know you have an open mind and ear given your musical background.
Kat: I do listen to Luciano Pavoratti and also Miriam Hernandez. I listen to a lot of Ella Fitzgerald, and '70s music is the best. Oh, and do I love Selena a lot.
Good for you. I'm glad to hear Selena's influence made it all the way to your neck of the woods and to a young artist like yourself.
Kat: The main thing I remember is seeing videos of Selena and her yelling to the crowd "Austin, Texas" or "Chorpus Cristi, Texas". She is one of the reasons why I do my shows the way I do. You have to know this. I lived in the Dominican Republic until I was like six year old. My first language was Spanish. We watched Selena y Los Dinos on TV and listened to her music. My older cousins were big fans of hers. I just grew up listening to her music. As I got older, it grew on me even more. Next to Gloria Estefan, I feel like she was one of the Latinas who opened doors for me. She even had her own business. As a Latina, I am very proud of her. She is still the queen to me.
Tell me about performing in Austin with Pitbull. When you have been here before, even in Texas, it seems like it was mainly for radio promo.
Kat: Oh my God it was amazing. It was one of my first big shows. I loved the crowd. That little boy I pulled on stage could moonwalk. It is amazing to see how influential Michael Jackson is even after his death with kids that young. I love it in Austin. Austin is an amazing mix of fun people.
Had you been here before on your own to visit? With the large Latino population here, it only seems fit for your type of show and musical style. How did we miss you? How did you miss us?
Kat: I know right. Last summer I was in Europe touring. I spent a lot of time overseas. I will try to come back here again soon when I start touring for Inside Out. I will be here and in Texas more.
Kat DeLuna links: Facebook | MySpace | Official Website | Twitter