Ramón Amezcua and Pepe Mogt, better known as the musical masterminds Bostich and Fussible of Tijuana's Nortec Collective, began in the late '90s by bringing together their love for European electronic music, American dance and disco music and, surprisingly, norteño sounds that surround their city. The impact of this fusion is far more than just creating a new genre. It brought a new vibe, culture and musical identity to Tijuana. As a result, the stereotypical Tijuana clichés are now being replaced by a new breed of graphic designers, visual artist and filmmakers that are all contributing to the modernization of Tijuana.
Just as Tijuana has modernized in recent years, so has Nortec's sound. The duo's latest release, Buelvar 2000, proves this. From an outsider's perspective, it may be easy to say this is Bostitch and Fussible trying to blend new genres with the Nortec sound. However, Amezcua and Mogt were quick to let me know this is still norteño music they are fusing, not cumbia or anything else. At the end of the day "El norteño no se te quita." I spoke with the duo while they were in town for ACL Fest and talked about the new album, new collaborations and getting a taco fix in Australia.
Photos by Chris Carrasquillo at ACL Fest 2010.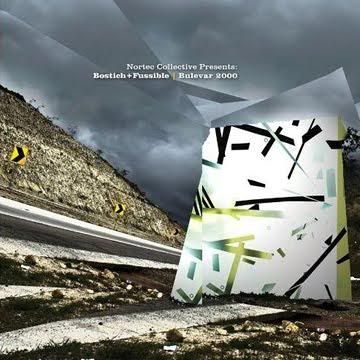 I noticed the new album, Bulevar 2000, has a very distinct sound from the previous albums. Tell me the background story and what the inspiration was for this album.
Pepe: Well, this album is basically the continuation of Tijuana Sound Machine. The concept of Tijuana Sound Machine was based around an old car that was turned into a sound machine we drove around Tijuana. Those songs were based on specific spots around Tijuana and that car would drive to the border and come back. For Bulevar 2000 we gave this car a highway to drive upon. This car leaves Tijuana and in general, most of these songs on this album were composed outside of Tijuana during our tours around various cities and countries. The sound that came along for this album was based around the sound of Nortec. Looking at it from the outside, it still has the traditional Nortec sound. Traditional accordion, saxophone, etc. It was not that we were adding sounds from other countries, but we composed most this album outside of Tijuana and perhaps that's why it more of a nostalgic sound. There are other songs that are obviously more festive. As for the name of the album, we chose the name Bulevar 2000 because it's an avenue that is very conflictive and very emblematic of the city.
How did the collaboration with Kylee Swenson from Loquat in "I Counts the Ways" come along?
Pepe: Well, we played in San Francisco with them. We know them from various festivals where we have collaborated. Ramón was the one that had a piece almost finished when he invited Kylee to join us.
Ramon: After playing a festival in San Francisco, a friendship came along and the idea to collaborate came along. We sent her the song that was almost finished and then she sent the vocals. During that time, it coincided with a presentation we had with the Orquestra Baja California, and the composer of that orquestra also participated in the composing and arrangement of the violins. What we did in the song with Kylee, with the arrangement of strings section, is something we had never done in a Nortec song before.
Is adding lyrics to your songs something you guys are looking experiment with and integrate into the Nortec sound?
Ramon: Yeah. What happens while touring is that we have the opportunity to meet a lot of artists and make friends with people that are in bands from different genres. It has helped enrich the sound of Nortec. We are not closed off to just collaborating amongst ourselves.
You guys started with just electronic sounds and then added some norteño samples. Now you have a full norteño band. How has that changed your sound? Does it give you more flexibility as far as composing goes?
Ramon: When we started, we worked with samples. It was more experimentation with sounds that were already recorded. The participation of these musicians, which have accompanied us all through the tour, has helped us a lot. First we recorded the accordion and the trumpet. Once we got back to Tijuana, we recorded it in the studio. It has given us a different way to compose our songs. We give them to the norteño bands members and they will compose and do their own arrangements. Thanks to these musicians, the Nortec sound has evolved.
Was it difficult for these norteño band members to play along with computer generated beats?
Ramon: At first it was complicated and difficult as the musicians weren't too accustomed to following electronic beats. I don't think that was that was the hardest part though. The hardest part was the live show and performing in front of a crowd that was listening to electronic music. There was that fear that they wouldn't accept a norteño band with sombreros and the accordion. At the first performances the band wouldn't even move or dance; they would simply just play their notes. As time went along, they started dancing. They learned to improvise and now people know them and yell their name. Everyone knows our accordion player's name is Juan Tellez, or our trumpet player Gustavo Medina. It has been a great opportunity for the nortec sound as well for the norteño musicians that participated in front of these electronic crowds.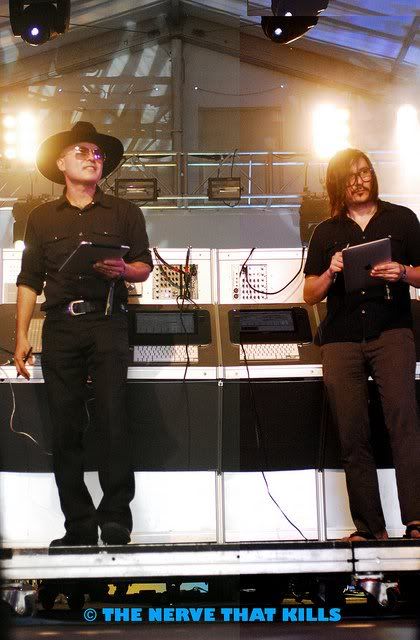 When I saw you guys perform in 2009, you were showcasing the Tenori-On. Now I see that you have the iPad you are incorporating into your music. Tell me how you implement these technologies to your live show.
Pepe: Well, we are always weary of the new technology out there. We are always trying it out and the Tenori-On helped us a lot with the album Tijuana Sound Machine. Live, it's a very fun instrument to play. When you're playing with it with the rest of the musicians, it is a lot of fun and that seems to transmit well with the crowd. With the iPad, we created an interface that controls the synthesizers and computers. With these instruments, we are free to walk around and interact with the crowd.
Ramon: With the application we can control the computers, play sounds, walk to the crowd and even have them participate by playing the sounds themselves. This new technology also gives us ideas for new songs.
As Nortec Collective, you guys haven't all been together since 2007. How much are you guys involved in each other's projects today if at all? What is the current state of Nortec as a whole?
Ramon: Nortec Collective started in 1999. With this project, Pepe and I have always recorded independently. Perhaps in 2005 when we recorded Tijuana Session Vol. 3 and did a tour together, people thought we were some kind of group. We all work together, but the collective is more than just music. There are also graphic designers, visual arts and those people that helped with Bulevar 2000. For instance, Friz Torres, who created the album art for this CD and others who also worked on Bulevar 2000. The rest of the members of Clorofila and Hiperboreal continue working on their CDs and projects.
Given the fact that you guys branched off into a lot of sounds with Bulevar 2000, what are some genres or sounds you still want to add to the Nortec sound?
Pepe: Nortec's sound is very defined. It is that combination of norteño and electronic, but with these distinct genres there are really thousands of possibilities to make them sound different. We have seen from Vol.1 to Buelvar 2000 that the sound has changed a lot, but it is still based around the same fundamental norteño sounds. I think the whole change of sound lends itself to new technology or using old instruments. For instance, with this CD we use really basic instruments, old '70s and '60s stuff, old reverb and delay pedals. Suddenly it sounds like a fusion of music that was done in the '60s with norteño music. It sounds weird and distinct from the previous Nortec albums, but it still has Nortec sounds. We cant go and put in merengue because we don't really know that music. We live in Tijuana. Norteno is us and the musicians we have are 100 percent norteño.
You guys are always on tour, playing major festivals all over the world. Having said that, what did you do when you craved a taco in, say, Australia or New Zealand?
Pepe: [laughs] As a matter of fact, when we're in Australia we made some fish tacos. We made them inside the festival. Some people invited us over and had all the ingredients. They were really happy. During the tour for Tijuana Sound Machine, we were away from home a lot and missed Tijuana. Not so much for the food, although it's great because there is a lot of variety. Obviously you miss everything about the city: the friends, the sounds. Bulevar 2000 reflects that.
What's next for you guys as far as touring? Perhaps a new music video?
Pepe: Right now we're working on the music videos for this CD. A lot of the songs like "Oh Yes!" may not have a video, but a lot of the songs are going to be put together to make a mini-story style video trip around the border. Other songs like "Must Love" and other songs will have a video.