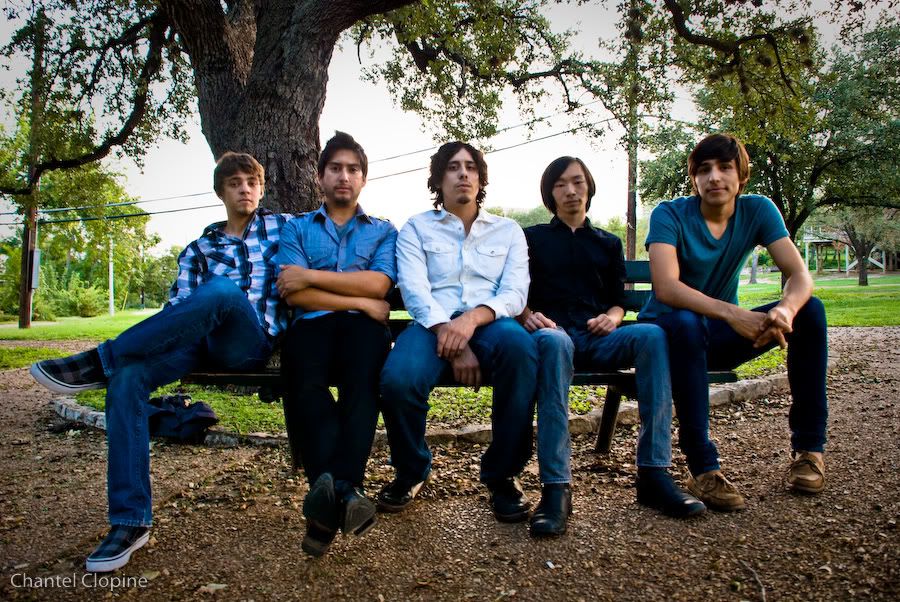 Every January in Austin, the Red River live music district is home to a weeklong, venue-hopping rite of passage known as Free Week. Free Week can best be described as the music festival for Austinites; there isn't the influx of tourists that other music festivals bring, no badges or tickets are required and there are no huge touring acts headlining. For locals, it is the best time to check out Austin's live music venues for free, discover new artists or see your favorite hometown headliner without paying a cover.
Our favorite Free Week discovery this year was In Situ Sound. They played three Free Week showcases. Some of the Austin Vida staff caught them at Beerland early in the week, while some of us saw them at Mohawk's inside stage and at Red 7. Every time, our group consensus was that they stole the show. No other band sounded like them: Three guitars riffing away at progressive, melodic chords, joined with a spastic young drummer, heavy bass lines and a singer whose crooning skills rival any other ambient indie frontman out there. In Situ Sound fills the local void for melodic, progressive post-hardcore (think Minus The Bear).
Scroll to the bottom of the page for a photo gallery of In Situ Sound performing live at Beerland during Free Week. Read our Q&A below….
How did you guys first come together as a band?
Chris: Three of us are from Weslaco in the Rio Grande Valley. We sort of grew up together. I was born in the Valley, then moved and came back.
Nate: I've known this guy [Chris] since we were 10 years old.
Chris: The day I moved to the Valley was the day I met Nate. From day one we have been really good friends. I met Fabian [drums] a couple years after that. Nate was actually the first one to pick up an instrument. He was the one who really started listening to music and brought me into it. I picked up a guitar because of him and we both started to learn. Fabian decided to pick up the drums. We've just been close friends since then.
So how did Tang and Eric come to join the band?
Fabian: So Chris moved to Austin, then I come up. Once Chris and I are up here, we started looking to put a band together. What better way to do it than to work on some covers. Specifically, we were looking for two people to play Incubus covers with us.
Chris: I ran into Tang on campus at UT and he was jamming with his band. I went up to talk and him and talked about playing guitar. We exchanged contact information and after that I didn't hear from him for about year. One day out of nowhere I get this random Facebook message asking about me about getting together to jam. That's how we got together.
Eric: There was a post on a Facebook message board saying they needed a bassist. I responded and said I'd do it. I didn't know any of these guys before that and it just kind of worked. We meshed together well.
So how long have you been the quintet we see now?
Eric: About six months.
So after you were set on your members, what was the plan then? What was your next move?
Nate: The plan was just to write and write more.
Sure, but you don't just pick up your instruments without knowing what kind of music you want to play. You guys could have played any genre or style of indie.
Nate: I know what you're saying. We all actually listen to most of the same kind of music. At the same time, we all come from different backgrounds.
Chris: We all have our own styles that we'd like to integrate in what we play. It works so well because at least when it comes to guitars, we each have our own style and we blend them well.
So was this ambient-indie genre of music you play born out of a few jam sessions?

Eric: Our original focus was the doing the cover songs. So we already knew we all liked similar music.
Nate: It's all about compromising. With three guitars it is really hard. It means no one in this band is the center of attention. We have to work as a family. We are very open. There aren't any hurt feelings in this band.
Eric: As far as songwriting goes, most bands I know usually have one or two people writing most of it and then bring the other members on board with what they wrote. We generally have everyone in Fabian's garage and work together on it all.
How long does it take you guys to finalize each song? There are so many intricate little pieces such as floating notes or something vocally that make me think, "That must have taken so long to come up with and put together".
Eric: It can take a while. Sometimes we can just jam one out and it just flows.
Chris: We will have dry spells every so often where we don't get anything written for almost a couple of weeks or so. It will just come one day in practice and we can somehow knock out 90 percent of the song. It takes time also, too, because we operate as a collective democracy, not some person who is the high authority.
It seems to me that there are a lot of young indie Latinos coming from the Valley. For Austin Vida, we have already featured Vinyl Dharma and Dignan. What's going on down there in the Valley that's creating this powerful young indie movement?
Nate: There's not much to do. At The Drive-In kind of created the way and inspired us. There's Latinos in that band and I grew up listening to them. And in the Valley there are just two scenes. There is either hardcore or indie. I don't think they plan it or anything, but it just seems to be the way it is.
I think it still comes as a surprise to even most Latinos, not just those here in Austin, that are not familiar with the scene. The kind of indie you guys are putting out should come from Portland, Atlanta, Brooklyn, Los Angeles or Austin in most people's minds.
Eric: Nate and I just took a trip down there recently to see Minus The Bear and the venue was just packed.
Nate: There's a hunger for that type of music. The Valley is so culturally driven that people want something different like this. All you get down there is Tejano, one rock station and that's really about it. People are just looking for more and are influenced by other cultures and types of music. I think that's what happening there.
What's the parent reaction to the type of music you guys are playing?
Nate: I think for the most part all of our parents are very supportive.
Tang: I don't know about that. Being from an Asian family and all, they weren't exactly excited that I was doing this whatsoever. They do know they are good kids and have met them all.
Tell me about the new EP, Between All We Can See.
Eric: One of the reasons it took so long was because we are poor. We don't have a lot of money and it costs a lot to record. That had to do with why we only went with an EP versus putting out a full album. We'd like to have it published and sell it at record stores like Waterloo and places like that. Right now we are just giving them out at shows.
Nate: We're using it as a springboard to get attention. You can download it for free online also.
If you are just giving it away, what are you going to use a guide to measure the success of Between All We Can See? Will it be how many people download the EP or your shows getting bigger crowds?
Eric: We want to use the EP to take off and be a name in Austin. We want people to hear the name In Situ Sound and know who we are. That's what we want. If that happens, then we can consider everything a success.
What's behind the name of the band?

Eric: We went through a couple of names of the band. We wanted In Situ, but we found out that was taken. Everyone seemed to have wanted the "sound" part in the name.
Chris: I came up with In Situ part. I like alliteration for some reason.
Eric: It has a cool meaning. It means "original state of the sound".
What's the inspiration behind the lyrics?
Chris: For the most part, the way we write is we put lyrics to the complete song. I try and make things more ambiguous to where the listener can draw their own meaning.
Eric: I will say I have always wanted an outlet to write, but I can't sing. I feel privileged that Chris lets me write with him. I do a lot of "we" lyrics. I look at society and try to write about society. I like to focus on what's going on and a few personal experiences. My writing has grown to be about more social issues.
Will you guys be touring soon or do you plan to around Austin for the most part?
Eric: We will be here for the most part. We do have some friends in a couple of different areas that can get us shows. I think we have to get our stuff together first in Austin.
So what is coming up next for you guys then? I know you are new and everything, but I know the machine is always going.
Nate: Always. We're writing new songs right now and few in the works. We will be playing them come February, songs that aren't on the EP.
So you're not going to break out into those Incubus covers anymore?
Nate: [laughs] Probably not, man; maybe at private parties or something like that.
Last question: Why should anyone pay attention to In Situ Sound? What is it about this band that will hook them?
Eric: Seeing us live may be the thing that hooks you. We bring a different flavor from a lot of the poppy indie that Austin loves so much. We aren't as hard as what comes out of San Antonio or as alternative as Dallas. It may just be something that speaks to you.
Nate: There's great bands here, but with us we have a taste of different things. We're energetic and then the next measure might be soft and pretty. It progresses well and sounds really good live.
Austin Vida's Chantel Clopine photographed In Situ Sound's Free Week show at Beerland. Check it out:
{becssg}music-1002-situ{/becssg}
{becssg_c}0|av-band-situ1.jpg|In Situ Sound at Beerland [Jan. 6, 2010] | Photo by Chantel Clopine {/becssg_c}
{becssg_c}0|av-band-situ2.jpg|In Situ Sound at Beerland [Jan. 6, 2010] | Photo by Chantel Clopine {/becssg_c}
{becssg_c}0|av-band-situ3.jpg|In Situ Sound at Beerland [Jan. 6, 2010] | Photo by Chantel Clopine {/becssg_c}
{becssg_c}0|av-band-situ4.jpg|In Situ Sound at Beerland [Jan. 6, 2010] | Photo by Chantel Clopine {/becssg_c}
{becssg_c}0|av-band-situ5.jpg|In Situ Sound at Beerland [Jan. 6, 2010] | Photo by Chantel Clopine {/becssg_c}
{becssg_c}0|av-band-situ6.jpg|In Situ Sound at Beerland [Jan. 6, 2010] | Photo by Chantel Clopine {/becssg_c}
{becssg_c}0|av-band-situ7.jpg|In Situ Sound at Beerland [Jan. 6, 2010] | Photo by Chantel Clopine {/becssg_c}
{becssg_c}0|av-band-situ8.jpg|In Situ Sound at Beerland [Jan. 6, 2010] | Photo by Chantel Clopine {/becssg_c}