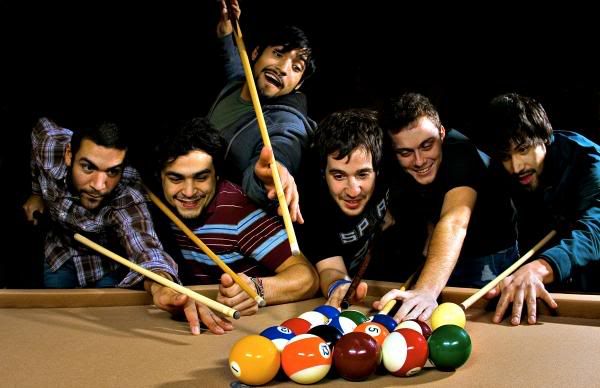 Austin Vida's indie showcase is this Saturday, Feb. 20, at Mi Casa, so we thought we'd give you some insight into the young bands we're featuring with a pair of Q&As. You can read Ian Morales' interview with In Situ Sound here. I spoke with the other half our bill: Hydra Melody, a progressive/alternative sextet from Helotes, Texas.
The band started as a middle-school pop-punk band, but evolved into the band we see now, a lineup that features keyboards and an auxiliary percussionist in addition to the standard guitar/bass/drums core. The setup provides an eclectic style of progressive melodic rock with hints of their Latin roots intertwined within the tunes.
Keyboardist Justin Berlanga recently chatted with me over the phone to provide an introductory overview of this headlining act for our first-ever indie showcase.
So, how did Hydra Melody form?
Justin: Basically, there was a band [in middle school] called Ready to Fail around for a couple of years, which mainly consisted of my brother Jordan and the guitar player, Robert. They'd been going for a while, had a bunch of lineup changes. I joined the band probably six years ago. It was at that point we started writing really really different music and found a lineup that we really liked. We decided to take a year and a half off from playing shows and all that stuff, and pretty much wrote a bunch of music and formed the band we are now. We've been doing it for four or five years.
How would you describe the band's sound?
Justin: I would definitely describe us as just rock music. We play what we feel. We do have a lot of Latin influences. Growing up in South Texas, it's kind of hard not to have Latin influences. I grew up playing classical music. There's so much different stuff in there. I wouldn't even know where to begin to classify it. People compare us to a lot of bands that I go listen to; I'm like "How do you even get that from this?" I guess if I had to pick a genre, it would be "eclectic rock." Just rock with a lot of different stuff to it.
That seems to be like the state of music now. It just seems like a lot of music out there now isn't just one genre anymore. Just like a hybrid of all kinds of genres.
Justin: I know; I love it. I like to call it "anti-genre." I think the worst thing you can do for your band is to say, "Oh, we're a punk band" or "We're a ska band," if we're going to stick to making this kind of music. Nothing against punk or ska; that's what I grew up with. I think it's just a shame, and you might limit yourself musically when there's a whole world out there. You can delve into. So to the original question, the anti-genre. That's what we are.
Hydra Melody is from Helotes, just outside of San Antonio. How would you compare the Austin scene with the San Antonio music scene?
Justin: I love Austin. I used to live in Austin. I definitely say San Antonio has a tighter scene, has a better scene because… This is the way I figure it, okay? If you live in Austin, chances are you go to school in Austin. So you have a new cast of characters every four years coming in and out of Austin so you can't really build a solid scene there. I've played shows [in San Antonio] for kids that I've known 10 or 12 years that have been around our shows, going to shows and stuff. So I'd say that the scene in San Antonio definitely goes a lot deeper than the scene in Austin.
You guys just recently finished a West Coast tour. How did that go?
Justin: It was really cool. We played some really good shows. We made some really cool friends. Experienced some good things. The weather was horrible, but overall I say it was a success.
Was it cold?
Justin: It was really cold. We hit a snowstorm in southern Arizona. What the hell is that about? We saw snow from El Paso, like all the way, like 100 miles into Texas. Like fucking snow all over the ground! It looked like a fucking Arctic tundra or some shit. A lot of dust storms. Like blinding dust storms. We were hitting winds so bad that they were literally knocking 18-wheelers on their ass like on the side of the highway and stuff.
Where were you driving when that happened?
Justin: Well, we were driving in the really hard winds, but I think we missed those gusts that did that because it was probably about 10 miles after the winds kinda calmed down. We were driving and saw these 18 wheelers just flipped over. It was like right getting into California where those Santa Anna winds get real bad.
Are you currently working on a full-length album?
Justin: Yes, we are in the writing process right now. We're also in the process of trying to figure out where we want to do it and what route we want to go. We've been working with some producers on pretty much everything we've put out as The Hydra Melody. One of them is my cousin. His name's Anthony and another guy, Mack Damon, here in San Antonio. They're just awesome producers. We really like working with them, so we're kind of debating on whether to work with them right now or whether to try something different.
I know you're in the writing process of this album, but how would you compare the new material to your last albums?
Justin: I would almost compare "Maybe One Day" as even like a continuation of "Day of the Dukes," which was an album we did right before that. They could be an A-and-B type thing if you ask me. I think, in the past, all of our songs have really had a different feel to them from song to song. I think that even accentuates more with this new album. I think you're going to get something different out of every song. Like we said genre-wise, we might move from one to another, like really quick. And I think you can expect a lot more vocally going on as far as from the other members: myself and Robert. Maybe even Bobby. Bobby's kind of stepping himself up right now showing that he's got some want.
Why did the band choose the name Hydra Melody?
Justin: This is how it got started: our guitar player, Robert, was reading some kind of medieval dictionary or something like that, and ran across the word "hydra" and delved into it. It's this multi-headed sea serpent from mythological times that would just go around like wrecking ships and fucking shit up, basically. We kind of related our music like that because, back then, we were in a real experimental, almost a jam-band, type phase. It was basically five or six people soloing over each other, all at the same time. So we related it to a hydra of melodies so it became The Hydra Melody.
That fits you pretty well.
Justin: Thank you. I appreciate that.
What else is in the future for Hydra Melody?
Justin: I can only hope good things. I guess there's no way of really knowing what's in the future. As far as our plans, it's definitely to stick on the road, but we're going back up the Midwest in April. Probably late April, early May, so we'll get to go visit some friends in Chicago. We'll get to go hit up Buffalo, which both of those I would call our home away from home. So I think from April on to the rest of the year, we'll probably be doing a lot of touring and trying to get that full-length recorded sometime in between. We just have a lot of work to be doing right now, really.
You can catch Hydra Melody at Mi Casa on Sixth Street this Saturday at 10 p.m.