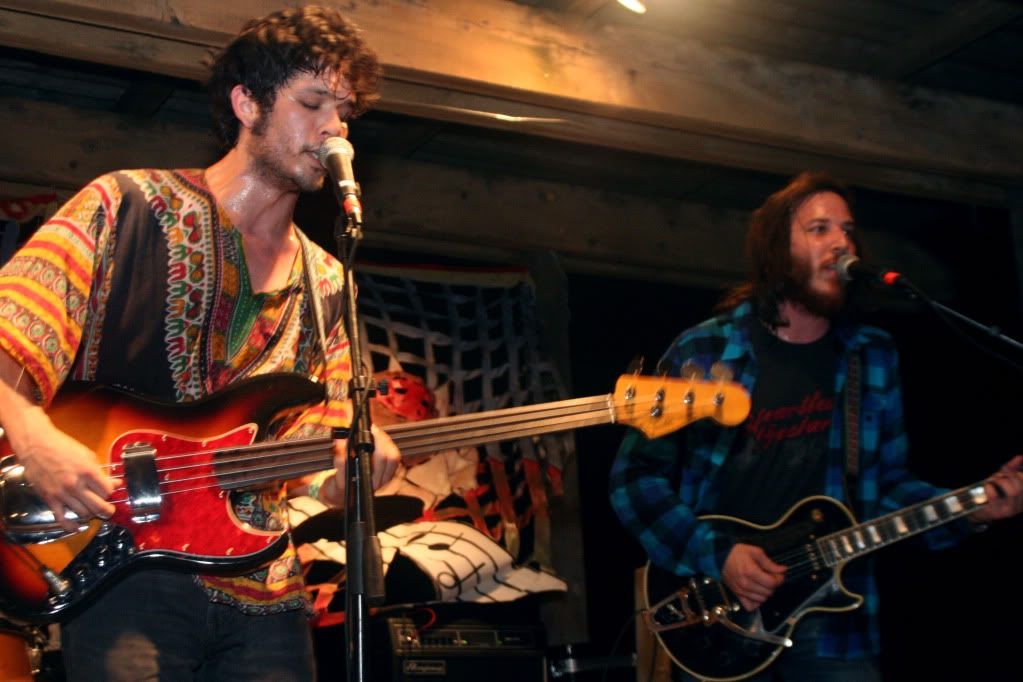 If you thought Hacienda couldn't get any better, the Boerne, Texas-based retro rock 'n' roll quartet proved you wrong with their sophomore album, the recently released Big Red & Barbacoa. After a stellar debut album in 2008 with Loud Is The Night, the group reunited with Black Keys frontman and producer, Dan Auerbach, to record Big Red & Barbacoa. After a couple of years of backing Auerbach on tour and more time spent playing together, Hacienda brings a new edge and better musicianship with this new album. It's the blues, classic indie garage rock mixed with the colorful San Antonio-esque feel only those of us familiar with the Alamo City can describe.
We caught up with Hacienda at this year's third annual Pachanga Fest in East Austin, after their crowd-pleasing set and sat down with bassist and lead vocalist, Rene Villanueva. We wanted to make sure people outside of San Antonio really understood the significance of Big Red and barbacoa to San Antonians, the San Antonio sound and what it was like recording the album live in just two weekends.
All photos by Mari Hernandez for Austin Vida.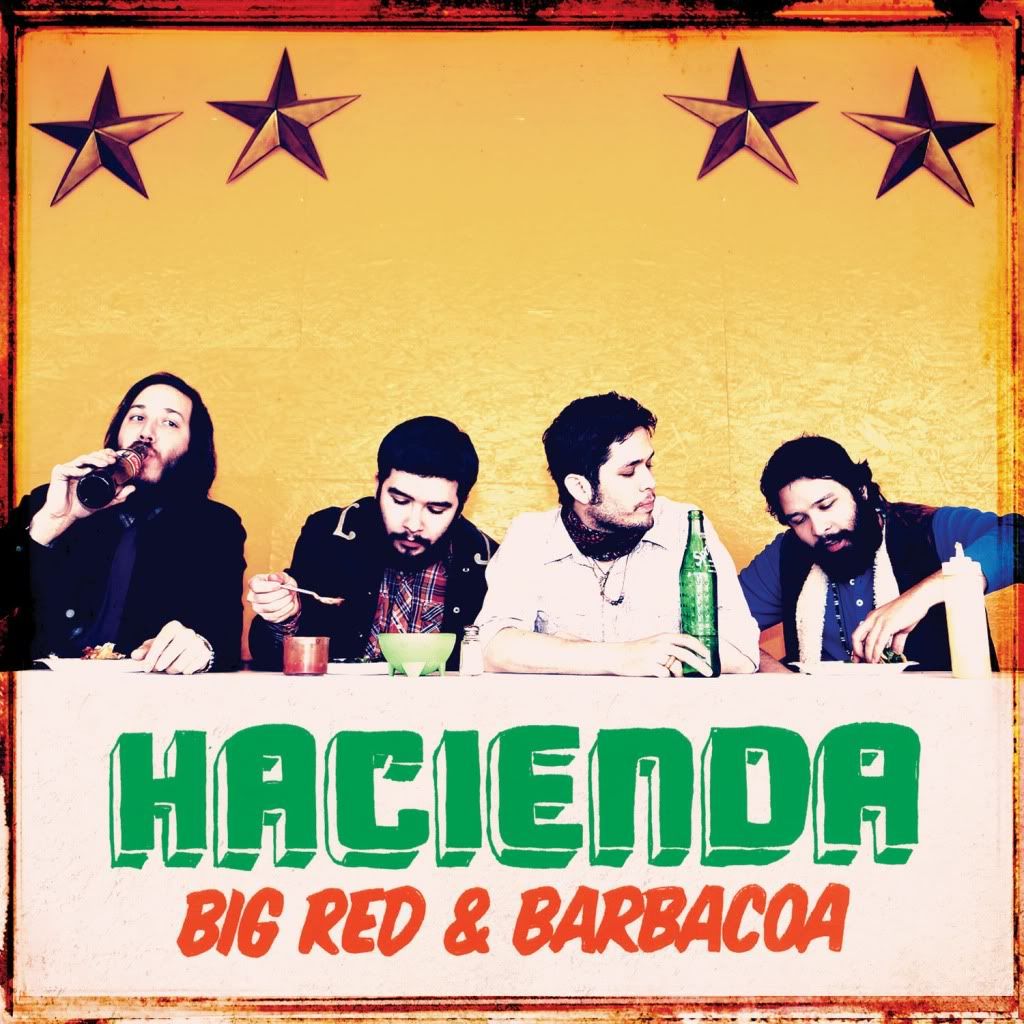 For all those outside of San Antonio, who may not get the meaning of the album title Big Red & Barbacoa, explain it to them.
Rene: The whole idea was that we wanted a more San Antonio feel to the record. It just solidifies the sound of the band and where we are from. One of our favorite Taco shacks is Tommy's, over on Wurzbach, is where the wall you'll see in one of our YouTube videos is. We wanted something San Antonio without doing anything Alamo-related. That's too cliché. You don't want to do that or a mission. You might as well do something Spurs if you are going to go that route.
You know Big Red soda and barbacoa really are staples in the San Antonio diet.
Rene: We wanted something cool and we think of Tommy's: "Big Red and barbacoa everyday." That is pretty much fuel to the fire that is in people there. It really made sense for us to tie in the title to one of the two instrumental tracks.
What is the "San Antonio sound" in your opinion?
Rene: The San Antonio sound is kind of like the city itself: a mix of everything. The only way I think to get a true representation of the true San Antonio sound would be something that does mix everything. It is definitely less polished than say a New York or Chicago, less slick but not like a Fat Possum-Mississippi blues record either. It is way more colorful than that. It is still gritty, but not like a Detroit sound. It still has a lot of positivity and energy to it. I think that is how our music is, without prejudice. San Antonio is a very accepting city.
With that being said, does it still sound like a Hacienda record or is it completely different from Loud Is The Night?
Rene: It's a big mix of rock 'n' roll through all the different periods. You know, our favorite stuff. It has more of the grit and live feel that people in San Antonio like. It's feel-good party music.
Did you work with Dan Auerbach on the whole record this time around also?
Rene: Yeah. We went up to Ohio again and we recorded it in two separate weekends.
You recorded the whole album in just two weekends?
Rene: We did. It happened really fast. Everything was recorded mostly live with four mics, although "Mama's Cookin" is only two mics on the entire song. That was cool because we did the vocals live and everything was cut there.
How was working with Dan Auerbach the second time around now that you've known each other and played with him for this long?
Rene: It was really fun. We've gotten a lot better at working with Dan. We know each other a little bit more and after we've toured together, we've really grown with him.
I have seen a trend here lately, especially locally, where more bands are doing what you just described. It appears more bands are favoring recording their albums live, together in one room versus all the separate layering where a piece at time is recorded. Why do you think that is? Is it just a money saver?
Rene: It's really about the feel. There is a difference with us in the studio and a difference the listener can feel. You know there is energy between band members when they are playing off each other and not just off a quick track. That's something that is really important to us. Also, it was all about not being super serious.
Can you elaborate on what you mean by not being "super serious," as you put it?
Rene: We're not a dark, depressing band or anything. We want this to be fun and that was also part of the reason we named the album Big Red & Barbacoa. That's why we put ourselves on the cover eating like that. It's part of the fun; it's rock 'n' roll. We're not making Billboard Top-10 records; we're making rock 'n' roll.
While we are on the subject of playing with Dan, can you clarify the name change for the backing band? You go by "The Fast Five" now when playing with him?
Rene: That happened last November. Patrick Callahan from My Morning Jacket came in to do drums and percussion. Now there were five of us; not just Hacienda. It doesn't make a difference to us, it was just something fun.
So how has your life changed since we spoke last year? I mean, you've done the major music festival circuit with Dan Auerbach and toured all over, opening for him. You played with Alejandro Escovedo at Antone's and now Pachanga Fest this year in Austin.
Rene: We are a lot busier, and that's a good thing. We've toured heavier than before. It's the same thing Dan does: staying busy and keep putting stuff out. We'll be doing another Hacienda record soon.
You already have that itch to do another so soon?
Rene: Oh yeah, definitely. We may even do another Fast Five record with Dan. It may happen this year or early next year. It'll be fun.
When do you sleep, if ever?
Rene: We don't. That's for when we retire.
How was it the last time you played in San Antonio? Are your shows bigger now that you've "made it" so to speak?
Rene: We played in San Antonio before we left to tour in March. It was a good show and our turnout is better. Austin has been really good, even though we hadn't played it in a long time until Pahcanga.
What did you make of this year's Pachanga Fest? It is not like other festivals you may have experienced.
Rene: It's good stuff. I think it is important to do. Usually, the Latin stage is in the corner tucked away somewhere.
If there is a Latin stage at all.
Rene: Exactly. It is good to see the variety of genres. It's good, too, because people won't think of "Latin" as just one thing.
Agreed. I was just saying to someone the other day that when there are Latin music festivals, every band is typically of the same genre. It is usually a salsa fest or like you have in San Antonio with all the Tejano events.
Rene: For sure. It's cool to see bands like Grupo Fantasma and then bands like us.
Did you catch anyone at Pachanga that you liked personally?
Rene: I saw Girl In A Coma and Grupo Fantasma. I love those guys. I missed the mariachi band; I wanted to see them but we were loading.
Are people still referring to your ethnicity in media and blogs a year later?
Rene: Oh yeah, all the time. I don't think it is ever going to change.
Are new audiences still surprised to see four Hispanic dudes on stage when you first come out? I know you have to see some of the looks.
Rene: Sure. I don't think that's ever going to change either. You are always going to get those good ol' boys who are all, "What is that? I don't get it." We'll be alright. It's fun to see them buy the records later.