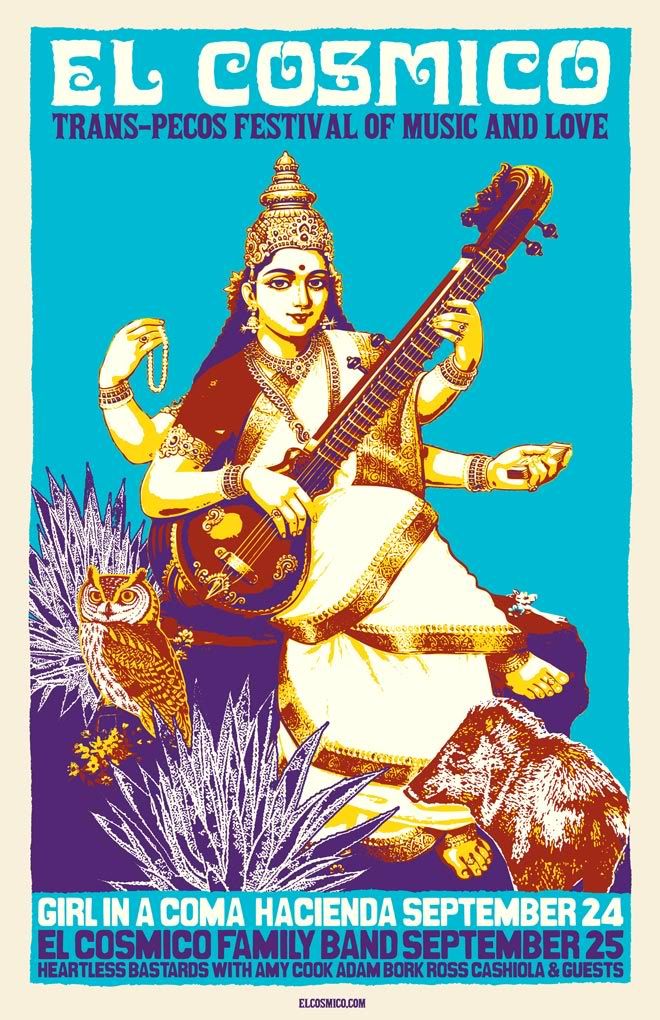 Marfa, the small West Texas town that is home to the famous Marfa Film Festival, is also host to the Fifth Annual Trans-Pecos Festival of Music and Love, a two-day festival that celebrates music, art, community and baseball under the stars. The festival features some great bands, including staff favorites Hacienda and Girl in a Coma. Both bands perform Friday night, Sept. 24. On Saturday night, Sept 25, The Heartless Bastards, singer-songwriter Amy Cook and the El Cosmico Family Band perform. Also on Saturday, Austin's Texas Playboys will go head to head with Los Yonke Gallos de Marfa at 4 p.m. at Vizcaino Park.
Non-musical happenings include the Marfa 100 benefit ride presented by Marfa Public Radio and the LIVESTRONG foundation. The 62mile/100k will benefit the fight against cancer and contribute to the cultural enrichments of far West Texas. You'll also see art installations by Knitta Please, Monofonus Press, Marfa Film Festival and undergraduate students from the UT School of Architecture.
Tickets are  $15 per night for music and can be purchased at the front gate. Music is included if you camp on the El Cosmico grounds; camping is $40 for one night or get two nights for $75. As an event partner, Topo Chico will supply free Topo to all ticket guests.
Festival organizers are asking that attendees bring their portable dwelling and to sleep under the stars. If you would like to bring an RV, please email [email protected] about your machine and they will try to accommodate you. Please note that there is no RV hookup on site. For those participating in the Marfa 100, all riders will receive $5 off the El Cosmico event with proof of registration.
Pre-registering is strongly suggested. Guest can pre-register at www.elcosmico.com. To register for the Marfa 100, please go to www.marfa100.org.