It sounds like a weird reality TV show premise: What happens when you mix a metal guitarist, an acoustic singer/songwriter, a hip-hop emcee, a jazzy drummer, an alt-rock bassist and a psychedelic turntablist?
What you get is the band Este Vato. What connects them is their love of Latin music and their belief in spreading cultural education and pride through song. The Austin-based Latin fusion sextet has only been around since late 2008, but they've caught our attention early and often with their infectious live show and approachable every-man demeanor.
As the band members' diverse music backgrounds suggest, Este Vato is a versatile group that can deliver a mellow cumbia, a raging protest tune or a catchy rock en español number. These sounds and more are captured on the band's self-released, self-titled debut CD, which can be purchased at their shows or on Bandcamp.
The band is composed of the Reyna brothers, Rocky and Oscar, who grew up in a musical family in Hebbronville, a 5,000-population town in South Texas. Their father, a Tejano accordionist, was a big influence on the brothers getting into music. In Austin, the Reynas met local singer/songwriter Ricardo Lara and Laredo-bred emcee Feliciano "Chano" Lopez, as well as veteran drummer Frank Ramirez and DJ Rey Treviño.
I recently talked to Este Vato about trying to make it as a young Latin band and returning to play shows in their hometowns of Hebbronville and Laredo.
Concert photos by Isabel Salazar. Promo photo provided.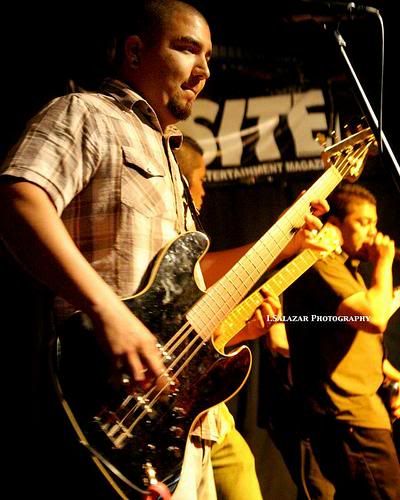 With your various musical backgrounds, how did the Este Vato sound come together?
Ricardo: It's just like minds. We're all into music. If like minds come together, they're going to produce something. Background doesn't matter.
Chano: I think we have a general idea of what we try to do as "Latin fusion." So there's a Latin element that connects everything. But on top of that, we have rock, reggae, hip-hop.But whenever we make music, it's whatever we feel.
Ricardo: It's a lot of feeling. We can go into a song and think "It sounds like this" but then, you know what, it actually sounds like this. We just kinda let it flow; don't force anything.
Rocky: Basically, everybody comes together and, individually, they do what they do. Ric is a singer/songwriter, so that's what he brings. Chano brings hip-hop. Frank's drumming style is real jazzy, real intricate. I listen to everything: rock, Tejano cumbia. My brother brings Slash. [laughs] The Guns 'N Roses influences. Everyone brings what they have to the table.
You're a young band, around a year and a half old. With so many influences, it must be a challenge writing songs. Do you ever bump heads?
Chano: Not that it's really a challenge, but yeah, we try to fit stuff together and sometimes stuff doesn't fit. We want everyone to have their piece, you know what I mean. We compromise, I guess, without really talking it out.
Ricardo: We're not really stepping on anybody's toes. Nobody really has an ego in this band.
Rocky: Except for Chano, who likes to show up fashionably late.
[group laughs]
Ricardo: Prima donna.
Chano: I came from Cedar Park for this.
Ricardo: And I came from like 10 minutes farther than that.
You added another member recently, too.
Rocky: Dean, the conga player.
Ricardo: I met him at Qua. [laughs]
Fancy Qua? I didn't expect that.
Ricardo: Yeah, he was doing the drumline. You know the Captain Morgan Girls and all that? He was doing his percussion thing. I listened to him. He was playing along with whatever music was playing.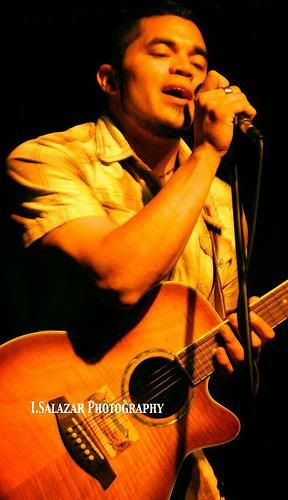 Like over the sound system, not a live band?
Ricardo: Yeah, just hip-hop or whatever music they play there. I was like "Hey, man, I have this band, Este Vato. Check it out." And he's kinda been tagging along since.
He was that good at Qua.
Ricardo: He just sounded really good.
Chano: He was playing to some Lady Gaga.
I know, right? "You made Lady Gaga sound good. If you can do that, you need to be in my band." Let's talk about the music. A lot of the lyrics are political or at least socially conscious. Was that an intentional decision from the start?
Chano: I don't think necessarily political, but we definitely wanted to say something.
Ricardo: It's not all about booty-shaking and how much money you have. We ain't got no money.
Hey, most of those dudes who sing about that don't have money.
Chano: It's just stuff that pertains to us; it's reflections of our background and our culture. At the same time, it's supposed to be fun though. There's a lot of issues that aren't getting addressed, really. There's a platform for me to say that stuff. A lot of people would say, "Well, that kinda music is dead," but it's not.
Rocky: I like to think of it as educational dance music. [laughs]
Speaking of educational, you guys have a song that references the Kennedy assassination.
Rocky: "Balaso." That's Ric.
Ricardo: Basically, it's just talking about how he was murdered in front of the world to prove a point, saying if you defy the government, we can kill you.
Chano: We both wrote those lyrics and collaborated our viewpoints, and I think the one thing we both share in common is the ties to our upbringing. I remember growing up in Nebraska. Kennedy was a hero to my grandmother because he was the only person at that time who was standing up for equal rights, as far as someone who could actually do something about it. And even he got taken out. His legacy carries on, and that's what the song is about.
Let's talk about the challenges of being a young band and a Latino band in Austin. How did you guys get gigs early on?
Rocky: I already had experience booking shows through my other band, my rock band Exeter. I had connections with talent buyers and bar managers. We actually got invited to our first show, which was with Bombasta at Flamingo Cantina.
Ricardo: Bubba Hernadnez and Los Super Vatos.
Chano: Subrosa Union.
Rocky: At that time, we only had five songs. I told the guy, "Yeah, we'll play. We'll open up because we only have five songs. This is literally our first show" And so we played it. The crowd loved it, thank God.
Frank: I'd only been playing with you guys for a month.
Chano: I was blown away, kinda like really taken by surprise. From that first show we played, it was nonstop after that. Especially in Austin, where it's oversaturated with bands. But I really saw a difference with being a Latin band over being of a rock band. No one really cares, unfortunately, if you're a rock band. You gotta do something crazy or be completely different in some way. And, I mean, we were different, but…
Just being you, a Latin fusion band from South Texas, makes you different.
Chano: I was like "Whoa, this is really crazy." We went from that first Flamingo show to playing a nationally sponsored tour by Remezcla and MySpace, where they were advertising the show every time you logged into MySpace. And playing with Girl in a Coma. To us, just a couple weeks before that we were at their show, saying "Wouldn't it be awesome if we played a show with them." And then a few weeks later, we were there. It's fun, man. It's cool.
Rocky: In the beginning, it's always more of a popularity contest. Like who has the most friends, because that's really who's gonna be going to your shows at first. The only way you're gonna progress further than that is if you create a buzz. Look at Ghostland Observatory, Alpha Rev. Those bands created a buzz in Austin, and unless you do that you kinda plateau. That's really the bad part of being in Austin. It's a cesspool of bands, and you have to set yourself apart.
How do you create a buzz, though?
Chano: With us, it was our friends at first. But see they would bring a friend. And they tell a friend. And their friends' friends. Word of mouth is pretty much it.
Rocky: Everywhere I go, I tell people about my music and most of the time, I bring it up. We'll be talking about, like, "Ugh, I just ate Whataburger and my stomach hurts." "Hey, I play in a band; you should totally check us out."
[laughs] You guys are still young as a band. I'm sure you have goals. One-year, two-year goals. What do you want to do in the next couple years?
Rocky: One thing I do want to do is collaborate with local and regional artist. Like doing a collaboration with Maneja Beto or Hadyn Vitera, or other performing artists. Just making it interesting.
Chano: That's one thing that's been cool. We've played with hip-hop artists and rock bands.
You guys play a lot of Red River rock venues. Not a lot of Spanish or bilingual bands do.
Chano: Yeah, exactly. It's funny how there's kind of a crossover. I mean, they don't know what you're saying, but they're feeling the music. We've played at Beerland with crazy, off-the-wall bands.
Rocky: Like psychobilly bands.
Chano: We make these friendships with these bands. The camaraderie is one cool thing about the Latin scene too. Bands like El Tule, Maneja Beto, La Guerrilla. They're always looking to get us on the bill and vice versa.
Oscar: We've played in front of audiences that we might not have otherwise.
You have the Red River crowd covered. But have you thought about getting into discotecas on the east side to see how your sound goes over?
Chano: We haven't tried, but we want to try. We wanna definitely play shows in San Antonio. We definitely want to get more of the east side exposure. We don't really want boundaries.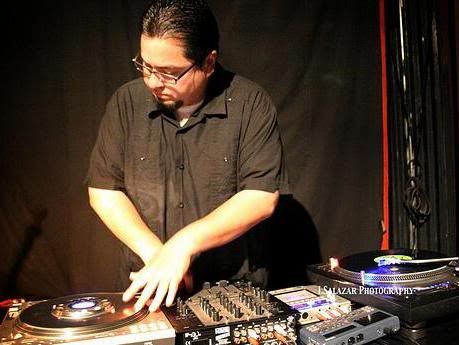 You guys go home and play shows in Hebbronville and Laredo. What's the reception like?
Rocky: The one show we played in Laredo was for the Brown Impressions Lowrider Car Club's anniversary. They liked us there.
Chano: Laredo is a bigger town, so they might like your stuff but they're not gonna show it, because then they'd be going out on a limb, you know what I mean? They'll be standing there with their arms crossed, but they're standing there still. In Hebbronville, we played a festival down there, and there were old-school Tejano guys totally blown away that we were doing something they could identify with, but they were blown away by having a DJ spinning records and scratching.
Rocky: The fact that we're different, I think they appreciate that. There's a lot of talented musicians in Hebbronville. I only wish they would get a little more creative and kinda expand and do their own things. I think that's what they appreciate from us. They can't go to our shows in Hebbronville and sing along to our music because they don't know our music. It's not cover songs.
You're not performing old standards. It's your songs.
Rocky: It's cool that they go out and listen to it and like it. Even if they're not singing to it, they're dancing. And that's even better to us. Hopefully next time we go down there, they'll get to memorize our music, learn it and sing along.