There isn't much about Cypress Hill at this point that hasn't been said. The legends have been holding it down for Latinos in hip hop since their self-titled debut dropped in 1991. They broke barriers not only for Latinos in hip hop, but also for hip hop groups getting selected for major music festivals. Never the ones to do anything the traditional way, Cypress Hill has sustained long after many of their contemporaries have come and gone.
Currently, the group is together on the road, supporting the release of their eighth studio album, Rise Up. After their departure from Sony Records, the hip hop icons were signed by fellow icon Snoop Dog to Priority/EMI Entertainment. Rise Up features this year's summer anthem, "Armada Latina," which features salsa superstar Marc Anthony and hip hop's hottest Latino star, Pitbull. Other big-name guests appear on Rise Up, including Tom Morello from Rage Against The Machine and Mike Shinoda from Linkin Park.
As Cypress Hill is no stranger to Austin, they stopped by Stubb's recently, where I had an in-depth conversation with group member Senen "Sen Dog" Reyes. We spoke about his health after suffering a near fatal heart attack in 2007, the group's new album and even more new music in the works. And of course, it wouldn't be an interview with Cypress Hill if Sen Dog wasn't smoking the whole time, right?
How are you doing as far and your physical and mental health?
Sen Dog: I'm cool. I went through the whole procedure and stuff and then there is a whole series of medication I have to take everyday. I still like to indulge every now and then. My doctor gave me the green light, but I try not to over-exert myself. For example, eating seafood and shellfish, that type of stuff. I can but I keep myself in check and haven't. In Austin, I ate ribs and fried foods. I had a little bit, but nothing that will permanently fuck me up or anything.
I'm sure all your fans are glad to hear that, because you are in the midst of a long tour.
Sen Dog: My doctor said I am the quickest recovery he ever had. It's because I do my part, work out and stay in the gym to keep the weight off. Since that happened, I lost over 50 pounds. I never put it back on. I even had a big old yard sale with all my old clothes, so I make sure I didn't grow back into them.
That's funny. How did you announce that yard sale? Did you put an ad on Craig's List?
Sen Dog: No, I didn't have to go that far. I just put a sign up on the corner of the street and had a yard sale. I had so much shit. I had two containers of stuff in storage, which was costing me a lot of money. I just went through it and had the yard sale in front of my house. You know, all the raza was coming through with the little money they had saved up. They would offer me so much for each item, and I was just take it. I didn't care what they offered.
Were people surprised to see you were the one having the yard sale or did they even recognize you?
Sen Dog: People would bug out. We even had a guy there making tacos for everybody that came by, so we had free tacos. It was an experience.
So let's get back to business and talk about Rise Up. I know it's been six years since the last studio album from Cypress Hill. Besides your health, I assume all your individual solo projects were also the reason for the long Cypress hiatus. I'm curious as to what brought you guys back together to make Rise Up.
Sen Dog: That was always the intention. We never actually split the group up. B-Real and I go back too far and our families are deeply linked to ever not be part of each other's lives. It just took longer than what we anticipated as far as getting new management in place and getting a new record deal. First we had to get all this other creativity out of our system with these solo records. There's a song on my album (Diary of a Mad Dog) called "Fumble," which is an experimental song. It's like house, electro, hip hop and it's rock. There's no way that would have made it onto a Cypress Hill album. We encourage that in our group. Get all that other shit out of your system and stay happy. That's how you avoid having group members leave to do other creative shit and never come back to the group because it doesn't allow it. It also gives you the opportunity to work with other producers, artists and engineers that you end up learning from. When we get back to our thing, we have all these other ideas from what we've learned working with these other people. That makes our recording process even stronger. With us, we've never been timid or shy to experiment with anything.
While we're on the subject of songs that make it on a Cypress Hill record and experimenting, I wanted to ask about the song "Armada Latina." It doesn't sound like the rest of Rise Up and features some interesting samples of Crosby, Stills and Nash. How did "Armada Latina" come about and make it on Rise Up?
Sen Dog: When we finished the album with Jim Johnson, the last song was "Get It Anway." Then he starts messing around with this Crosby, Stills and Nash thing. I was just looking at him when I heard it and wondered if that shit was us. When he was messing around with it, he told us we should write some verses. The first thing that came to my mind was "Are we going to be able to (legally) clear that shit?" He said he knew some people that could help him and not to worry. And then, he says he can hear Pitbull on this song with us. He calls him up because he knows him. They are all Miami guys and whatnot. He did it again when he said he was going to call Marc Anthony to be on it. Next thing you knew he was telling me Marc was coming to the studio. I was thinking bullshit and went down there to see for myself. The song itself came about because it was a good song, it was different and something nobody would have thought would have come from us, not even ourselves. When the label heard it, they were like "My God, this is the shit" so we went with it.
I guess that is why it was your first single of Rise Up then?
Sen Dog: We are not the kind of guys that pick our own singles and shit. We let somebody else do that. To be honest, we've had singles before that we thought weren't anything special that turned out to be number one songs.
Really? Like which ones?
Sen Dog: "Insane In The Brain." We just thought it was a cool song to announce that we are back out and have some new shit coming. With the whole "Armada Latina" thing, you can't deny what came out of the studio that day. You do all this work and put in all these years on the road and everything for those kind of opportunities. When you get a chance to work with Marc Anthony and Pitbull, who I've known for years now, it's going to be a hit record. You can't deny that. Marc Anthony surprised me with his incredible knowledge of hip hop. I don't know why, now that I think about it, because he's from The Bronx. We're not shy about what we come up with. I thought that was one of the most interesting songs we've ever done and it's the only song from Cypress Hill that my mother likes.
What does she like about it?
Sen Dog: [laughs] Marc Anthony, dude. I mean, she don't even know who Pitbull is. Believe it or not, "Aramada Latina" is introducing us to a new market.
It's the first "summer anthem" of sorts for you guys. I hear it on top-40 and pop radio stations, not just hip hop or alternative stations like with past hits.
Sen Dog: It's also a mature song where adults can listen to this hip hop track and actually like it.
I agree. My mom likes it.
Sen Dog: See what I mean? I know they wouldn't like "Insane In The Brain" or "Rockstar" or whatever. This kind of song brings generations together. You can play it at a quincenera where the 15 year olds can dance to it. The veteranos are going to like because it's from their era. It's one of those things where I feel the musical Gods blessed us.
How did you guys choose the other guest collaborators appearing on Rise Up?
Sen Dog: Alchemist is like our little brother. We've had him in our camp since he was like 13 years old and he was under Mugg's wing. Every time he hears we are doing an album, he'll contribute. Evidence is an L.A. kid who fits the same style of hip hop we were in when we first came out. He's strictly a hip hop guy, a purist. In 2008, I was on a tour with Tom Morello for his Night Watchmen thing, and we were on a van talking about when Cypress Hill was going to make a new album. He told me he had a track for us. I was trying to remain really calm in the van because Jerry Cantrell, Slash and Perry Farrell were in the van too. As soon as I got out of the van when we stooped, I called B-Real and said "Yo B, we got a fucking Tom Morello track!" That's how that came about. We killed that Rise Up song so much that he went ahead and sent another one. We're on the same management as Daron Malakian from System of a Down, and that's how that came about. I'm a big fan of his work from System.
How about Mike Shinoda from Lincoln Park?
Sen Dog: We did a tour with Lincoln Park around 10 years ago. We came on stage the first show and we killed it. It was the first show we ever played with them. Before they went on, they came to our dressing room and told us they wanted us to come onstage with them at the end of their song "One Step Closer." This was the first show and these kids were showing love like that. The whole tour was like that. I never felt so respected ever by another artist than I did with Lincoln Park. I guess they just looked at us like they were out there with their big brothers or something and wanted to show them respect. I felt it.
I'm guessing Everlast was a no-brainer, being that you guys go way back and came up around the same time.
Sen Dog: We really wanted Everlast to sing. A lot of people still don't know know how good of a singer he is. He's a deep dude. He's a complicated, temperamental kind of dude, but he's another one of our brothers. He was at my wedding when I got married and he was there with me in court when I got divorced. We just wanted to really open up this album. We did a lot of years where it was just Muggs that did everything. It was obvious he wasn't going to be that involved with this record. When me and B-Real and I sat down to talk about doing Rise Up, my first thought was "Do we have to go in a direction? Can't we just make songs that feel good to us?" Having taken that approach to it, the album made its own identity. We'll do the next album that way too.
Did you ever think in 1991 when you first burst onto the scene that one of your songs would be ringing from people's cell phones. I hear "Armada Latina" from phones all the time now.
Sen Dog: Not at all. Back when we started, not too many people had cell phones. We had those cell phones that were 16 bucks a call and shit. When we first started, we thought we'd have a five-to-six-year run and maybe two or three records. Being that the nature of the group was a hardcore hip hop band, we thought girls wouldn't like it either. We were wrong about all that shit.
I have another nostalgia question here for you. I saw the VH1 Hip Hop Honors special where you guys were being honored. Take me back through that night. What was going through your mind seeing everything that was being done to honor you guys.
Sen Dog: That night was sick. It was one of those nights where you don't want it to end. I told B-Real and Muggs that I would do the whole 18 to 19 years again just for that one night. When I was looking down the balcony we were sitting at, I was looking at Too Short and Slick Rick; I'm sitting there too. My fucking hair was standing up on my arms. My girl was with me and was wondering what was the matter with me. I was speechless. I looked across from me and saw Naught By Nature and De La Soul, two groups I bought every record of. It was a special night.
What was your reaction when you saw Fat Joe come out to perform dressed like you?
Sen Dog: Yeah, he had the hat and everything. When he came out dressed like me, it took me by surprise because I didn't know he was going to do that. That was kind of cool. Jim Jones, his music is way different than ours. I was like "What the fuck does he know about Cyrpess?" That's what I was thinking at the time. Then when I met him and got a chance to talk to him, I figured out he was indeed a student of the game. He ain't about just where he's from, he knows all kind of shit. At that point, I was honored that he was here with us because he's a real dude who knows shit. I liked the way he talked to. When you hear people talk, it is like there is a riddle somewhere in all their sentences. That nigga comes straightforward. You have to like that shit.
Being that your current tour is off and running, which includes Lollapalooza, are you already itching to start on a new record?
Sen Dog: We actually recorded 48 tracks for this record, so obviously there were a lot of songs that didn't make the record. The longer the recording sessions got, the better the material got. I just wanted to stop one day. At one point, I knew there was going to be a lot of songs that wouldn't make the album.
What do you plan on doing with those other songs? Are those for a B-sides album or a mix tape?
Sen Dog: We have a vault where we lock them up. When it comes time to make the new album, whenever that will be, we'll revisit those tunes. There is one on there featuring Slash that we weren't able to use on Rise Up. We are for sure going to use that on the next album.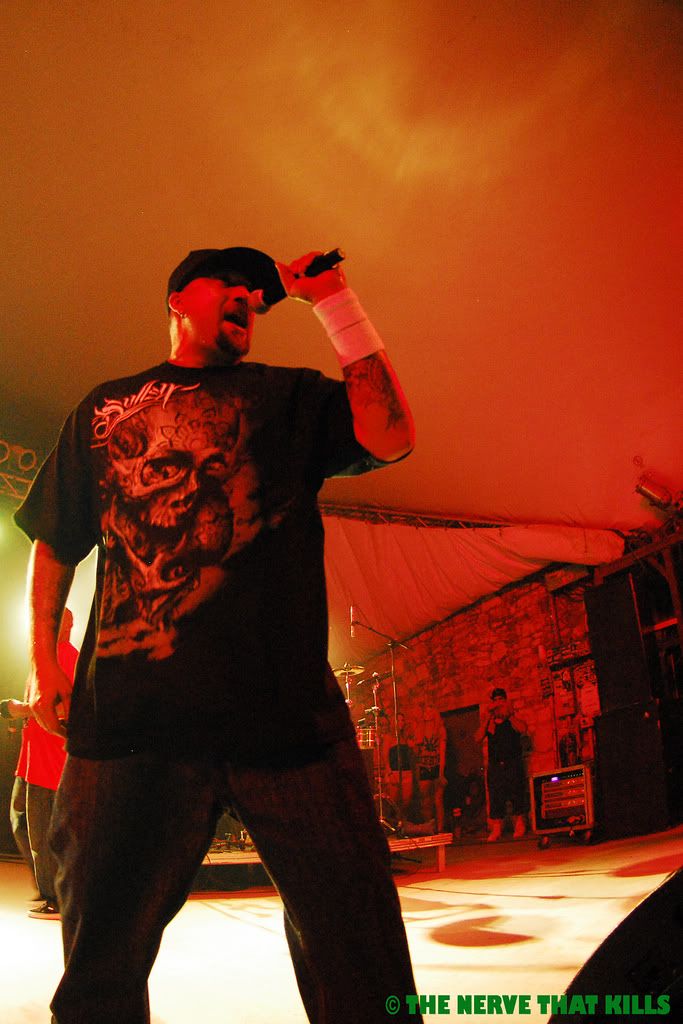 It's good to let people know this whole ride isn't over for you and that this isn't a reunion tour you're on.
Sen Dog: Fuck no, it ain't over. This is what I do. I have fucking kids and their shit is expensive. Seriously, what do you do after this? The only other thing I'd want to do, but don't want to quit this to do, is acting.
You could start a clothing brand (Sen John anyone?), maybe open a bar or restaurant, or produce like other veteran hip hop artists.
Sen Dog: Not a clothing brand, but a bar or restaurant is cool. Clothing brands take like 10 years to get kicking. As far as me having to get my creative side out and my stage itch out of me, I have to do it. It becomes part of your blood after a while. There was a time when I wasn't in Cypress Hill and I saw them in concert with Smashing Pumpkins in Canada. I watched it just for a couple of minutes and they were showing an aerial shot and as they were showing it, I could almost smell the grass, the air and the people. I knew at that point I could never stop doing music. Now I know why Billy Gibbons and B.B. King still perform at later stages in their lives. You have to. Cypress Hill is never going to stop. We want to get this to the legendary level of having so many years in the game the way the Rolling Stones do. It will be absurd on our 40th anniversary. Just think of that. What other rap band has done that? We are going 30 for sure; we're doing that. It would fucking insane to be like The Grateful Dead of hip hop.
I asked B-Real last year when I talked to him while he was touring his solo album, and I'll ask you the same question: What do you think has helped you guys sustain after all these years when other great artists from the era you came out in have faded by the wayside?
Sen Dog: There are various things as to why Cypress is still going. One of them is that we're family-oriented. B-Real's mom is my aunt. My mom is his aunt. Even though there is no blood relation, that's the family. His nephew is my godson. I've known him since he was 13 years old. Ever since he got in with my clique, we've been rollin'. You're going to meet a lot of people and hang out with different people through life, but there is always going to be those core people that really stay with you through it all. That being said, we have one of the most loyal fan bases in all of music. We don't have to have a hot new album or single to come to your town and people will show up. That right there always blows me away. The fact we turned this into a festival band many years ago also has a lot to do with it.
You were the first hip hop groups on Lollapalooza in the early '90s. You proved it would work.
Sen Dog: We took a lot of slack for from the hip hop community and in the press for it. It was the right thing to do and I knew it then, and I'll back it up now.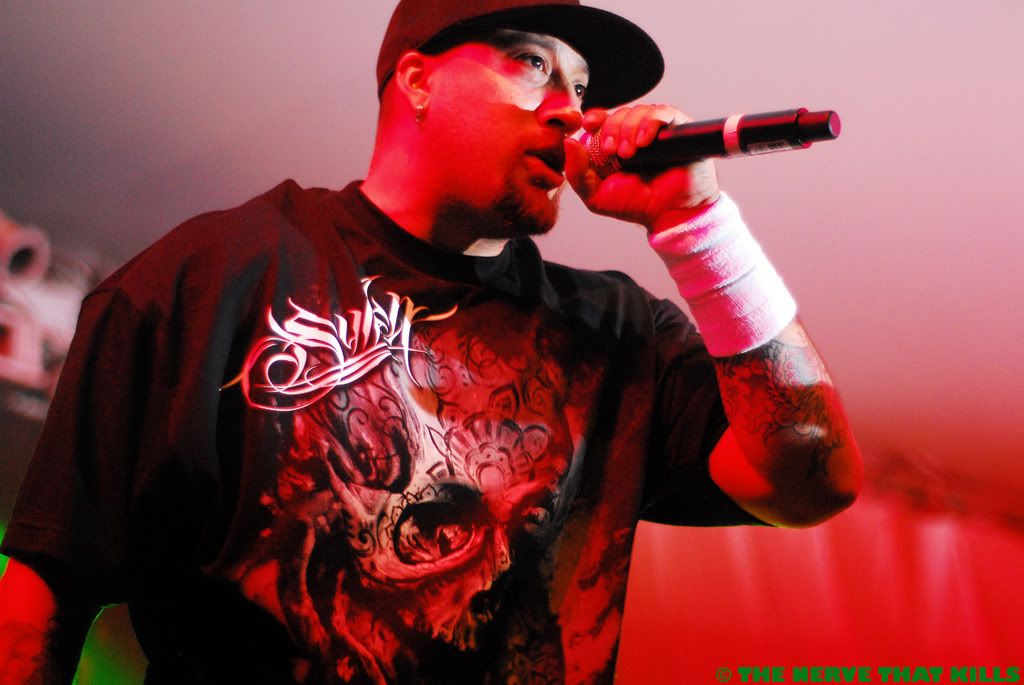 Do you think playing music festivals is the catalyst to you crossing over into non-hip hop markets?
Sen Dog: We never intentionally crossed over. The line kind of came and crossed under us. Whether we wanted to or not, we became a crossover act. Perry Farrell wanting us to be on Lollapalooza was huge for us.
Walk me through that first Lollapalooza experience, if you would. How did all those alternative fans react to you?
Sen Dog: When we first did back in 1992, we were a sideshow act on the second stage. When we got there, there was nobody at that fucking stage. It was ghost town. We decided to leave, but I wanted to get a beer first. On the way there and the way back to the stage area, people were giving me props. "Hey Cypress Hill! You guys rock." We were new to the game and the more I heard that, the more I though "Fuck this leaving shit. I'm telling the guys we are staying". I told the guys and we stayed. An hour out, there was maybe 10 to 15 fans; 45 minutes out, there was like 50 fans. Half an hour out, there was around 200. At around 15 minutes out, there was like 500. Right as we went on, I could see about 1,500. That was the first time I've seen motherfuckers moshing and walking on top of each other. It was some crazy circus shit. After that, I wanted to tour that way from there on out. I mean why should I have to go play every shit bar in the state when I can play two Lollapalooza type shows where everyone is going to see us anyways? At the time, no other hip hop bands were doing that.
Tell me about your love for Austin. We are one of those cities you were talking about earlier that always show up no matter if you have something going on or not. I mean, you pack Stubb's outdoor or the Austin Music Hall.
Sen Dog: There are just certain cities that are just music cities. Los Angeles is one. Austin is definitely one. People flock from around the planet to come to Austin for all the conventions or festivals. People in Austin just really appreciate music more than some other areas do. For that reason, Austin will most likely have every good concert come through here.
Do you think it has to do with your ethnicities and the Latino population here?
Sen Dog: Definitely. I think the racial make up of the group has taken us a long way. When we came out, hip hop was predominantly African-American sport. Here we come out, all Cuban, Puerto Ricans and Mexican, and the brothers were liking us. At that point, there was only Mellow Man Ace, Kid Frost and Gerrardo. There was nothing for the brothers that made them say "We like that." The Latinos, yeah, were all over that shit. When we came, we didn't even want to rap in Spanish. It was already being done. We just wanted to be the same criminals on the records that we were on the streets. The everyday life we were living was what we rapped about.
So if you didn't want to rap in Spanish, what brought about "Latin Lingo"?
Sen Dog: When we got signed, someone at Sony asked if it was true that I was Mellow Man Ace's brother. They wanted us to make a song in Spanish after they knew that. I didn't want to, but then "Latin Lingo" was done in Philadelphia when we were mastering the album. I didn't want to be known for the same shit my brother was known for. I wanted to be my own man. I was a rougher individual. We proved that hip hop fans don't really care about what race you are. Hip hop is hop hop, as long as you do it right. Don't think you're going to get in the game because you're a white boy and Eminem is a white boy. You got to be fucking good first. That's what I love about hip hop; it's a universal art form.
Being that "Latin Lingo" is my favorite Cypress Hill song of all time, I have to ask if there will ever be a "Latin Lingo" part two?
Sen Dog: Latin Lingo part deuce is in the mix. We still want to do another Spanish album, but this one with all original themes in the songs. This is going to sound a bit wrong, but I want to do some rock en Español, but not like in the traditional sense. I'd like to give the Spanish speaking audience a piece of "Rock Superstar" and "Rise Up" in Spanish, but not those songs. What I have in mind is something just for them to be played in South America and shit.
All photos by Chris Carrasquillo