Last night may have been the end of an era.
Maneja Beto played a going-away show for their lead singer, Alex Chavez. While not officially broken up, Maneja Beto won't be playing without Chavez, who took a position at the University of Notre Dame. "What will you be doing, mopping floors?" Brandon Badillo of Bemba Entertainment asked in jest, after taking the mic to say some kind words about the band. Actually, he'll be a professor. Dude has his PhD.
For eight years, Maneja Beto has brought danceable rhythms to Red River and all of Austin, mixing genres and styles that appeal to hip indie kids as well as Latin music aficionados. Few bands have attempted this sort of hybrid sound, and even fewer have lasted as long and with the respect that this quintet has garnered in the Austin music community.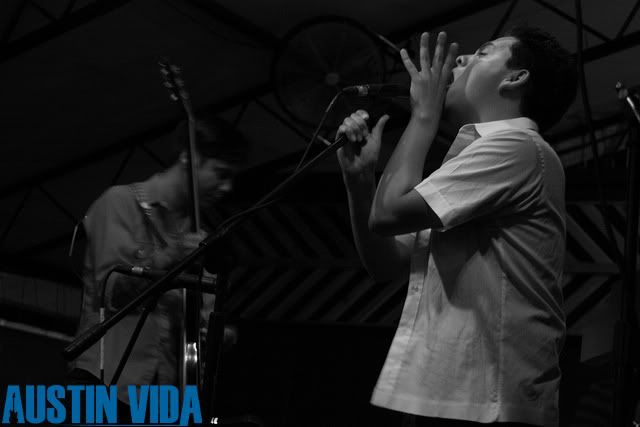 The band played two sets last night at The Mohawk on Red River. The first was composed of original songs, many of which are on the band's new album, Escante Calling. We got to hear new music for the first (and maybe last) time. It got off to a bumpy start, with a Chavez's microphone not being on while he was trying to sing (seriously, sound guy?).
The band had a couple of guest female singers providing backup vocals, which was a nice touch—though I've heard Chavez hit notes higher than many women could even hit. There were moments when Maneja seemed not at their best. Maybe it was nerves, emotions or just a bad mix, but they got the crowd into it several songs in. Their recent single "Ofrendas" is always a hit live and that was no different on this night.
For their last song of the first set, the band closed with their hands-down best song, "Campanera." Once that off-kilter guitar line came in, followed by the cowbell beat, the crowd went nuts. This song exemplifies what Maneja Beto is at their best: rhythm-driven and dance-oriented with intelligent and socially conscious lyrics (that, in this case, reference political corruption, immigration and the war in Iraq). They have moments that sometimes fall flat in their live set, but "Campanera" is always solid and reminds you why this band is great. Suena campanera con la cumbia sonidera.
After an hour-long break, the second set commenced in the more crowded and sweaty Mohawk indoor stage. The second set was made up entirely of covers. Maneja is no stranger to covers, known to sprinkle past sets with homages to Morrissey and Joy Division. They went all out for this set, covering Depeche Mode, The Clash, Talking Heads and teasing some Slayer riffs at one point. The mostly Latino crowd went craziest for Maneja's cover of Morrissey's 1988 classic "Suedehead." I don't know what it is, but Latinos love them some Moz. Indeed, after the band's set was done, and Badillo brought the band tequila shots, the crowd was roaring for an encore (mixed with lovingly snide chants of "culero, culero"). So guitarist Nelson Valente, observing that the band didn't know any other covers, offered the crowd a repeat of "Suedehead" and the crowd was all about it.
The five members of Maneja Beto then huddled to discuss how to end the set. They launched into the Morrissey cover once more, but as the song was coming to an end a few minutes later, Valente slowly and teasingly came in with the opening riff of "Campanera." He would play the riff cleanly, then drop out, then play it a little more slowly than usual, before going full-bore into the song with Bobby Garza's percussion, Alec Padron's bass and Patrick Estrada's drumming. As with the first set, the band couldn't help but close their last set with their best song, and the crowd danced as Maneja Beto sweat and grooved under the bright lights for the last time in what might be a long time. Suena campanera con la cumbia sonidera.
Photos by Ajay Miranda.