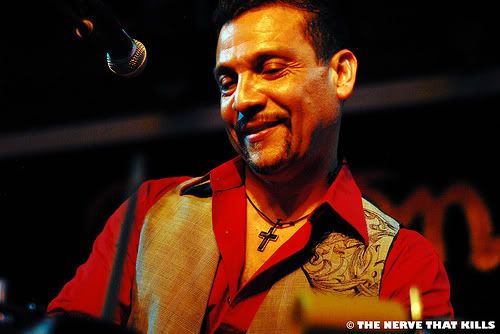 I've been told multiple times in my life that I come off as a witch with a 'b' the first time you see me and people are intimidated to talk to me. Since I've come to Austin however, it seems that every other day random strangers decide to tell me their life story, or to ask me questions, whatever, and it's come in handy. The first time I heard about Grupo Fantasma was in a cab ride, when the driver decided we should be 15 minute- BFF's. As soon as he knew I was Mexican, he asked me if I liked to dance, and I said yes. He told me about the "best latin band" in Austin, "going on 10 years now, I think" and that people cram into their shows just to see the fantastic band live.
"You should go to their show tonight if you got a chance," he told me, "and look for me, we'll dance."
Well, I didn't go to Grupo Fantasma's show that night, and never saw that cab driver again. We never got our dance (add slightly sarcastic sad emoticon here). But last night, months after that ride, I got the awesome experience of Grupo Fantasma live at Austin's renowned music club, Antone's. It was an explosive night, with Maneja Beto as the opener, an exciting flavorful build-up to the main act. There was a great energy about the place, where people got their latin fix on a Saturday night, whistling and shouting for Maneja Beto's music, which included a brand new song with excellent response and a much-begged-for encore.
Usually when I've gotten the chance to go to shows in Austin, I've noticed the great majority audience is middle-aged. Last night there were people of all ages, especially couples getting cozy to the sexy beats; from two 18-year-olds holding hands, to a pair of thirty-somethings doing the ass-to-crotch and a sweet couple in their fifties dancing cheek-to-cheek.
When Grupo Fantasma came out after a 45-minute show from Maneja Beto, there was an obvious connection between the crowd and band. The 11-piece orchestra proved to be practically veterans, and knew their audience well. Yesterday was one of the most tiring days of my life, after a week of finals and a spontaneous one-day roadtrip to Dallas, but Grupo Fantasma's rhythm was electrifyingly infectious. You can't not dance to this music—or at least make the attempt to find some sort of awkward rhythm—I don't care if you're the most uncoordinated, stiff dancer in the world. You will move to Grupo Fantasma. And everybody did.
The crowd cheered for solos from the horn section and saxophone, and whistled when the vocalist announced their CD release, officially May 11, but they were selling the new album last night, which the band mentioned they created after renting a house "somewhere on 51st and 35" where they "made their own studio and created 'El Existential'."
The show was a night of heat and flavor, where every song was like the five-minute climax of a remarkably memorable party. Dancers in Austin seek this kind of event, and there were couples last night that stole some of the spotlight from the group, but that's what was so fantastic—the clear fluid fusion between the band's music and its audience, such a great relationship that is what separates a mediocre show from a great one.
Grupo Fantasma is not the type of music this regia is used to listening to—while living in Mexico all my life, I grew up in one of its most Americanized cities where I'd much rather listen to The Beatles or, yes, I admit, The Backstreet Boys (hey, I was nine!), than anything latin-related. But Grupo Fantasma has a chemistry and talent that just overflows. It is very overwhelming, with a style fitting for a 1950s Puerto Rican movie dance scene with a jaw-dropping beautiful woman rocking a red dress. The night was fast and slow, sensual and just plain fun. And like their new song "Juan Tenorio" says: "de aquí no sales con vida" ("you won't get out of here alive"), everybody left Antone's noticeably tired yet exhilirated last night, already savoring over Grupo Fantasma's next performance.
Photos by Chris Carrasquillo, taken at Antone's on May 8, 2010.
{becssg}music-1005-antones{/becssg}
{becssg_c}0|av-100508-ant-grupo01.JPG|Grupo Fantasma at Antone's| Photo by Chris Carrasquillo{/becssg_c}
{becssg_c}0|av-100508-ant-grupo02.JPG|Grupo Fantasma at Antone's| Photo by Chris Carrasquillo {/becssg_c}
{becssg_c}0|av-100508-ant-grupo03.JPG|Grupo Fantasma at Antone's| Photo by Chris Carrasquillo {/becssg_c}
{becssg_c}0|av-100508-ant-grupo04.JPG|Grupo Fantasma at Antone's| Photo by Chris Carrasquillo{/becssg_c}
{becssg_c}0|av-100508-ant-grupo05.JPG|Grupo Fantasma at Antone's| Photo by Chris Carrasquillo {/becssg_c}
{becssg_c}0|av-100508-ant-grupo06.JPG|Grupo Fantasma at Antone's| Photo by Chris Carrasquillo {/becssg_c}
{becssg_c}0|av-100508-ant-maneja01.JPG|Maneja Beto at Antone's| Photo by Chris Carrasquillo {/becssg_c}
{becssg_c}0|av-100508-ant-maneja02.JPG|Maneja Beto at Antone's| Photo by Chris Carrasquillo {/becssg_c}
{becssg_c}0|av-100508-ant-maneja03.JPG|Maneja Beto at Antone's| Photo by Chris Carrasquillo {/becssg_c}
{becssg_c}0|av-100508-ant-maneja04.JPG|Maneja Beto at Antone's| Photo by Chris Carrasquillo {/becssg_c}