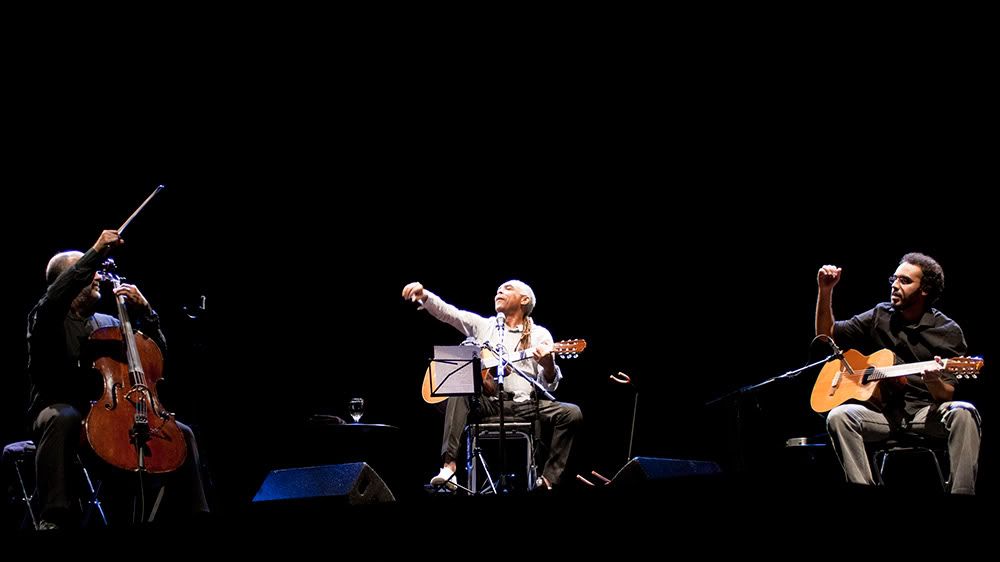 Gilberto Gil has never lost his stride musically. The sharp ringing of voice as he hits a high note will tell you just that.
The legendary Brazilian singer-songwriter played his first of two shows at Hogg Memorial Auditorium on the University of Texas campus Tuesday night.
Gil is best known for pioneering a new style of music called tropicalia in South America, which fused Brazilian samba with rock, folk and bossa nova. A music legend worldwide, Gil is also a political activist in his home country and served as the minister of culture of Brazil from 2003 to 2008.
Gil embarked on a 10-city tour recently—which included two Austin dates—titled "The String Concert." It is an all-acoustic performance and features his son Bem Gil on guitar, as well as cellist Jacques Morelenbaum. The performance is an intimate show that pays tribute to Gil's music produced over his 40-plus-year career. He mixed hits from his extensive catalog along with a couple of new songs he produced, including one called "Quatro Coisas," which is a tribute to his wife Flora.
While Gil's voice isn't quite what it sounded like in his youth, you can bet he can still hit the high falsetto notes, which are a trademark of his singing. The passion Gil has for his music is evident as he plucked his guitar and shook his head as he belted out lyrics in his native Portuguese.
Gil encouraged audience participation throughout his set, including through songs like "Chiclete Com Banana" and "Nightingale." The audience clapped and sang along without hesitation.
Between songs, Gil talked about his songs and their significance and touched on his cultural roots, particularly after playing "La Renaissance Africaine."
"The contributions of Africa to the development of Central, Southern and North America are profound," he said, first in Portuguese and then in English.
As simple as the arrangement of his show was, the deep layers of sound added by Morelenbaum's cello and Bem Gil's guitar to Gilberto Gil's scats, coos, whistles and shouts made for a rich experience. It was like Gil was sitting in your living room, playing just for you and telling you the secrets behind his songs.
Photos by Mitchell Ahrens for Austin Vida.