Brian Lopez. You may not be familiar with the name yet, but you will be sooner rather than later. The Tucson, Arizona, native plays guitar and sings for three very different but very intriguing musical projects that should be on your radar if you're a fan of indie rock or Latin music.
It started with his three-piece indie band Mostly Bears, whose off-kilter psychedelic post-punk songs earned the band a recording session with the indie tastemaker website Daytrotter and recognition as one of the best live bands of 2008 by the Las Vegas Weekly.
Then in 2009, Tucson-based Latin musician Sergio Mendoza brought together a group of like-minded players to pioneer what they called "indie mambo." They took the classic Cuban dance style and blended it with psychedelic guitars and cumbia rhythms, doing for mambo what Austin's Grupo Fantasma did for salsa: bringing it to the 21st century while retaining its roots and culture. This Latin big band is called Sergio Mendoza Y La Orkesta, and Lopez as lead guitarist has earned the moniker of "Latin Jimi Hendrix" within the group.
For his haunting and melancholy solo work—backed by cello, violin and keys—Lopez is more of a Latin Jeff Buckley. His warble is as serene and emotive as a young Buckley's was. Being in just one of these groups would've been enough for a writeup, but that he is in all three makes Lopez a uniquely talented individual and someone to keep an eye on. For now, meet Brian Lopez…. Just don't ask him to play in your reggae band.
Photos by Mari Hernandez and Chantel Clopine, taken at Pachanga Fest 2010.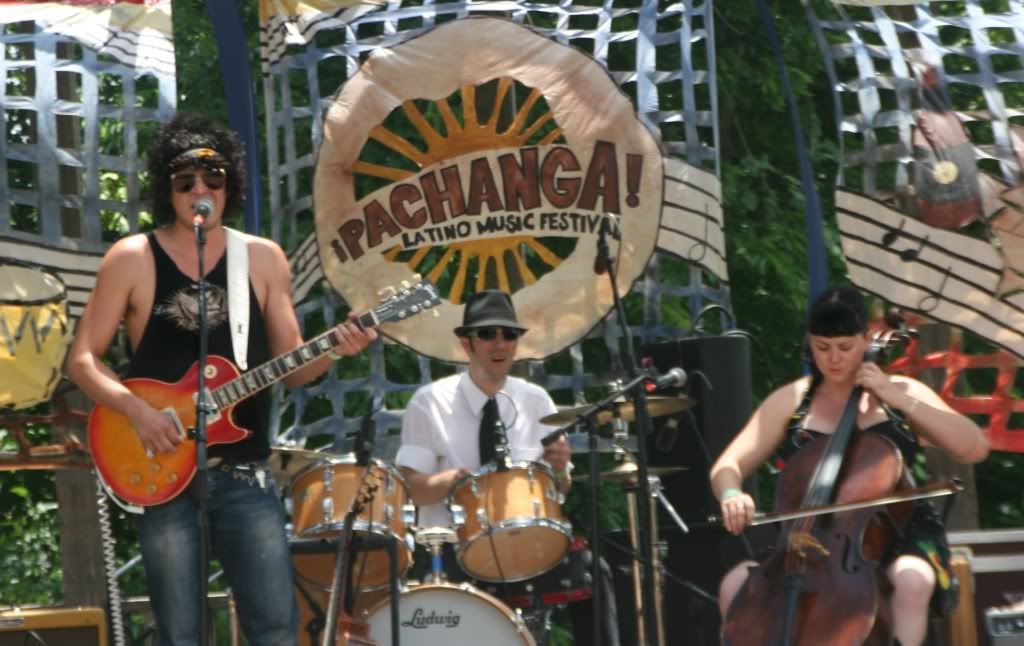 So what's your background? You're from Tucson…
Lopez: Born and raised in Tucson. The only time I lived anywhere else, I lived in Barcelona, Spain, for six months, during the winter and spring of 2005 for school. Studied Spanish and art. Otherwise, I've been living in Tucson all my life.
How did you get into music?
Lopez: That's a good question; I don't really have too many musicians in my family, or anything. But I picked up a guitar when I was 12 and was pretty good at it. Kind of excelled at that. And I used to be really into sports, so once I stopped growing and getting, like, stronger and stuff, it was kind of apparent I didn't have a career in the NBA.
With the headband and the hair, you kinda look like an NBA player.
Lopez: I'da been in the forefront if I didn't stop growing in the eighth grade.
You'd be playing for Los Suns right now.
Lopez: Los Suns! That would've been a dream come true. So yeah, I went to school and studied music theory, went to college as a classical guitar major for a while. Graduated with a music degree.
I'll come back to the music, but it kinda came up: What's the deal with Arizona? I'm not asking you to speak for a state or for an ethnicity, but just you on a day-to-day basis, do you notice a difference after the bills were passed?
Lopez: There's tons of tension right now. It was an idiotic move because it simply divided Latinos from whites. I feel like it's thrown us back like 50 years, as far as racial tension. Other than the obvious, that's been the biggest disappointment. But Tucson is very similar to Austin in its relation to its state. Would you think that Austinites represent the Minutemen of Texas?
No, of course not.
Lopez: I don't think Tucson is an accurate representation of a lot of conservative thought in Phoenix.
The comparison I've heard is Tucson is the Austin of Arizona while Phoenix is more like Dallas.
Lopez: Yeah, and I've gone all around Texas, and Austin is its own thing. This really isn't Texas, as far as I'm concerned. Tucson isn't really Phoenix.
Tucson is going to be heavily affected by the other law, HB 2281, the ethnic studies law.
Lopez: Mexican studies. I don't want to dive too much into that topic, because I haven't researched it as much as the prior topic, but just fundamentally, it sounds stupid.
Let's talk about the music scene in Arizona. Between your three projects, it seems like the musicians all work with each other. It seems really positive.
Lopez: I think the group that we have right now is very into that idea of working as a collective and bringing a scene up as a group, rather than as one band that just happens to make it. So we help each other out and we become figureheads within the music community. We like bringing other people up to that level, challenging other musicians to sit in on songs. When I started working with the Orkesta, I wasn't into or as good with improv. I just wasn't competent. But now, I can sit in on a set and you tell me what key we're in, I'm good. No nerves, I'm good to go. And I think that's kinda the idea: just working with other people and brining up the music scene within the community.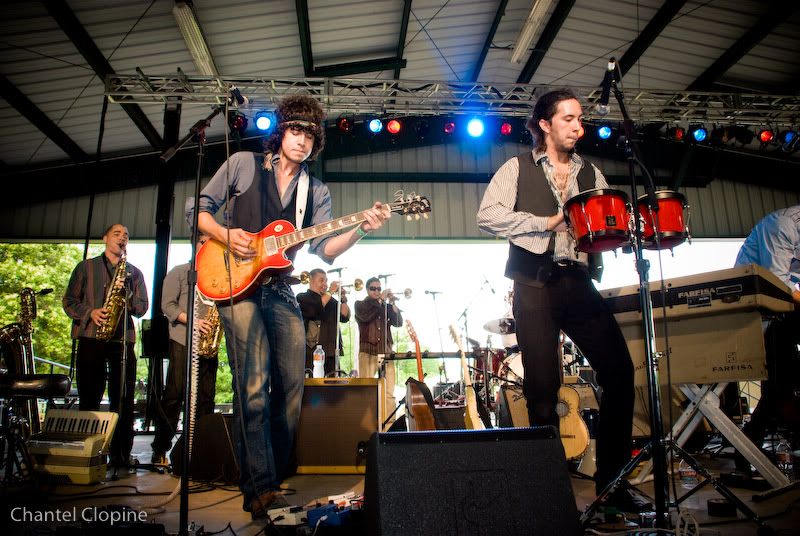 You play so many kinds of music—Latin with Sergio Mendoza Y La Orkesta (pictured left), indie rock with Mostly Bears—but what kind of music did you start with when you first learned to play?
Lopez: I think when I was first learning guitar, I was just into getting tab books of like Nirvana and Soundgarden and Pearl Jam, that whole Seattle sound. That was seriously what got me practicing. That was the only reason to practice for six hours in a room, so you could learn a Nirvana song or two. And then it stems from there; all of a sudden, I'm in college learning Bach cello suites.
And Latin?
Lopez: With Orkesta, they were new sounds to me, especially the rhythms. I mean, now it's all in my head. It's natural. But for a good while there, I was learning the rhythms. But it's like in my blood, so it wasn't too hard to get the rhythm in there. But for sure, it's different than playing straight-up rock 'n' roll.
Let's talk about your songs, your solo material. I love the song "Molly." It has some heavy, deeply personal lyrics. I loved the line "Stand on your own two feet, even if you stand with him." Can you tell me about the song.
Lopez: It's derivative of an older relationship, but not exclusive to that. It's just kind of a general idea that a lot of people can relate to: You go through a breakup and inevitably each part of you ends up with somebody else. And, you know, you sometimes have to watch other people go along with another romance, and it's difficult but you just have to let it happen. So that's pretty much that song.
You also have songs in Spanish. Is that a conscious choice? You could just stick to English and be successful.
Lopez: I love the Spanish language and if I could write better—like less cliche, more poetic—Spanish lyrics, I'd probably do it all the time. But I can't.
Are you fluent?
Lopez: I used to be when I was studying in school, but I'm so bad now. I can converse with the band, but I wouldn't sit here and tell you I'm like super-bilingual. But I like language; I like French, too. I think if I could invent my own language, that would probably be the best thing. I don't know how receptive people would be to that.
Your band Mostly Bears played a Daytrotter session, which is a big deal in the indie world.
Lopez: Yeah, that was during our last album tour. So hopefully this next time around, we can go see Sean over at Rock Island, Illinois, again.
Isn't that kind of in the middle of nowhere, the Daytrotter studios?
Lopez: Yeah, man. I remember when we did Daytrotter, we drove all night and I was sleeping in the back of the van. We woke up at 8 in the morning, and we were there like five hours early. It's on the border, so there's Iowa and Illinois. Anyways, they were having this crazy reggae festival, which is my least favorite of genre of music to wake up to.
Same here, man. Every song sounds the same, and I feel like people feel obligated to say they like reggae. Glad you said that.
Lopez: I'll just say "generally speaking." I'll keep it real: I hate it. Not into it.
Yeah.
Lopez: I have this friend who I thought was really cute who wanted me so bad to go see her friend's reggae band from D.C. They were playing in Tucson. I was like, "All right, you're cute. I'll go to a show." I was there and I was like, "Man, nobody's this cute to make me wanna be at this show."
Watch a music video for Lopez's band Mostly Bears below.