Bombasta is a nine-piece collective that incorporates the sounds of San Antonio into their bombastic style of Latin fusion not heard since the early beginnings of Ozomatli. With every influence from Tejano to hip hop to R&B and funk blended into their music, it's difficult not to take notice. They have a vibe only a "barrio big band" from San Antonio can bring, and they are bringing it back to Austin for this year's Pachanga Fest on May 22.
Lead by guitarist/vocalist/DJ Robert Livar, they have been holding it down in San Antonio for quite some time. They, along with Girl in a Coma, Hacienda and Pinata Protest, will be representing San Antonio at Pachanga Fest on Saturday. The barrio band also performed at the first Pachanga Fest in 2008. We recently caught up with Robert Livar in San Antonio to talk about the festival, a new album in the works, the San Antonio Latin music scene and Pacha Massive.
So catch us up with Bombasta a little bit, say from Pachanga 2008?
Livar: With us, that first Pachanga was the first gig we did with our current percussionist, Laro Torres. He's played with a lot of different people like Chicos Del Barrio, La Conquista and different people in the cumbia scene. He really added a lot to our sound. Since the first Pachanga, we've been locking in more as a band and finishing up the CD.
So about when can we expect the new Bombasta album?
Livar: Before the summer is over here in the next few months. We should be tightening up the last bit of it and get it out as soon as possible. We want to get some singles out beforehand.
This album you mentioned will not have songs from the EP you sell at shows currently?
Livar: Right. It's pretty old, from when we first started back in the day. We did a lot stuff behind that, which was real cool. We did a lot of traveling and played some big shows. It is just we never had the full-length under our belt, which is what we are trying to do now. We're taking our time and using it wisely, trying to finish writing the songs because it's different than playing live.
Have you have been performing a lot of these songs that will be on the upcoming record?
Livar: Oh, yeah. We perform them in our live set, but it's about working out our individual parts and flesh things out a lot. We have the luxury to do it in the studio, so we take advantage. So far, it is a full-sounding, complete album.
Can you leak a title yet?
Livar: No title yet. We want to hear everything complete so it will be a little bit easier to come up with.
So tell me more about this album. Is there anyone specific you are working with?
Livar: We're working with DJ Dus out of Corpus Christi. We've been traveling to Corpus to do a lot of it and doing stuff here in the home studios in San Antonio. We did a lot of the main parts with Britton Biesenherz in Austin up at Ramble Creek Studios up there.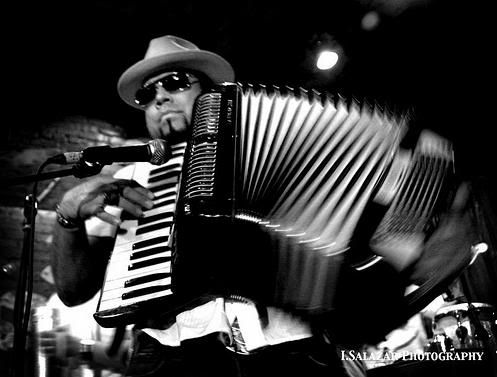 I know you guys know people in the scene from all over. Are you going to feature any guest collaborations on the new album?
Livar: We are trying to line up with Brian Ramos (Kanko, Charnaga Cakewalk) to get him to do some vocals on some songs. We've talked about it, but now we just need to get together. We have also been talking to Chicos Del Barrio to get them to do some guest vocals. We have a lot of friends we would love to include, but we still got to give a good representation of who Bombasta is.
Are you still rolling with the name "Barrio Big Band" and getting Ozomatli comparisons these days?
Livar: Yeah, the name just sticks, man. We try and mix it up a little bit. A lot of our music is in Spanglish and laid out a little bit different from Ozomatli. Like them, we do have a lot of great musicians to kind of develop stuff fully, so I'm really happy with where we are at right musically right now.
A lot of your lyrics have a real political, revolutionary "brown fist" kind of vibe. Are you sticking with some of that on the new album?
Livar: You know, we call it like we see it.
What do you guys have to be angry about now?
Livar: Let's go to Arizona and see if you got your papales. It is not so much about being angry. It's about speaking your mind and having the freedom to do that no matter what your beliefs are. You also have to keep up the pressure. It doesn't matter who is in office. There are still fucked up situations all around.
So what are you singing about now in comparison to early Bombasta?
Livar: All of it is kind of like a representation of what's going on in my life. I've got a family, a son and another baby on the way, a wife. I got work to pay bills. I have to stay informed in my community and try to do what I can with the little bit of gift that I've been given.
Pachanga is getting better each year in terms of artists and overall recognition. I don't know if you saw that coming when you played the first one in 2008. It isn't at Waterloo Park anymore and there a more headliners than before. What do you make of the festival's progress?
Livar: It's great to see, but we will do our thing regardless. There could be 10 people and we'd rock out. We played New Year's Eve in McAllen and closed it down to about 30,000 people. We will always hold our own, regardless of crowd size. We enjoy what we do that much.
Why do you think something like Pachanga Fest is important?
Livar: There is a lot of talent out there that gets over looked because there isn't really a format for it. That's our issue, so to speak. We don't have a radio outlet, except for maybe college radio to a certain extent. Even then, you get pigeonholed. It's not seen for what it really is, American music. It's a melting pot for all that is America: Afro-Cuban, German polka, R&B, soul, all that combined. Growing up in the 1980s with hip hop and stuff, we all draw on that.
To be honest, I am surprised Pachanga Fest or something similar didn't happen in San Antonio. There is certainly no shortage of Latino talent from all musical genres. Why doesn't San Antonio have its own Pachanga?
Livar: It is because everyday is kind of Pachanga Fest here. That's why I live in San Antonio. It's comfortable; it's more homegrown and not a big production every time. San Antonio is like that because of all the talent here. There is so much that is unique to the city and we try and be part of that as much as we can. We try and promote our friends that holding it down here for our scene as well.
In your opinion, who do people need to take notice of coming out of San Antonio?
Livar: One of our friends people need to check out is Azul. She has an amazing voice and can really do it all. She can do a straight up rock and roll set to something with mariachis. People should also check out Mexican Step Grandfather. He does hip hop and he is actually a professor at UTSA. He spits some conscious Chicano lyrics and does his own good beats.
Who do you like or recommend out of Austin?
Livar: I think what Brian (Ramos) is doing with Kanko and Charanga Cakewalk is great. He's really pulling some stuff together with Michael Ramos.
What is coming up with Bombasta post Pachanga Fest, besides gearing up to release the new album?
Livar: We have a show at the Flamingo Cantina on May 29 with Afrofreque. After that, it is all about the CD. We want to push out west. We have a lot of friends and connections all the way from here to California. We are just waiting on the CD so we can cash in on all the favors owed to us. Every time someone wants a show here in San Antonio or needs our help getting one, we hook them up, so we're looking forward to the payback. It would be cool to play in front of our fans who have found us online from those areas.
Who are you looking forward to see at Pachanga Fest this year as a fan?
Livar: Pacha Massive. We saw Pacha Massive at the LAMC a couple of years ago when they played it. It is just nostalgic, a total New York City vibe they had going on. It is completely original.
Photos by Isabel Salazar.