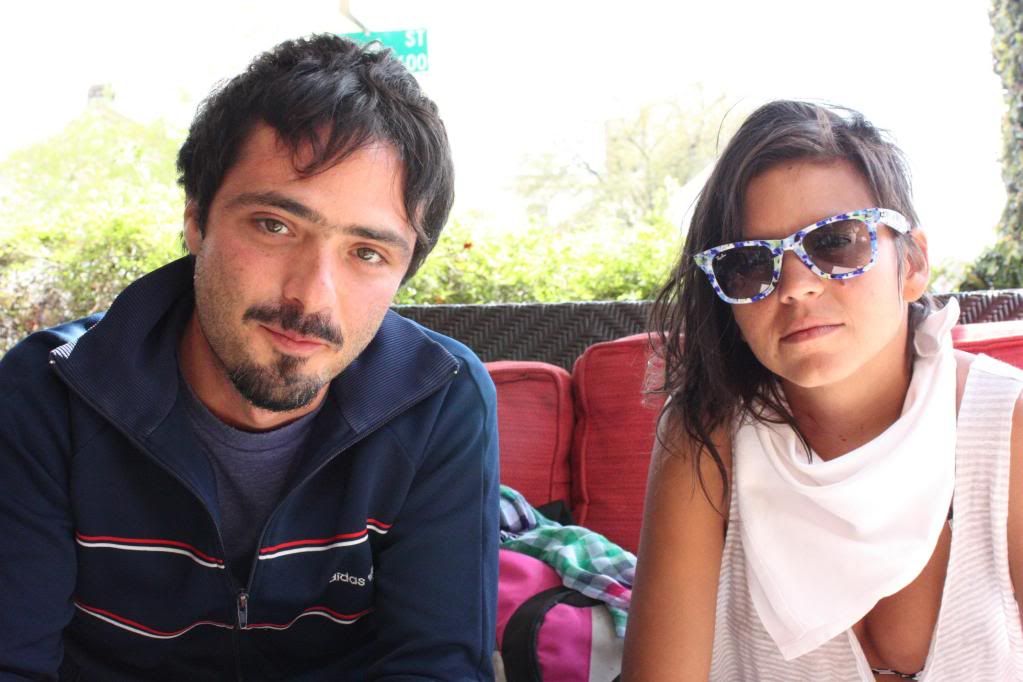 Simón Mejía is the musical mastermind behind Bogota's hottest Latin alternative act, Bomba Estéreo. The Colombian electro-tropical fusion act blends its nation's namesake rhythm, the cumbia, with pulsating bass, hip-hop beats and the spitfire flow of charismatic emcee Liliana Saumet. Their highly energetic live shows have made Bomba a staple of the Latin American and European festival circuits. This summer, they'll be adding the U.S. summer festival circuit to its list of accomplishments, playing Bonnaroo in June and headlining at Pachanga Fest in Austin on May 22.
I sat down with Mejía during South By Southwest to find out what makes him tick and how he went from playing guitar in Metallica cover bands to being the trend-setter of hip Latin dance music. Much a reflection of their on-stage personalities, Mejía was cool and methodical during the interview, while Saumet was fidgety and fully of energy, often sitting down and getting up and even singing at one point. If you haven't heard their stuff, I recommend picking up their U.S. debut album, Blow Up.
All photos by Ajay Miranda
Taken at Levi's/FADER Fort, SXSW 2010
Bomba Estéreo started off as a solo project. How did it become the band it is now?
Simón: More than a solo project, I was working with DJ Fresh from Bogota and a friend of mine who does visuals. It was like an electronic visual project. We sometimes invited, in live shows, some emcees. It was kind of more like a soundsystem. And then after that, we split and I kept working solo and made the first album, Volume One, and then I met Liliana.
How much time elapsed between recording your first album and meeting Liliana?
Simón: I worked like eight months on it. I did it at home. Then I met her and some months passed, and we began making the songs for the second album. We rehearsed it live. And after playing a year live, we took them to the studio and recorded the second album.
How did you get into music?
Simón: Since I was a kid, I was in music. I took piano lessons when I was a kid. Then I played guitar; I had some rock bands.
What kind of rock bands?
Simón: No, first, I had metal bands. We did Metallica and Slayer covers. Then I had another rock band; we did The Cure covers. They were just school bands. We played, but it was nothing professional.
Just kids messing around…
Simón: Messing around. But with Bomba Estéreo, I like got serious into it.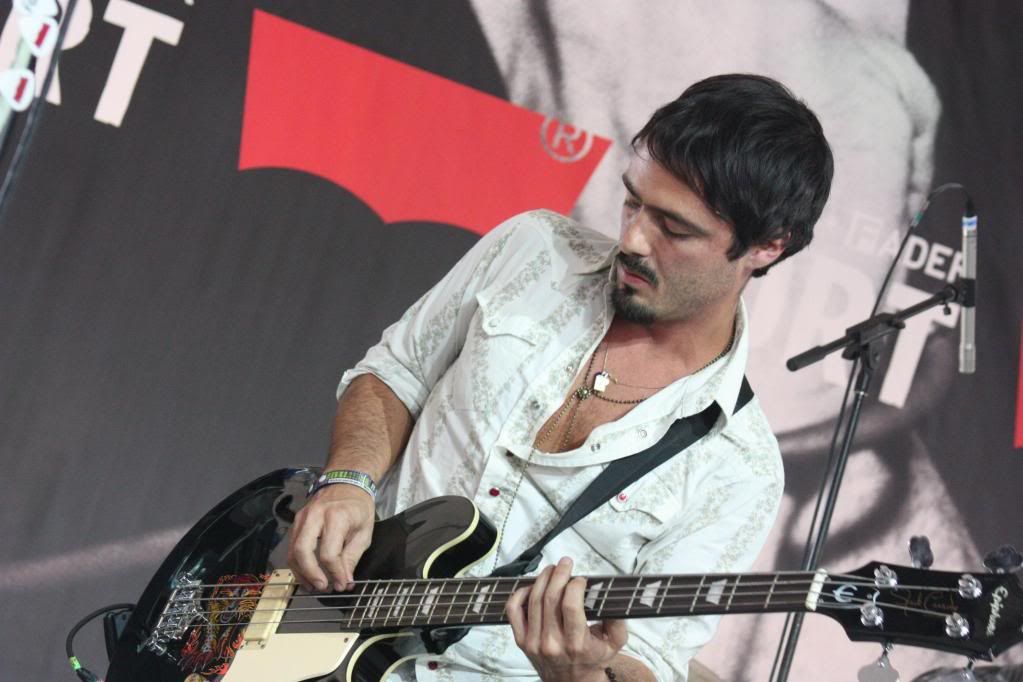 That's a totally different route, though, going from Cure covers to this Latin/electronic fusion of Bomba.
Simón: It was part of a process of discovering computers and music software. Before that, I was more into guitar-playing. And then I began to discover computers and software, and I began to do music production. Also, I started being interested in Colombian music, traditional Colombian music. Sampling. One thing led to another, and it came out doing this project.
A lot of the Bomba Estéreo sounds are traditional, like the cumbia. When you were in school, did kids listen to that music? Or was it not cool?
Simón: No, it was definitely not cool. It's not popular. For example, in Bogota where I'm from, it's not popular because Bogota is up in the mountains and this music happens originally in the coast. In the coast, it is popular in the holidays. In December, there's always musicians playing that music in the streets and singing. But in general, it is not cool to listen. It is like music for old people. So it's not so cool; so what we're trying to do is take that music into a wider audience and make it cooler. It's like rescuing that type of music and showing it to young people.
Do you think you've made a difference with that younger audience?
Simón: Sure, sure. For example, when a young person listens to folk music, just folk music, it may seem boring. But if he listens to that folk music and it has a little bit of hip hop, a bit of a beat and a guitar, and then you see it live and it has some rock elements, people say "Wow, what is this?" You say "This is cumbia" and they say "I thought cumbia was from towns with old people." And they go "Wow, cumbia is cool." And then it becomes trendy and people begin to look for cumbia and research. So we're very proud of that.
Why did you get into this kind of music? You could've made any kind of music you wanted, not just cumbia.
Simón: I don't know. I got into salsa. And like salsa led me to listen to Colombian salsa, and Colombian salsa led me to listen to Joe Arroyo, and Joe Arroyo is not only salsa but he uses also folk elements. So a whole new musical universe opened. But I grew up listening to rock music and disco; I never was close to folk.
Is that what city kids listened to in Colombia? Rock music?
Simón: Yeah. American music, mostly.
[lead singer Liliana Saumet sits down next to Simón]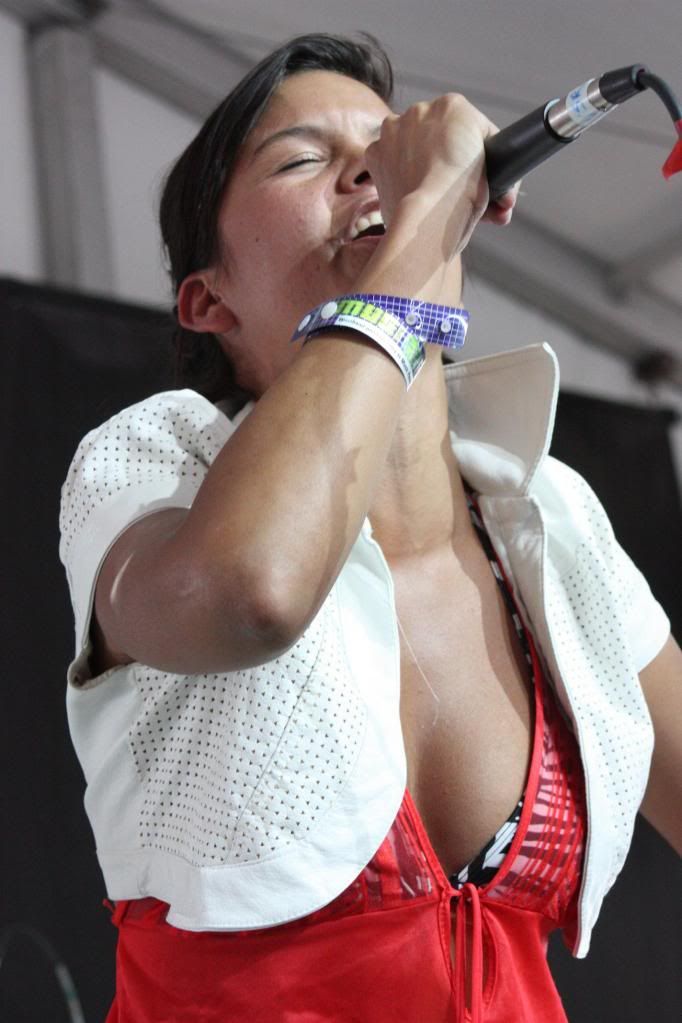 You guys have lots of confidence on stage. Did you always have that stage presence or did you have to work on that?
Simón: Well, the show we've been doing, we've been doing it for one year, so it's pretty solid.
Liliana: And we learn from every city; every audience teaches us something new.
You guys have played all over the world for different kinds of crowds. What have been some of your favorite shows to play?
Simón: Roskilde Festival in Europe was great.
Liliana: We did a town in Ireland.
Simón: Cork, Ireland. It was strange because you never imagine yourself—you play Colombian music and you're from Colombia—playing a town in Ireland. So when you get there, people don't talk Spanish. But they feel connected.
Liliana: They were crazy; it was strange.
Simón: They get into it.
Awesome. Are you recording any new material?
Simón: Yes. We're working on a new album to release it by the end of this year.
Your U.S. album is called Blow Up; your single is called "Fuego." So what's the message behind Bomba Estéreo?
Simón: More than a message, it's just giving people a positive vibration with the music and with the lyrics. It's not a particular message, but just that folk music and African music and all dance music is about getting people into dancing, which is positive. It's a way of forgetting our problems and being together with some positive energy.
Bomba Estéreo is scheduled to headline at Pachanga Fest in Austin on May 22. They will also play an in-store performance at End of an Ear on May 23. Watch their music video for "Fuego" below.