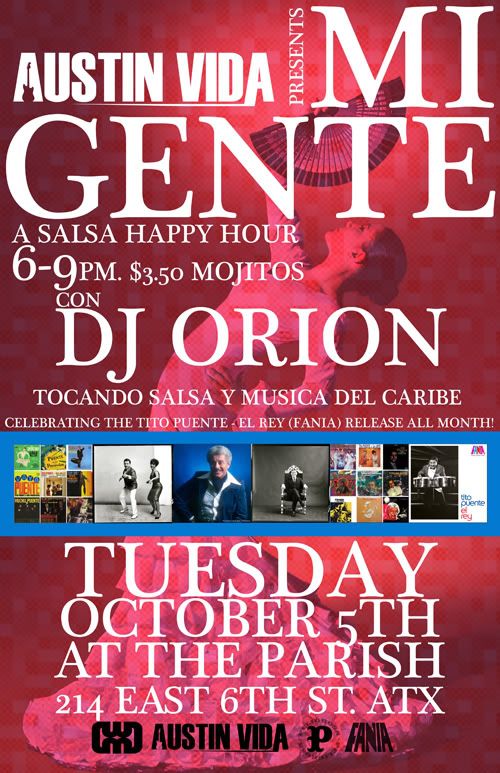 Salsa music plays a large role in the Live Music Capital. Every night in Austin, salseros dress up and head to bars and venues like Ruta Maya in the south, Gloria's in the upscale north and many places in between. Now, Austin Vida is teaming up with the downtown venue The Parish, as well as the legendary Fania Records and local taste-maker DJ Orion from the Peligrosa All-Star DJs to bring you "Mi Gente," a Tuesday night salsa happy hour happening in October. We're keeping it simple for this one: no live band, no overpriced drinks and no snooty dress code.
"Mi Gente" is for Latin music lovers and newcomers alike, from all walks of life, to enjoy $3.50 mojito drink specials from 6 to 9 p.m., while Orion spins some of his favorite Fania tunes, including music from the late great Tito Puente. Our friends at Fania are celebrating the release of their Tito Puente two-disc anthology El Rey. A sampling of Puente's 100-plus albums, El Rey is a great addition for any casual fan, DJ or hardcore salsa collector's music library. Here is a little taste of El Rey from Fania Records themselves:
The Parish is a beautiful second-story 1920s-style loft with wood floors and one of the best sound and light systems in the city. Tables and chairs will be provided for patrons to drink and relax if needed. The Parish is located at 214-C E. 6th St. Ages 21 and up are welcome.