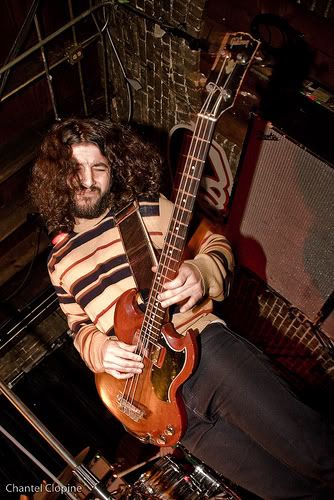 Three Colombian brothers with roots in California and Houston have been burning up the Austin blues-rock/hard-rock scene for a decade. Not everyone in town has heard of them, but those of us who have know what a face-melting and skull-jarring experience an Amplified Heat show can be.
The trio got its start in Sixth Street's sometimes unheralded, sometimes uninspiring blues scene in the early 2000s, but an evolution in sound and a growing list of friends in the biz helped them graduate to storied clubs like Antone's and the hipper dives along Red River Street. They've released albums, toured the country and impressed young kids and classic rock old-timers alike with their Cream-esque sound, based around a minimalistic but extremely loud guitar-bass-drum setup.
It's looking like 2010 will be a busy year for the Heat. In addition to recording a bunch of material for a new album (their first since 2007's How Do You Like the Sound of That), the brothers will also be playing the Pachanga Latino Music Festival next month (May 22 at Fiesta Gardens in East Austin). I sat down with bassist Gian (pictured above), the youngest of the Ortiz brothers, at a recent show to talk about the past, present and future of Amplified Heat.
Let's start at the beginning. Tell me how y'all went from brothers to bandmates.
Gian Oritz: It just happened. We've always been music lovers. When we were kids, we did this Cream cover band. To me, that's my earliest memory of that kind of unity between us three. I don't know; that's just the way it's always been.
So was there always music in the house growing up? Were your parents Cream fans?
Gian: On the contrary, my parents—my parents being Colombian—there was a lot of salsa, a lot of cumbias. We grew up around music, but not necessarily rock 'n' roll. My mom listened to The Beatles in the '60s. And me being the youngest one, I had older siblings who listened to Hendrix, Beatles, Cream, Sabbath. The main thing is, it all started in California. California radio in the '80s was awesome. They played a lot of deep cuts, a lot of shows that would play the whole album. They played everything, man—CCR, the Stones. We weren't privileged enough to have our parents buy us the records we liked.
When did you first pick up instruments?
Gian: In California, but I don't think it was serious. Jim was in school band—he was in the drumline, actually. He started off as a drummer, and Chris started with guitar. And at some point they switched, kind of like the Van Halen brothers. As far as us picking it up seriously, it wasn't til we moved to Houston. They actually got the band started with another guy we met in Houston who was in the same apartment complex. They started jamming; I'd wanted to take part in it.
How old were you at that time?
Gian: I was 9 or 10 when we moved to Houston, but I was 10 or 11 when they started doing the whole music bit.
You guys were kids, literally. Why did you choose to play this kind of music?
Gian: It's kind of weird, because we don't intentionally try to make things sound like what we listen to, or whatever, but we're kind of restricted to what it is we're into. We're in the vain of that old rock.
With you guys, it's very natural. It doesn't feel like a forced attempt at revival or trendiness; it's just who you are and what you're about.
Gian: Yeah, I guess the best way to explain it is, we grew up listening to it so that's what we know. Quite honestly, that's the only thing we're interested in playing.
You guys didn't start off sounding like the Amplified Heat of today. You used to be more straightforward blues.
Gian: Yeah, we were called Blues Condition, which was formed when I was in high school. I couldn't join the band. Jim and Chris were going around playing open-mic jams in Houston in '95. Then we all moved here to Austin—I was the last one—in '99.
Where were you guys playing when you first moved to Austin?
Gian: Babes, which is now Friends. We had a residency every week, which actually helped us build up what we're doing, our reputation of people knowing who we are. The natural progression was that we were playing blues and it became harder.
Let's talk about your band name. It's probably the most appropriate band name I've heard as far as representing the overall sound and aesthetic. You guys are loud and aggressive and…
Gian: And we have a shitload of amplifiers on stage.
[laughs] Yeah, exactly. How did you come up with the name?
Gian: Cream. Actually, Blues Condition came from a Cream song as well. But around '02 or '03, we started to realize that Blues Condition was very misleading; we were going towards a harder direction. So we were tossing around names and stuff. Off of Wheels of Fire, there's a song called "Pressed Rat and Warthog." And one of the lines says, "Selling atonal apples and amplified heat." And it was funny, because I'd thought about it, but Chris mentioned it as well. But either way, it was like [claps hands] "Let's do it." It was really appropriate. It's really hard, especially coming up with something that doesn't pigeonhole you, kinda like what Blues Condition did to us. People where expecting Texas blues, but we were doing our rock thing. Amplified Heat is still blues. That's what rock 'n' roll is: Blues and country had a baby; it was rock 'n' roll. So, pretty much, both band names came from Cream songs. It wasn't because, "Yeah, we got all these amplifiers; let's call it Amplified Heat."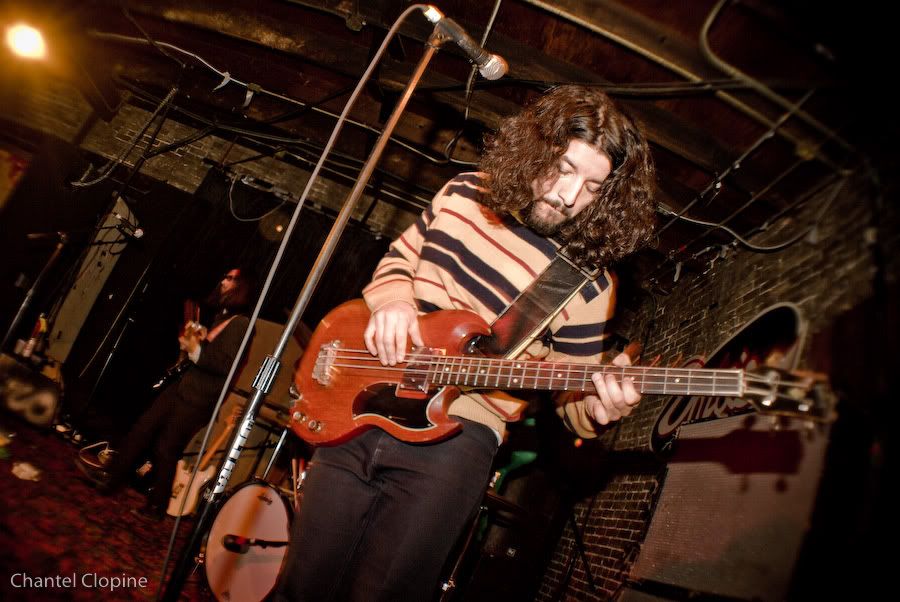 You guys are Latino, but the music you play isn't traditionally considered Latino. Has that affected the expectations or the way you're perceived, being in this kind of band and trying to make it in a blues-rock scene?
Gian: It was never an issue. It was always more just like an interesting fact. The interesting thing is, thanks to the Vallejo brothers, we're playing the Pachanga Festival in May. So that's gonna put us in front of the Latino audience, which that's where the difference is. We're Latino, but what we play—it's not about a race or ethnicity.
You guys are currently working on new stuff. What can people expect from the new material?
Gian: Well, the thing that I can say about it is, we're taking the approach of getting back to hard rock. Not that we lost that, but I think with the last album we tried to do a songwriting approach and making it more produced, polished. Not over-produced; we never over-produce. This new album is going back to live tracking and trying to capture a show live on tape.
That's the right approach for a band like Amplified Heat, where the live show is such an important part of who you guys are.
Gian: With the Vallejo brothers, we did two songs. We were able to knock those out. Those two are gonna go on the album. We're hoping to have the album out by Pachanga. You have a record player, right? We're just pressing vinyl.
Awesome. Is it gonna come with a mp3 download too?
Gian: Yeah, which I think it's great. I prefer the sound on vinyl. I'm half deaf, but I hear glitches on digital. It drives me crazy.
"Put on a good f*ckin' show,
and don't be an a**hole."
— Gian Ortiz's advice to young bands
You guys have been playing in Austin for a decade. Around here, you always hear older folks talking about how their generation was the best, the most "real Austin." How have you seen the music scene change over the years? I know that's a huge question…
Gian: It's a huge question with lots of answers. It's kinda weird because it's like, one day you'll be like, "Man, this sucks. I wish it was the way it was." But then another day, you'll be like, "Man, we're in a fuckin' badass scene." The thing that I can say is, as of the last two or three years, the scene has really gotten stronger band-wise. There's much more bands that are badass and put on really good shows. I think in the past, it was scarce. There was only select few bands who were really good. Which I guess made it easier for them to get successful in the scene and draw a lot of people. The main changes I see that are kinda shitty are the sound ordinance stuff going on, and the clubs closing down.
Just lastly, what's your advice for younger bands trying to come up in Austin?
Gian: Play, man. Put on a good fuckin' show, and don't be an asshole.
[laughs] Good advice.
Gian: You know, we haven't really encountered that too much, where the bands are a bunch of dicks. But you get your occasional dickhead. You know, the thing is, we're all here doing the same thing. We're all on the same team, going for the same goal. Work with each other; try play as many shows and help each other out. That's another great thing about the scene right now: There's a lot of camaraderie amongst the bands. There's us, White Rhino, The Ugly Beats, The Ripe, Nic Armstrong. You know, everybody's cool.
All photos by Chantel Clopine.