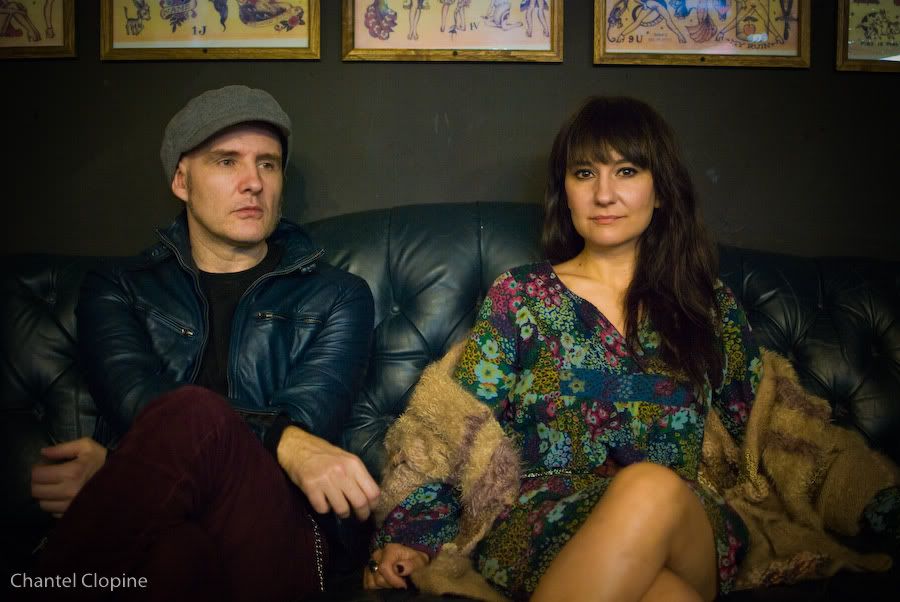 South By Southwest is an exciting time for music lovers for so many reasons. There are so many bands to see and parties to attend everywhere you look. One of the many reasons we love South By Southwest is the opportunity to some of the world's biggest international superstars often unknown to American audiences in smaller, more intimate venues. It really isn't fair when you stop to think about it.
This year we had the opportunity to meet and talk to one of Spain's biggest pop artists in the country's recent history, Amaral. Comprised of Eva Amaral and guitarist Juan Aguirre, the duo has sold over three million albums since their debut in 1998. Amaral was at this year's South By Southwest music festival as part of large Spanish collective of musicians scheduled to perform as well as to support their fifth studio album, Gato Negro Dragon Rojo.
We sat down during South By Southwest and talked to both Juan and Eva about their early beginnings, the Spanish music scene, getting signed by a major label and of course South By Southwest.
Photo by Chantel Clopine
Here at SXSW, you're playing smaller shows than the stadiums you're used to in Spain. Is it an adjustment?
Eva: We began in the small clubs and then we got bigger as the years went by. The press got bigger and now we play in stadiums in our country. Sometimes we also like to play small gigs in some of the smaller clubs without promoting it or telling anyone. That's to just come back to our origin, our roots.
That's interesting to hear you say that. Everything we read or see on YouTube from you appears to be big stadium shows.
Eva: It's like that now, yeah.
Juan: We began playing in our hometown of Zaragosa, a northeast city in Spain. We began by playing the alternative scene of Zaragosa in the small pubs, clubs and even art galleries doing small demos. This was during 1998 and the rest of the '90s. In the first part of last decade, we began to grow. It was a very new thing what we were doing because we still had one foot in the alternative scene.
Isn't that where you came from before Amaral, the alternative scene? I understand you had something completely different.
Juan: Yes, Eva and I were in different bands. I was the guitar player in my band before. For me, I consider that time a teaching period. I learned how to get the right sound for me. When Eva and I met, we played covers. We eventually began playing folk music.
How did you and Eva meet?
Eva: We met through the music scene in Zaragosa. It was in a basement of a small club. It was small recording studio where bands could record live demos if they wanted. I was recording a demo and Juan was there. When we began to speak about music, we found we had a lot in common. Then that's when we started.
Juan mentioned you began by playing cover songs. What kind of music did you cover?
Juan: Classic rock music like The Smiths or The Birds.
Did you sing them in English or Spanish?
Eva: In a horrible English. [laughs]
That is no surprise to me. A lot of good Spanish indie bands sing in English now. Was it always so common or do you think that it is a recent trend?
Eva: In the '90s, the indie movement in Spain was very Anglo or English spoken. There is still both, people singing in Spanish and English.
After doing your English cover song thing for a bit, when did you start doing your own original music?
Juan: I think it was a question of casuality and our need for expression. It was question of fun. We have fun writing songs together and jamming. Sometimes we would go to hear poetry and jammed riffs on the side. During that early period, we had this Big Generation and this kind of anarchist vibe. The music for us was a self liberation because we were working in some places that we hate. It was a hard time for us. In Zaragosa, the future was very dark fro people who played rock music.
Eva: Juan and I met in 1992. We began to play together in the mid nineties. When we played then, it was difficult to get the (local Zaragosa) media to pay attention to you.
When and where did you guys relocate from Zaragosa?
Eva: We live between Madrid and Zaragosa now.
Did you move because it was so difficult to get media attention in Zaragosa?
Eva: It was a casuality really. In Zaragosa there are like five clubs. We started going to other places in Spain. We went to play in Blibao but it was in Madrid where found a lot of places to play.
What was it that got you signed? Tell me about that day or experience.
Juan: We were playing in a small bar in Madrid in an area called "Chueca". It is a place that is very open to art, center of gay movement, is the center of openness. We were playing there and a man from Virgin Records came to the show. He came up to us after and said 'I like your music and maybe we could sign the band. Why don't you play for the company some songs?" So we did.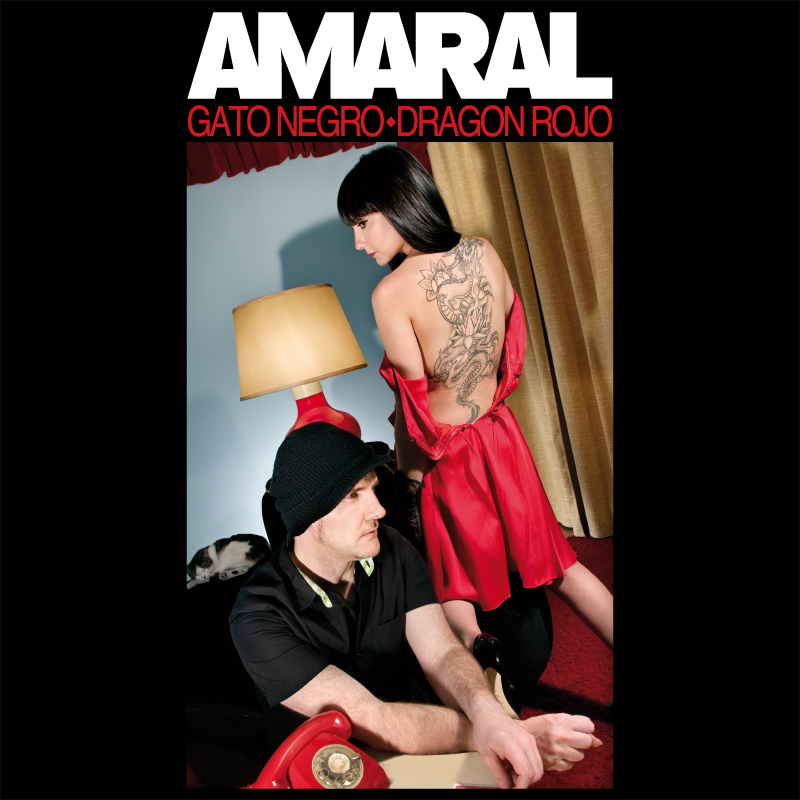 What did they (Virgin Records) say they liked about you guys?
Juan: I remember the first time he asked me "Hey man, do you like Neil Young?'. I remember he asked me that because I was playing an acoustic guitar playing some riffs and Eva was singing beside me. He said he loved Eva's voice and the vibe.
What or who influenced your early recordings?
Juan: For us, it was the way of some bands that we loved like R.E.M. or The Smiths. Each album was growth, and for us it was best to grow little by little. It feels that way when we are here (The United States).
It feels like you're still learning or growing?
Eva: We the sensation of still learning and introducing ourselves to new people.
How does it feel for you playing in front of people who don't know who you are, and a small group of people at that compared to the stadiums you play elsewhere?
Eva: It is very nice to play for people that do not know you. The sensation that you can win someone over with a song that has no preconception of you is a good feeling.
I take it that just doesn't happen in Spain for you anymore.
Eva: In Spain, it is very nice to play to thousands of people and all the people are signing along to our songs. That is really nice, but playing where no one knows who you are gives us air.
Can you walk down the street in Spain anymore without people recognizing you or coming up to you?
Eva: Oh yes, we can walk the streets.
Juan: We love to use the tube (subway) and have people tell us we look like Amaral. It's a great sensation. We hat the limousines and all the ridiculous rock and roll life. We don't play music to be like Elvis Presley.
Eva: I think to be a rock star is different than before in the twenty first century.
Juan: That's the beginning of the end. If you lost yourself in that false reality, it will be impossible for you to write good songs.
Why do think you guys have sustained all these years, or stayed popular? You came out in the nineties, before the internet really took over the music industry. A lot of changes and attitudes about music have changed since then, but yet here you are in front of me and still selling tickets and albums.
Eva: It was nothing planned. People still like our music and grow with us.
Juan: I think maybe it is because we hate the repetitive music. We used to look to make a different vibe with every album.
Would you say you guys have gotten better with each album over the years?
Juan: It is not a question of a lineal evolution. It's very simple. It's like a shark. Someone told me they saw on a shark TV show that they learned if a shark stops swimming around, they could die. For me, to play music is the same. I keep learning by anything from watching people passing by in the street and even talking to people.
Eva: Also, you have to enjoy what you're doing. That way, the public will enjoy it with you.
Do you ever read what is written about you?
Eva: Not so much. We prefer not to know what people (critics) say.
Juan: In general, we live so happy because we do the things we love to do. It is normal for some people not to like it.
Eva: We don't always keep up with what's in fashion (style/current trends). Over the years, we saw how some people wrote that we were not in fashion and our thing is not cool because of whatever. Four months later, you are cool. So, who cares?
What were you trying to accomplish by coming out to SXSW?
Eva: We were just trying to play for new people and to see other bands, like a tourist.
I ask that specifically to you guys because your situation is different from a lot of the bands that played SXSW. A lot of bands are looking to get signed or even just be heard for the first time anywhere. Some are even looking for distribution for their record. You guys have all that other than being known in the States.
Juan: Our plan was to begin to play in the States. Now we have our own label. The idea is to release our albums in the United States with some indie label maybe. We also want to play small gigs and travel.
So if you're plan is to tour in the States, are you looking to write or perform any songs in English?
Eva: We are Spanish speakers really. We think in Spanish, but we would like to explore translating some of our songs for an English adaptation. I think we will need some help of some English friends.
Juan: I don't think it is necessary to translate them. I mean maybe we can try one or two. It's going to take some experimenting. In reality, I don't think it's that important either way.
Do you feel that the feeling or meaning of the song loses something when translated?
Juan: Yes, I agree. I would hate for the translations to lose anything.
Eva: We played in Poland and Germany recently, where people don't speak Spanish at all and they were very much into our music. With music it is possible to communicate with a song. We have been listening to music in English for many years, not always understanding everything or the whole meaning. We understood the spirit. I don't like to say the cliché that music is international or universal, but it is.
How would you guys classify your music? Everything I read classifies you guys as "pop en Español."
Juan: To me, we are not pop music. For me, The Smiths are pop music, for example. I don't think we are playing pop. Sometimes we play folk and then sometimes rock.
Which record of yours would you give to someone who has never heard of you or heard your music? And why?
Eva: I think the obvious answer is our last album because it is a live record. It is a compilation of songs from different albums. Because it is live, it is much more intense and represents who we are now.