60 Tigres is a relatively new band, but you can tell by talking with them that they've been friends for a long time. They can tell you who's gonna show up late to rehearsal, who you can count on to bring beers to rehearsal, joke around about strip clubs and tell those you had to be there stories only friends laugh about the hardest, while you sit there smiling awkwardly and wishing you were in on the joke.
In the five years they've been together, 60 Tigres has made a name for itself both in México and in the US. Their newest music video, for "Modelos sin Personalidad", has more than 13,000 YouTube views. They're no strangers to the Austin crowd, having played The Compound and Flamingo Cantina, plus SXSW the past two years.
They'll be coming back for SXSW this week, but I sat down with Alejandro Elizondo (guitar and vocals), Saverio Giandusa (keyboards) and Roberto Polo (bass and vocals) after the indie-disco-punk group's Festival Nrmal performance in Monterrey, México, last weekend. We met at a small classroom of the Alianza Francesa, with tiny colorful chairs pushed against the walls and short, blue and red tables covered by instruments. The three musicians and I sat in chairs we could barely fit in, chairs normally used by six-year-old children learning French.
All photos by Sofia José for Austin Vida.
So, tell me about today—the Nrmal Fest. Any thoughts?
Alejandro: Today. Well, it's been really great and it's a very cool place, but the organization has been, you know—is it gonna be at this time or another? Or they wouldn't let some people in. And we played very few songs, like four or five, and we were hoping to play more, around seven.
What did you think of other bands you've seen today, about El Cuarto, who played before you?
Alejandro: I really enjoyed their show, and I've seen them before so I knew what it was going to be like.
What do you think about Austin, having been there a few times now?
Alejandro: Ah, Austin! Well, the last SXSW was awesome; there were a lot of people. Before that, we'd only played in small venues and not a lot of people came out to see us. Most of them spoke Spanish. But it felt really good; we were well-received. But we'd also like it if we could play with local bands, to get more people to listen to our music.
How do you compare your experiences in Austin to those in Monterrey? Do you think there's enough of a following in Monterrey for your music?
Alejandro: Well, there's really no comparison to Austin, which is known for its live music. But in Monterrey the scene is definitely growing. Like the festival today, there never used to be anything like this for our music, the more indie and alternative. There didn't used to be a place for small bands like ours, independent bands. And next weekend is another music festival at Garage. Garage is the place in Monterrey for this kind of music. I know in Austin there's a lot of places for small bands and live music, but not here.
Tell me about the band and how you guys got started.
Alejandro: Well, if we talk about how we started, we'd have to go way back.
Saverio: We were all involved in different projects, but we met and began getting to know each other and the idea sort of just happened.
Roberto: And there have been a lot of changes, both in members and in our style and sound.
What was your old sound like?
Roberto: The drummer we have now, Micol Polo, used to play percussion and Alejandro played the guitar. And as for sound, we had songs that were more danceable. The sound we have now is much more atmospheric, and we have Elías, a new guitarrist, now.
Alejandro: Actually, we're working on a new CD with Elías, and the compositions are very different from what we did before. We're definitely evolving. We're changing from the way we edit the sound to the whole process of putting the music together.
Is there a song in particular that a new listener could identify with and say, "This is 60 Tigres"?
Alejandro: From our new stuff, I don't think. Maybe "Dentro de Mi Cuerpo".
Roberto: "Modelos sin Personalidad", I think is a good song for new listeners to understand what our style is like.
Saverio: What we're recording now is completely different, though.
How so?
Saverio: Well, in the type of composition and the way we relate to each other. And also now that Elías is in, well, the whole sound changes with new members. So it's a sound that's a little bit more… worked on.
Alejandro: We're also going back to our roots, in a way. Because we're more hands-on with this one, working on it ourselves. We're producing the new album, while the old one was produced by someone else. That was great, but we're taking what we learned and using it on our new stuff.
Can you tell me about your influences?
Alejandro: I've been listening to Velvet Underground a lot lately, and Leonard Cohen.
Roberto: I like the Lilys a lot, and Beulah.
Alejandro: The truth is I could list a thousand of 'em. Influences from when we started… I don't know, I can't even remember, to tell you the truth. We listen to a lot of music and always have.
Do you remember your first live show?
Alejandro: Yes! I remember it was really cool.
Tell me about it.
Roberto: Well, a friend of ours's uncle had a space and it was great, it had drums that you could play in there. So it just sort of happened overnight; we were like, "Hey lets throw a party and play tomorrow!"
Alejandro: Yeah, it was actually just that very morning that we decided we would play. And it had been over a month since we had last rehearsed. Actually, the way we rehearse has changed a lot over the years too. We used to drink beer and relax and slack off. We work a lot more now; it's more formal. But we still drink beer. To get into rehearsal, each member has to bring two Caguamas.
When was that first live show?
Saverio: 2006.
Alejandro: I remember we only had three songs. So when we played, they liked us and the crowd asked for an encore. So we just played those same three songs over and over again.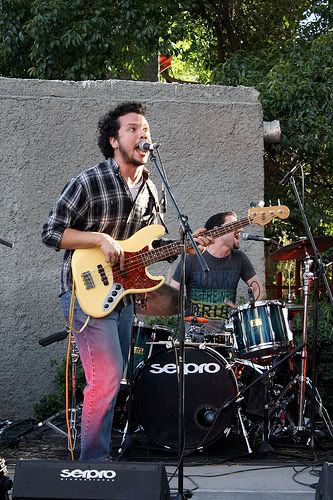 How did you feel?
Alejandro: It was so great, such a great feeling. After that day, we started rehearsing a lot more. That party was a push for us.
Was there a turning point for you guys, or a moment when you realized you were starting to get recognized?
Saverio: In 2008, when we were invited to the US. I think that was the moment. We went to Chicago, LA, San Diego. Some people even knew the music.
Alejandro: Yeah. And it was really cool because, people here in Monterrey do listen to us. But people in Monterrey just eat everyone up, you know? They think, "Oh, just because they've played in the US they must be cool." That really bugs me.
You're going to Mexico City soon, right?
Alejandro: Yeah, we're going; we need a change. And we want to record, and play. And play and record, and play and record, and record and play.
Tell me about the new record you're working on.
Alejandro: Well, we can't really say much about it, because there are plans, but it could all change. It's so indefinite.
Do you have any weird stories that have happened at shows or on the road?
Roberto: Wow, yeah, there are. We were once playing at a bar called… Over the Border?
Saverio: Yeah, Over the Border.
Roberto: Well, we were gonna play there and at first the place was completely empty. But then women started coming in, and more and more women. So we were like Oh, yeah! But suddenly, with the bar full of girls, this guy comes up to the stage and just rips his shirt off and starts dancing on the tables, and the women went crazy. We realized it was a strip club.
Alejandro: Another story was just last weekend. What happened is that we were on the road around 11 or 12 at night and our car broke down. Screws or I dunno what, flying everywhere. We were there until around 5 a.m. We were sitting in the middle of the road when suddenly this old man walks by dressed as a woman, you know, with the dress and the hat and sunglasses. Just a creepy old man, in the middle of the road. The situation was just bad all around, 'cause we had to sleep on a bench and we were freezing and had to wait for someone to get us. Not cool. Not cool at all.
Are there any bands here at Nrmal that you want to hear play?
Alejandro: Los Erres.
Roberto: They're the ones playing right now, actually. Yeah, I want to see She's A Tease; they're good.
Alejandro: Also, The Volture. I play the drums for them, so you better come see us.
Have you seen this SXSW line up? Any bands you want to see perform there?
Alejandro: I've heard Broken Bells are playing, and The Walkmen. But I hope it's not a rumor, 'cause I haven't really checked.
You've played at several places in Austin, like The Compound. Tell me what that was like.
Alejandro: Well, there weren't a lot of people, but Austin has the greatest vibe. There's this guy, Brandon.
Brandon Badillo?
Alejandro: Yeah! Brandon Badillo, he's so cool. And the places he takes us are always really chill and relaxing, you know, open spaces and with a great vibe about it. So we love it. We try to go there whenever we have a chance.
Do you have any messages for your listeners and our readers?
Roberto: Yeah, I want them to know about La Casa Buenaventura. It's a group of regio bands that have worked together constantly for a few years now. It's a type of group we want to have online, completely independent. We're really like a family. So I want them to go into lacasabuenaventura.com and look it up!
How do you think the dynamic in the band works, in regards to each member's personality?
Saverio: Well, we've been together for so long that you just learn to tolerate them! We all have our own little worlds, and we learn to get along because we spend a lot of time together.
Alejandro: It's easier when you're friends, and what's most important is respect. And as soon as there's respect, you begin to learn what each person does or what they're good at.
Roberto: Hey, about the messages we want for the readers, I have something else to add: Don't watch TV, it's all lies!
Catch 60 Tigres in Austin during SXSW. Check their MySpace page for days/times.