Mike Herrera is known to most people as the bassist and frontman of the popular punk band MxPx. What many still don't know is that Herrera is also an avid classic country music fan. He has been writing country songs with his own style and twist for many years now. It warms my heart to know that I'm not the only punk-rock lover who enjoys classic country.
With Tumbledown, Herrera fronts a new group of musicians from his home town of Bremerton, Washington, while being signed to an Austin-based record label called End Sounds. Herrera toured with Tumbledown recently, which included a stop in Austin. We caught up with Herrera at Emo's and chatted with him in his tour van while he restrung his guitar. Apparently, the show in San Antonio the night before was a little crazy and all hell wasn't the only thing that broke.
Mike Herrera chats with Austin Vida
So how did you guys come together as Tumbledown?
Mike: The members of Tumbledown are all from my hometown, from Bremerton, Washington. I met them from going to different shows around town. They were all in other bands, and I kind of asked them to be part of this project I was working on.
So you knew them personally?
Mike: Yeah, I knew them. They were all from bands that were sort of rock and punk. Before they were doing jazz, blues, rock, country, and influenced a little bit by my music, and MxPx.
When was this?
Mike: It was probably like three years ago. It started off as basically this is what it was, I was hanging out a lot watching their bands play, and had been wanting to do my own Americana side/solo project, and I had, or still do a studio, and I basically said that if they appeared as my backup singers for some songs I was writing for free, I'll trade you, and produce your stuff. So we traded, I produced their stuff first, and then recorded my stuff, basically those recordings became the Atlantic City EP's. After that we started practicing a bit, then about two years ago we left to go on our first tour. We hadn't even played a show locally, it had all been studio stuff, recordings. Two weeks, down the Western coast of America, first show was in Portland, Oregon, and at the end of that tour we finally got to play our hometown of Burmington, Washington, so that was pretty cool. To be a local band, because we do play a lot locally, but it was cool to not start out locally, we actually started out on tour.
So what's with the name Tumbledown? Where did that come from?
Mike: The name Tumbledown came from me sort of looking for a name for the band, and I wanted something like, you know band names, and you don't want to get stuck with something that you're going to hate later, so I really just sort of waited and thought about it, and waited, and then I happened to be reading a biography on Woodie Gutherie, and there's one part in it where he talks about walking through the Tumbledown part of town, with tumbledown shacks and buildings and stuff like that, and I thought that this is the type of landscape that I'm trying to create with this band and with this music, and so that kind of stuck with me.
Yeah, it really seems like it has an old west vibe.
Mike: It has become a really party atmosphere at the shows. It is really about having a good time, so even since we came up with the name the connotation of Tumbledown has undergone moved from being old west to being really wasted, and just sort of tumbling down. But it all works, and it's all the name.
It definitely seems, and certainly with the label's backing, that it's beyond just a side project.
Mike: Yeah, it has, it's not just Mike Herrera's side project, or Mike Herrera from MxPx, because I think it gives people the wrong idea.
It also gives the implication that MxPx is done.
Mike: Yeah, and I'm doing MxPx full time, and I'm doing Tumbledown full time.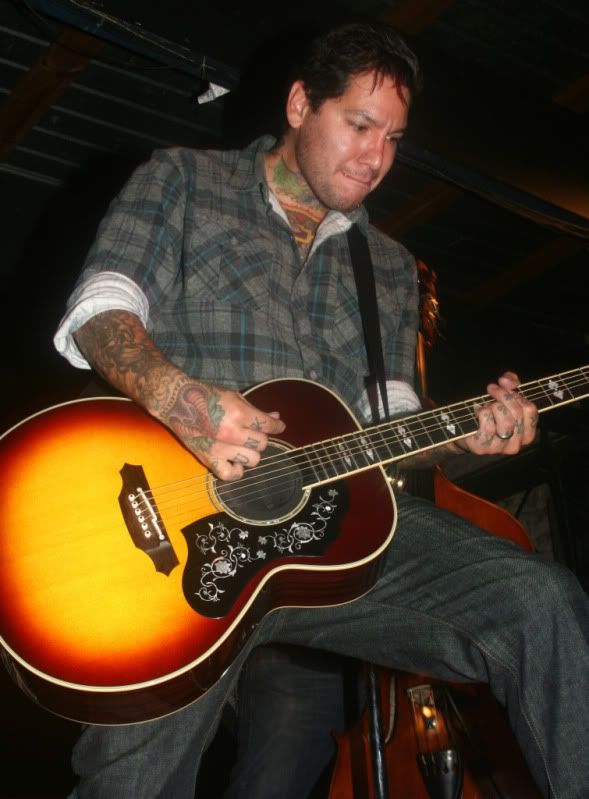 Live at Emo's / Watch our YouTube videos here.

So it's basically like having two full-time jobs.
Mike: Yeah, I'm just really busy, but it's what I love to do.
But is this a one-time thing, though, or are you going to continue making albums as Tumbledown?
Mike: No, I'm already writing songs for the next album; the way I saw it, I'm a musician, I wouldn't even say that I'm an artist, I'm a musician and a songwriter, and if I'm going to do something, I'm going to go it. The way I see it, I wouldn't want to put out an album that I wouldn't want to get behind and promote. I want to play the songs live, I want to get out there. So it's a working band.
I guess people are always wondering because Chris Cornell had Temple of the Dog, and that was just a one-time thing. More recently there was Green Day's thing with Foxboro Hot Tubs, so I think people are always kind of wondering.
Mike: Well, first of all, I don't think MxPx is a big enough band to just come out with a random, one-time side project and have it do well just never do it again. We have to be out their promoting it, and being like, hey, we're Tumbledown, come check us out, please come see us. And after people do, they're usually pretty stoked on it, they're surprised that it's good, for one, but also I think people are used to me doing this sort of very simplistic, young music, and I wouldn't say that I'm doing this serious band, because the music in Tumbledown is fun, it's definitely fun for adults.
Yeah, that's true. Now, you do all the songwriting, but as far as the production, how do the songs come together?
Mike: I produced the whole record. I have a pretty good idea of how I want it to sound like, and it's not like I write every base line or drum part out, but I give the guys ideas, like let's get quiet here, and then with the guitar stuff, it's a little more hands-on, and the solos, a lot of the solos I'll let Jack just do it, and I'll produce it, so all of the guys definitely add their own parts to it, I just sort of oversee everything, the way a normal producer would, I just happen to be the band leader/songwriter/producer all in one.
Going back to the songs, I noticed a lot of the songs have a Texas tie to them; Dallas and San Antonio are mentioned in two song titles. Was that intentional, or how did that come about?
Mike: I know; it's kind of crazy. We have to get Austin in there. We always say that for a band not from Texas, we have more songs about Texas than anybody except for Pat Green. It just kind of happened. Since all the songs are pretty much based on things that happen in my life, like "Sunny in Dallas" was a true story, and "The Butcher of San Antonio" was just a really cool idea for a song that I had. I just really love Texas. I mean, outside of the Northwest, we've really played here more than anywhere.
Yeah, I saw you played a couple South By South West shows as Tumbledown. You were here this year, in fact.
Mike: Yeah, when I first got the band together, we would try our stuff out acoustically and try out our songs. It was mostly in Dallas, like at the Curtain Club and also private bar parties. So, you know I've kind of been around awhile, but now that we've got an album out we're really trying to let people know, before it was sort of just for fun, but now it makes sense to promote it.
That's cool, but do you guys ever get asked to play any MxPx songs acoustic, because there was a DVD that just came out?
Mike: Yeah, we know a few MxPx songs. I think it is important to know at least a few, because we're not some band trying to make some artistic statement. We're just trying to make music that people want to listen to and that people have a great time listening to. If that means playing a couple MxPx songs, then I wrote them, so why not? I think that the more people get to know Tumbledown, the more they will want hear that. In fact, we're starting to get people at MxPx shows yelling out "Play some Tumbledown!"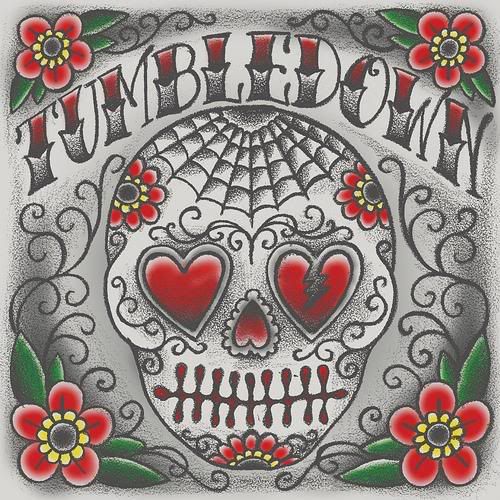 Tumbledown album / End Sound Records
Let's go back to the whole album thing and the whole Austin connection. I mean, you pretty much could have been on any label you wanted to, but you chose End Sounds right here in Austin, Texas. How did that come about?
Mike: Sure, I mean I chose End Sounds partly because I'm friends with both those guys, but I'm not such good friends to where we can't do business. I just wanted to start out small and just build it, and be with a label that if we weren't the most important band on the label, that we were one of them. That was important to me, that was a priority, plus I felt that I wanted to start at the bottom.
When exactly did that happen, time-wise?
Mike: Early this year.
Because I know the album came out in May.
Mike: Yeah, we signed and then the album came out.
What's the response been like so far?
Mike: So far everybody loves it, unless they don't like some of the lyrics or some of the drinking songs. Other than that the response has been good. It's fun stuff and there's nothing that we can't play live. There's not a bunch of overdubs or anything like that. How we sound live is how we sound.
And as you look out into the audience, do you think you're reaching old MxPx fans, or new people as well?
Mike: Hopefully both, but I also think it's important to play for new people, so hope fully we'll get a bigger tour, with a bigger band that fits what we do. Old 97's would be great obviously.
Who else did you grow up listening to in terms of country music?
Mike: My favorite's Willie. But also Hank Williams was a huge influence, especially in my songwriting. I like John and Tammy, George Jones and Merle Haggard. It's really about the roots. Take AC/DC, for example. They're just a solid rock band. Everybody likes AC/DC, but not everybody sounds like them.
So how do you guys classify yourselves? I am curious because you're definitely not alt-country, at least from what I'm hearing?
Mike: Yeah, I agree. I really don't consider us alt-country because we are not sad enough and nor are we slow enough. I mean we have some songs that are definitely straight country, but we've also got some rockabilly-tinged songs and some what I call punk-folk, some roots-Americana. We have a t-shirt that says "punk and western". I mean it's kind of a joke, but that also is our music.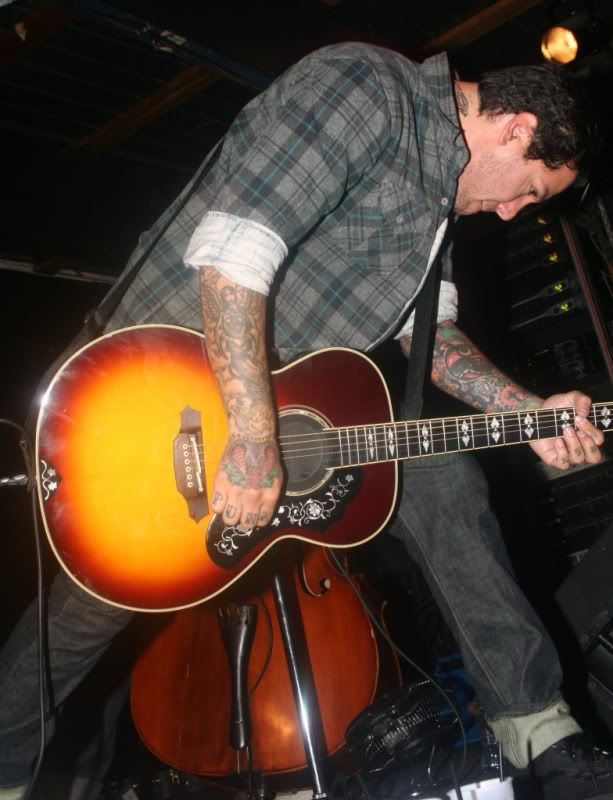 I hate to put stuff in boxes and labels, but when you're talking about introducing it to the general public, I mean, it's like where would it go in a record store?
Mike: No, it's true. Your average country fan might not like Tumbledown, but I think the red dirt country fans, definitely Texas country fans will.
Yeah, I agree because we're not getting down with Nashville a lot of the time.
Mike: Yeah, exactly. Our music's not as polished as Nashville country. Down here, it's real music for real people, and we not here trying to sell an image or market something that isn't how we live. I mean, I'm not saying I'm from the country, but I'm from a small town in Washington, and my guys are from an even smaller town in Washington. They even have kind of a country accent. I don't know how that happened, so it's kinda funny. I don't have an accent, so I don't sing with an accent for the most part, y'know? It's very real, what we do. We're not trying to be something we're not, we're not trying to claim that we're from Texas. Yeah, we may have some songs about Texas, but…
You guys are dressing the same, which is what I like to see. I mean you guys just look like you're coming off an MxPx show.
Mike: Right. I don't wear as much plaid when I'm doing an MxPx show, but yeah, sometimes I'll just wear a punk band T-shirt. I want to look somewhat good, sometimes. I mean I'll put on a button up shirt.
What do the guys from MxPx think of Tumbledown?
Mike: They're cool. I mean, they realize I gotta do what I gotta do.
What was their reaction, though? What was that conversation like?
Mike: I don't really remember if there was a conversation or not; I just kind of did it. I'd be like at the back of the bus, usually talking to someone else when I'd be like, "Hey, check out these demos". The guys would then come on the bus and be like, "Aw, this again?" and just leave. They don't like country at all. They like modern rock and whatever else. They're fine; I mean they're busy doing home stuff while I want to be out making music.
I was recently sent the MxPx Covers II album. What made you guys want to do another cover album?
Mike: That was the fans, man. Everyone was asking us, "Hey when are you guys going to do another covers album?" We were like, "I don't know; alright, let's do it".
How do you pick your covers? Do you just pick songs you like?
Mike: Yeah, I just picked a bunch of songs I liked, and then I got input from other people. We then recorded a few extras and once we figured out what really worked, we were like, wow, all of these songs are from the '80s, except the Queen one, it's '79.
What about the new left-coast punk thing that's going to come out? Is that an EP?
Mike: We don't know yet, because we have a Christmas album that's coming out too, and we can't decide if we want to group them together or do them separately. You know it's just going to come down to what makes sense and what people want. I mean, it's MxPx, so of course there's always going to be some songs that people are going to be like, really. But, it's MxPx, so…
I mean, every album sounds different. I probably have at least 9 on my iPod right now.
Mike: Yeah, it definitely changes over the years. I mean there's always songs that are like, okay, that's an MxPx song, and then there's those that are like, okay, that's weird.
Do you ever think you'll get back to mainstream like with your hit song "Responsibility"?
Mike: We just live in a completely different world musically now. We know we have our fans, but record labels aren't selling like they used to. Even bands aren't selling records like they used to, even big bands. I mean, is U2 ever going to sell Joshua Tree numbers? No way. We're still doing good, putting out music, playing shows, traveling the world, but you know there's so many bands out there. People aren't watching TV like they used to; they're online a lot more, so you have to have smaller things spread out everywhere.
It seems like you've kind of embraced that. You're on Twitter, MySpace and you've got your own YouTube channel.
Mike: Well, I mean, who doesn't right?
You'd think that, but you'd be surprised. There's a lot of bands out there that still don't.
Mike: I mean, it's 101 as far as I'm concerned. You got to have a YouTube, MySpace, Twitter and whatever else I'm missing. I mean, I'm sure I'm missing something. We have our website, tumbledownhq.com, which you can get to all of them from there.
Last question: Do you plan on playing SXSW again next year?
Mike: I'm sure we'll be back for South By Southwest. It should be cool and I always look forward to that. And I'm going to hopefully not break a string. Last night in San Antonio, it was so insane, it was so sweaty and so gross, that I had brand new strings and one of them broke. We played Rock Bottom. It was just insane, the people were going crazy there. It's a tight room, but people were just going off.
[][][]