Western Ghost House performs live at Red 7 in Austin, TX. Watch more videos here.
Sitting in the back patio restaurant of Austin's Hotel San Jose in the eclectic South Congress neighborhood, the guys in Western Ghost House look like a low key bunch. They sip michiladas and try to guess at the picture riddles on the bottom of Lone Star bottle caps, as the waitress – a friend of the band – brings by vegan snacks. They talk about awkward moments, like showing up wasted to a performance thirty minutes before set time or unintentionally wearing the same pair of trendy red shoes on stage.
Their music – a blend of ethereal indie rock and angsty folk-pop – is decidedly un-Latino, in the traditional or stereotypical sense. But the members (Jesse Pantoja, Andrew Romero, Steven Garcia, and Adrian Carillo) have roots in Latino communities all over Texas – from the Rio Grande Valley to North Texas and in between. They were all drawn to Austin at various times for various reasons, but they found a common purpose in creating a type of music that might not be expected from kids with Spanish surnames. It's worked out so far, as the band has self-released an EP and is demoing songs for a debut album. They only played their first show in December, but they've already taken the stage at storied Austin venues like Hole In The Wall as well as popular Red River clubs like Mohawk and Red 7. If you hang out in the indie-rock district, you're bound to come across the name eventually. If you haven't yet, meet Western Ghost House.
Left to right: Andrew Romero, Adrian Carillo, Jesse Pantoja, and Steven Garcia
Tell me how the band came together.
Andrew: It starts with Jesse's Bed and Breakfast.
Jesse: Me and Steven started recording at a friend's house about a year ago. Just for fun. We'd put the TV on mute. I think it was an excuse to be kind of productive while watching football. We put it on mute and wrote songs. And then we decided we wanted to play live. We talked to Adrian because I used to play with Adrian in another band. And we met Andrew.
Andrew: And I had just moved to town from San Francisco last summer, right when they needed a guitar player.
Steven: I think that football thing was kind of just convenient because Sunday was the best day for us to hang out. But we didn't really talk about playing shows. It was more of just recording; that's all.
So what's the deal with this Jesse's Bed and Breakfast?
Jesse: There used to be three different houses that I live with my friend Michael Landon. We liked having house shows, but he was the one in charge of getting everything together. The initial one was in my bedroom. So it was either between Jesse's Room or Jesse's Bed and Breakfast, and Adrian won the pushup contest to decide the name. So it was Jesse's Bed and Breakfast.
Is that just an ironic name, or was it an actual bed and breakfast?
Steven: I thought it was a bed and breakfast the first time I went because I had never met them.
Jesse: I think Michael wanted to make it a bed and breakfast, but there was already too many people living at the place.
So it started as a recording project. When did y'all play your first show?
Jesse: Andrew's birthday.
Andrew: And it snowed that same day! It was awesome. It was at Beerland. December 9, 2009.
It snowed here? I must've been out of town at the time.
Andrew: I remember it was our first show, trying to get everybody to go. Texted everyone; posted everywhere. Me and Jesse started driving to the show and we said, There's no way anyone's gonna come to this show. It's fucking snowing. It's the coldest day we've had so far. Surprisingly, it was a pretty decent turnout. And when we went on, I was just looking outside and there was snow sticking on the cars.
That's gotta be either a really good sign or a really bad sign if it's the debut show and it starts snowing in Austin of all places. So how has the songwriting process changed since y'all went from two dudes recording together to a full band playing shows?
Jesse: We're kinda now just writing everything as a group. I'll come in with half a song done – the melody. And then we'll all just put it together. Before, with just me and Steven…
Andrew: It was primarily all acoustic-based, singer-songwriter with us just filling in the pieces. And now it's more collaborative.
Well, when you're this early into a band's lifetime, do you really even know if you have a sound, or is the first year more like, Let's make music and see where it evolves from there?
Andrew: Yeah, and I think with this new stuff that we've written, for what's gonna be our full-length, we've more or less figured out what our sound is.
Y'all have a CD right now. Is it a demo or an EP? How do you refer to it?
Steven: It's technically an EP.
Andrew: Technically.
Jesse: It's distributed more like a demo.
Yeah, I saw you handing copies out at a show.
Steven: It took us some time to make that record because essentially was on there are the original songs that me and Jesse and our friend Brian worked out. We went into the studio once to record them, and it didn't really come out how we wanted. So we actually went back in with Andrew when he joined the band, and made that. It's a much more polished version. We're a lot happier with it, but it's definitely not indicative of the sound completely of how we're playing now. It's more of a primer to the band.
Jesse: At our live show, we only play maybe one of those songs.
It's funny because when I saw y'all at Red 7, you closed with "Pale Girls" from the CD and you said, "This may or may not be a cover." What was that a reference to? An inside joke?
Jesse: I don't know what I'm saying half the time.
Andrew: It sounds like Jesse; it doesn't make sense.
Steven: We were really drunk.
Andrew: We have that problem.
Jesse: Yeah, we don't like playing at 1 in the morning, and stuff.
Andrew: Because we won't be able to play if we play that late.
Jesse: Except maybe for Adrian.
Andrew: Because he's Straight Edge. [laughs]
Steven: I think I proved a couple nights ago, it doesn't matter when we play, I'm still gonna be really drunk.
Andrew: Yeah, he showed up and it was like, Dude it's gonna be early, we're just gonna play buzzed this time. We play like at 10.
Was that the Hole In The Wall show?
Andrew: Yeah. And then Steven walks like in at 9:30 and he's like, Fuck, I am wasted! Give me water, give me water.
Jesse: That's something we're gonna have to work on for future shows.
It's funny that subject comes up because one of the songs on your CD is "Holden Caulfield After a Seven-Year Drinking Binge".  There's another band in town that has a song called "Holden Caulfield at Age 35".
Jesse: Is that Bankrupt?
Yeah, Bankrupt and the Borrowers. What is it about that story, Catcher in the Rye, that resonates?
Jesse: Dude, I've read it like two or three times. I love Holden Caulfield as a character. Kinda reminds me of myself. Dude, you're really into that book, Steven.
Steven: Yeah, really big Salinger fan. There's something about that character that I think people of our generation still maintain Holden Caulfield's ideologies a lot. We're still really kind of angst-driven and sad about something in our lives, so the only way to express ourselves is through these random moments of lashing out, like he did.
Like showing up to shows wasted all the time.
Steven: The kind of music we make, it sounds very frustrated and dark at times. And then we have these big dynamic swells, and that's us lashing out. Like Jesse has a song where he literally just says, "Fuck you; fuck all of you." There's something really cathartic about saying that to an audience while you're playing songs.
Let's talk about the name itself, Western Ghost House.
Andrew: We had so much trouble trying to figure out the name. We went from Moses…
Jesse: Naw, dude. Moses was never agreed upon.
Adrian: I liked it.
Andrew: Adrian loved it. Some of his co-workers at Home Slice loved it. I hated it.
You were gonna be the band that was gonna part the Red Sea of Austin music – part the Red River.
Andrew: Then we went through several names. Then we were talking about one of the new songs that we had written and I think I described it as, It sounds like a western ghost house.
Steven: I never really liked the name of the band.
Andrew: I liked it, especially because I said it. [laughs]
Steven: But also, my band's name is Ghost Night. And so Western Ghost House is terrible because now I tell other friends "Oh, yeah, I have a show with Western Ghost House." They're like "Oh, cool, you're doing Ghost Night stuff." I'm like, "No, I'm not, this is a different band and it's really good." It's like, Oh, Steven can't be in a band unless the word ghost is in it.
Maybe you should knock on Ghostland Observatory's door and see if they need a bass player.
Andrew: See, and that's what I didn't like about the name. So many bands have "ghost" in their name.
Steven: It's a kitschy word.
Adrian: We're changing our name to Western House now.
Andrew: And "house" reminds me of beach house.
Adrian: So we'll pretty much just be Western after this.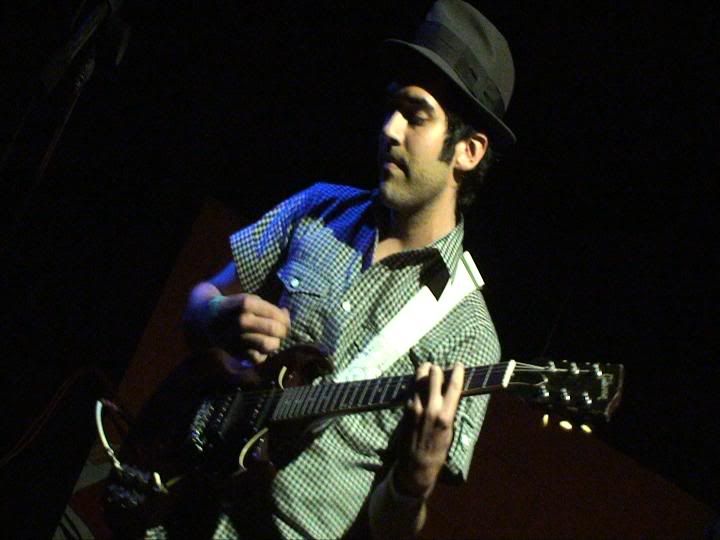 It is appropriate that the name came from describing a song. The music does sound very western and haunting, ethereal.
Steven: We've talked to a few people about it, like when we were doing the art design for the demo CD. They're like, "Yeah, that name really is appropriate." The mental images are the same: dirty hotel rooms or just being in a very uncomfortable, awkward place. And I guess that's what a Western Ghost House is.
Yeah, the music is very…
Andrew: Unsettling.
Jesse: It makes people feel very uncomfortable.
Steven: "What kind of music do you play?" [laughs]
Andrew:  "Come on out. You wanna feel awkward?"
Come and feel the awkwardness!
Steven: "Come and see Western Ghost House, the most uncomfortable band in Austin."
Well that is one of the lines in the "Holden Caulfield" song: "Is it awkward or is it just me?"
Andrew: Hadn't really thought about that.
Steven: It all comes full-circle.
I guess the last thing. You listen to the music, which is very indie and poppy and folkish, and then you look at the last names of the members. People might not expect kids with Spanish names to make this music.
Steven: I've never played in a group with Hispanics before this. I don't know exactly what's different about it, but I feel so much more comfortable – don't put that in the article. [laughs]
Jesse: What he's trying to say is, he hates white people.
[Everyone laughs]
Andrew: I don't know, because I feel like I'm very disconnected with Hispanic culture. I'm clueless. I don't know a lot about it, but I still think there's a subtle thing, a common upbringing, that's maybe subconscious.
We're American. We're kids who grew up listening to punk rock and listening to all this stuff. We just happen to be Hispanic. But there is a weird comfort there.
Steven: I mean, it's not that our music is especially Hispanic in any way. Or even the way we hang out is Hispanic in any way.
[Everyone laughs uncomfortably]
Steven: Well, we're not going to conjunto bars or anything like that, and hanging out listening to Selena together – which we should do.
[Everyone laughs]
Jesse: We do play in an all-Hispanic practice space.
The other bands are Hispanic also?
Steven: Yeah.
Jesse: All four bands.
Adrian: Maneja Beto.
Andrew: We're not making an intentional effort to be all-Hispanic. It could easily be anyone.
Maybe it's just demographics.
Andrew: Austin really has a large Hispanic population.
Steven: It's cool to know that there's another group of people with a similar background that's doing the same thing you're doing. And so far what I've noticed playing in Austin since I've been here, it's a lot of people from the Northeast and the West Coast. So maybe it's not just the Hispanic thing; maybe it's the Texas thing that makes me feel a lot more comfortable. That makes me sound way less racist.
[everyone laughs]
Andrew: "I love white people." [laughs]
Jesse: Uncomfortable, dude.
Steven: Uncomfortable. That's what we are: uncomfortable.
Check out Western Ghost House on MySpace.