Austin Vida Live: Angel Ferrer's Daylight Sessions from Austin Vida on Vimeo.
Earlier this year, Austin Vida featured an exclusive backstage interview with The Chris Perez Project at Pachanga Fest. Not surprising to the staff, we were flooded with emails about more videos, mp3s inquiries and other general questions about Chris Perez. What was a little surprising was the amount of interest given to the project's frontman, Austin's own Angel Ferrer.
Having lived in Austin for so long now, I often forget Ferrer is a virtual unknown to many these days. No stranger to the Austin Music scene, Ferrer has been playing in Austin since the late '90s. Whether it was with his own band, the Austin Music Award-winning Ill Camino, or with local heavy hitters Vallejo, Ferrer has a reputation as one of the better rock-and-roll voices in Austin. His unique look, great singing voice and songwriting ability is what put Ferrer on the path to front Chris Perez's newest band. While that's still in development, Ferrer chooses to stay active musically.
Ferrer's latest solo project, Angel Ferrer's The Daylight Sessions, is not the modern rock he's known for. The Daylight Sessions is an R&B/soul collective that is comprised of his brother Albert Ferrer (bass) and other local musician friends of Ferrer's: Jeff Hartsough (drums), Robert Belt (guitar) and Cristina Soto (vocals). Proving to be a jack of all trades, or in this case genres, Ferrer is soon to be a local headliner again. Get to know the rock, and soul, side of Angel Ferrer.
Tell me about your path to Austin.
Angel: I guess it all started after high school, which was in Puerto Rico. I went to high school right on the line of Bayamón and Guaynabo. It was Fort Buchanan, a military base. We got to go to the high school there, thanks to my dad working for the federal government. Long story short, they had an excellent music program. There was an excellent teacher there that really influenced everybody. Instead of trying to push the book, she focused on finding out what the individuals were about. If you were into punk rock, then she made sure you'd be the best rocker ever.
From talking to friends of mine from Puerto Rico and other bands here in Austin, like Sober Daze, there seems to be a big punk rock scene in Puerto Rico.
Angel: There was a little scene down there when we were in high school for a while. My cousin was involved in that scene. There were a few good bands, ska bands even like Escapulario. It was always in old San Juan at some rinky-dinky, divey place. It was a bloody, sweaty atmosphere. Those were some of the best memories I have of that time in my life.
So what specifically brought you here to Austin?

Angel: Freedom, I guess. What I was trying to pursue musically wasn't happening fast enough in Puerto Rico. It has grown a lot, now.
What were you trying to pursue exactly?
Angel: The style of music I wanted to play was American rock, groove-oriented American rock music. In Puerto Rico, Reggaeton, which was called "underground" there at the time, was coming in hard. Of course Latin music like salsa, meringue, bachata and all that stuff was really hot. As far as the rock en español scene, it was more cover band oriented. That was what was going on at the time up until 1997. I left for Austin because my girlfriend at the time, now my wife, had a brother that lived in Round Rock. When I came to visit, I fell in love with Austin. I saw the opportunity to put a project together and start gigging right away. This was around 1996. I moved here in summer of 1997.
What did you do here in Austin that made you feel this was the place to move to?
Angel: I checked out places like Steamboat and Antone's to just check it out. I loved it. It was different from what I was used to, and I embraced it. At the time I felt like I had to get out of Puerto Rico anyway. I think it's the island mentality.
When did you get really active as far as playing here in Austin?
Angel: It took a few years to get everything together. My brother, who came a couple years after I got here, and I started playing together doing just acoustic stuff. I started writing some songs and then got some musicians together to move forward on forming a band. That is how the Angel Ferrer Band at the time was formed. We started playing at Saxon Pub at first. My guitar player at the time, who eventually played with me in Ill Camino, was already in the scene. He kind of got us going as far as booking and the business stuff having to do with the band.
Did that same band end up being Ill Camino? Or was it something completely different?
Angel: It was the same for the most part. We went through a couple of drummer s until we found Shane Vannerson, who now plays drums for Mickey and The Motorcars. Ill Camino started in 2000.
Ill Camino
Tell me more about the name Ill Camino.
Angel: At the time we called ourselves Solus, but it turned out to be taken. Classic scenario right? We got a manger, Kelly Zarbock, who insisted we get a new name right away. We literally put band names on a little piece of paper and threw those pieces of paper into a bucket. We shook it around and Ill Camino, my brother's suggestion, got pulled. It stuck.
Ill Camino was a popular local band and a recognizable name at the time. I understand it was with the help of Vallejo?
Angel: That name got the attention of Vallejo. We didn't know them at the time yet, but they liked the name. Alex Vallejo told me he first saw it in the paper one night and reached out. The rest is history, as they say. I even ended up playing guitar in the band for two years also. They produced our Ill Camino record.
What led to the break up of Ill Camino?
Angel: We worked ourselves to a burnout. We were all working so hard in the band. You have to take into consideration that we had day jobs and families. It was lot of stress. First we replaced the drummer over stuff that nowadays seems silly. It was the blame game — young mistakes, man. When my brother left the band, it was the beginning of the end. He didn't like where we were going musically. My guitar player, Jason White, and myself kind of stayed together. We called other musicians, and Brent Marley from another groove band, Herba Mate, who joined us. He then called on Alex Biko from Herba Mate to play drums us.
Back then I remember reading a lot of stuff in the local grab-and-go music mags, and maybe even the newspaper, about Ill Camino splitting up. There was sort of a shock being that Ill Camino was nominated for The Austin Chronicle top ten best Austin bands and had a semi-successful album locally.

Angel: It was. I think we worked hard enough and had a nice little team together. We had professional management, a lawyer; we had everything. In retrospect, we were inexperienced in some aspects of the game that we weren't paying attention to; that burnt us out.
Do you still know or keep up with your former Ill Camino bandmates today?
Angel: Yeah. As a matter of fact, Jason just asked my brother and I to help him on his new musical project. I'm actually playing drums on his record. That hasn't started yet as we are just now recording.
You drum too? I wasn't aware of that. So how many projects do you have going on currently?

Angel: Well I have the Daylight Session, the soul and R&B project. Then there's also, as you know, the Chris Perez band that is on hold for the moment.

After Ill Camino, what did you plan on doing at that time? It isn't like you were just going to give up playing or writing music.
Angel: I drank a lot [laughs]. Right after Ill Camino, there was band in town called A-Plus Machines. It was the band formed by the bass player from Blue October. Ryan Holley, who now plays in The Wartime Social, was also in the band. The bass player, Matt Novesky, was out of Blue October temporarily. I guess they had a little tiff or something. They were looking for a singer.
How'd you meet Novesky?

Angel: We met on the road at a show in Dallas. The show was supposed to be Ill Camino, A Plus Machines and Unified, a side project of Vallejo. Later on in the year, I mentioned to him that Ill Camino had just broken up. He knew of Ill Camino and invited me to come try singing some stuff. We later hooked up and had a couple of practices. It was moving forward too. It was perfect for me at the time because I was just going to be a hired-gun singer, versus being a songwriter. Shortly after though, Blue October called and he took off. That was right before "Hate Me Today".
While all of this that was going on, how and when did the Chris Perez thing come about?
Angel: The Chris Perez thing came about in 2004, after the A Plus Machines thing. Even before Ill Camino broke up, I was introduced to him by a mutual friend named John Gomez. He's a drummer too actually. We were playing our second to last show at Momo's when John approached me about Chris. He heard me singing the one Spanish song on the Ill Camino album, "Levantate". He asked me if I knew Chris. He got my number and I didn't hear from him for two months. I thought maybe he just disappeared. Then one day my phone rang, and John asked if I wanted to go with him to San Antonio to meet Chris.
Did you even know who Chris Perez was at that time?
Angel: The only thing I knew about him at the time was that he was married to Selena. I knew there was a movie about them, but I hadn't seen it. I really didn't follow all that because the Tejano world was kind of foreign to me. Selena was big in Puerto Rico. Everybody knew of Selena. She got tons of radio play there. I didn't know he had a Chris Perez band and won a Grammy.
What happened when you first met him? How did that go?
Angel: It was different from what I imagined. You see the images of the guy from TV and media, but then there he is right in front of you. He was very chill, very mellow. He is a real cool guy. He really liked the Ill Camino CD that John Gomez took him. We got to talking about music, hung out, cracked open a couple of beers. We came to find out we had a lot in common in terms of music we liked and music that we wanted to pursue making. That meeting ended well. The next step was meeting again and seeing if we could write a song together. We wrote "Vida", the song that is on the video clip you guys shot for Austin Vida. It just came together after a few back and forth trips from here and San Antonio.
Angel Ferrer and Chirs Perez backstage at Pachanga Fest 2009 / photo by Mari Herandez
After that Pachanga Fest performance, it seems things have slowed down.
Angel: Chris is going through some personal issues and is still employed with A.B. Quintanilla to a certain extent. That project is going to be one of those things that is going to take time and happen when it is supposed to happen. I don't get frustrated, although I used to. It is only because I am so used to just hitting it and constantly working. There are just so many elements that need to come into place before it happens. It is mainly a writing relationship for now.
It is funny too because after we put out the Pachanga performance, people would write to us and ask about more video footage or even if we had mp3 of the songs. I'd just write back and link them to your MySpace.
Angel: Our MySpace is overwhelming. I forget about it for few days and more requests and messages keep coming through. His fan base is solid. Everybody wants to know what he's doing. He sees it, and he knows it. When it comes out, it will be great. I can't wait.

So in the meantime, you have your Daylight Sessions group, which is nothing like Ill Camino or the Chris Perez band project. How do you go from modern rock to being a Latin soul brother? What's up with that? Is that something you always wanted to do?
Angel: It was absolutely not my thing. It was something I respected, stuff like Sade and Maxwell. Beyond them, that was it. Those artists were my depth into that world of R&B and soul. It was more of my brother's thing. It started in 2005 and 2006, after Ill Camino broke up, after A Plus fell through and the Chris thing. I would sit at home and drink a lot of beer. I was doing really nothing musically. My guitar even sat. I wouldn't even go into my music room. It was a little bit of a depression.

What was it that brought you out of that funk?
Angel: The Vallejo guys have always been around in my musical life, here in Austin and as friends. Heath Clark, their guitar player, left them to go play with Bo Bice from American Idol. So they called Bruce Castleberry, who was their original guitar player and who is back in the band today, to play guitar again. Bruce had a lot going on at the time so they weren't sure about things with him. Bruce was playing with Tyrone Vaughan and other things. It wasn't a solid thing at the time; he was just kind of helping them out. As a joke, I told Omar Vallejo to pass me a CD to see if I could learn their songs on guitar. I have always played guitar, but I wasn't the guy to always sit and practice it. At the time, I didn't know if I could handle it. Next thing you know, they just threw me into the fire after one practice. I played with them until early 2008.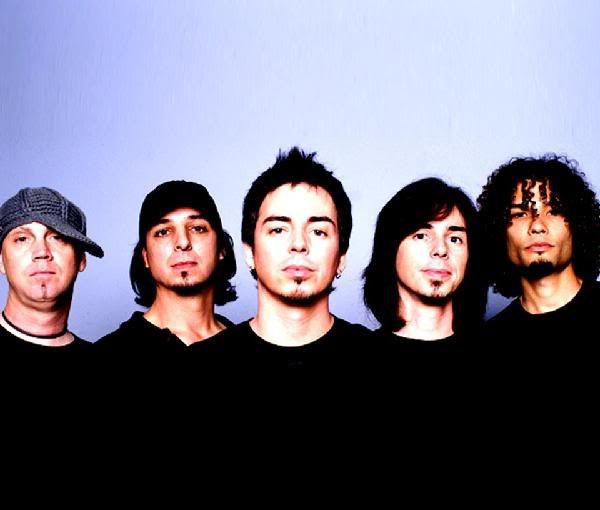 Angel Ferrer (far right) with Vallejo
Why did you leave Vallejo?
Angel: In 2008, my daughter was due. I was going to have leave them because they are always on the road constantly. It would just be too complicated for me, so I stepped out and Bruce came back in. They're solid now and doing their thing. It was during that time I was with Vallejo when I started writing songs again. That takes it all back to the Daylight Sessions. While I was on the road with them, I'd write the song. Since they have a studio and all, I asked Omar to help me produce it. In between roadshows and being back home, I'd cut the tracks. It was a way to start writing again. I wanted to break from the rock and write love songs. It was all ballads and really sexy stuff.
What inspired all that? Or who?

Angel: A lot of it had to do with my wife. That record was a gift to her for all the years of putting up with me. The songs lend themselves to that style. I had no intentions of making that kind of soul record. We just put a backbeat to it and added some funky bass lines. What you hear on the Daylight Sessions album is how it came out.

Who else helped you out on the Daylight Sessions album?
Angel: It was a group of my buddies just hanging out and making music we don't usually do. It was something fresh for us to do. Our mentality was to make it all cool like Hall & Oats. I know as a musician sometimes you can be critical of your own music, but I really love the way the record came out. We were thinking about funky disco stuff, Bee Gees, etc. The easiest description is like a male Sade, or Maxwell.
That's all mood music, if you know what I mean.
Angel: That's what we wanted to do was create a good vibe.
When did you start doing shows as Angel Ferrer and The Day Lights Sessions?

Angel: It was right before Pachanga Fest 2008, opening for Vallejo. They were doing a series of acoustic shows at the time, so it was good fit. We were really mellow at first. We didn't have the upbeat part of our set now. That's why we learned some covers. I would love to sit at a coffee shop type place and just perform those ballads, but when you're at a bar you have to take it up a notch. People will want to dance. Now amongst the band members themselves, there is more interaction. It started with just me writing this record and recording at Omar Vallejo's studio.

When did you add the woman who sings back up for you now?
Angel: She was there pretty much at the beginning. Her name is Cristina Soto. I met her through Joe Fladger, who was playing bass with the Matt White band at the time. She didn't used to play with any band in town but is a great singer. She was just a girlfriend of a good friend of mine.
Do you plan on taking this Daylight Sessions band out of the bars and into bigger venues, maybe even tour?
Angel: This is just a bar band at the moment right now because of my situation at home. I'm putting the machine in motion to do bigger stuff with it now. I plan to tour at some point. The challenge right now is the genre we play. You can't perform that R&B stuff just anywhere. There's a limited amount of venues that will take this kind of band. If you have a rock band, you can play anywhere. I definitely plan to book more and kick up the tempo of the band. We want to play Antone's and places like that.
Are we talking funk like Brownout or somewhere in between what you guys do now?
Angel: It will be somewhere in between. We will definitely incorporate elements of funk and disco. It will be a good party. It's fun and it's a good project for me to keep writing.
Will you be recording more Daylight Sessions songs? Maybe leading to a new album?
Angel: We're in the works. We just went to the studio recently to record two new tracks. I'm definitely focused on this group right now because of the Chris Perez thing taking its time. When I get the phone call from Chris, then I'll switch gears.
As far as Chris Perez goes, there is still every intention of going forward with that even if Daylight Sessions starts to pick up steam?
Angel: Yeah there is. The band and I have that understanding already. I keep them updated every step of the way. They do it for the love of it, really.
What's holding up the Chris Perez thing?
Angel: We have too many options. How do we go about pursuing this? What direction do we take musically? Once we figure that out, something will come of it. Meanwhile, I'll keep doing my Soul Brother thing.
Do you really call it that? Like maybe with your friends?
Angel: Sometimes. You know people tell me all the time that they are having sex to the record all the time. It's kind of creepy in way. There are some friends of mine who told me that they tried it but it got too weird because it was like I was in the room singing to them while all that was going on. It's flattering and I have gotten a lot of comments about couples loving the record. It was just something that I just put together.
Angel: Right now, there are only a handful of people in Austin who are doing what I'm doing. I'm kind of a hybrid though. I'm not a black dude just singing straight R&B. It's a bit different and in that sense, no one is doing what I'm doing.
I think Suzanna Choffel comes close.
Angel: She does for sure. She has some elements of Latin music and samba. I love her music. She's excellent. That's still so few and far between.
Do you think more people aren't doing the whole soul band thing just so they can play venues? Isn't that the game?
Angel: Everybody has to compromise I think. Keeping it real is keeping it real until you have to ask yourself whether or not you want to work your day job or be a professional musician. If you choose to do music your way and do it purely as art, I totally respect that.
What musicians or bands do you go out and see perform live?
Angel: Just recently I went to see Scorpion Child. I love those guys. The delivery is so intense. I love bands that are committed to the era. You can tell that they love to do what they do and it shows. Again, Suzanna Choffel is doing great stuff. I wish I could go out more and discover stuff, but I just don't have the time with the baby.
Why isn't there more write ups or interviews about you anywhere?
Angel: I haven't been pursuing press, any type of management or media exposure. I have been trying to figure out what I am going to do. I was sure the Chris Perez thing was going to take off earlier. I don't have an EPK, a press kit or anything right now. I was only doing the Daylight Sessions for fun and not a business. Now that will change. I also enjoyed being at home with my new baby. I've laid real low.
It was really difficult to dig up anything online that wasn't Ill Camino related or something we put out regarding Chris Perez after Pachanga. Do you ever look back on those Ill Camino days and wish MySpace and Web 2.0 were around for you then?
Angel: I do. It's a fantastic thing now, technology. I haven't capitalized on it. Once when I am in the hottest I've ever been with that, Chris Perez is going to call me and say "We're ready."
Any final words or anything we should mention?
Angel: I was born in San Antonio. My parents were in the army. I don't remember Texas as a child. We left when I was around two years old. Everyone thinks I was born in Puerto Rico, but it was in fact San Antonio.
Add Angel Ferrer on MySpace and follow him on Twitter. Purchase his music at Double Stereo.
Read our interview with Ferrer and Chris Perez here.
—
Ian Morales is Austin Vida's Editor in Chief.
Read his personal music blog here.