Enrique Rumiche may be a recognizable face to Austin music veterans, after performing for five years with the local sonic-punk band Balistica. After the band broke up in 2006, the songwriter united with violinist/vocalist Liza McCown and friends to create a new group called Guerrilla of Lilliput, performing in coffee shops and smaller venues. The band later added more permanent members and became La Guerrilla.
La Guerrilla infuses various types of genres such as rock, indie, pop, and ska, with each song featuring a reoccurring Latin vibe. Currently, the only way to hear these songs is to catch a live performance or to stream a handful of songs on their MySpace page. I would highly recommend seeing La Guerrilla live to enjoy the carefree party atmosphere these songs bring out in listeners.
The band is preparing to record its first official album with plans to release it in October 2009. But for now, fans can obtain copies of a two-song single with the vigorous in your face "Tabla Surfer" and indie-pop "High" at Waterloo Records.
Five of the eight band members joined me at Clementine Coffee Bar—one of the coffee shops the original lineup performed at—and talked about the plans for the upcoming album. We also got more in-depth about how the current lineup got together and what they feel each member brings to La Guerrilla.
Video: La Guerrilla at Mohawk (watch this video on YouTube)

How did La Guerrilla's current lineup get together?
Enrique: This lineup got together this year. Joseph and Nick are actually from Craigslist. These two are Craigslist initiatives. Liza and I started playing two years ago under a different name.
Liza: We met randomly at a party.
Enrique: And then Nathaniel showed up to one of our shows, when we were playing at a coffee shop. We were doing coffee shop shows. He had also heard one of the songs I had recorded with Balistica. So the three of us started playing together just with friends and then put Craigslist ads. Now we have these two and this is the new lineup. We changed the name of La Guerrilla.

For the two of your who were found on Craigslist, what made you audition?
Joseph: There was a posting that was like "experimental, international, fun loving group of people…," something like that. It was more of a carefree type of thing that got me on to it because most of the other ads were like "need metal drummer with double bass skills" and "need country drummer for swing skills." I wasn't really looking for anything specific. I just kind of wanted to get back in a group and have a camaraderie. That's how it is. I mean, it gets serious at times, but at the shows, we pretty much have fun. It's a fun-loving thing just like they advertised.
Nick: Yeah, that and the songs pretty much.
Liza: No false advertising.
Enrique: That's right.
For Enrique, I've known you since you were in Balistica. How is this band different from Balistica?
Enrique: It's funny because as far as different, I see more of myself as a songwriter, as an artist. I've evolved in that sense that I've started listening to more kinds of music, more world music, going back to my roots. Balistica was a lot more about the show. It is still about the show here, but definitely it's more just melodic, more about songwriting, more about artistic way of seeing the show.
How is the crowd response with this band compared with Balistica?
The crowd has been excellent. I hate when I say, "People have told me this is better than my old band." It's just that, I think, people get it better. I think it's just more appealing. It definitely helps out that I've been blessed that I've found each one of these people. All of them, amazing people, persons, musicians in their own right and showmen, show-woman. That's definitely contributed to everything, you know. So I'm happy. I'm happy with this lineup.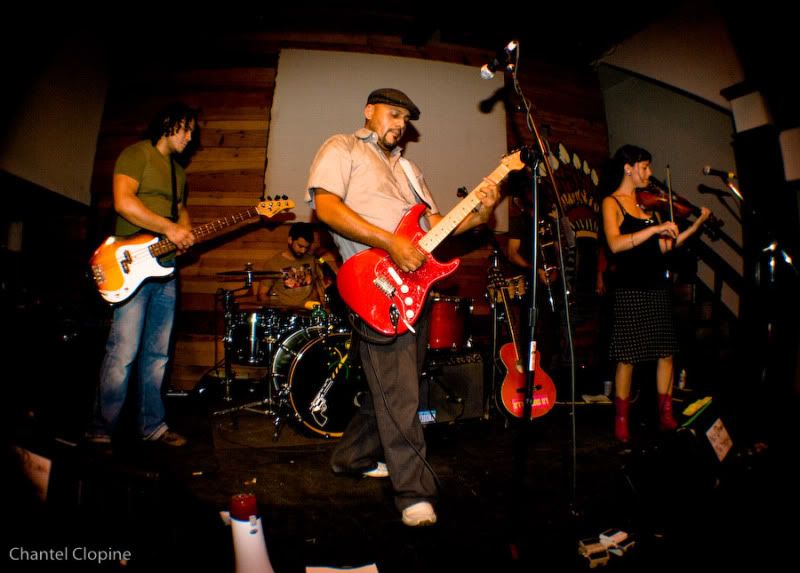 Are you currently recording?
Joseph: August is the plan with Test Tube Audio. One day — live. It's gonna be hopefully five or six songs. We're shooting for one right now.
Enrique: Yeah, it's gonna be an EP. The name tentatively is going to be "Big in Mars" and we're going try to shoot for an EP. There's a couple of recordings that we did before with this lineup. Liza and I worked with beatboxes and stuff. We might just include an extra track in that EP. Our plans are August. We haven't recorded anything official. We recorded one time at Roadhouse Rags. We did some sort of demos and stuff but nothing official where we could actually put out. So this is actually a studio recording. We're gonna record it live.
Liza: We've done two studio recordings before for "Tabla
Surfer" and "High". They're both studio recordings that are mastered and not live demoed but now we're gonna have live demo recordings to add to the future.
Enrique: We're shooting for October for it to be a CD release date. We don't have a specific date for you yet.
So fun band question time: All of you pick a band member, and you can't pick the same one. Tell me what you think that band member brings to the band.
Nathaniel: Liza brings art stuff, dances, movements. She gets the audience attention the most. That's pretty much all I'm going to say.
Nick: Joseph is good cause he's very creative drummer. He has tons of ideas. He knows what to play, what not to play. He had good dynamics, good beat. Very important.
Enrique: Nick brings technique. He really brings technique to the table. He has solos and he enjoys it. He really enjoys every song. I think we all do, but he's always saying, "Wow, this song is really so well written. Let's just add good stuff and edit it. Let's just put these things on top." He's also always the guy who tells us if the set list is wrong. He'll be like, "Hey, that set list isn't gonna work."
Nathaniel: Yeah, good time management.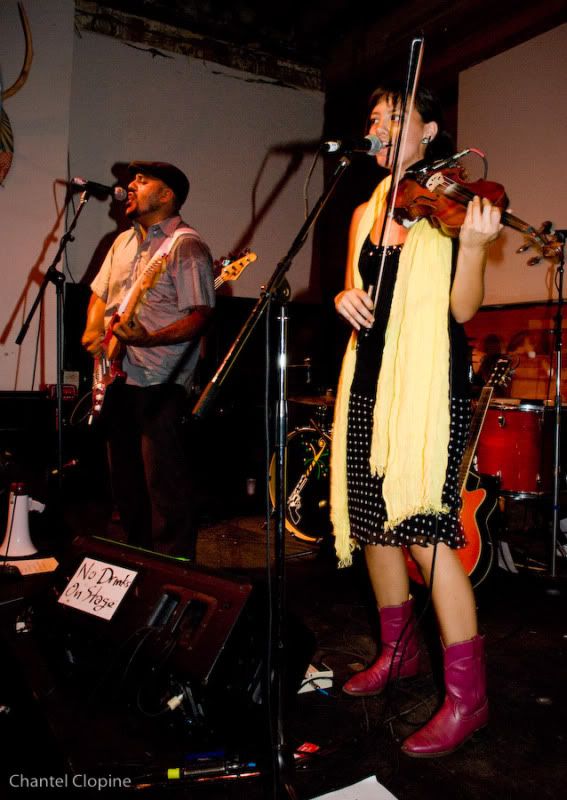 Joseph: Well, I'll pick Nathaniel. As far, as playing bass, he's right there. Me and him are drum and bass. We sort of have to be there at all times so I vibe with him really well instrumental-wise. Our vibe and our concept is just a big party and everybody's invited. As far as just fun loving all the time and if you go to our shows, you'll see Nathaniel having probably the best time and jumping around the most and dancing and getting the crowd just really comfortable.
Liza: Stepping out into the crowd.
Joseph: Yeah, definitely. It's a great icebreaker too. We want people to dance but we can't necessarily say, "Hey, you know, dance to our music" even though they want to. There's always somebody seeing a band for the first time. They're not just going to go out there. Nathaniel makes that very easy for people to warm up and be free and fun because he doesn't give a fuck when he's out there. So they start not caring.
Enrique: He has a little accordion too. So everybody can play.
Joseph: Yes, he is the most muscular person in the band as well.
Enrique: That's true.
Liza: Okay, so Enrique brings a lot to the band for sure. He's the songwriter and pretty much writes all the songs. He composes things on the spot at home and brings it to the band. They'll come out like in jam sessions. A lot of the concepts he really wants to share with everybody, not just with the band but with everybody. He's a really good showman. That's my Enrique.
Enrique: You know, I would concur with what she said.

All right, that's all I have to ask. What should we look out for?
Enrique: The CD should be out, I'll say, around October. Please check out the website because we're going to play at Pecan Street Festival and Xemumba Festival and whatnot.
Joseph: What day is Xemumba?
Enrique: Xemumba. I'm not sure. Just go to www.laguerrillamusic.com. It's all there. Thanks to Austin Vida for having us.