Photo by Fritz Photography
Having just recently opened for punk rock legends, The Vandals, Austin punk rock group Sober Daze are on their way to making serious headway in the punk scene. Having come from Puerto Rico in 2003, they made their name by throwing their own house party shows and winning over new fans their own way. Despite playing along side some pretty big punk rock bands, no major media outlets have either taken an interest or have Sober Daze on their radar. We got to sit down with the guys from Sober Daze (Peter, Fatty & Corn) recently and talk with them about everything from life in Puerto Rico, their new album, and those now legendary house parties on St John's.
Did you come to Austin specifically to start this band?
Peter: We had already started it about a year before, in Puerto Rico. We played about ten shows down there and put out our first E.P. That first year we were together was my senior year of high school. After graduation, I moved to Austin for school and because this is the "Live Music Capital of the World." These guys came along.
So that was it then? School and the allure of the Live Music Capital?
Corn: Well, when we started the band, we already knew Peter was going to move away a year later to come to Austin Community College (ACC) here.
Peter: ACC. I've been there for five years. I still haven't graduated, but hey, its fun.
Corn: (jokingly) He's going to be a doctor.
So here is where I get to the Latino connection. All three of you guys are from what city? The same town?
Corn: Luquillo. It's in the northeast part of Puerto Rico.
Peter: I moved to Luquillo when I was two. I lived there for sixteen years, and in the neighboring town called Fajardo.
Corn: I lived there for like 12 years.
Where are you from, Fatty?
Fatty: San Diego. I'm not Puerto Rican—I'm Italian and Polish. But I lived in Puerto Rico for about two years. I moved from San Diego to Puerto Rico to live with my real dad. He was working on one of the bases there. I had never really known my real dad, but I had the opportunity to go live with him and finish my high school in Puerto Rico. I met Corn about two months after I moved there.
When did you start becoming serious musicians? As teenagers?
Corn: Peter was a musician before anybody.
Peter: I guess I started in ninth grade. I already played a little piano as a kid but picked up a guitar at 14. I eventually moved over to playing bass.
Corn: I didn't do anything until I was 18.
Coming out of Puerto Rico, many would expect that you'd be playing the music of the island. You're not playing Salsa, Plena, rapping, doing Raggaeton or playing merengue…
Peter: We like all that music. Once in awhile, we add certain aspects like timing or rhythm. We definitely keep to a minor key for most songs, which is a very Latin thing to do. I mean, growing up with Latin music has definitely influenced us.
Sure, but you guys didn't grow up with punk rock on the radio. How did you discover punk?
Peter: We had to go out of the way for that. At that time in Puerto Rico, the only way to get punk was through the internet. Now there is a Hot Topic in Puerto Rico. It was all corporate stores like Sam Goody that sold those Punkorama compilations that were real good. Nothing local sold punk rock. It is all word of mouth down there.
Why are all your songs in English? Again, people would expect three guys coming out of Puerto Rico to be singing in Spanish.
Corn: I got the answer to this one. This guy (points at Fatty) goes to school on a military base where they don't teach Spanish. I mean, I speak Spanish because I went to public school. Bottom line though is that English was just easier.
Peter: We definitely don't want to lose any ties to Puerto Rico or not do songs with Spanish lyrics. It's just that living in Austin now, its easier to get people moving and into your songs when they are in English.
Corn: Also, as friends we never spoke Spanish to each other. We spoke English. I'd say half of Puerto Rico speaks English first.
Peter: Movies, corporations…all media is in English. When I watched TV in Puerto Rico, I wasn't watching Puerto Rican TV. There was one Puerto Rican channel, but everything else was Fox News and other stuff you see on TV here.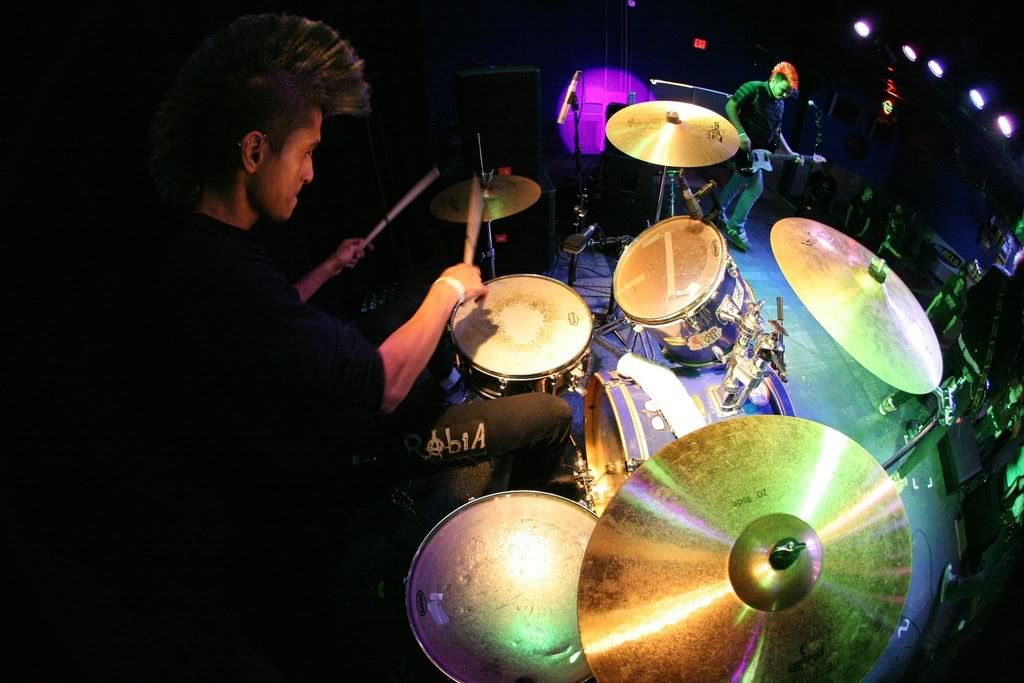 Photo by Fritz Photography
The last member of your original three piece band left Puerto Rico in 2003. What was it like for you guys coming to Austin? Peter, you came for school but what about Fatty and Corn? Was it scary at all for you?
Peter: It wasn't that bad. We mooched off my mom for four months and then we all got jobs. We then moved in to a house and have lived that way for five years now. It was funny too because early on Corn kept getting fired from his jobs until he got his Thundercloud job.
Corn: Still there baby!
What's in the name Sober Daze?
Corn: I came up with the name one day when I was really high and really bored. I scribbled it on a skateboard. I asked the guys what they thought, and they told me it sounded really fucking stupid. I didn't care though. I always knew I was going to have a band named Sober Daze one day. Here we are.
So the other members just gave in to that without protest?
Peter: It's cool now but over the years we have been posted as stuff like "Silver Days" or "Sober Gays." There was also "Sober Daze of Our Lives" one time. We have been called everything under the sun that could sound like or rhyme with 'sober' or 'daze'.
How long have you guys been playing your own material? I mean, most punk bands I know personally started out playing covers.
Corn: We were never good enough to play covers. To play popular covers, you have to play guitar with more than one finger and stuff like that. I used to do the same beat.
Peter: We always did our own stuff. At first no one wanted to hear Sober Daze stuff. We had to beat it into the scene. We just kept playing and playing wherever, booking anything.
Where were your early gigs here in Austin?
Corn: We used to play Flamingo a lot.
Peter: Any venue we could. We used to play a lot of house parties. We did pizza parlors from here to San Antonio, thanks to a band called The Synics.
Were those house parties always here on St John's? This is where my sister and I first saw you a couple of years ago.
Peter: Since we moved to this house on St John's, throwing house parties with our half pipe (referring to a skate board ramp) and the tree house bar in the back (you read that right), we really came up from the underground. I mean we'd throw like six or seven big parties a year. It definitely got our name out there without using venues that don't pay.
What were some of the obstacles that kept you from playing some of the Red River venues in town?
Peter: When we got here, we were literally teenagers. We were the new young punks in town. No one took us seriously. Our biggest show initially was at Flamingo with the Krum Bums.
Word on the street is that show was your last there at Flamingo? That true?
Peter: Yeah they won't let us play there anymore. Supposedly someone broke a urinal at that show. Krum Bums are a way bigger band, and they didn't put it on them. They put it on us, the lesser known opening band. They give shit to bands that will take shit. At that time they thought we would take it. We don't play there anymore.
How long did you get shut out of Red River after that?
Peter: It was only for like a year. We played a few shows on 6th street. After we got older and turned twenty-one, so it wasn't an issue as much anymore.
Corn: It wasn't a complete shut out except for Flamingo Cantina. We just didn't play Red River much. We just liked paying our own house parties. We capitalized on people that didn't want to go downtown all the time, pay a cover and drink overpriced beer.
Peter: We got more people at our house parties anyway than at the venues early on. They really got big in early 2007. We kept playing to bigger and bigger house parties that year.
When did you start recording your album, No Brainz No Headache?
Peter: We started recording that in May of 2008. It's now out a little over a year later. It's out now—a little over a year later.
What took so long for it to come out?
Corn: Lack of money.
Peter: Also our commitment to making this album a lot nicer looking, more professional than stuff we did before. We wanted to have a nice booklet, packaging and a good album cover.
Corn: We didn't pay someone to do all that stuff for us. Our manager Cassie has been putting in the hours handling that stuff. We couldn't pay somebody to do it. This was all in house.
What are the songs on No Brainz, No Headache about?
Peter: Those songs are drinking songs, skating songs and just straight up punk tracks. Oh and there's a song about a crackhead Fatty met named "Cut Throat Junkie". He always hung out at the bus stop that's right outside our house.
Corn: We came up with that title when we were still in Puerto Rico.
So you guys always knew you were going to make this album?
Corn: No, we just liked the title and wanted to call one of our albums that one day.
You know you had a chance to say something really profound there like "This is the album we always knew we were destined to make" or something and you blew it.
Peter: Oh yeah, we always knew we were going to make No Brainz, No Headache.
Corn: We did?
Peter: We just didn't know when we were going to make it. How's that for profound?
Too late. At least you're honest though. People appreciate honesty. Aside from the DIY house parties getting bigger, at what point did you realize you were picking up steam here in Austin?

Peter: It really was how big those last few house parties were. It wasn't just our thirty close friends anymore. It soon became thirty of their friends and then those people brought their friends to the next one. Soon, everyone knew our house and our faces.
Corn: Skateboard crews started knowing us too because of our half pipe.
Peter: Our fan base soon became punks, alcoholics, skaters and anything in between. When we saw how diverse our fan base was, we knew something was different than before.
I heard you guys came up on what I call the "Skate punk" scene, like at parks like The Broken Neck and Austin Skate Park. What part did that play for you in terms of getting bigger or more known around town?

Peter: We only played The Broken Neck once. We played the final warehouse closing show which was cool.
Corn: Our big show there was with Roger's Porn Collection. A lot of people saw us there for the first time ever.
What other differences did you see after those shows?
Corn: Well it helped us make more friends to skateboard with. Peter and I both skate. They are definitely loyal fans, I'll say that.
What's been the response outside of Austin?
Corn: We do have a lot of friends in other cities. Many of our friends whom we graduated high school with in Puerto Rico moved to other U.S. cities and they spread the word for us wherever they live.
Tell me about the show with The Vandals last month at Red 7. The Vandals are punk rock legends. That's another level for you guys.
Corn: A lot of people like them. I don't really listen to them as much as other people I know, but I know they are a big name. I like them more now that I read they played the "Team America, World Police" anthem for troops in Iraq, which I thought was cool.
Peter and Corn: "America! Fuck Yeah!"
Corn: That's punk rock man.That show was really great for us as a loto of new people got to see us play for the first time.
So was that your biggest show to date then?
Peter: It's definitely up there. Our shows with LCB (Lower Class Brats) were pretty big locally.
Corn: We did a show once with Against All Authority.
Peter: Yeah, but I didn't jam them like I did Vandals in high school. Vandals to me are huge.
So what do you hope comes from this show?
Corn: I am hoping Peter gets some good connections.
Peter: I'll try and network for sure. I hope we sell some CDs and merch.
As far as merch, when are you guys going to press a vinyl for me and the other punk rock record collectors?
Peter: Well I haven't told anyone yet, but next month we are going into the studio to record for a new 7 inch. It will be our first wax ever, something I'm really excited about. No title yet.
What can you tell me about the songs on the upcoming vinyl release?
Corn: There will be two unreleased tracks that we never recorded before. We've played them at shows before, but they never made it onto our CDs.
Peter: It will be like five or six songs.

Sober Daze at Red 7 (Photo by Mari Hernandez)
It seems like that's all you're missing in terms of merch. Looking around now, I see everything but a vinyl. When did you guys decide to start your own Sober Daze line of stuff?
Peter: Funny you should say that…This is our first year we actually learned to manage our money as a band. When we got paid for shows, we always spent it on beer or food on the way home. Now we try and reinvest it in the band.
Corn: What we really want is the band to start paying for itself.
Right on. So will you ever record anything in Spanish? I mean there are a lot of hard core fans that would embrace that.
Peter: I am writing a song in Spanish now that is more a ska or reggae style song. We definitely want to get into that, but don't want to make the same English album in Spanish. It pisses me off when like Marc Anthony or Shakira does that.
Corn: I disagree, dude. It's not that bad of an idea. I mean, I dubbed one of our songs in Spanish, but the guys didn't like it.
Peter: I wanted to blow my brains out after I heard it. Plus Corn would be singing it, and drummers don't sing. They need to play fast and concentrate on their arms and legs.
Corn: Plus I don't want to wear the head piece you see some drummers wearing. I mean C'mon. I would only wear a head piece if the other guys wore head pieces too.
You should do that and call your next album "Call Center". Anyway, let's talk about the punk rock scene here in Austin. We have some heavy hitters like Lower Class Brats, Krum Bums and one of my favorites, Born to Lose. Those are veterans that keep it alive for the time being. What's the state of punk rock here as you see it and where is it going?
Corn: The clubs that are hosting the scene have changed. It is just Red 7 and Headhunters now, where it used to be just Emo's.
Peter: The punk scene when we got here was the perfect time for a punk band to come up. The scene was bad ass. A lot of people came out to shows. I wish we had our merch, but whatever. We got out name out early. From like 2005 to 2007, there was a weird slump. It was just the same bands playing and big crowds weren't coming out.
What fixed it recently then?
Peter: After we started our house parties, all these fresh new bands started coming out. They haven't been breaking up like before. They've been sticking it out and touring a lot. It helps us out and we like to help them out as well. Any band I like I try to get them to play shows with us. I try to get any band I like to play shows with us. I think it's still getting better.
I have heard those same sentiments from other punk bands I know around town. Is there more diverse talent now?
Peter: It has to do with different genres of punk playing together unlike before. You go to a show now, and you see a thrash punk band playing with a band that is more dub or ska. You see all sorts of variations of punk on the same bill. The hardcore kids play with screamo bands…. At that point, I break for a cigarette.
I don't blame you. I don't smoke and I want to go take a cigarette break when that stuff comes on.
Peter: Still, I think it's cool that those fans can see other genres.
What genre of punk do you consider yourselves?
Peter: Just punk I guess. I don't know where people place us.
Corn: What I have heard that I like is "Skate Punk"
Peter: I like "Skate-Drunk-Punk-Rock-N-Roll". That pretty much describes us. It's funny because the pop kids call us "rough" and the hardcore street punks call us "poppy". Whatever. No one knows what the hell we are. That's fine too.

Photo by Fritz Photography
Tell me something that you guys listen to that would surprise your fans. You can't be all punk rock all the time.
Corn: What do you mean?
I mean like Jay-Z admitted once that he listened to John Mayer.
Corn: (Laughs) Who doesn't love John Mayer? I also love Michael Jackson. I mean, his songs are on skate videos.
Peter: Dude….you know who I like is The Applicators.
Corn: Fatty and I also love the bassist. She's really hot.
I love The Applicators and I am not editing any of that out. Your crush will be revealed. Be ready.
Peter: In all seriousness, it was cool that they liked our music and jumped around to it.
Let's talk about the misconception I think people west of Florida have about Puerto Rico. They just think Daddy Yankee or older Salsa artists like Gilberto Santa Rosa. The group that put Puerto Rico on my radar as a hardcore fan was Puya. I remember seeing them at Ozzfest back in the day. People were so surprised they were from Puerto Rico.
Peter: Oh yeah…Puya was a big influence on me. I had their CD as a kid. I never got to see them live. I did get to see a big show with a band from Mexico called Genitallica in Puerto Rico. Stuff like that is big there. I don't know why it surprises people here.
Corn: All that Daddy Yankee bullshit is just the club scene. That's more popular here.
Peter: Lately when I go to Puerto Rico, the punk scene is bigger. It used to be small and just straight hardcore. I mean it was all about throwing fists and mosh pits. Now there are punk shows with 200 Puerto Rican shows.
Where is the punk scene in Puerto Rico growing?
Corn: Mainly it's in the most populated areas like San Juan. From our city of Luquillo, there aren't many punk rockers. In Fajardo, there was a few we knew.
So where is the punk or even hardcore mecca in Puerto Rico? For instance, in Mexico, a lot of great bands come out of Monterrey and Mexico City.
Peter: Downtown San Juan. There are a lot of pit stop bars that have punk bands play. You go in and they are all scummy and awesome. I can't tell you where there are regular punk rock spots. It's kind of random.
Is it like the old high school rave scene where you had to find a map point and go that route to find the secret party?
Peter: Almost. Puerto Rico is completely DIY that way. Myspace is what has helped so many bands down there. It really does. I go online and check out all the new stuff coming out of there. I mean where else am I going to see it? TV? No. It's cool because I can keep up even if I don't live there.
Corn: For sure. If there was ever a band from down there that wanted a show here, Peter would help them. He would start by communicating through Myspace. They'd also have a place to stay.
So with that growing scene in Puerto Rico, when are you guys going to tour down there?
Peter: Hopefully within the next couple of years, we are going to be playing a full island tour. It will probably be only like four or five shows. It's important to us because that's where we got our start.
Corn: I think it would be cool in 2010. It would be our tenth anniversary as a band. Hard to believe I have seen Peter's ugly face for ten years. (laughs)
Do folks back in Luquillo know about your band?
Corn: Oh yeah.
What's the response from them?
Corn: My dad wears our Sober Daze t-shirts.
What about outside your family?
Peter: Yeah we got a crew of skaters down there called "PR Punks." We even got it tattooed on us. It just represents what we grew up as. They loved our music from day one.
Why do you think major media or even punk rock media has picked up on you guys?
Corn: We aren't looking for them.
Why not?
Peter: That means exposure and risks exploitation. We already get exploited by booking shows at venues. Those people go home and buy their food, pay bills, feed their kids or whatever. We go home with maybe a hundred bucks to get back home to Austin. If we get into larger mainstream media outlets, we will be exploited times ten. I'd rather grow organically and do everything ourselves.
Well then how did you get all your Myspace friends?
Peter: They added us. We haven't requested one single stranger, that I know of anyway, since day one. I want everyone in our Myspace to be a dedicated fan, someone I shook hands with or saw in the crowd while we were playing. I take pride in the tedious task of denying people all day. (As of February 16, Sober Daze has 787 Myspace friends). I tell you what though, we have tons of views so I know people are checking us out whether they request us our not. That's cool.
That's the punk rock spirit of the Web 2.0 era.
Peter: What can I say? I'm a punk rock nerd.
For more on Sober Daze, checkout the following links:
or