Alvaro Salas, J.J. Martinez, Manuel Garcia and Omar Nambo (Photo by Mari Hernandez)
San Antonio punk band, Pinata Protest, has been together for almost three years now. Lead singer Alvaro Salas and guitarist Manuel Garcia originally formed the band with two other musicians who have since left Pinata Protest. Alvaro and drummer J.J. Martinez were friends originally but not band mates. Once there was an opening for a new Pinata Protest drummer, J.J. was in. New bassist, Omar Nambo, came from Dallas just to play with the guys as he was already a big fan.
Alvaro Salas is originally from Elmondorf, Texas, right outside of San Antonio.  J.J. and Manuel are both native San Antonians. They wanted to start Pinata Protest for fun and not take the project too serious. Having been tired of the same old music being played around San Antonio, Alvaro had wanted to put this band together since 2001. He played in hard core, emo and even a Tejano band previously.  His love for punk and fast rock in general sparked him to speed up his accordion just for fun. Thus, began the life of Pinata Protest.
In 2008, I was working as the marketing manager and events coordinator for In The Flesh Tattoo on 6th street here in Austin. At the time, In The Flesh had a large stage area in their loft where we booked promotional shows with local bands. Having close family ties in San Antonio and many friends, I often reached out to bands in San Antonio who were interested in playing a show in Austin. With the help of longtime friend and our Austin Vida photographer, Mari Hernandez, we gave Austin first look at Pinata Protest.
At that time, I had no idea what to expect. I just liked the sound and vibe of what I heard on the band's myspace. When show time came, I actually had to worry about a head count and fire marshals for the first time. Not only did they bring most of San Antonio with them, a lot of Austinites came to see what Pinata Protest was all about. After they finished playing, many thanked me for bringing them up and for saving them to trip to San Antonio. After that night, I knew they had something.
They played two more shows last year in Austin, including a show with Austin punk band The Sweethearts and Xemumba Fest. In June of 2008, the band went on a short hiatus due to Alvaro getting his accordion stolen from his car in a San Antonio mall parking lot and the loss of their bass player. Many wondered if they would resurrect themselves and continue on.
After using the power of Myspace to find new bass player, Omar, the band planned to rebuild and play on. If you were in San Antonio, you might have seen them at various local venues there such as Limelight or Rock Bottom Tattoo Bar. Last Halloween they opened up for Los Skarnales in Houston. Austin was just not opening its doors to Pinata Protest until Remezcla and Myspace Latino came calling.
Remezcla and Myspace Latino wanted Pinata Protest for the first stop on their "En Tu Ciudad" tour, which was to feature local or regional talent of each city the tour was to stop at. Headlining was San Antonio's own Black Heart Records recording artist, Girl In a Coma. Being their biggest show in Austin to date, people in Austin can expect Pinata Protest to be popping up playing shows all over town.
Having said all that, I wanted to further introduce you all to Pinata Protest. I got a chance to sit down with all the guys from Pinata Protest in San Antonio last month. Like their live shows, talking to the guys was a good time.
Tell us about the process you all went through making this band come together
J.J. : Alvaro already had some songs recorded when he first reached out to me. He made me a CD sampler of the stuff he had recorded on a little four track recorder. He had "La Cucaracha" on there. Our song "Campesino" was also on that already. They were rough recordings, but they were on there.
Manuel: When we first started, a friend of mine found Alvaro's ad in The Edge Magazine in the musicians wanted section.  When I met Alvaro and heard what he had recorded, I was immediately on board. That was the stuff I wanted to play.
Was it your Mexican roots calling to you that made you want to play your style of music?
J.J.: It actually does. We all grew up listening to music in Spanish with our parents.
Manuel: I kind of hated it growing up.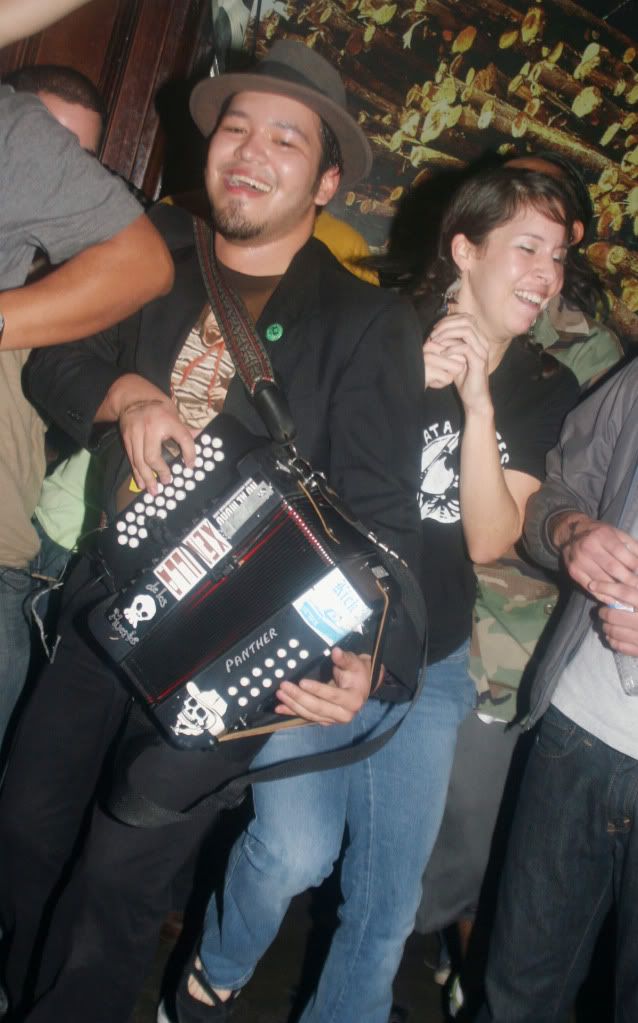 Wait, you wave the flag better than any group I know and you're all telling me you hated music in Spanish growing up?
J.J.: I mean I would sing along to the words and stuff, but I didn't even know what it all meant though.
Manuel: I know when I heard that music blasting as a kid, I'd think 'Oh God, my uncle or someone is drunk again'.
J.J.: It got over played at all the debuts and weddings.
Well your style or sound is often referred to as "Mexican punk". Is that how you describe it? If not how do you describe your sound?
J.J. Yeah…I just say punk with accordion. Lately I'd say Tejano punk.
When you first came together and had your (original) members of this new band, what was that conversation like when it came down to naming the band? Were other names being considered?
Alvaro: Originally we thought we were going to be called "Mala Cara"(bad face).
Manuel: We were also thinking Mariachi Malo, but that just sounded too cheesy. Then there was Mano San Anto. We just brainstormed and decided to just go with Pinata Protest.
Alvaro: Once we started playing shows in Austin, I saw us listed as Pinata party. I thought that was funny.
Speaking of shows, where was your first show as Pinata Protest?
Manuel: It was at this place called "Snaps".
Alvaro: Snaps was a hole in the wall for bands to play. It was originally a skate shop. It was like a big half of a warehouse with a huge half pipe in there. It was dirty and filthy…
Manuel: We loved it!
Alvaro: At that first show the cops showed up and kicked everybody out and we ended up playing outside anyway.
So what did your friends who came to that first show think of your music?
Manuel: They were dancing but they were drunk. For some reason, our music makes people want to drink. Even people who I know wouldn't normally drink a lot get drunk to our music. It's crazy.
J.J.: I first saw them play (before joining them) at Midtown pizza in San Antonio. It was cool because there were people dancing, even a lot of white kids dancing. It was a good time. I really liked it. I really kicked myself for not taking the first chance to be in the band.
Early on as a band, you got booked with nothing but punk rock bands. Is that where you feel you fit best and where your audience is?
Alvaro: When we first started playing, we got booked with a lot of punk bands. It just happened that way.
Manuel: Sometimes it's just weird. We played this Latino Fest in Chicago and I was a little worried that that crowd wasn't going to get us or like our music. It was weird, but we got a pretty positive response from the crowd there. I think after that we figured we could play with either Latino or punk bands.
I have heard from my cousins who have seen you play in San Antonio that your audience isn't the same audience it used to be. Before it was just a bunch of Latino punk rockers and now older ladies are dancing next to hard core cholos. I can't say I have seen that sort of thing in Austin at a punk rock show.
J.J.: Our audience has grown because we play with all kinds of bands now. We play with punk bands, indie bands, and Latin bands.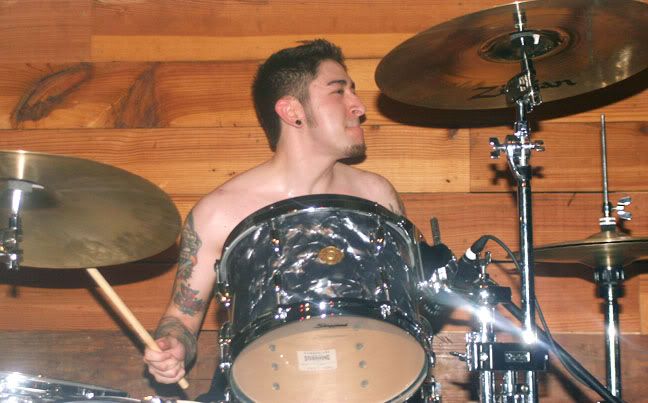 You guys ever had that "what are we doing here experience"?
Alvaro: We played a festival here at one of the community colleges. It was around eleven in the morning and people were just standing around.
Manuel: No one is ready to listen to our music at eleven in the morning. We were dying in the sun too.It was miserable. I wouldn't listen to us that early in the morning.
Have you noticed your shows are getting bigger or getting recognized yet? Maybe head lining more?
Alvaro: We are getting shows with bad ass bands now. In Houston recently, we opened for Los Skarnales.  That was cool for me because back when I was first starting to get members for the band, I told Felipe (Skarnales lead singer) that I was starting a band that was going to open up for him. Two years later, we did. Shows like that are coming our way now.
Before I booked you for our promotional show last March, had you tried to get into Austin to play somewhere?
Alvaro: No. We played other places, Victoria and Laredo. We just take shows as we are invited, either by bands or by venue invitation. In The Flesh was our first invitation to Austin.
Shortly there after, you lost a bass player. How did you find Omar and why did you decide he was the right fit for the band?
Omar: Actually I came to them when I saw on their Myspace that they were looking for a bass player.  I learned to play all their songs that were on their Myspace before I knew they were looking for a bass player. I just liked their music a lot.
J.J.: What impressed me was that he came in on the Greyhound bus to come try out. He was already dedicated before he tried out. He came all the way from McKinney (right outside Dallas).
Omar: It was actually how I celebrated my 21st birthday.  Manuel picked me up and we had a six pack that day.
J.J.: He just fit well with us once he got here. He was around our age and more importantly, he is a great musician. He plays drums too. The fact he knew our songs already was cool.
Did you audition other bass players though?
Alvaro: For me, the reason I really liked Omar was that the other bass players we auditioned, who were all really good musicians, didn't seem like the kind of people we'd want to hang out with. I remember we invited this one bass player, whom we were highly considering, to hang out with us at a bar. I wanted him to get to know us a little bit more. He didn't want to and that was the deal breaker.
Wow. So you guys really have to be able not only play well together, but drink well together.
Alvaro: The guy didn't drink beer, but he didn't have to drink. He could have just drank water, but we just wanted to hang out man. That was a deal breaker.
Speaking of playing together, talk to me about your music. It's not all about drinking and partying, although that seems to be a good chunk of it. For starters, who writes the songs?
Alvaro: Mostly me. As far as how the songs are composed, it's just whatever sounds good to me. I just picked up accordion for this band.

Alvaro Salas and Omar Nambo live from The Mohwak. (Photo by Mari Hernandez)
What about the lyrics?
Alvaro: Whatever happens to be important to me. When we finish each song, the music that is, I put lyrics or themes to them. I'll hear a song and think, this one should be about drinking, or this one should be about whatever subject.
What were you thinking about when you wrote "Campesino"?
Alvaro: For a little bit, my family and I were campesinos (farm workers) in Washington State when I was younger. It was just something on my mind and wanted to write about.
What's "Rocket" about? I love that song but have no idea what I am singing along to.
Manuel: Drunk driving.
Alvaro: I actually never thought about lyrics for that song when I composed it. It just sounded like it should say "rocket". Manuel was the one who first said it was about drinking and driving.
Manuel: When you hear it, the very beginning is slow and the tempo gets progressively faster. I think of a guy starting with one beer, and as he drinks more his thoughts and everything start going faster right as he gets in his car. That slow accordion part sounds like the walk to the car. The last part of the song is when he's driving drunk and cops come and stuff. That's how I see it.
So how close are you to putting your first studio album out?
Alvaro: We're pretty close to being ready. We just want to write a couple more songs to make sure we have a nice full album. We'd like to have like, 20 songs.
Manuel: Yeah. I hate it when one of your favorite bands puts a new album out and it is only like, 10 songs. I'd love for us to have 20 songs.
J.J.: 20 songs?!
Yeah but 20 songs for you guys would make about a 40 minute record because your songs go by so fast. That's where I think you're more punk rock before all else.
Alvaro: Yeah. And as far as the album, right now we are just hunting for the best deal we can for studio time.
What about touring? Any plans beyond the May show at Emo's yet?
Alvaro: We're working on booking some shows but nothing as far a touring yet. Right now we are just trying to save money, but we'd love to tour.
So what's your ultimate goal as a band?
J.J.: To get the band to pay for itself. I'd love to quit my job and play music full time. I want to take it as far as we can.
Alvaro: It's funny because at first I was surprised people actually liked us. Now our music has changed so much. The response from people has been great. It definitely keeps us going.
You can check out Pinata Protest on March 20th at Habana on 6th street with De Los Muertos, another great San Antonio band. See the flyer below for more details.
Follow Pinata Protest on Twitter