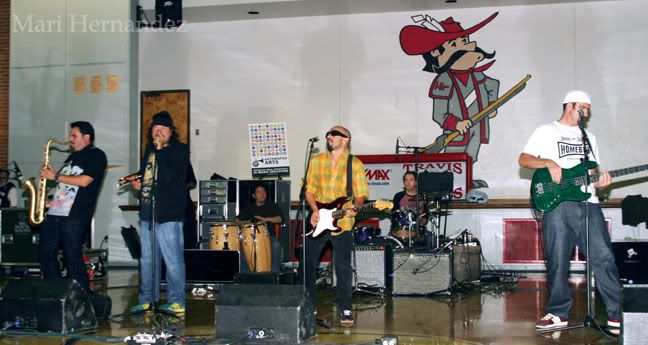 For people into the Latin music scene, you mention the band Ozomatli and you can stop there. The group has been packing venues for years, and their most recent visit to Austin in November was no different, well almost.
This time around the Grammy Award winning band set up stage in the gym of south Austin's Travis High school to a crowd of approximately 1000 students. For an hour, the band gave a high energy performance that had students getting up to dance mere feet away from the band.
Afterward, I caught up with singer and guitarist Raul Pacheco and bassist Wil-Dog Abers.
"This is what we came up doing," Raul said of the bands school performance. "We used to play for people for free, to raise money to support causes. Any time we have the opportunity to connect to young people, we do it because we remember what it was like for us in high school from the neighborhoods we're from in Los Angeles and how important it was when things like this happened."
Ozomatli played the show before their regular show at Stubbs that evening, but stopping at school like this is something the group has been doing for years.
"If we get asked to play and we can, we will. We'll do it. That's just the way it is," Will-Dog says. "But if you know, we're going to be in your city and you know we're coming, ask us to come and play and we'll make it happen."
Local organization Anthropos Arts reached out to the group and worked with Travis High school administration to get the show together.
Anthropos has been working to create partnerships between the live music community and east Austin schools going on 10 years, with the goal to expose students to music they otherwise wouldn't hear.
So when Ozomatli came to Travis, it was a school-wide affair. The high school is divided into five academies. Students sitting in the bleachers were visual and performing arts students, or as a reward for grades or attendance. Students in the culinary and hospitality academies were responsible for catering lunch for the band, and student media members covered the event for the school's print and television projects.
Student Juan Najera got to interview the group for the school's Rebel TV show has always been a Ozomatli fan.
"Their music is bad just alone sitting and listening to it on the computer, it's good. But listening to them live, that's even way better than just listening to them at home."
"I'm realizing more and more I go to schools and play for students," Wil-Dog says, "I think I may get more out of it than they do. It really feeds my soul and makes me happy to do it. "
The lasting impression of shows such as these leaves more of an impression than their regular gigs.
"As much as you might think we're giving back," Wil-Dog says, "it's almost like the students are giving back to us. The music has a bigger purpose. I mean, when are these students going to have the opportunity to see a band like us, and how many times a year do we get to play in front of kids that have so much energy, going through so much change in their lives and for one little hour they get to get out of the classroom and have fun."
For some students, their fun went beyond watching from the stands but actually playing a song with the band.
"We got an email from the group to our band teacher," student Nick Castro said, "and they randomly selected people and I was lucky to get chosen. I was really excited to play with them, I mean they're a good group. It was a good experience."
Raul says he loves doing these types of things to give the students an extra bit of encouragement.
"We're all connected in this world, whether we think we're not, we are. The kind of energy you put out, the decisions you make affect the people around you, the more awareness you have that what you do affects everyone around you, I think that we can make a good choice everyday."
Even though some students hadn't heard of Ozomatli until that day, and some may not have understood the lyrics, you wouldn't have known it.
I didn't know there were going to be so many kids," Raul says. "But if it feels good, you'll start moving, you'll start dancing, you'll start connecting" Raul says, "and we've always believed in the power of that. So for us, it's a normal and beautiful thing."