Austin Vida Live: Ocote Soul Sounds from Austin Vida on Vimeo.
What started as your average college roommate situation in the mid 1990s ended up spawning some of the most interesting music of the 2000s: Antibalas, TV On The Radio, and now Ocote Soul Sounds, a band you probably haven't heard of but a band that you should lend your undivided attention to if you dig funk, Latin music, and world beats. Ocote band leader and multi-instrumentalist Martín Perna has been at the center of it all. Austin Vida sat down with Perna at the Pachanga music festival to discuss Ocote, his musical development, and his Ry Cooder-like role with a group of Nicaraguan music legends. Central America might just have its own Buena Vista Social Club by the name of Bluefields Sound System. Look for that album later this year. Ocote's newest album Coconut Rock hits stores today (June 23), out on ESL Music.
You started out in the bands Antibalas and Sharon Jones & Dap Kings. How did Ocote Soul Sounds come about?
Martín: Basically the group started in 2001. It was songs and compositions that I had that didn't fully fit into the framework of Antibalas, but I wanted to record them and give them a life outside that group. So I recorded a little bit of stuff with some friends – some Antibalas members. We put out a 45. Played maybe two or three times a year because Antibalas was still my main thing. Once I moved down to Austin around 2005 things started to get serious because I linked up with a group of musicians down here – some of the Grupo Fantasma/Brownout family.
Did you know those guys before you came here or did you meet here by chance?
Martín: Adrian Quesada, I knew. He had come through New York and we established a friendship prior to me moving here. The rest of the folks, I met when I came down here.
I find the September 11th connection really interesting. Could you tell me about being there, and how it inspired the song "Vampires."
Martín: Yeah, I was in the building on September the 10th, and I just had a feeling something really bad was going to happen. I never anticipated that it would be like that. So I went to Philly; I woke up on September 11th in Philadelphia, but I came back to New York that day. And it was a really beautiful time, actually, how New Yorkers responded to the tragedy at first. But then really quickly, there were certain elements that wanted to use it as a pretext for war. So all the beauty, all the outpouring and sharing was quickly hijacked and turned into something else. And at the same time, a bunch of different people and interests moved in to keep on with this program of gentrification to make the city livable only for rich people. So the song "Vampires" talks about that; it talks about how do we fight the system that's sucking our country, that's sucking our earth, that's sucking our culture dry. The only solution is to put our heads together to organize.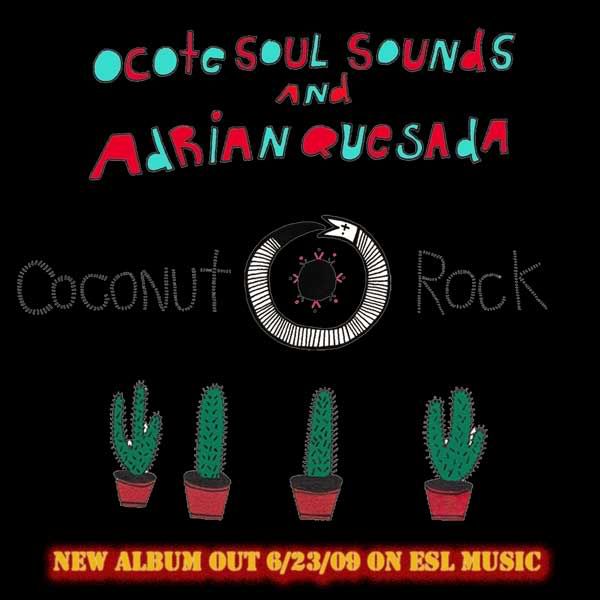 That song went through several variations too.
Martín: It did! I probably recorded five or six versions of it. The first time I recorded, it was in the loft of Dave Sitek of TV On The Radio. When I came back from Mexico after September 11th, I was living in a loft with him. I recorded it there, just some demos, and then recorded another version in 2005 that came out on a little EP called Electric Tides. And then did another version at Stay Gold Studios with some of the guys from TV On The Radio and Yeah Yeah Yeahs. I wasn't happy with the mix, but it still might come out someday because the tapes are really good. And finally with Ocote Soul Sounds, it has a life and it's finally being performed with a full band. So that's exciting.
I like the idea of using songs to put out political ideas. Did you grow up listening to political music, or is this song just something you felt compelled to do?
Martín: A little bit of both. A lot of my favorite artists are political. Fela Kuti, Bob Marley, Victor Jara from Chile. And then there's a lot of musicians who sing politically, but a lot more metaphorically, whether it's the reality of their situation. Caetano Veloso from Brazil was really political, but so much of what he and his colleagues from that movement had to sing was in metaphors.
The tropicalia movement of the '60s.
Martín: They were still in Brazil during the military dictatorship, and the consequences were severe. And so I think a lot of times artists really have to walk that line. What are the metaphors that we can use that will resonate within the people so people will understand what we're saying, but maybe aren't so direct that we'll get our heads cracked in on the way home from the gig or at the gig.
Yeah, definitely. It's funny how we can use monsters as a good metaphor for oppression. You have the song "Vampires" and Fela had "Zombie." You can use that monster imagery to convey that point. So you said you lived in Mexico for a while….
Martín: Yeah, my father's side is from Mexico City originally and has a long history of activism and in the arts. I definitely absorbed some of that growing up. I would spend a good amount of time in Mexico City, but I preferred to be on the coast of Michoacán. For a while, every winter, I was going there as a retreat. And after September 11th, I was there for quite a while. In the past couple years it's been a little bit tough and dangerous, and my schedule has been weird, so I haven't been able to spend extended periods of time where I had been going before. But I'll be back. I'll be back.

Going back, you mentioned living with TV On The Radio and some of these other bands in New York. What's the story behind that?
Martín: Sharon Jones and the Dap-Kings, I was a founding member of that band in 1996. Then I started Antibalas in 1998. There were six guys who were in both Antibalas and Dap Kings. Then in the summer of 2001 we had to pick who we were going to dedicate ourselves to because stuff got really busy for both groups. Then maybe a year-and-a-half later, Sharon Jones had a lot of breakout exposure. And with TV On The Radio, Tunde Adebimpe went to college with Gabe Roth and I. We all graduated from NYU around '96, '97.
You mentioned those three bands (Antibalas, Dap-Kings, and TV On The Radio) essentially started in the same apartment.
Martín: Yeah, we were all living together. At one time each of us dated girls that lived in the same dorm room. We go way back. But it's kind of a mixed blessing. Since the groups got successful, it's like we barely ever see each other anymore because everyone's on the road at different times.
But isn't the success what you're ultimately building towards?
Martín: I don't know. Success, not so much. I just want to be able to make music, pay my bills, and get to see my friends and family enough. At a certain point you have to dedicate yourself so much that social life and family life, you just sacrifice it. It's a constant challenge to maintain a balance. It's not like you find it, and then you have it all the time. The variables are constantly changing.
How old were you when you started playing music?
Martín: I was around 19 when I started playing seriously.

You say seriously. Is that the first time you had any kind of lessons?
Martín: I was introduced to the saxophone in middle school. But I really didn't like the material and didn't want to be playing in like 30-degree whether for a football team. Unfortunately, for so many kids, that's the only avenue or channel they have for learning an instrument. Bands do great things, but at the same time it's not for everyone. That shouldn't be your only way to learn an instrument.
Yeah, it's not creative. It's more kind of—not commercial, but you know….
Industrialized.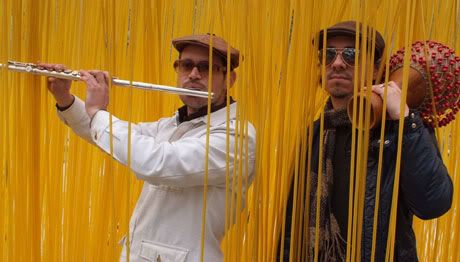 Yeah, industrialized. So you say 19. As far as careers, that seems kind of late to pick up an instrument.
Martín: I mean it sort of is. But I guess I was really lucky enough to be around people that were better than me that would just give me opportunities. Like Gabe Roth, of Sharon Jones, he's the bass player and the songwriter, he and I were roommates in college. And he's always been a really good musician, so I learned a tremendous amount living with him. I was lucky that my first musical teachers were gentle with me. And I was really into the music. I think if you find something you're really into doing it doesn't matter what age you're at. If you're passionate about it, you can start. I mean, I feel like I'd be a lot better if I started earlier and had a stronger foundation. But you can't go back, you know; you can only go forward.
You've pulled from a pretty diverse source of influences and it's permeated into what you're doing. Ocote has a very eclectic sound.
Martín: Yeah, I wish I were better. And I am getting better. But I don't always have the technical skills to say what I want, but I feel like I have enough to say something. Actually, the band that's on right now outside, Maneja Beto, they say El chiste es hacer ruido. "The trick is to make noise." Just to overcome the fear of saying "I can't do it" and being like "Just get out there and make noise." And you learn by doing. Doing is the best way of practicing.

That's good advice for anything in life. I read you've been living in Nicaragua this year. Why there in particular?
Martín: I've been living with my wife in Nicaragua since February. She's finishing her PhD, in between singing with Ocote Soul Sounds. So I've been making a lot of music down there because there's never been a recording studio on the Atlantic coast. And the Atlantic coast is completely isolated. You have to get there by plane or by boat. So the first studio has been in operation since January, so they got me in there as an engineer and producer. I'm recording stuff, playing on stuff, and producing stuff.

What kind of stuff?
Martín: We just made the first recording of Afro-Nicaraguan music, a style called Palo de Mayo. We made the first album that's been made of that music since 1982. And before then, there was only one other one made in like '74. This is with some guys between the ages of 55 and 75 that were really well known but have been living in obscurity for a really long time and deserve a lot spotlight.
This sounds like…
Martín: It's kind of like the Nicaraguan…
Buena Vista Social Club!
Martín: It's very much like that, man. [laughs] These guys were legends, who were at one time household names in Nicaragua. The bands that they played with—Dimension Costeña, Barbaros del Ritmo. But then there was a civil war. There was a hurricane that leveled Bluefields, the city that we live in. Leveled it, left nothing standing. No trees. No nothing. And that was on the end of a bloody civil war that lasted for nine years.
What year was that?
Martín: The civil war last from '79 to like '89, and the hurricane was in '88. It just totally wiped out so many opportunities, money, infrastructure, and created almost a generation gap between people who had access to music and musical training, and people who didn't. It's very similar to here in the states—in the '80s, Reagan's hurricane cut out music programs across the country. So now there's a bunch of guys with raw musical talent, but they don't know any instruments. They don't have any theory. They're mostly vocalists. They have rhythm, but they can only express it through lyrics—through singing and rhyming. So there's a whole bunch of younger guys who are influenced by reggae, reggaeton, dancehall, and some other stuff, that I've been working with down there too.

So is this going to be put out as a compilation album like the Buena Vista Social Club?
Martín: With the Palo de Mayo—the traditional music—we're doing video documentation too. Interviews with some of the older folks who can tell the stories behind certain songs, what they mean and whatnot. We're looking to put that out in the fall. We're shopping it out to different world music labels. When you go to any of the major world music sites, there's nothing from the coast of Nicaragua. Afro-Nicaraguan music? Nothing. Zero. People are like, "There are black people in Nicaragua?" Yeah, the entire Atlantic coast. There's African influence up and down the coast, particularly here in Bluefields. It's called Bluefields Sound System.
Cool, man. We'll look forward to that. Well, is there anything else you want to say? Any message you want to transmit to the universe?
Martín: Oh, man. Stay in school! [laughs] Actually, I went back to school in September. I went back to get a master's degree in education.
You said your wife is also pursuing her PhD.
Martín: Yeah, she's at UT Austin and I'm doing a distance masters program at UT Brownsville. Whether I'm on the road with Antibalas or in Nicaragua, I just log on. I just finished my first year. Yeah, man. I think more than anything, even though music has in many regards been successful, moneywise it's been horrible. I would've made better money as a waiter. I'll always be making music, but I'm just trying to expand my skillset. I think in a changing economy, all these different things, we have to wear many hats, all of us. Journalists, for example, the whole playing field in print journalism and web journalism. We need to have different work skillsets
Especially right now. It seems like every summer there's some big contamination—salmonella, E. Coli—with the meat or vegetables.
Martín: Not even in a dark kind of way, but we all need to really think about these survival strategies. And it's not gonna be, like, some little bunker that saves us, but rather, healthy relationships with our community and with our family. And, you know, having people we can trust and rely on, and also skills that we can fall back on. So, that's my message.
It's a good message.
Martín: Cool, man. Thanks.
Check out Ocote Soul Sounds at OcoteSoul.com.