Pack of Wolves is my favorite new metal band not only in Austin, but my favorite new metal band period. Being that they are from right here in Austin and Latinos only adds to my enthusiasm for them. Having been a fan of their former bands, such as At All Cost or their other side projects,it was great to see this group come together to take the metal scene to new heights in Austin. Having received some Spins already on No Control, hosted by Austin's metal guru Chuck Loesch, their success will only continue. I got to sit down with Trey Ramirez and Adrian Carillo to talk about the band coming together, the Austin metal scene, and even Hall and Oats. After all, there's nothing more metal than Hall and Oats.
Pack of Wolves at Red 7 / Video by Ajay Miranda

When did you form Pack of Wolves?

Trey: We Started about two and half a years ago. I was in band called At All Cost back then. During SXSW at that time, we played a show with Adrian's old band.
Adrian: That was a grindcore band calledTriumph of Gnomes.
Trey: After that South By, we were both in different states and we called each other. I told him I wanted to do something together. At the time we were also thinking about replacing a drummer for At All Cost, which is why we initially got together. When we both got back to Austin, we started playing together and the both of us figured out the newer stuff we came up with was a better way to go.
At that point it was just the two of you.
Adrian: Yeah. It started off just as me and Trey. I was in a band with Tyson (guitar) called Games in Theory. He was a good friend of mine and I knew if I did another band I wanted him to be a part of it. At first Tyson started off playing bass for us, but then we moved him to second guitar after we added Alec.
Trey: Our first demo was recorded just us two. We recorded four or five songs. It was cool getting to play everything. It's just that we wanted to start playing live, so we added new members. After that, the music started developing a little more.
It caught me by surprise at first that your bassist is Alec Padron from Maneja Beto. Then again, it doesn't surprise me because I know there's a ton of Latino metal heads.
Trey: Yeah people don't know too much about him because he's kind of a quiet guy, but he loves metal. He's like this big metal kid. He was previously playing for War Wolf, a hardcore band here in Austin. He was friends with Tyson and Adrian. We found him after our previous bass player didn't work out.
Adrian: We just hung out and would run into him all the time at metal shows.
You mean you didn't seek him out because "the Maneja Beto guy" was the most brilliant bassist you have ever seen, hoping he'd like metal?
Adrian: Haha no. I used to go watch another old band of his called Pan American standard, a favorite of mine from when I was in high school. They would play West Texas and I'd go out there to see them. The other guitar player from Maneja Beto, Nelson Valente, was in Pan American Standard also.
I'm glad to her that actually. I have a theory about Mexicans. They all either love two things: metal or Morrissey.
Adrian: You're so right. I saw the documentary about the Morrissey thing.
Trey: You can't go far in this town without finding people who like metal. I'll always find one Mexican dude with a Slayer shirt on at shows. Sometimes ten.
Sure, we are aware of this. I have found that not only the general public isn't aware, but also the Latino media here doesn't get it either.
Trey: True. Adrian and I joke about this. Before this band, we played in other bands that were very diverse. This is the first time I have played in band with a bunch of Mexicanos. I put our classification on our Myspace as "regional Mexican" because we are a bunch or "regional Mexicans". We didn't plan it that way, but that's how it turned out. I think the music benefits form that.
How so?
Trey: It's just really easier for us to get along and happier band is a more prolific band. It's easier for us to write as a unit and hang out together. There's that cultural connection I didn't have before.
I'd expect a band like Pack of Wolves to be from San Antonio, not Austin. I say this because not only because of the ethnic make up of your band but also because San Antonio has more of a metal scene than Austin. At least, that's what I noticed from going to shows in each city.
Trey: Me too. You can't deny it. We don't deny it.
I mean metal does have a presence here in Austin, but it is not what it used to be. There's no Backroom anymore or Redrum. I know Red 7 and Room 710 showcase metal bands. What happened to the metal scene here in Austin?
Trey: I think a lot of the promoters died out. It made way for some new guys to try it at different venues. It seems that right now Red 7 and Room 710 seem to be the ones stepping up and supporting heavy music. Both of those places are great. We love them.
Do you feel that Austin is a good place for not just metal, but heavy or hardcore music in general?
Trey: Austin seems to be a good place for heavy music. I can't say it has always been that way. More often than not, people want to hear it and bands want to play it.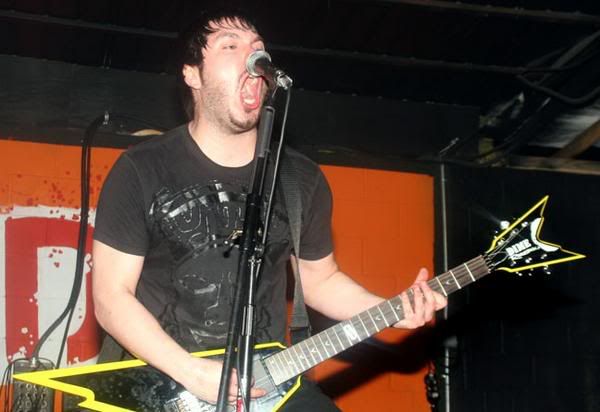 Pack of Wolves front man, Trey Ramirez, live from Red 7 on March 5, 2009. (Photo By Mari Hernandez)
I know metal has always been kind of been an underground genre, but here it seems really underground. I don't get it because so many cool kids and hipster types either dig metal or play in metal bands. Alec (bassist) being in Maneja Beto is the perfect example. I don't think the average Maneja Beto fan knows Alec is in a metal band or would come see him in Pack of Wolves. Even talking about mainstream rock bands, Latinos are represented all across the broad. There's Zach De La Rocha, Chino Moreno, Jose Pasillas, Sonny Sandoval, the list goes on. Locally you guys are "across the board" but in the same band now. With that Latin metal power, you could potentially be the next Brujeria.
Adrian: Wow. I don't know about that.
Trey: Those guys (Brujeria) are so good. We should be so lucky. That would be amazing
for the band to take off in that direction and reach that level.
What are your plans for the next coming year?
Trey: In the next year we plan on doing a lot of support tours. We want to land tours where we go on tour with a bigger headliner and get the record out to more people.
Who's a bigger headliner to you that you'd want to tour with?
Adrian: Darkest Hour.
Trey: Yeah Darkest Hour would be good. We just want to play in front of some people who haven't heard the record or haven't heard of us yet. Up until now, we have done some co-headlining or playing headlining shows with local bands from different cities.
Does the At All Cost association help you out at all?
Adrian: I think the contacts Trey made while he was in At All Cost definitely helped.
Trey: It doesn't hurt. We are different from At All Cost, but some people respond really well when they learn about the association. Some people still wish it was more of At All Cost. We don't know what to expect. It's the same way for all of us. With Adrian's older band, they were crazy extreme and more grindy. People will see him rocking out with us and people didn't know he could play that way. I am sure Alec gets it a whole lot.
Weird. I don't see a huge Maneja Beto-metal overlap.

Trey: I know right? It's not like we could play a show together or anything.
Adrian: Not that we wouldn't want to. That'd be awesome!
I think if you would somehow invent the cumbia-metal genre then it could happen.
Trey: We'll be sure to work on that. That'd be hilarious. I'd like to watch Alec on stage with Maneja and then have them watch Alec again immediately with us.
Adrian: It's funny because Alec was just a dude to us. I met him when I was in high school. When he came out and practiced with us that first time, it just clicked.
Tell me about the album that you just released, Betrayer.
Trey: I consider this to be the first album for us that has professional backing. We did a record ourselves almost two years ago.
Adrian: We were still trying to figure out what our sound was back then on that album.
Trey: With Betrayer, we are really proud of it. It has been two tears in the making. Finally we feel it represents where our band is and where we want to be. We have an awesome label out of Austin called Arclight that is putting it out for us. They're working hard to get it into indie record stores around the country which really helps when we tour. They're definitely letting people know we're coming.
This isn't even a CD we're talking about here. Betrayer is a vinyl only right now right?
Trey: Right. I've never had a vinyl before. Having a record is pretty surreal. We're totally impressed with everything from the packaging, with the artwork and with the records came out. When you open it, the moon graphics come together.
Adrian: It's legit man. We love it. People should pick it up.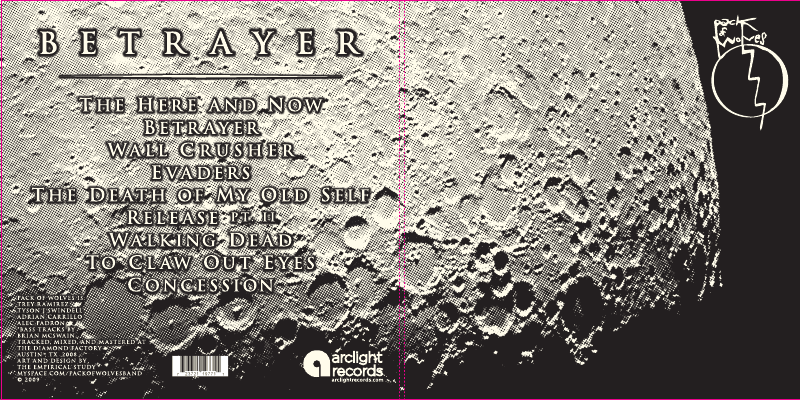 Was stamping a vinyl something you guys insisted on?
Adrian: It was Arclight actually.
Trey: This guy from Arclight was done pushing CDs and wanted to do nothing but vinyl because metal fans are record collectors. The digital downloads come with the record anyway, so people can still do their thing with that, load it in their Ipods or whatever.
So what about the song writing process for you guys? How does all that come about for you?
Adrian: I write everything pretty much.
Lyrics and music? Is that true?
Trey: Actually before we were called Pack of Wolves we were called the Adrian Project. No…not really. The way it works is Adrian and I come up with the song, the other guys come in and add their parts and then I throw in the lyrics.
These are prewritten lyrics that you wrote?
Trey: I have vocal lines in my mind already that I think might be good for a song. I think we write based on our moods. Whatever the song sounds like and mood it creates, I go by that. That's just how it's been so far.
What's the single are you wanting to push and maybe get on the radio?
Trey: Maybe we're going to push for college radio because they are way more open minded.

What are you going to try and give to Chuck? (Referring to Chuck Loesch, No Control on 101X in Austin)
Trey: Whatever he wants. He has actually been really cool to us. He played our old record.

Adrian: There's no real single we are going to push. The album is more cohesive. Since there is a video for it, I think "Concession" would be it.
Trey: A friend of ours, Eric Huebner, shot it for us. He did some of our old band's videos and he does a really great job.
Adrian: It's a performance video and we filmed it at The Cathedral of Junk. Its this Austin landmark, two stories of nothing but junk.
Trey: It looks cool because it really looks like we are in some sort of cave of just…junk.
Cool. Are there plans to make another video?
Trey: There's a song on Betrayer called "Walking Dead" that people respond to pretty well, so that will probably be it.
Going back to the name, why did you decide to call yourselves Pack of Wolves? I mean the "Adrian Project" sounded like a great name?

Adrian: (laughs) I told you Trey.
Trey: Actually I remember this so clearly. We were at Adrian's house talking about band names. This was all before the whole wolf phenomena went down. I would say two years ago, everyone had the same idea to put the word "wolf" in their band name, so I feel like we caught the same bug. Since Pack of Wolves wasn't taken, we went with that.
Adrian: We were going to call ourselves just "Wolves", but there was a hardcore band in the nineties with that name already that we respected. We just know we had to have wolf in our name somehow. We should have been "Pack of Brown Wolves".
Trey: Someone called us "Pack of Mexicans" one time and we could have gone with that (laughs). We decided we didn't want to limit our names.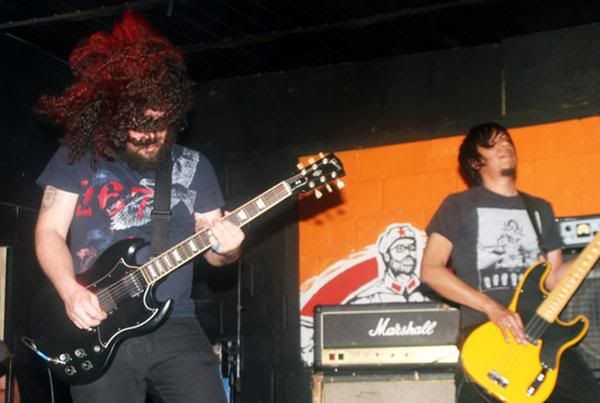 Pack of Wolves live from Red 7 in Austin, Texas on March 10, 2009. (Photo by Mari Hernandez)
If nothing else, with a name like that you could always play San Antonio and still draw people. You're laughing because you know there's truth to that.
Trey: Dude we love San Antonio and we do well there.

Adrian: They certainly do love metal there.
Trey: We love Austin though. There's no better place to be in a band. People are starting to warm up more to heavy stuff here in Austin. It helps being here to when it comes to touring Texas.
So are all of you done with your side projects? Is Pack of Wolves your main band focus now?
Trey: It is the main for most everybody. Alec still plays every now and again with Maneja Beto.
Adrian: I play in an indie band called "Western Ghosthouse".
That's more of shock to me than the whole Maneja Beto connection.

Adrian: It is the total opposite of Pack of Wolves. It's pretty chill. The singer was a room mate of mine and we have played together for while. It's a fun side project. I like to play all sorts of different music.
Trey: I'm in love with Hall and Oats. I am trying to start a Hall and Oats cover band called "Private Guys". I already have t-shirts made. I just need the band. I just want you to put that out there.
Adrian: He won't let me in that band. It sucks. I tried but he keeps saying no. Maybe if I shaved the beard and kept just the 'stache he'd let me in.
What's with metal guys having to have the beard now? Is that part of the uniform or something that I didn't get a memo about? Even Chuck wrote a story about the metal beard one time.

Adrian: I'm just lazy really. I have had beard since fourth grade and I'm just keeping it going. I was born with the mustache.
Any parting words for our readers out there before we wrap up?
Trey: I think there is a lot of good metal coming out of Texas. I think people around the country are noticing. We consider ourselves a part of this bigger metal family coming out of Texas. I just want people to pay attention to what we're doing. I want people to keep in mind that I you see an ad for a band with a wolf name coming to town, it might be us so come out to the show. If its not, they won't be as good as us.
Click here to visit Pack of Wolves on Myspace
–